The International Reading Association is the premier professional teaching organization dedicated to promoting high quality literacy teaching and learning. This organization provides professional resources and opportunities.
ReadingQuest challenges you to think about what students should know or be able to do and, perhaps more importantly, what it looks like when they are engaging the content towards the purpose of that lesson. While designed with social studies in mind, teachers of any content area can find the strategies and the process useful and helpful.
 Dibels Activities
Dibels interventions provides teachers with online free reading activities and games to support reading and literacy in the primary grades.
Common Core State Standards Initiative
"The Common Core State Standards Initiative is a state-led effort coordinated by the National Governors Association Center for Best Practices (NGA Center) and the Council of Chief State School Officers (CCSSO). The standards were developed in collaboration with teachers, school administrators, and experts, to provide a clear and consistent framework to prepare our children for college and the workforce."...
How Schools Are Using Data
A significant barrier to implementing data-informed decision making is a lack of expertise among school staff members in the area of data analysis. Districts and schools are addressing this challenge by supporting collaborative activities to discuss student data, but more training is required through both pre-service and in-service programs to provide teachers with a full range of data literacy skills.
Most teachers who use a student data system do so not only on their own but also in collaboration with colleagues. Among NETTS teacher survey respondents, the most commonly reported context for using a student data system was on one's own (78 percent), followed closely by data use with colleagues in a department or grade (71 percent). In the case study districts, the most frequently cited groupings for data use were the grade-level team, sometimes facilitated by a coach, and all-staff faculty meetings.
Both teachers and district staff members in the case study sample express concerns about teachers' ability to understand data. The majority of NETTS teacher survey respondents also reported that they would benefit from additional professional development on data-informed decision making. To better assess teachers' understanding of data, project staff incorporated data scenarios into the case studies, which were presented individually to several teachers at each school. The scenarios consisted of hypothetical sets of classroom, school and district data as well as a set of questions about the data and its implications for practice. These data scenarios were administered to a sample of teachers in each case study school to elicit their thinking about data and reveal the concepts and skills that teachers can bring to data-informed decision making. An expert panel identified the necessary data skills and concepts, which were clustered within five aspects of data-informed decision making: Question Posing, Data Location, Data Comprehension, Data Interpretation, and Data Use (making instructional decisions based on data).
Teachers' responses to scenarios concerning hypothetical student data suggest that teachers can locate the data they want within complex tables or graphs but often lack other data literacy skills. Exhibit 2 presents the average proportion of teachers earning full credit for their responses to data scenario items of various types.
Data Location items, which required the literal reading of a table or graph, were easy for most teachers. Teachers had some difficulty with Data Comprehension items such as those involving multiple data points for both school and district performance over time or where proportion and absolute value had to be distinguished. Data Interpretation items, which involved drawing inferences from data patterns, also proved difficult. These findings have implications for in-service and pre-service teacher education programs.
Teachers' Use of Student Data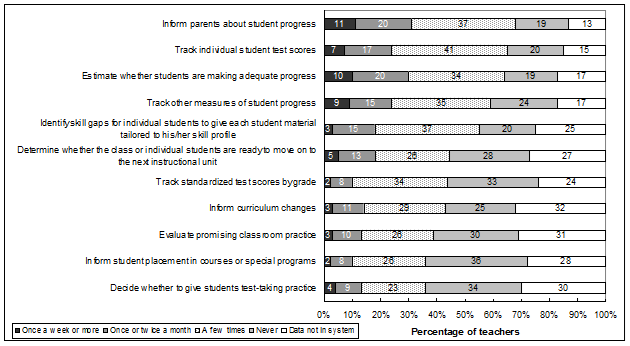 Exhibit reads: Among teachers who had access to an electronic student data system in 2006–07, 11 percent responded that they used data to inform parents about student progress once a week, 20 percent once or twice a month, 37 percent a few times, and 19 percent never; 13 percent indicated the system did not provide data for this purpose.
Note: Totals may not add to 100 percent because of rounding.
Source: 2006–07 NETTS teacher survey.