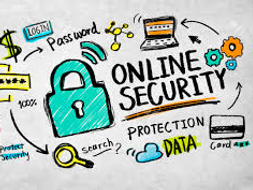 WHAT IS INTERNET SAFETY?!
Internet safety or online safety is trying to be safe on the internet and is the knowledge of maximizing the user's personal safety and security risks to private information and property associated with using the internet, and the self-protection from computer crime in general.
RULES to REMEMBER: 
1. Keep Personal Information Professional and Limit
2. Keep Your Privacy Settings On
3. Practice Safe Browsing
4. Make Sure Your Internet Connection is Secure
5. Be Careful What You Download




6. Choose Strong Passwords
7. Make Online Purchases From Secure Sites
8. Be Careful What You Post
9. Be Careful Who You Meet Online
10. Keep Your Antivirus Program Up To Date
Videos for students:
Click link below to watch video on Internet Safety!
Click link below to watch Brain Pop Jr. Internet Safety Video
Click on the URL links below to visit resoureful sites on INTERNET SAFETY
Kids Health/ Internet Safety for Parents
Internet Safety Games!