What is Netiquette? 
     Communicating with others via the Internet without misundertsandings is very challenging because you cannot interpret body language or facial expressions in cyberspace.  Netiquette is, "The correct or acceptable way of communicating on the Internet."  Netiquette is short for "Internet etiquette."  It is the correct or acceptbale way of communicating over the Internet, social networks, or devices are different from those when communicating in person, audio, or video.      
Internet Etiquette- 10 Rules of Netiquette
https://www.uticaod.com/article/20120907/Blogs/309079938
Check-out this YouTube video on Netiquette:
https://www.youtube.com/watch?v=6dRoclqDJh0
Social Networking Definition & Policies.  Social networking is finding people with similar interests to oneself by using dedicated websites and applications to interact with other users.  A social networking policy is also called a social media policy.  It is a corporate code of conduct that provides guidelines for employees, teachers, and students who post content on the Internet either as part of their job, schooling, or as a private person. The goal of a social media policy is to set expectations for appropriate behavior for posts on the Internet.  
Check-out "10 things you should cover in your social networking policy" by Deb Shiner on TechRepublic: 
https://www.techrepublic.com/blog/10-things/10-things-you-should-cover-in-your-social-networking-policy/
Resources for making school social networking/media policies: 
Los Angeles Unified School District: Social Media Policy for Students  
http://achieve.lausd.net/Page/8619
Lorman: Social Networking Policies for Teachers and Students.
https://www.lorman.com/training/education/social-networking-policies-for-teachers-and-students
#SocialSchool4EDU: Creating your School Social Media Policy       
https://www.socialschool4edu.com/creating-your-school-social-media-policy/
Cyberbullying Definition & Policies. 
     Cyberbullying is bullying that takes place over digital devices like cell phones. computers, and tablets.  It occurs through SMS, text, apps, online in social media, forums, gaming (where people can view, particpate in, or share content).  Cyberbullying  includes sending, posting, or sharing negative, harmful, false, or mean content about someone else.  Cyberbullying includes sharing personal information about someone else causing embarassment.  Cyberbullying can also include posting rumors, threats, sexual remarks, and victims' personal information.  Cyberbullying or cyberharassment is common among teenagers.  Children are reluctant to admit to being the victims of cyberbullying.  School cyberbullying policies require public school boards to have policies to prevent pupil harassment including bullying and cyberbullying. Policies must address bullying by electronic acts that result in substantial disruption of the educational environment.
How to Handle Cyberbullying
School's Role   
1. Clear policy on cyberbullying
2. Parent-Teacher Council on Cyberbullying
3. Education program for parents-teachers-students on Social Web           
4. Counseling for victim
Parent's Role
1. Be knowledgable
2. Be invloved with the online actvities of your child 
3. Listen
4. Preserve the evidence
5. Try to identify the bully
6. Report bully to service provider
7. Unfriend or block bully 
8. Communicate with the school and parent organization
9. Seek police or legal help when needed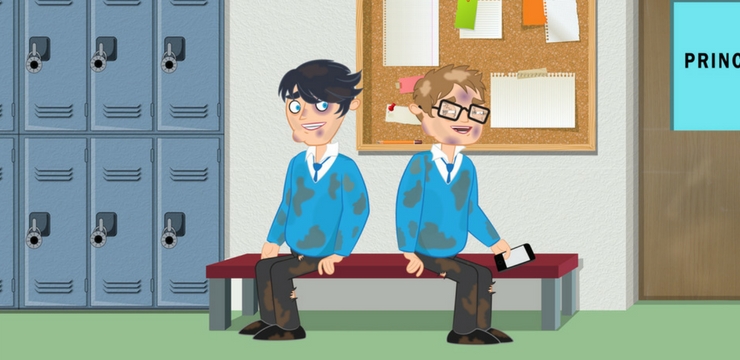 Resources on Cyberbullying:
Cyberbullying- National Conference of State Legislatures 
http://www.ncsl.org/research/education/cyberbullying.aspx
Dealing with Cyberbullying in Schools on Webwise.ie
http://www.webwise.ie/trending/dealing-with-cyberbullying-in-schools-2/
References:
Cyberbullying- National Conference of State Legislatures. ncsl.org. http://www.ncsl.org/research/education/cyberbullying.aspx
Dealing with Cyberbullying in Schools. Webwise.ie.https://www.webwise.ie/trending/dealing-with-cyberbullying-in-schools-2/
Definition of Cyberbullying. Stopbullying.gov. https://www.stopbullying.gov/cyberbullying/what-is-it/index.html
Definition of Cyberbullying. Wikipedia.  https://en.wikipedia.org/wiki/Wikipedia:Cyberbullying
Definition of Netiquette. Dictionary. https://www.bing.com/search?q=defintion+netiquette&src=IE-TopResult&FORM=IETR02&conversationid=&pc=EUPP_
Defintion of Netiquette. TechTerms.com.https://techterms.com/definition/netiquette
Defintion of Netiquette. Techopedia. https://www.techopedia.com/definition/25061/netiquette
Definition of Netiquette. Wikipedia.https://en.wikipedia.org/wiki/Etiquette_in_technology
Definition of Social Media Policy. TechTarget. https://searchcompliance.techtarget.com/definition/social-media-policy
Definition of Social Networking Policy. https://www.bing.com/search?q=social+network+policies&src=IE-TopResult&FORM=IETR02&conversationid=&pc=EUPP_
Gribble, Andrea. Creating your School Social Media Policy. #SocialSchool4EDU. https://www.socialschool4edu.com/creating-your-school-social-media-policy/
Howcast. How to Follow Proper Etiquette Rules. YouTube. YouTube, 26 May 2009, https://www.youtube.com/watch?v=6dRoclqDJh0
Netiquette Image retrived from https://www.bing.com/images/search and  https://www.netmanners.com/wp-content/uploads/2013/10/netiquette-featured.jpg
Shiner, Deb (14 July 2009). 10 things you should cover in your social newtworking policy. TechRepublic. https://www.techrepublic.com/blog/10-things/10-things-you-should-cover-in-your-social-networking-policy/  
Social Media Policy for Students (10 August 2017). Los Angeles Unified School District. http://achieve.lausd.net/Page/8619 
Social Networking Policies for Teachers and Students. Lorman. https://www.lorman.com/training/education/social-networking-policies-for-teachers-and-students
Social Networking Policy Image retrieved from https://www.bing.com/images/search/ and http://www.thisisanohitzone.org/app/files/public/3508/JWRC-social-networking-policy.jpg
Tranter Kim (7 September 2012). Internet Etiquette- 10 Rules of Netiquette. Tranter Banter.  https://www.uticaod.com/article/20120907/Blogs/309079938
Two Guys Cyberbullying Image retrieved from https://www.webwise.ie/wp-content/uploads/2014/07/cyberbullying.jpg