Food Service
           Food service managers are responsible for the daily operation of restaurants  or other establishments that prepare and serve food and beverages. They direct staff to ensure that customers are satisfied with their dining experience, and they manage the business to ensure that it is profitable
---
Importance of Food Service Management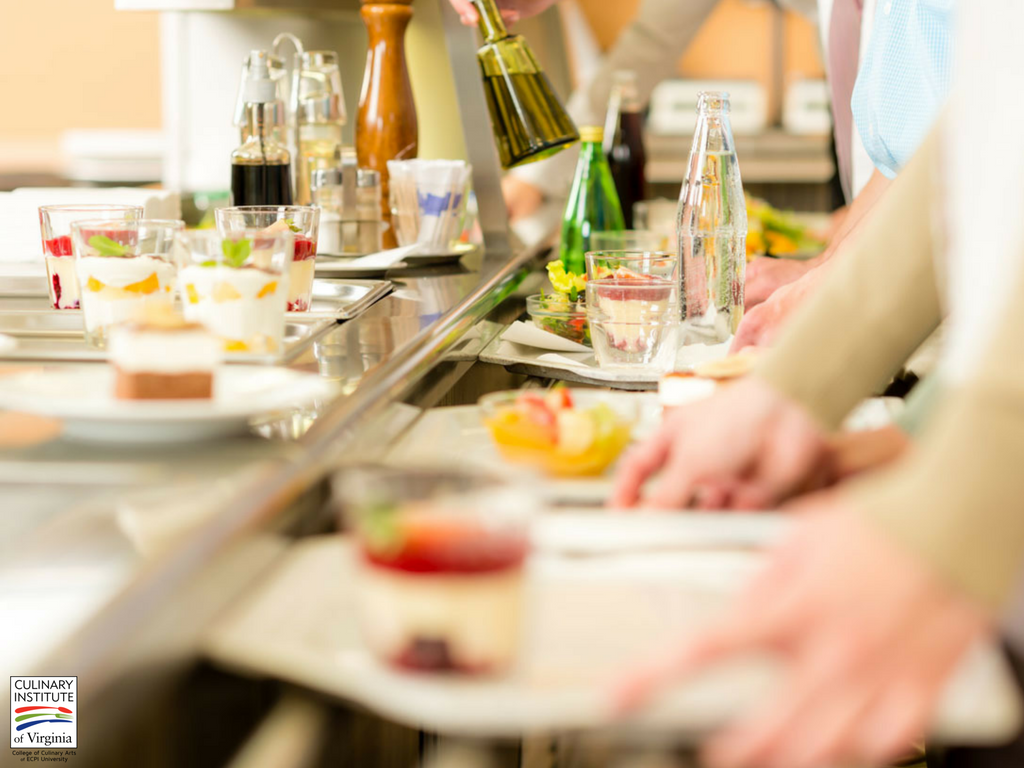 By: Aubrey Santos
According to the USDA, food service facilities like diners, coffee shops, and family restaurants grossed over $731 billion in 2014. The food service industry is a vital part of the American economy. These businesses rely on food service managers (FSMs) to control costs, keep customers happy, and ensure smooth operations on a daily basis. But what does a food service manager really do? And why are they so important to restaurant operations?
---
The Roles of a Food Service Manager
By: Allan Aquino
FSMs are the center of activity in any food service setting. Their daily tasks involve organizing resources, supporting health and safety compliance, and administrative duties. In an average day, an FSM might:
Train employees on equipment use and procedures.

Schedule employee shifts and assign duties for the fullest coverage with the smallest impact on the bottom line.

Submit orders for ingredients, paper goods, and other supplies.

Monitor employee performance to ensure quality standards.

Assist customers with issues or complaints.

Reconcile daily cash deposits.

Record payroll data.

Inspect storage, preparation, and customer areas for cleanliness and safety.
The duties of FSMs vary in each restaurant. Larger dining rooms may have several managers working together, with each one responsible for only one part of the daily operations. An FSM may be responsible for interviewing and hiring employees.
Higher-end facilities may have an executive chef that controls the food-related aspects of the business. In that situation, the FSM would concentrate on front-of-the-house issues like coordinating wait staff and the diner's experience. No matter how their official job description may read, FSMs are essential to the proper functioning of any commercial eatery.
The Importance of Food Service Management
By:Aira Lacandula
       FSMs use their organizational and interpersonal skills to keep customer satisfaction high while operating costs stay low. It's estimated that the average restaurant only lasts about five years. While many factors influence the success or failure of a business, good management practices reduce the likelihood of failure for new diners in many ways.
Controlling food costs is crucial to a prosperous eatery. FSMs help keep businesses profitable by educating employees on serving and preparation standards, keeping a careful inventory of stocks, and sourcing different suppliers for the most cost-effective ingredients.

Customer opinion can make or break a restaurant, no matter how long it has been in operation. When a problem occurs, the FSM must do damage control to reduce any negative impact on the business. A successful FSM needs to know customer relation techniques that turn unhappy diners into repeat patrons.

Restaurants rely on wait staff, bussers, cooks, and cleaners to run smoothly. More than just schedules and paychecks, FSMs are responsible for keeping all staff members motivated and working to their potential.
An FSM's real job is to make sure everyone is happy. They provide employees with the tools they need to give the customer their best possible experience. When customers are satisfied, business thrives.
Careers for FSMs
By: Jessa Santos
            According to the Bureau of Labor Statistics, the average FSM brings home $24.43 per hour. Those with skill, education, and experience can make twice that figure while enjoying a fast-paced career in a variety of exciting industries.
Corporate or private dining halls.

Entertainment centers like stadiums and concert halls.

Resorts and other leisure destinations.

Schools, hospitals, and other large social organizations.
      Many FSMs start from the bottom. They spend years in an entry-level position to hone their skills and prove their ability to run a restaurant. For those who want a faster start to their ideal career, a degree program is the quickest route to achieving your goals. An accredited hospitality training program will show you how to use your natural abilities to guide any eating establishment to succeed. In addition, you will learn administrative, leadership, and management procedures that will put you far ahead of the competition.
---
What is Food Technology?
By: Aubrey Santos
Food technology is the application of food science to the selection, preservation, processing, packaging, distribution, and use of safe food.

Related fields include analytical chemistry, biotechnology, engineering, nutrition, quality control, and food safety management.
What is Food Science?
Food science is the study of the physical, biological, and chemical makeup of food; the causes of food deterioration; and the concepts underlying food processing.

Food scientists and technologists apply scientific disciplines including chemistry, engineering, microbiology, and nutrition to the study of food to improve the safety, nutrition, wholesomeness and availability of food.

Depending on their area of specialization, food scientists may develop ways to process, preserve, package, and/or store food according to industry and government specifications and regulations.
Reference: https://www.ift.org/career-development/learn-about-food-science/food-facts/about-fs-and-t#:~:text=Food%20science%20is%20the%20study,the%20concepts%20underlying%20food%20processing.
---
By: Kitchenhome