FOOD TRENDS IBy: Princess Espocia 
UBE CHEESE PANDESAL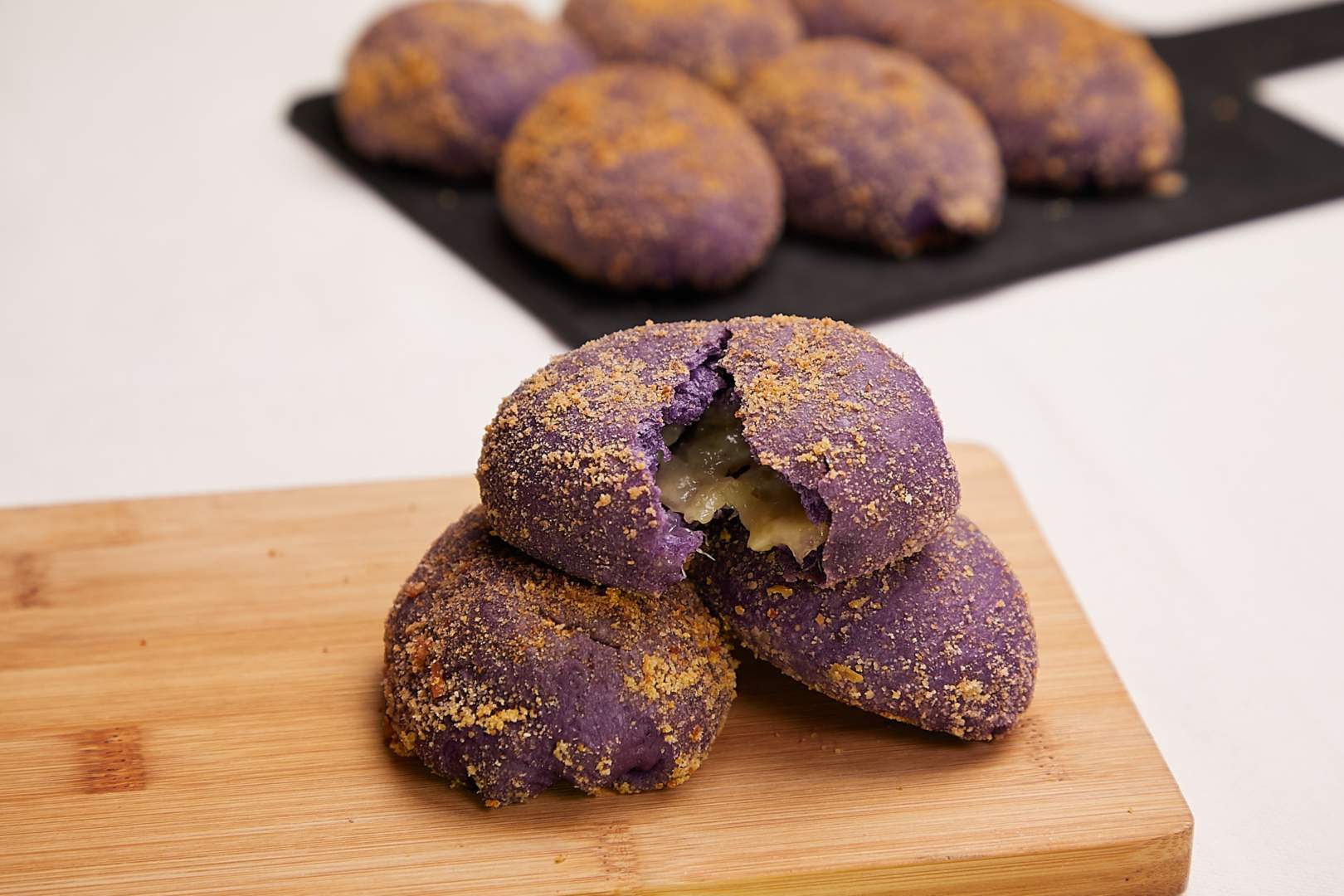 Ingredients:
3 1/4 cups all purpose flour or more

1/4 cup lukewarm water

1 pouch or 2 1/4  tsp 

rapid rise yeast 

1/2 tbsp sugar

1 egg, beaten, room temperature

1 cup 

evaporated milk 

3 tbsp unsalted butter, softened

3 1/2 tbsp sugar

1 tsp salt

2 tbsp 

ube flavor extract

extra flour for kneading 

cheddar cheese, cubed

plain 

bread crumbs

 for coating
        Procedure:
Add yeast and 1/2 tbsp sugar in warm water (110-115°F). Stir to dissolve and let stand for 10 minutes. Set aside. 

While waiting for yeast to bubble, place milk, butter, sugar, and salt into a microwave-safe bowl/cup or saucepan. 

Microwave for around 1 minute or heat over low heat on the stove. (Mixture should NOT be over 115°F or feels hot to the touch, you'll need to let it sit a few minutes to cool down.)

In a mixing bowl, combine 2 cups flour, egg and yeast mixture. Mix on level 2 with dough hook to combine.

Once the milk mixture has cooled enough, add it to the flour/egg/yeast mixture. 

Add the ube extract.

Continuing on speed 2, gently add another 1 1/4 cup of flour then add 1 tbsp at a time (if needed.) Continue mixing until a dough is formed and clean sides of bowl.

Form the dough into a ball and transfer the dough to a lightly oiled bowl, cover with a damp cloth or food wrap and let it rise in a warm place for at least an hour
---
BAKED SUSHI
INGREDIENTS
SUSHI RICE
4

 

cups

 

freshly cooked rice

3

 

tablespoon

 

rice vinegar

1

 

tablespoon sugar

1

 

teaspoon

 

salt
   FURIKAKE
1/2

 

cup

 

sesame seeds

1/2

 

cup

 

Korean roasted seaweed

 – 

crumbled or cut into small bits

1 teaspoon

 

salt

 – 

to taste

1 teaspoon

 

sugar

 – 

to taste
CREAMY TOPPING
1

 

big

 

ripe mango

 – 

diced

1

 

medium

 

cucumber

 – 

diced

2 cups

 

Kani

 – 

shredded or cut into chunks

200

 

grams

 

cream cheese

1/4 cup

 

Japanese mayonnaise

▢

1 tablespoon Sriracha

 – 

– adjust as desired

salt

 – 

to taste

20

 

sheets

 

Korean roasted seaweed sheets

 – 

– or use nori sheets
PROCEDURE:
SUSHI RICE
Mix the rice vinegar, salt, and sugar in a small bowl, mix well. Pop it in the microwave to warm until salt and sugar are totally dissolved.

Pour the mixture to the freshly cooked rice and toss until evenly distributed.
FURIKAKE
Using very low heat, toast the sesame seeds until fragrant and golden. Mix the crumbled nori pieces. Season with salt and sugar
CREAMY TOPPING
In a bowl, combine the cream cheese, Japanese mayonnaise, and Sriracha, then mix.

Add in the chopped Kani, ¾ of the mango, and ¾ of the cucumber. Make sure to leave enough mango and cucumber for additional layering later. Add salt to taste.
BAKED SUSHI ASSEMBLY
In a rectangle pan (8x6in), spread the sushi rice evenly then lightly press down. Sprinkle a thin layer of Fukikake on top of rice until fully covered.

Add the creamy topping then spread evenly. Sprinkle the remaining mango and cucumber bits and a bit more Furikake on top. Drizzle with Japanese Mayonnaise and Sriracha if desired.

Bake at 200°C/390°F for 15 to 20 minutes. Enjoy by scooping a portion then wrapping it in nori.
---
Banana Cake
Ingredients
1 cup banana mashed

1 cup sugar

2 pieces raw eggs

1/2 cup cooking oil

1 tsp teaspoon salt

1 tsp vanilla essence

1 1/2 cups all purpose flour

1 tsp baking soda
      Instructions
Combine all the dry ingredients starting with the flour, sugar, salt, and baking soda.

Mix the dry ingredients thoroughly until everything is evenly distributed.

Add the other ingredients (eggs, mashed bananas, cooking oil, vanilla essence) then mix well with the dry ingredients until a batter is formed.

Grease the loaf pan and pour-in the mixture.

Preheat oven at 350 degrees Fahrenheit then bake the mixture for an hour.

Remove from loaf pan from the oven then allow to cool down for a few minutes. Transfer the banana bread on a serving plate.

You may put the bread in the fridge to cool or serve immediately. Share and Enjoy!
---
By: KitchenHome