Here Is What Happened In Ms. Carvelli's Class
Week of October 27, 2008
- Hello Parents or Guardians, this week of school was very fun and exciting. The students had the chance to incorporate Halloween into all of their academic, life, and social skills learned throughout the week. This week was also very exciting because of our Sunny Acres Field Trip on October 30, 2008. Thanks again to all the parents who volunteered their time to help at this trip. I know the students had a very memorable time.
                                                                                                                                               Ms. Carvelli
** IMPORTANT PARENT INFORMATION **
- Please do not forget about Parent Teacher Conferences on November 5, 2008. A schedule is posted below of the meeting times with each of your students' names. Come at the time indicated next to your child's name. If there are any questions or concerns please feel free to contact me at 708-217-0401 or Amanda_Carvelli@ben.edu Please allow about 25-30 minutes of time to discuss your child's progress so far. Hope to see you all there!
- SCHEDULE OF TIMES TO MEET WITH MS. CARVELLI ON November 5, 2008:
| | |
| --- | --- |
|  Name of Student: |  Time to Meet: |
|  Joseph Smith |  8:30-9:00 |
|  Maggie Miller |  9:15-9:45 |
|  Angelina Frank |  10:00-10:30 |
|  Cody Brenten |  10:45-11:15 |
|  Jacob Carvetti |  11:30-12:00 |
|  Daniel Weber |  12:15-12:45 |
|  Christopher Vines |  1:15-1:45 |
|  Emily Lancaster |  2:00-2:30 |
- This week's star of the week was Joseph Smith. Joseph had the chance to be the leader on many of the Halloween activities that took place during the week. He even had the chance to teach all of his peers the correct way to trick or treat! Joseph also brought in many pictures and items that he loves from home. Joseph loves to spend time swimming and playing at the park. He loves his dog name Binks and collects toy cars. Joseph was an excellent helper throughout this Halloween week.
*Picture of This Week's Star of the Week*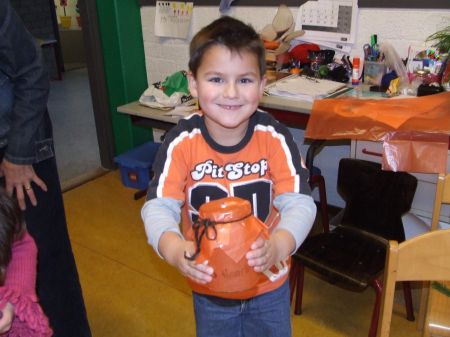 *Reading*
- During the reading lesson this week, we read Five Little Pumpkins by Iris Van Rynbach. We also learned about rhyming since Five Little Pumpkins is a nursery rhyme. The students had the chance to read along the words of the book and had the chance to create their own little pumpkins. These little pumpkins are now hanging all around the classroom.
*Example of the paper pumpkins the students made*
*Writing*
- During writing class this week, we focused again on rhyming. I brought in many halloween decorations and related items and had the students practice ryming using a halloween rhyming worksheet. The students had to either draw or write the first letter to each rhyming word. The students really enjoyed rhyming and I now notice that they are using rhymes when they talk to one another in class.
*Math*
  - During math class this week the students had the chance to work on classification and sorting by pictures and numbers. The students were given candy wrappers and had to group the same candy in groups of two and paste them on paper. The students also had the chance to play halloween bingo and make create their own halloween puzzles.
*Example of Halloween Bingo Board*               *Example of Halloween Puzzle Made By Joseph (Star of the Week)
*Music*
- This week in music class the students were preparing for their Halloween Music Spectacular! The students had the chance to dress up in their costumes and sing and dance to their favorite Halloween songs for the whole school and parents to see!
*Picture of Miss Carvelli's and Miss Zaruba's Class at the Halloween Music Spectacular*
*Gym*
- The students had a great time in gym class this week. They played a ghosts and goblins game that they really enjoyed. All the students loved to pretend that they were scary monsters and play their spooky games.  Ask your child to show you the fun games they learned!
*Social Skills Training*
- This week during social skills the students practiced trick or treating and sharing candy. A trick or treat simulation was set up around the classroom, and the students were taught the correct way to trick or treat and what to say after they receive their treat. After the simulation the students used some of their sharing skills that they have been taught and shared their delicious candy with each other. The students even had a chance to make their own trick or treat bags using paint and re-usable bags that they can use on Halloween!
*Example of the Trick or Treat Bags the Students Made*
*Life Skills Training*
- This week during life skills we prepared for our big field trip to Sunny Acres Pumpkin Patch in St. Charles. On Tuesday we reviewed skills such as our bathroom routine, manners, and our schedule for the day. The students had the chance to see pictures of the pumpkin patch and what we would be doing in each section of the day. On Thursday it was finally time for the trip the students have been waiting for! At Sunny Acres the students had the chance to go on a hay ride, pick apples, and they each had the chance to pick their own pumpkin for the very large pumpkin patch. Our pumpkin patch trip was a great success!
*Picture of Some Students Picking Out Their Pumpkins*
*For More Pictures and Information Visit the Bower Elementary School Website*
*To Look At More Halloween Songs, Activities, and Crafts that were used throughout this week that you and your child can do at home please visit the links below:
http://www.songsforteaching.com/halloweensongs/
http://www.makingfriends.com/halloween.htm
http://familyfun.go.com/games/indoor-outdoor-games/specialfeature/halloween-games-ms/
** PLEASE HAVE A FUN AND SAFE HALLOWEEN! TRY NOT TO EAT TOO MUCH CANDY!!**