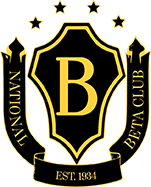 FEES for 2020-21 school year - Old members will pay local dues only $15; New members invited will pay local and national dues for a total of $30. Due October 2, 2020.
MHS Constitution
Monthly Newsletters
Brick Fundraiser - April 6-19th. Order Form
MHS Beta Scholarship Requirements
National Beta Scholarship for seniors only 
Calendar of Events
Service Ponts Due - 

Cemetary Veteran Flags - 

Veterans Day Program Refreshments (bring and serve) - 

Beta Induction - 

Nursing Home Visit - 

State Convention permission & deposit Deadline - 

State Convention - 
Stay up on all the news here or on our MHS Beta Club Facebook Group Page. You can search it and ask do join and if you are a current member, you will be added.
Also, join our Remind app group for reminders and instant contact with the sponsor and other members. Text the message, @manghamb to 81010.