Satire
"The use of humor, irony, exaggeration, or ridicule to expose and criticize people's stupidity or vices, particularly in the context of contemporary politics and other topical issues."
Can you spot the satirical article? Sometimes it is difficult to determine which "news" articles are actually true and which are false.
Task: Read the articles below. In each set of articles, one is true and one is satire. Can you tell which is which?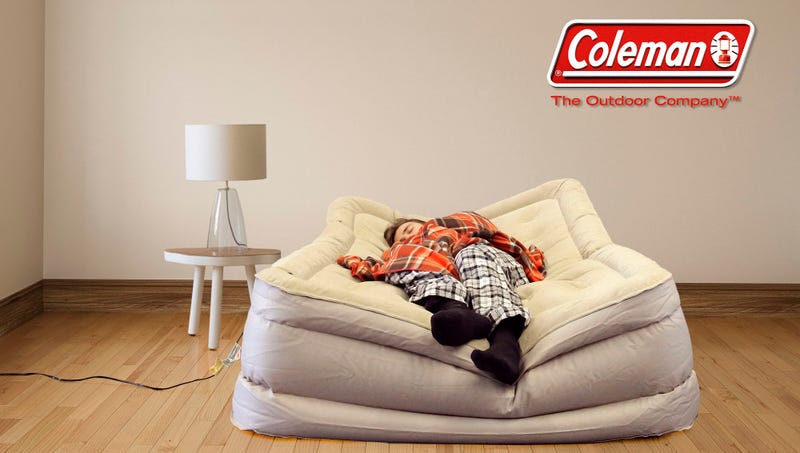 WICHITA, KS—Touting their new product as a necessary innovation in short-stay accommodations, camping and portable sleeping gear manufacturer Coleman unveiled the SinkRest this Monday, an air mattress featuring built-in gradual leaks for house guests who refuse to take a hint. "We've specifically designed this mattress to guarantee that after two or three uncomfortable nights, any guest overstaying their welcome will leave with mild to moderate back pain," said Coleman spokesperson Jana Penn, adding that the new mattress comes with a custom-dilating pinprick feature allowing customers to tailor the degree of discomfort to the specific irritant level of any given guest. "Adjustable pneumatic outflow levels allow guests to either sink at an excruciatingly gradual rate through the mattress, waking up as an achy hot dog in a soggy bun, or to feel their joints crack against the floor after only a few tosses and turns. With the SinkRest family of products, overtaxed hosts can be confident that after a few nights of tossing and turning, clueless guests will have no choice but to realize they'd be better off at a motel." To commemorate the excruciating portable bed's introduction, those buying any size SinkRest mattress in the next 60 days will receive a thin, scratchy blanket free of charge.
Zoo offering visitors buckets of 'Detroit Zoo Poo'
Chimps share a pumpkin at the Detroit Zoo in 2015.Todd McInturf / The Detroit News via AP file
ROYAL OAK, Mich. — Some visitors to the Detroit Zoo will soon be able to add animal droppings to their souvenir list. Free buckets of 5 pounds of animal manure, dubbed Detroit Zoo Poo, will be handed out on April 14 as part of the zoo's GreenFest celebration. The event precedes Earth Day and will showcase how the zoo recycles waste.
Buckets will be available to the first 1,000 visitors to the zoo's anaerobic digester educational display.
The digester converts 500 tons of animal manure and other organic waste each year into methane-rich gas to help power the zoo's animal hospital. Nutrient-rich fertilizer is a byproduct. The zoo notes the compost "is great for putting in your garden."
GreenFest is part of the Detroit Zoological Society's effort to improve green practices and facilities at the zoo in Royal Oak, north of Detroit.
Volunteers arrested for giving food to homeless people at an El Cajon park
El Cajon police arrested about a dozen people for feeding the homeless at a city park Sunday afternoon.
The event was organized by a group called Break the Ban, which formed after the El Cajon City Council unanimously passed an emergency ordinance in October prohibiting the distribution of food on any city-owned property.
City officials said the ordinance was a way to protect the public from hepatitis A, but critics have called it a punitive measure to dehumanize and criminalize the homeless.
Mark Lane, one of the event's organizers, said 12 to 15 participants were passing out food and toiletries to homeless people at Wells Park on East Madison Avenue when police arrived.
About 40 more people, including several lawyers, also were there, but not actively passing out food. Some of those carried signs that had slogans like "Feeding the hungry is not a crime."
While the event was intended to feed homeless people, it was also part of the group's plan to legally contest the ordinance.
"It was absolutely necessary to beak this law until they were willing to enforce it, and, now that they have, we will continue this fight in court," said another organizer, Shane Parmely.
It's a familiar legal strategy that played a critical role during the civil rights movement and other social justice movements, Parmely said.
The arrests began about 3:40 p.m.
According to a video Parmely shared on Facebook, a police officer explained to the crowd that the city council had banned food sharing on public property.
"This park is part of city property so you aren't allowed to food share," the officer in the video said. "...If you guys continue to food share, then you guys are subject to arrest, all right?"
Everyone who was handing out food, including a 14-year-old, was arrested, given a misdemeanor citation with a date to appear in court and released. No one was taken away in handcuffs.
In the video, one officer can be heard explaining the citation was for failing to comply with a municipal ordinance as well as an emergency order recently passed by the city.
An El Cajon police lieutenant would not comment on the arrests, saying the city would handle all inquiries.
Lane said Break the Ban will continue to organize events to feed homeless people. Sunday's event was the second hosted by the group.
Break the Ban has partnered with a second group called Food Not Bombs that has also hosted two food-sharing events. Another is planned for Jan. 27 at Wells Park.
"Our goal is to get the ban overturned and sit down and figure out how to humanely deal with something that's not going away," Lane said.
Elderly man accused of bribing a police officer for giving a biscuit to a police dog
A 92-year old man was arrested this morning in St-John, Indiana after he gave a dog biscuit to an animal of the K-9 unit while it was searching a public park for the presence of drugs.
According to the police report, Walter Dryden was sitting on a bench and feeding pigeons in one of the city's public parks when a canine unit of SJPD arrived to search for drugs that were reportedly hidden on the site.
As the police dogs came near him, the old man stood up and despite multiple shouted warnings, gave a biscuit to one of them.
Mr. Dryden was immediately handcuffed and brutally arrested in front of a dozen witnesses.
Alicia Walters who was in the park with her two children at the time of the arrest described the scene in an interview with a local radio channel.
"I heard the cops yelling angrily and saw them pull out their guns, so I looked around and to find out it was just an old man giving a biscuit to a dog. Immediately, one of the officers ran towards him and tackled him like a football player."
According to Ms. Walters, Mr. Dryden visits the park every day and is frequently brings some bread crumbs for the pigeons and some biscuits for the dogs.
"I see him hear very often when I come with my children. He's totally deaf but always smiling. Poor man, I hope he's okay."
Mr. Dryden faces a total of six criminal charges including attempting to bribe a police officer, hindering a police officer in the execution of their duties and resisting his arrest.
If found guilty on all charges, he could be sentenced to a fine of up to $500,000 and a maximum of 115 years in prison.
His lawyer, Mr. Frank Wilson, denounced the arrest as "abusive and unnecessarily violent", saying his client had no criminal intent and offered no resistance.
Mr. Wilson says the elderly man is "almost completely deaf" and simply never heard the policemen's shouted warnings.
Walter Dryden was freed on a $5,000 bail a few hours later and should be back in court in December for the beginning of his trial.
Elderly woman accused of training her 65 cats to steal from neighbors
Columbus, Ohio | An 83-year old woman was arrested this morning and accused of training dozens of cats to steal jewelry and other valuables from her neighbors.
The Columbus Police Department opened an investigation on Ruth Gregson and her 65 cats in October after several neighbors reported small objects being stolen from their homes.
Several victims reported being visited by Ms. Gregson's cats before noticing the disappearance of several shiny objects, like valuable cutlery and pieces of jewelry.
Despite their skepticism, investigators began a surveillance operation and were amazed by what they discovered.
According to Columbus Police Chief Kim Jacobs,  dozens of cats were constantly coming and going, bringing home "anything that shined".
"She was like Fagin in Oliver Twist, but she was using cats as thieves instead of children. In less than three hours of surveillance, the detectives saw the cats bring home more than a hundred objects."
Upon searching Ms. Gregson's house, investigators found $650,000 worth of jewelry and precious metal among piles of worthless shiny baubles.
A total of 65 adult cats and 17 kittens were found on the site and entrusted to the Columbus Humane Society.
Chief Jacobs says the elderly woman confessed to training her cats to steal, saying the felines had to "earn their meals".
"She would only feed the animals if they brought home valuables, so the animals had to steal every day in order to survive. Most were voluntarily malnurished so they would easily gain the neighbors' pity and be allowed inside their houses."  
According to the Columbus Police, Ms. Gregson's animals could have stolen from more than 5,000 houses and apartment in the area, and investigators invite possible victims to contact them.
While Ms. Gregson is the first person in American history to be accused of training cats to steal, this isn't the first time that animals are trained to commit crimes.
In 2009, a surveillance that caught a monkey stealing hundreds of dollars worth of plants from a Texas nursery.
At the time, the police and store owners had hypothesized that the monkey had been trained to take the plants and hand them over a fence to a waiting human accomplice.
In 2013, a Chicago court sentenced a man to five years in prison for training ferrets to steal cell phones from people on the street and on public buses.
Norris, the Klepto Cat, Can't Stop Stealing From the Neighbors
Norris from Bristol, U.K., is a tabby cat by day—and a cat burglar by night, stealing neighbors' laundry, cleaning supplies, pizza and more
Quick, someone get Norris a reality show. This klepto cat is a goldmine of juicy material: By day, he's an adorable, two-year-old tabby from Bristol, U.K., doing whatever it is that felines do (purring, sleeping, being cute). But by night, he turns into a cat burglar extraordinaire who pilfers bath mats, cleaning supplies, pizza and even bras (naughty!) from his neighbors on quiet Ruby Street in Bedminster, proudly showing off the loot to his owners. Imagine all the secrets he could uncover if they give him a TV series: Murders! Forbidden trysts!
Sadly for us lurkers—and luckily for his poor neighbors—"Naughty Norris's" owners, Richard and Sophie Windsor, have been cracking down on his behavior. But not without first recounting his nightly outings to the news media.
"He first started bringing things in from the recycling bins when he was about one," Richard, 26, a graphic designer, told the Bristol Times. At first it was just the odd item—but over the last four months, he has really started to up his game. "Initially it was dusters and dish cloths but this has now intensified to clothes, including bras, pants, T-shirts and jumpers." Once he even "brought home half a pizza, an unopened tube of gravy paste and a German sausage," the paper reports. Maybe he thought Richard and Sophie were hungry.
Norris likes to get attention for his looting, too. "He brings his stolen items in and then meows and meows to announce he is back so we will go and see what he has brought in," said Richard. "Sometimes he will go out multiple times during one night." (In the U.K., the BBC points out, it's very common for cats to come and go as they please, like humans—unlike in America, where we often put our pets in kennels, or at the very least behind locked doors.)
The couple has finally decided to put a stop to his madness and reunite their neighbors with the stolen swag—starting with a letter apologizing to the neighborhood. "If you've 'misplaced' anything of any monetary value and would like it returned then please give us a nudge on [email] or [telephone number]. We'll have a dig through his growing hoard and drop them back to you. Apologies if you've been affected. Best wishes, Rich and Soph."
"At first we thought it was funny," Richard told the Bristol Times. "But as his stash grew and the items were getting bigger, we thought we needed to return them. It is not as if they are high-value items—but they all belong to someone. So far we have been able to reunite a number of items—including a towel set, some oven gloves, a bath mat, some baby clothes and some running gear—with their owners. Fortunately all our neighbours have been very good natured about it and think it is funny. At least now they know where to come if something disappears mysteriously."
Daughter kicked out of home after she refused to wash her hair for six years
A 24-year-old from Minnesota is suing her mother after she allegedly threw her out of the family home because she hadn't washed her hair in six years.
Amanda Bell, 24, who now refers to herself as Queen Lioness, converted to Rastafarianism when she was 18 after studying abroad in Jamaica and has not washed her hair since.
Bell claims her mother expelled her from the family home to prohibit her from practicing the exercise of her religion which is protected by the First Amendment.
"Smoking drugs all day, not looking for work and not washing your hair? That is one bullshit religion if you ask me!" Amanda Bell's mother, Julia Bell told reporters.
"Her hair smells like death. She hasn't washed it once in six years since she has been on that trip to Jamaica," her mother told reporters.
Amanda Bell's mother claims that her daughter had a religious epiphany in Jamaica six years ago where she was told never to wash or cut her hair again.
"She is welcome back anytime, as long as she washes that disgusting hair of hers. If I have to smell that putrid stench one more day in my life, I'm going to shoot myself in the face," her mother added, visibly discouraged.
Rastafarianism is a religion that developed in Jamaica the 1930s and advocates, amongst other things, the formation of hair into natural dreadlocks and a refusal to conform to society's norms and standards regarding grooming aesthetics.
Parents Take 30-Year-Old Son To Court To Evict Him From Their Home
A couple in New York state is very interested in experiencing empty-nest syndrome so they're kicking their son out of their house.
Now, a court in Onondaga County is reviewing the case.
Mark and Christina Rotondo say their 30-year-old son, Michael Rotondo, doesn't pay rent and doesn't help out.
In several letters, they explicitly told him to get out.
A series of eviction notice letters spanned the month of February.
Letters addressed to Michael expressed that he was their "guest and there is no lease or agreement that gives you any right to stay here without our consent."
In a letter dated Feb. 18, his parents offered him cash and advice on how to navigate being out of their home.
"There are jobs available even for those with a poor work history like you. Get one — you have to work!" said one letter.
The parents' warnings of eviction went unheeded so they finally filed motions to have the court remove him from their home.
A court filing shows that Michael wants a judge to dismiss his parents' request.
The court hearing is set for this week.