GET HELP TODAY 11:30-12:00 TODAY MAY 11th
GET HELP FOR YOUR FINAL EXAM -    Join Microsoft TEAMS CLICK HERE
FINAL EXAM CHOICE BOARD ASSIGNMENTS -   CLICK HERE
---
JOIN ME MONDAY 5/4/2020 @ 12:00 FOR A FINAL EXAM REVIEW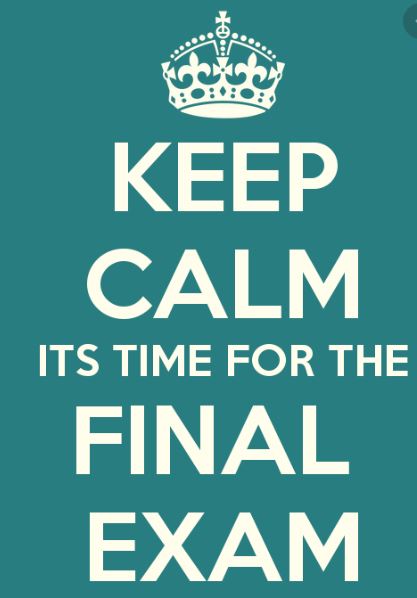 JOIN MICROSOFT TEAMS MEETING (CLICK HERE)
AUDIO ONLY:  (470) 705-1712   Enter Conference ID: 116 296 385#
MONDAY April 27, 2020  @ 12:00pm
JOIN THE LIVE CHAT CLICK HERE
---
Monday April 20, 2020
CLICK HERE to Join the Meeting at 10am   
CLICK HERE to Join the After The Meeting Chat 11:45-12:15
Hello Students,
Last week, we watched the movie The Giver. Now, it's time to use the film to apply various skills and standards learned over the course of American Literature. On Monday, April 20 starting at 10:00AM, we will cover the first standard, W3, which is narrative writing. Although we covered this skill earlier this month, there are still some areas of concern. 
Therefore, your teachers have crafted a thorough lesson to show you how to effectively complete your weekly task and answer a narrative prompt.
4A Narrative Writing Assignment
4B Narrative Ending Assignment
Below, you will find the schedule for tentative lesson to complete the assignment. We encourage you to attend all sessions to ensure you get as much support and clarity as possible to ace the task.
10:00-10:20AM: Love & Rasheed Review The Giver movie and The Giver book ending
10:20-10:45AM: Ogletree Reviews Compare & Contrast The Giver Endings & Prompt Analysis
10:45-11:15AM: Hopewell Reviews Narrative Writing Construction & Completion
11:15-11:45AM: Hollins Reviews Narrative Writing Exemplars
11:45-12:15PM: Independent Work Time & Support (JOIN THE AFTER THE MEETING CHAT - USE THE LINK ABOVE)
As always, please let us know if you have any questions, comments, or concerns.
We look forward to seeing you on Monday! :)
CLICK HERE  If you missed it click here to view the LIVE Video Lesson
CLICK HERE   If you missed it click here to view the AFTER THE CALL LIVE CHAT
---
April 17, 2020
Finals:
a.  Optional only if passing, required if failing
b. Final points added to final grade as follows:
i. 0-59: 2 points
ii. 60-79: 3 points
iii. 80-100: 5 points
4/13/2020 The Giver Movie Guide and Questions     DUE:  FRIDAY 4/17/20 3:30pm
---
April 10, 2020
NEW CLASS ASSIGNMENTS EFFECTIVE APRIL 13, 2020!!!  (NO MORE CHOICE BOARD)
Hey American Literature Digital Learning (2019-2020)... Tell all your friends and classmates to be in attendance to our live session on Monday, April 13 at 10AM.
 We have selected the movie, The Giver. We will watch this movie together and use this movie to complete your final tasks for the year.
Join us at 10AM on April 13 in Microsoft Teams for the live viewing of this film. (Basically, we're having a live watch party. #turnup) You will have opportunity to watch the movie and discuss certain sections with your peers. Also, you will get the answers needed to complete your assignment for the week, which will be done while watching the movie. Your presence is HIGHLY RECOMMENDED. Plus, for attending you will get extra credit.
We look forward to seeing you there! 
   AMERICAN LITERATURE TEAMS
Use this Link to access the TEAMS MEETING:  Join Microsoft Teams Meeting
                                                                                       +1 470-705-1712   United States, Atlanta (Toll)
                                                                                         Conference ID: 434 943 640#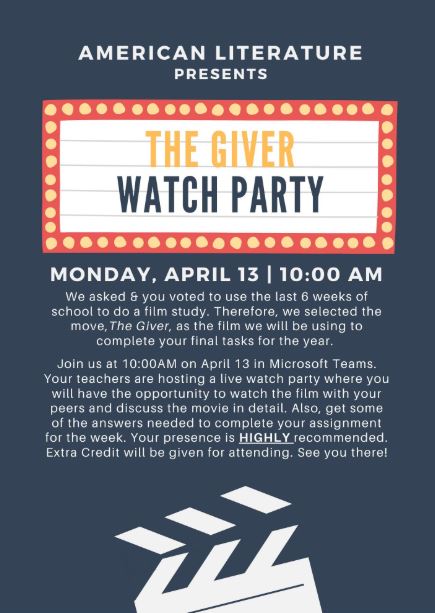 You MUST watch this movie: we will be creating assignments each week from this movie until the end of the school year. It is also CRITICAL that you attend the live calls EVERY MONDAY at 10am afterwards we will have a private class call just to answer any questions and to get help with the assignment each week.
Here is the Movie Link -Moive "THE GIVER"
Here is the link for the assignment 4A Link-  Assignments: The Giver - WEEK 1 041320 | Due Apr 17 
posted in 4A American Literature K119LOVE / General at Apr 12, 2020 6:16 PM
Here is the link for the assignment 4B Link-  Assignments: The Giver - WEEK 1 041320 | Due Apr 17 
posted in 4B American Literature K119LOVE / General at Apr 12, 2020 6:15 PM
Here is the LINK for  access to TEAMS for the calls:  
| | |
| --- | --- |
| | teams.microsoft.com |
April 1, 2020
ALL STUDENTS MUST DOWNLOAD MICROSOFT TEAMS
To prepare for our next call on 4/13/2020@ 11am . Download Microsoft Teams APP on your phone or computer. 
USE THIS LINK TO DOWNLOAD TO YOUR PHONE OR COMPUTER - MICROSOFT TEAMS APP_FREE DOWNLOAD
https://products.office.com/en-us/microsoft-teams/download-app#desktopAppDownloadregion
---
In Case You Missed it!!  Here the recorded lesson from today Monday 03/30/2020 W3 Narrative Writng Lesson 03302020
---
Assignments are due each MONDAY  while we are out of school no later than 12midnight.  
All  COMPLETED assignments can be emailed to me at: lovemt@fultonschools.com
You may turn in you work several different ways: 1) send me an email with the title of your assignment typed  directly into the email 2) send me an email with your assignment attached in a microsoftword document or 3) send me an email with a photo of your  handwritten assignment 4)  take a picture of your handwritten assignment and text it to me at (678) 796-8369.
(I MUST BE ABLE TO CLEARLY READ IT FROM THE PHOTO).
I am available for assistance between 9am-1pm Mon-Fri and can be reached at (678) 796-8369. 
PLEASE BE ADVISED - Starting March 27, 2020, grades are required to be entered for each student EVERY FRIDAY as long as we continue to be out of school. Students who do not complete assignments will be flagged as missing and a standard low grade of 50% will be assigned to students who do not attempt or complete work.
CHECK OUT THE HOW TO VIDEO under the HELP ME - HOW TO VIDEOs TAB this will give you some details on how to complete the assignments. 
Assignment submission schedule:  
#1 Monday 03/16/2020- Choose any assignment from the "READING" column.
#2 Monday 03/23/2020-Choose any assignment from the "WRITTEN EXPRESSION" column.
#3 Monday 03/30/2020-Choose any assignment from the "READING" column.
American Literature Choice Board Assignments.  Here students can choose the assignments they would like to complete.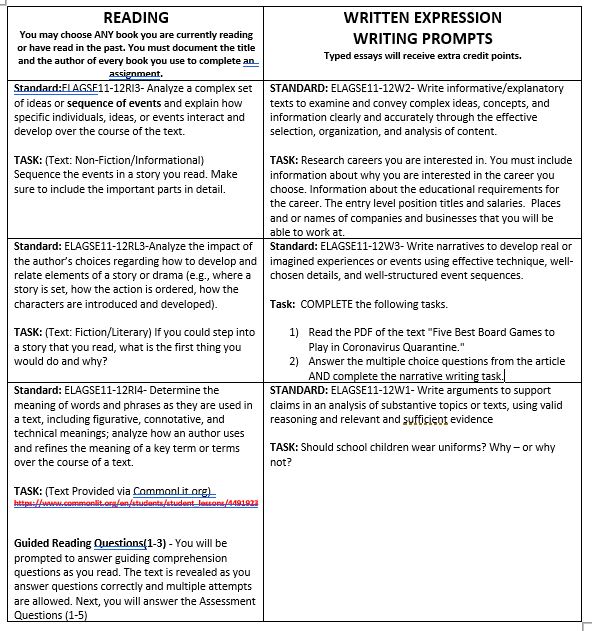 Below you will find LINKS with information and supports to help you complete your assignments.
Written Expression-Career                                                   Reading-Sequence Events
Written Expression-School Uniforms                              Written Expression-Five Best Games  - Graphic Organizer
Written Expression- Five Best Games -Article             Written Expression-Five Best Games  -  Instruction/Questions (Submit                                                                                                                                                                                                      this document)        
---