OK CLASS OF 2020.......  This is it!!!!
Monday 4/27/2020
All Final Exams must be
SUBITTED THROUGH GO FORMATIVE  
NO LATER THAN 3:30 PM FRIDAY 5/1/2020.
CLICK HERE TO ACCESS YOUR FINAL EXAM:
1A FINAL EXAM CLASS CODE:   DTUCCT
2B FINAL EXAM CLASS CODE:  TVYGVD
FINAL EXAM MEETING LINK: CLICK HERE FOR TEAMS MEETING
1A British Literature - TEAMS FOR 1A British Literature K119
2B British Literature - TEAMS FOR 2B British Literature K119
---
MONDAY - APRIL 20, 2020
Assignment Review and Support:  "On Making An Agreeable Marriage"  - Poem
LIVE CLASS MEETING MONDAY @1PM  CLICK HERE
Microsoft Teams Meeting
+1 470-705-1712 Audio Only -phone
Conference ID: 769 402 973#
April 17, 2020
Finals:
a.  Optional only if passing, required if failing
b. Final points added to final grade as follows:
i. 0-59: 2 points
ii. 60-79: 3 points
iii. 80-100: 5 points
MONDAY APRIL 13, 2020  @ 1pm- Link to Join the Call     CLICK HERE TO JOIN  ► MONDAY APRIL 13th @ 1pm
Please Join the Miscrosoft Teams - Click on your class 
UPDATED ASSIGNMENT SCHEDULE IS BELOW - LAST DAY FOR GRADUATING SENIORS IS MAY 1st
►LINK FOR 4/13/20 Assignment - After You Read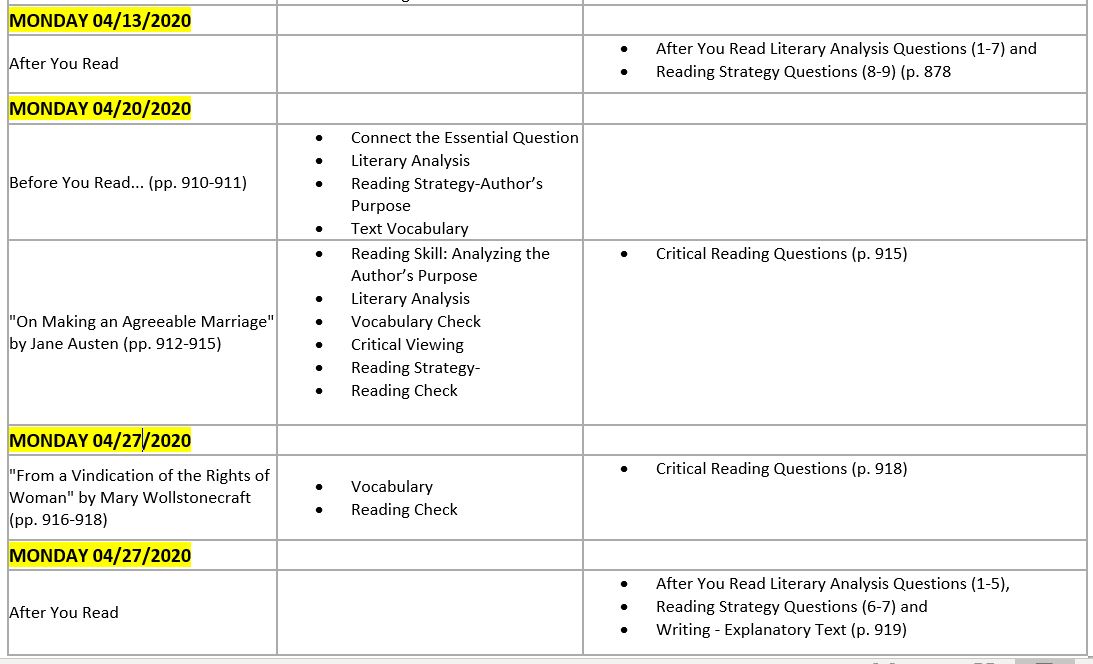 ---
April 1, 2020
ALL STUDENTS MUST DOWNLOAD MICROSOFT TEAMS
To prepare for our next call on 4/13/2020@ 1pm. Download Microsoft Teams APP on your phone or computer. 
USE THIS LINK TO DOWNLOAD TO YOUR PHONE OR COMPUTER - MICROSOFT TEAMS APP_FREE DOWNLOAD
https://products.office.com/en-us/microsoft-teams/download-app#desktopAppDownloadregion
---
In Case You Missed it!!  Here the recorded lesson from today Monday 03/30/2020  RL1 Citing Text Evidence
---
Assignments are due each MONDAY  while we are out of school no later than 12midnight.  
All  COMPLETED assignments can be emailed to me at: lovemt@fultonschools.com
You may turn in you work several different ways: 1) send me an email with the title of your assignment all questions and answers are typed 2) send me an email with your assignment attached in a microsoftword document or 3) send me an email with a photo of your  handwritten question and answers 4)  take a picture of your handwritten questions and answers and text it to me at (678) 796-8369.
(I MUST BE ABLE TO CLEARLY READ IT FROM THE PHOTO).
5) You may use the google forms links at the bottom of this page to upload your typed document or photo.  I have sent email notifications to students who are able to send me audio responses. If you have not received such an email from me you are not able to use the audio response option in google forms.
I am available for assistance between 9am-1pm Mon-Fri and can be reached at (678) 796-8369. 
PLEASE BE ADVISED - Starting March 27, 2020, grades are required to be entered for each student EVERY FRIDAY as long as we continue to be out of school. Students who do not complete assignments will be flagged as missing and a standard low grade of 50% will be assigned to students who do not attempt or complete work.
CHECK OUT THE HOW TO VIDEO (part I,II,III) under the HELP ME - HOW TO VIDEOs TAB this will give you some details on how to complete the assignments. 
Below you will find you assignment schedule with links to each weekly assignment.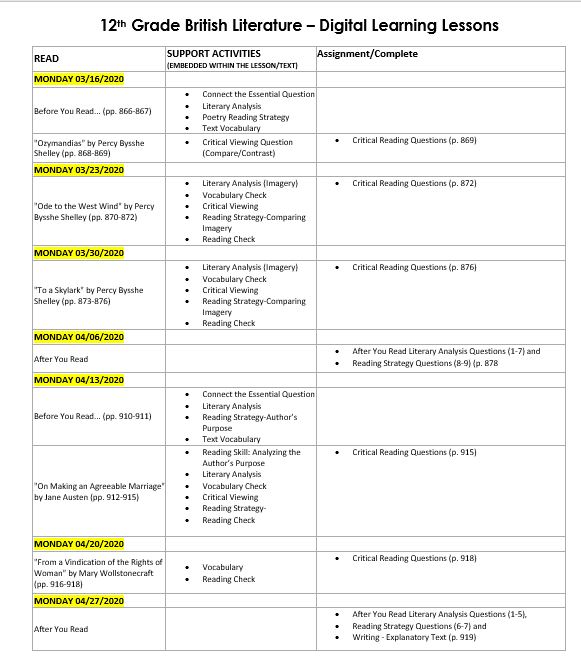 LINKS TO LESSON MATERIALS:
#1 Monday 03/16/2020 -Before You Read  Ozymandias
#2 Monday 03/23/2020-Ode to the West Wind
#4 Monday 03/30/2020-To A Skylark
#5 Monday 04/06/2020-After You Read
#6 Monday 04/13/2020-Before You Read   On Making an Agreeable Marriage 
#7 Monday 04/20/2020-From the Vindication of the Rights of Woman
#8 Monday 04/27/2020-After You Read
GOOGLE FORMS LINKS TO SUBMIT YOUR WORK:  YOU CAN UPLOAD A DOCUMENT OR A PICTURE IMAGE OF YOUR WRITTEN WORK WITH THESE LINKS.  Audio submission must be pre-approved by me.
https://forms.gle/k7o8NyUyxHS1L7x76  - Ozymandias p.869
https://forms.gle/3U8nTqcqCZdPtPGbA  -Ode to the West Wild p.872
https://forms.gle/3Ucu5ZQMEfub3bYR8  -To a Skylark p.876
https://forms.gle/GPZm3GxKiJeSHbFMA  -After You Read p.878
https://forms.gle/nLfrcvGfcw2Uo4Gk7  -On Making an Agreeable Marriage p.915
https://forms.gle/4KbWarE7mGQAaW9q7  -From a Vindication of the Rights of Woman p.918
https://forms.gle/2E7ndLWPkMC5chNE9 - After You Read p.919
Have Fun!