Cells
Define Vocabulary for Chapter 7-1
Cell
Cell Theory
Cell Membrane
Nucleus
Eukaryote
Prokaryote
Activating Prior Knowledge
What are some things we already know about cells? Read "Think about it" on page 190
The Cell Theory
The Cell Theory states:
All living things are made of cells
Cells are the basic unit of structure and function in living things.
New cells are produced from existing cells.
Microscopes
Microscopes uses lenses to magnify the image of an object by focusing light or electrons.
See Figure 7-2
There are two types of Electron microscopes:
Transmission electron microscope
Scanning electron microscope
See Figure 7-3 and Figure 7-4
Prokaryotes and Eukaryotes
Prokaryotes
Cells that do not enclose DNA in the nuclei.
Smaller simpler cells than Eukaryotic cells.
Bacteria are examples of prokaryotic cells.
Eukaryotes
Cells that have enclosed DNA in the nuclei.
Generally larger than Prokaryotic cells
Include plant & Animal cells.
Parts of the Cell
Mitochondria- Provides the cell with power: Like FPL (Florida Power and Light)

Ribosome: Protein Synthesis(synthesis means to make)

Rough Enoplasmic Reticulum: Studed with proteins for Packaging: Like the Post office

Smooth Endoplasmic Reticulum: Transports materials around the cell: Like a highway or road

Golgi Apparatus: Sorts adn packages proteins: like the post office or

fedex

Lysosomes: Collect waste and gather harmful substances: like waste management or a garbage truck
*The plant cell has the same organelles as the Animal cell EXCEPT:
Chloroplast: Aids the cell in photosynthesis
A Cell Wall: Additional rigid support for the cell, protects the cell and maintains its shape.
Central (large Vacuole): Store food and waste and maintain tugor pressure.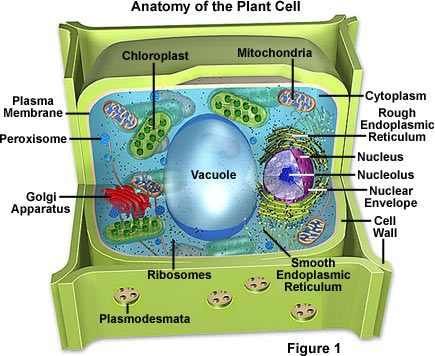 Two major categories of cells
Prokaryotic Cells:
Bacteria are examples of prokaryotic cells.
Have a nucleus surrounded by membranes
Protists, fungi, plants and animals are examples of Eukaryotic cells.
Assignments
1.Complete Microscope handout
2.Label Animal and plant cell handout
3.draw a Venn diagram comparing & contrasting the Plant and Animal Cell.
4. Complete all concept check questions for chapter 6 section 1
Define key Terms
Membrane Structure
Membranes within a cell can:
A)Act like partitions/dividers to isolate enzymes.
B) Regulate the transport of substances across the boundary
The phospholipids molecule has 2 distinct regions.
The head is Hydrophilic = Likes water
tHE TAIL IS hYDROpHOBIC = dOESN'T LIKE WATER
See Figure 6-7
*The structure of a phospholipid enables them to form boundaries or membranes between 2 watery environments.
*Bi means two so bilayer means 2 layers.
*Think of the bilayer like a sandwich.
*The hydrophobic tails are on the inside of the "sandwhich" and the hydrophilic heads are on the outside of the "sandwhich". See Fig 6-8 in the text also refer to the diagram above.
Many types of proteins are embedded in the membranes of the phospholipids bilayer.
Molecules such as carbohydrates may be attached to the membrane as well.
However, the proteins perform most of the enzyme specific functions.
Enzymes within the membrane carry out important functions such as:
2.Cell-to-cell recognition
4.Transport of Materials
Assignments
Complete Concept Check questions
Answer in a complete sentence
You may use the same paper as your notes
We will go over the answers together in class.
Chapter 6 section 3
Define Key terms for this section
Diffusion
Molecules in fluid are constantly in motion, bouncing off of each other and spreading out in the space avaliable

dIFFUSION IS THE NET MOVEMENT OF PARTICLES FROM AN AREA OF HIGH CONCENTRATION TO AN AREA OF LOWER CONCENTRATION.

tHINK OF HOW AIR FRESHeNER STARTS IN ONE AREA OF THE ROOM AND EVENTUALLY DIFFUSES TO OTHER PARTS OF THE ROOM. (EVENTUALLY THE WHOLE ROOM WILL SMELL LIKE AIR FRESHeNER)

tHIS MOVEMENT CONTINUES UNTIL THE PARTULCES REACH EQUILIBRIUM sEE fIGURE 6-10
Cellular membranes are barriers to the diffusion of some substances.
A selectively permeable membrane allows some substances to cross the membrane more easily than others and blocks the passage of some substances all together.
Think of a screen on a window. What are some things that can come through the screen? What are some things that cannot come through?
See Fig. 6-11 and 6-12
Diffusion across a membrane is called passive transport because no energy from the cell is used for this process to occur

Larger molecules such a sugar cannot pass through a membrane by passive transport and needs "help". This process is known by facilitated diffusion.

Facilitate means: to help
The passive transport of water across a selectively permeable membrane is called
osmosis

.Hyper= means more or aboveHypo= means less or belowA solute is the substance that is dissolved in the water.

Water is very important for all living things and maintaining the correct balance is necessary for a cell to be healthy and function properly.

If a cell does not have enough water it can shrivel and die and if the cell has too much water it can expand and eventually burst.Finding the correct balance of water helps maintain equilibrium.

*Rule of thumb: Water will always "follow" where there is more solute.

Example: If there is more solute outside of the cell then the water will move_________If there is more solute inside of the cell the water will move_________________If there are equal amounts of solute water will__________________________

Hyp

o

tonic solution: means there is more water outside of the cell and more solute inside of the cell.Hypertonic solution: means that there is more water inside of the cell and more solute outside of the cell.

Remember water will follow where the is more solute
Active Transport
When a cell uses energy (supplied by the mitochondria) to move molecules or ions across a membrane it is called Active transport.
During active transport, a specific transport protein pumps a solute across a membrane.
Active transport helps maintains a cells chemical balance. For example the levels of Potassium and Sodium.
Transport of Large molecules
Endocytosis: means entering the cell.
Exocytosis: means exiting the cell
The movement of large molecules across the membrane depends on vesicles.
See fig. 6-17
Assignment
Complete Concept Check questions
Answer in a complete sentence
You may use the same paper as your notes
We will go over the answers together in class.
Chapter 6.4 pAGE 124
rEVIEW THIS SECTION BY GOIVNG OVER THE LOCATION AND FUNCTION OF THEORGANELLES. tHIS IS NOT ONLY A REVIEW FROM THE cHAPTER 6 OVERVIEW BUT ALSO FROM anatomy class as well.
Assessment- Complete all concept check question for section 4
Chapter 6-5 Class Notes
DefINE KeY TERMS
C.6-5
chloroplasts? Plants & algae harness energy from the sun through a process called photosynthesis which is the conversion of light energy (from the sun) into chemical energy.? Chloroplasts: are the photosynthetic organelles found in some cells of plants and algae.? Read Chloroplasts p. 128? See Figure 6-25C.6-5
Mitochondria? Most organisms access the energy needed for the activities of life through a process called Cellular respiration.? In Eukaryotic Cells Mitochondria are the sites where cellular respiration occurs.? ATP: is the main energy source that cells use for most of their work? Read Mitochondria and See Figure 6-26 The Mitochondria itself is complex and contains different regions: The outer membrane, inner membrane, folds and fluid with in the inner membrane
Assessment? Complete Concept Check questions? Answer in a complete sentence? You may use the same paper as your notes? We will go over the answers together in class.