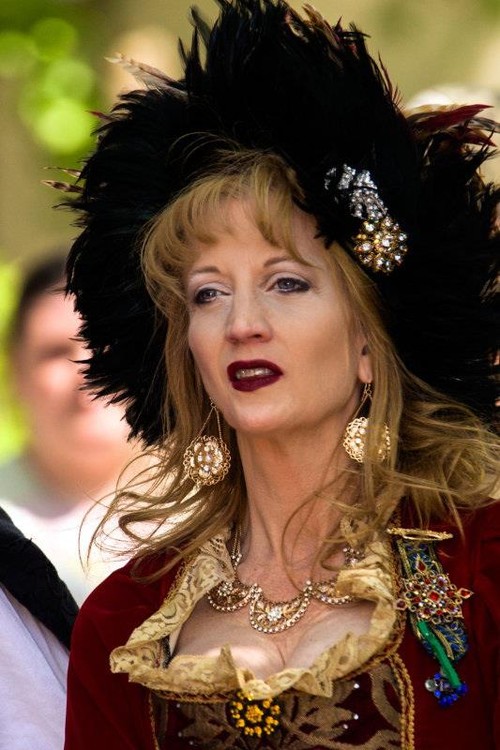 Like all good actors, I too have a resume to show.

I knew that I wanted to perform in some way since I was quite young.  I danced, played piano, played clarinet, sang in choir, but the acting bug really bit me in middle school.

From there, I continued the acting trek through high school and college.  I graduated Sam Houston State University with a BAT-Bachelors of Arts in Teaching:  Theatre, English, and Teaching Majors with a Costuming Technical Theatre emphasis.

Upon graduating, I auditioned and worked for Walt Disney World in Florida under Jim Henson.  Yes, I was a pig and proud of it.  I performed 7 shows a day in a 75 pound live action "Miss Piggy" costume.  I also did a short stint as Floyd in the Dr. Teeth Band and Pluto on the grounds.  I performed with a local Improv group as well as writing show material.

With the show going to an animontronic style and my contract up, I then crossed the state and found a place performing for Busch Gardens in Tampa.  I performed 5 shows a day or strolled as a park character (no pig outfits this time though.)

Again with my contract up and an opportunity elsewhere, I headed north to Colonial Williamsburg Virginia.  There I worked as a server/tavern guide.  Quite an immersion in history indeed.  Dress the time period, know about all historic items in the tavern and be able to answer all questions, guide tours all while serving food and drink.  Multitasking at its best!

Contract up again, time to head back to Texas and get a real job.  Okay, a day job while doing theatre all over the Dallas area: Pocket Sandwich Theater, Pegasus Theater, Garland Civic Theater, Bath House Theater.

Another offer presents itself and I signed on for the ride.  A national tour with The Repertory Theater of America: Alpha Psi Players. This year long wonderful experience took me all across the United States performing 3 shows in repertory.

Once the contract ended, I was tired needless to say and came back to Dallas once again.   This time working for the magazine The Met.  Friends of mine in New York enticed me to move up there...so I did...to pursue the New York actor dream. 

A year of living the lifestyle, working on a cruise ship, performing with an Improv troupe, doing the "day job", and auditioning for everything wore on me so I came back to Texas to be with my family.

Once back, I worked for The Met again then moved to D Magazine.  Another jump took me to Dallas Child magazine and then finally The Underground Shopper/MediaStar where I worked as a Talent Coordinator. During all this time, I was performing at Scarborough Faire in Waxahachie. I was a Performing Company member, I taught Character classes, and I held the position of Costumer.   I also performed with Keith and Margo's Murder Mysteries and picked up a few voice-over gigs along the way.

Unfortunately for all, MediaStar was a victim of some unscrupulous business people. I then found myself in a place of "not sure where I should go."  I received a call from a Theatre buddy who offered me a job teaching summer theatre workshops.  After all these years, that Teaching degree shows up. 

That lead me to a position in Richardson teaching....English, Speech, and Communications Applications.  A colleague told me of a job fair in Frisco and they were looking for Theatre teachers.  A phone call and interview later blessed me with the position that I now hold-Wester Middle School Theater Director.

In my time here at Wester, I have directed on average 4-5 shows a year and have chartered the Junior Thespian Society.
Somewhere in all of this, I got married, acquired a mortgage, adopted two Golden Retrievers, and gave birth to two lovely children.
I keep one foot in the professional performing world still.  I work with several improvisational comedy troupes:  Frisco Improv Players, Motley Players and ComedySportz..  I still do various contract performing jobs as well:  Dark Hour Haunted House Promo Witch, Voice-Over work, etc. I correspond with professionals in the community and states too. I have organized and directed the Drama section for my church's VBS for several summers.

I see myself doing this great job until I drop dead or my kids get out of college, whichever comes first.