Role of the School Counselor
The school counseling program at Quioccasin Middle School is designed to aid children in mastering the academic, social/emotional, and career tasks which are essential to the development of academic, technical, and life skills.  School counselors help students understand the link between academics and future plans, develop skills in career exploration, acquire and maintain positive personal/social relationships, and ultimately become responsible and productive citizens.  
Since the purpose of the school counseling program is help students succeed in school and in life, school counselors engage in activities with and for students that help them achieve student competencies identified by the American School Counselor Association National Standards.  Student competencies define the knowledge, attitudes, and skills students should obtain and demonstrate in academic, career and social/emotional issues as a result of participating in a standards-based school counseling program.
21st century comprehensive school counseling: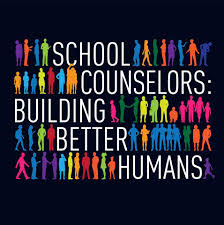 Ensures equitable access to educational and career exploration opportunities for all students
Promotes a rigorous academic curriculum for all students
Provides strategies for closing equity gaps
Supports the development of skills to increase student success
Fosters advocacy for all students
These program services are balanced between prevention and intervention and are based upon the needs of students
Program services include:
individual counseling
small group counseling
classroom lessons
consultation with the important adults in children's lives
coordination of the school-wide counseling program and services with community agencies
At Quioccasin Middle School, school counselors work with the same group of students as they progress through their middle school years.  This allows school counselors to build strong relationships with students and families.  School counselors provide meaningful lessons for students on the topics of conflict resolution, bullying prevention, decision-making, problem-solving, goal-setting, course planning, and career exploration.  We look forward to working with you this year!