About Me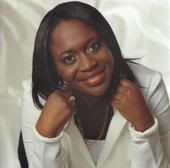 Ms. Racquel Reaves is a middle school Special education teacher with the Syracuse City School District. In this role, Racquel builds her students knowledge in all aspects of English, Math, Social Studies, Life skills and Science.
Racquel is certified  in Special Education and  English. She holds a Bachelor degree in Theatre arts, Speech and Performance from Rutgers University and a Master degree in Special education/English from Lemoyne College. Racquel became a teacher because she has a passion for giving students knowledge, that they can use to become successful.

 

Racquel loves to teach, she enjoys looking at the expression on her students faces when they finally understand a problem.
Educational Philosphy
 Racquel is a big believer in" Knowledge is Power", "Music is Therapy" and "Art is a form of expression", Racquel supports the School of the Hearts an inner city  program that gives youth an outlet to express themselves through music and Art.
Contact Info
My contact hours are Monday - Friday
from 12pm-12:30( during 2nd lunch) or  3pm -5pm   after school
call Clary Middle School @ 315-555-1515 to set up an appointment
School address: 700 Amidon rd , Syracuse N.Y 13204 
email address- rreave@scsd.edu