Weathering and Erosion
Weathering is the breakdown
Erosion is the carrying away
Deposition is the dropping of sediments

Agents of weathing?
Agents of erosion?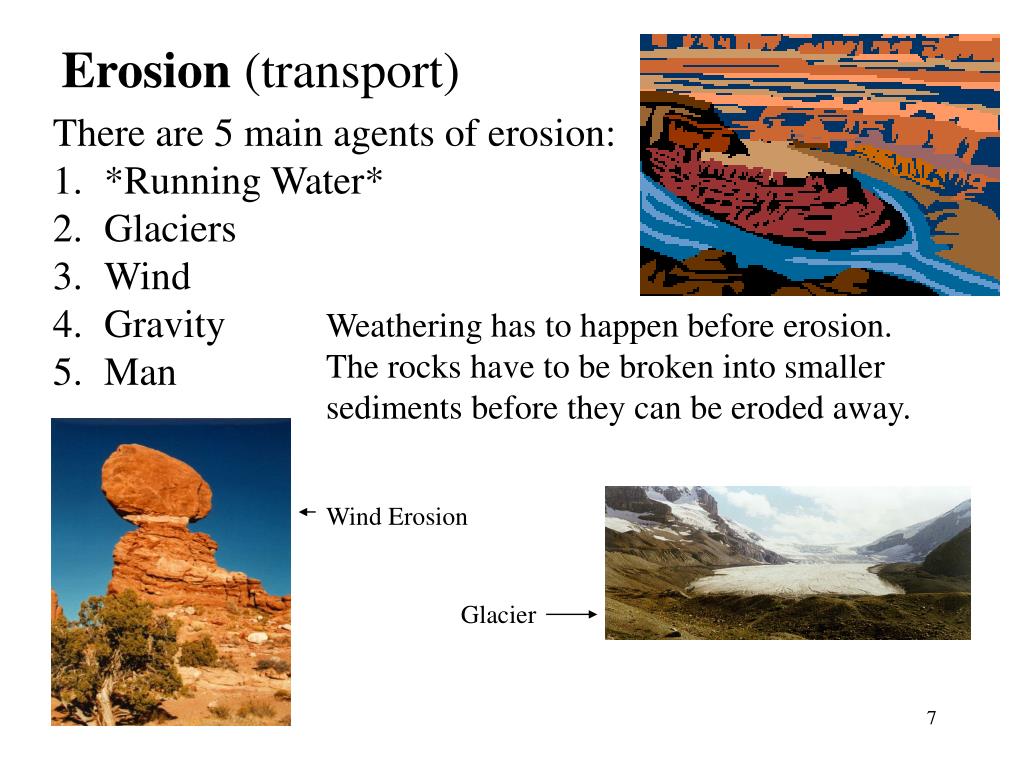 Factors influencing rate of weathing?
As you can see, there is lots of overlap between these, but the main factors contributing to weathering and erosion are the climate (temperature and rainfall), the rock itself (surface area, cracks, and composition), and time.
When a rock weathers, it becomes soil.  Dig down, it is not all uniform.  Here is what you will find:
The thickness of the layers is determined by the rate of weathering (more weathering = thicker layer).
The nutrient level of the soil is determined by the amount of life there and the amount of leaching rainfall 
Based on that, describe the soil in the grasslands.
        Arctic?
        Desert?
        Around here?
        The moon?
        Venus?
We try to prevent soil erosion in lots of ways.   Brainstorm some...
Terracing:
Windbreaks:
Contour farming:
Strip cropping:
Cover crops:
Low till farming and other ideas...
Land movement could be quickly like landslides, but it also can move slowly.  That is called "creep."  Here is how you can tell land is creeping:
Are you ready for the test?
Differentiate between weathering, erosion, and deposition
What are the agents involved in each?
What are the factors effecting weathering and erosion?
Based on those factors, what can you guess about the soil in different parts of the world?
Draw a soil profile.
What do "J" shaped trees tell you?
Describe methods to prevent soil erosion.
Put everything together and tell me how you'd prevent the weathering and erosion of your house, car, and property.