Georgia SHAPE
Congratulations to Still Elementary for earning the Platinum Award Level for the Governor's SHAPE Honor Roll AGAIN: 2014, 2015, 2016, 2017, & 2019!
We are one of 82  schools in the STATE of GEORGIA that has received this prestigious award.
The Platinum Award Level means that as a school community we have chosen to put the health of our students and staff as a priority.  
186 schools were awarded in the state of Georgia celebrating their commitment to wellness.
4 years ago Cobb County signed a pledge for all schools to participate in 30 minutes of physical activity, including recess outside of the physical education program.  This program is called Power Up for 30. 
This is why we have morning walking club, moment of movement in the morning, and brain breaks throughout the day.  You all can see the benefits of increase physical activity every day!  It helps lots of our wiggly worms get some wiggles out, increases blood flow, attention span, eases transitions, and promotes a healthy lifestyle.
Let's keep up the good work!
Check out the Georgia SHAPE website: http://www.georgiashape.org/
Alliance for a Healthier Generation: Healthy Schools Program 2014 - Bronze
This 2 year award requires commitment from all school personnel and students to make changes that reflect the personal and community value of healthy choices.  We are not alone.  44 Schools in the state of Georgia and 5 from Cobb County have been honored with this significant distinction.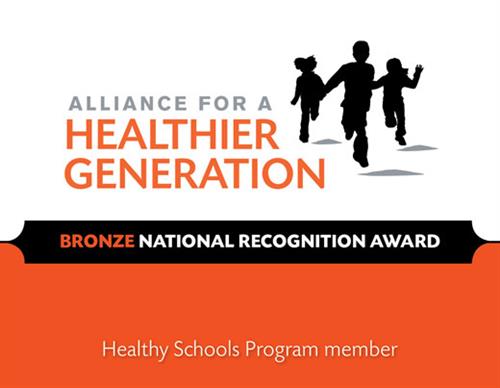 Let's Move Active School
The nation's top physical activity and education distinction for K-12.
525 schools in 37 states were awarded for 2015. Only 5 schools from Cobb County will receive this award.
As educators, we have a passion for our student's overall well-being.  We know that active kids do better in school.
What does this award mean? It means we are part of the solution. By proving students with 60 minutes of physical activity (including PE) a day, we are making a difference in the lives of our students and our community.
Official Statement:
We are proud to announce that Still Elementary has been recognized for its outstanding efforts toward  getting students and staff moving. Let's Move! Active Schools, a sub-initiative of First Lady Michelle Obama's Let's Move! initiative, recently presented Still Elementary with the 2015 Let's Move! Active Schools National Award. Because we know physical activity translates into student success both in the classroom and in life, we are proud to be in the elite echelon of schools committed to increasing physical activity and physical education opportunties. Please give yourselves a hand for all your great work!
Safe Routes to School - Bronze Level
Safe Routes to School promotes pedestrian safety and assists with our Walk to School Wednesdays.