Welcome!
We hope you are staying safe and healthy! We all miss you!
We've put together this website to help you stay connected.
This week's activities:
Here are this week's activities for you. These are optional, but we hope that these activities may provide an educational outlet.
We will be contacting you this week, and we look forward to touching base! We are looking into more interactive options, which we'll share ASAP. We appreciate every effort you are making to keep instruction in your week. Thank YOU!
Please let us know if you need any help. Our team's office hours will be 9am-11am from Monday-Friday to answer questions, etc. Reach out to us via Remind or email.
PE info attached.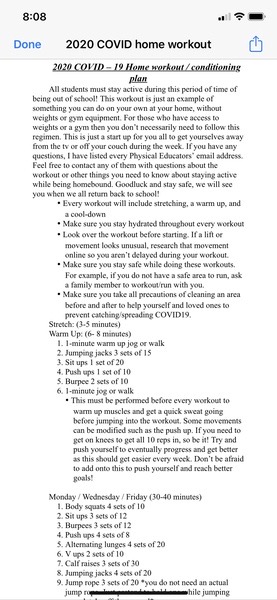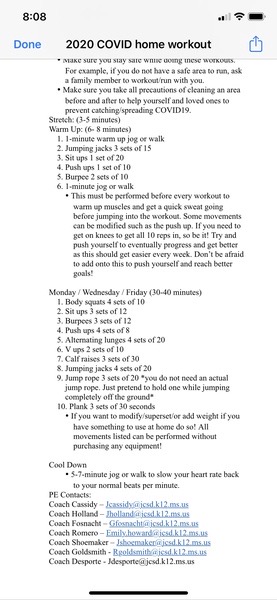 Love,
Mrs. Davis Ms. Ponson
Ms. Thone Mrs. Gemmill
Mr. McClellan Coach R
History - Mrs. Davis

Students will visit hmhco.com/ed 

The username is your child's first initial, period, then last name.  The password is jackets.  (example: Username:  K.Smart Password: jackets)

  If you click on the student book and it does not pop up, go up to the tab labeled "RCE" and move the mouse over it a couple of times.  It should pop up.

The  assignments need to be completed on notebook paper. Keep all lessons at this time. Rememember to label/Title all of your work

Students will write a short reflection (two or more paragraphs) , which will include a different set of three no more than four each day from the following civilizations until you have written about all of the civilizations/modules:Uncovering the past; Stone Age; Fertile Crescent; Kingdom of the Nile; Ancient India; Ancient China; Hellenistice World; Ancient Greece; Ancient Rome; and Middle Ages

Objective: Demonstrate your knowledge of the civilizations we have studied. Describe your feelings on civilizations that were most and least interesting to you and why? Explain why these civilizations are important to our development today.

This is a good opportinuty to demonstrate your skills with using R.A.C.E. Runners to your mark, get set, let your skills show!

Writing this last lesson isn't easy. It reminds me that our time is almost over. I will miss each and everyone of you and hope that you will stay safe and enjoy your summer break. As always "Moving Right Along", but this time with a tear.

Love, Mrs. Davis

Science - Ms. Ponson 

 

WEEK #9 SCIENCE ASSIGNMENT: 2 Nearpod Assignments

I'm leaving the Nearpods since some people have not done them yet. The new

assignment is right under them.
 Go to join.nearpod.com (link below) and type the 5-letter code to complete the following lesson: 
         

            Make sure to type in your FIRST & LAST NAME when prompted to provide a name

 

1. The Sun (expires May 27)

https://share.nearpod.com/vsph/fKOwA43UMu

   Code: PZGSI

2. The Stars (Expires May 27)

https://share.nearpod.com/vsph/8gBJjEJIMu

Code: NETSA

3.Exploring Space Today 

https://share.nearpod.com/vsph/TKzw0ow7Lu 

Code: ERZMB       

                                 

         New Assignment!!!                    

                                                          This is a Gratitude Scavenger Hunt. It can be done indoors or outside.

                                                                                                                                   Since this is my favorite picture of                                                                                                                                             Gem Gem and I, I'm leaving it right here.  

            

          
         

Thank you for all your hard work! I miss you!! 

                                    Y Ponson 

 

 

Learning Strategies - Ms. Thone

It's the last week! You all have been a wonderful group of kids for my first year of teaching! You're almost finished with sixth grade! I have one assignment left for you.

 

Login to Flocabulary through Clever and complete the assignments on "Big Up Yourself." 

 

Stay safe and healthy!

Love, Ms. Thone

ELA - Mrs. GemmillL

 

Mrs. Gemmill ELA

Week of 5/18/20-05/21/20

 

  1. Journal Options: Choose at least one to complete. If you have extra time and want to do all three, please do. :) To share it with mrs. Gemmill, you can share a photo of you journal on Remind or email it to me. cgj1037@jcsd.k12.ms.us

          A. Write a letter to Mrs. Gemmill about your year in 6th grade and your goals for next year.

          B. Think of one day in 6th grade Language Arts that you enjoyed. Draw that day and write a one sentence caption underneath.

Some things I enjoyed were the Venus Fly Trap lesson, the imagery/blind poet painting, RACAACAE (Yes! Y'all are amazing writers!), Pin the nose on the witch/Halloween review day, Athena and Arachne workbook day, Trashketball figurative language review, snowball stories, and many others!

         C. Write a letter to the incoming 6th grade students. What would you want to tell them about 6th grade and middle school in general?

 

  2. End of year Review: Quizizz

Go to...

and enter this code

9018710

 

or copy and paste this link: 

quizizz.com/join?gc=9018710 

 

 

Thank you for a great year! I miss you all so much, and I hope you have a safe summer and an awesome 7th grade year! Remember to come say hi now and then. 

Love, Mrs. Gem Gem 

P.S. Read every day! 

 

 

 

Week 5/18-5/22: This week will be the last week you all have as a 6th grade student! I am incredibly proud of how hard each of you have worked all year and look forward to seeing you as 7th graders next year. Since you all have worke so hard and to celebrate the work you have done this year, this weeks assignment will be a little different. I want you to log onto one of these math websites and have fun! 

https://www.coolmathgames.com/

https://www.mathplayground.com/

 

I miss seeing all of you everyday! I have enjoyed being able to teach you all this year and hope you have an amzing summer!

Love, Mr. McClellan

 

Coach Richard

I hope yall are doing well! Students, I miss you tons! I will be available Monday – Friday from 9 am to 11 am. If you need help with material that you have been given, please do not hesitate to contact me! You can contact me via email rrichard@jcsd.k12.ms.us or via Remind using the code @62e3hk

 

Love, Coach Richard