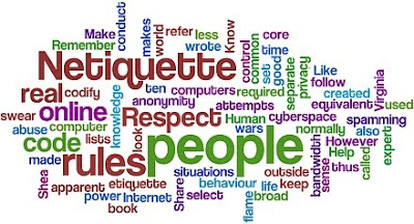 "Netiquette: The social code of network communication. Internet code of conduct based on the Golden Rule. Ethical philosophy of common rules."      
Netiquette: Rules of Behavior on the Internet 
~The Basic 8 ~

1. Refrain from personal abuse. 
2. Don't spam.                                                                                       
3. Write clearly and succinctly. Avoid using slang terms others may not understand.
4. Remember that your posts are public and everyone can see them. 
5. Stay on-topic, especially when you're new. 
6. Don't expect other people to do your homework for you.  When you do ask for help, include details of what attempts you've made to solve the problem.
7. Do not post copyrighted material to which you do not own the rights.
8. The site's owner has the final say in enforcing the rules.
For more on Netiquette ~