Ensuring

Equitable Access to Technology
---
Th

ere are no silver bullets in education. There is no problem that educational technology will magically solve. The hard parts of creating equitable schools will remain hard. But the great potential of educational technology    to improve teaching and learning will only be realized if our ed-tech efforts go hand in hand with a                                 commitment to digital equity.

Justin Reich
---
Link to Video - Click the image above
This video explores the general concepts of what
equitable access to technology is and a bit more
New Strategies in Ensuring Equitable Access to Technology in Schools and Classrooms
It is the 21st Century and one would hope that the majority of America's Classrooms were equipped with enough devices to provide equitable access to all students. However, the grim truth is that there are many systems and classrooms that are far from meeting the 1:1 ratio of student to device. It must also be noted that even in classrooms with good ratios there are many that do not have devices that meet the needs of the student body. Assistive technology for students with disabilities usually are more expensive and therefore not purchased with school monies. When one looks into solutions for inequitable access, the usual suggestions do not provide a lot of encouragement or quick fixes, they typically include ideas of writing grants, and making budgeting changes within systems and schools. These options however,  take time and depend on the approval of many outside sources. While many educators provide resources for students out of their own funds, the cost of adding technology is prohibitive, so other strategies are now being shared to overcome the deficits. The structural management of BYOD, policies, the effective use of a rotational system or scheduling,  as well as the implementation of a blended instructional learning  model are three ways that educators may now offer equitable access of technology to all students. 
---
---
For primary schools and schools in lower income neighborhoods, where BYOD may not be a viable option, the following two plans may work separately or in conjunction with one another. The first plan, rotational scheduling, is a reasonable solution for any school and any grade level. It may be used within each classroom, a traveling device cart that classes may check out, or just a schedule for classes to visit a set computer lab. In larger schools, the former would require some creative and careful planning. The ultimate benefits are however, that few devices are made available to the many. Two main drawbacks include: a need for governing, to avoid a few taking advantage, as well as a need for thoughtful planning, to accommodate for interruptions to the school schedule, where students or classes may frequently be passed over due to holidays or assemblies. While a rotational schedule offers options for regular access to devices, it tends to only encourage the use of technology. The implementation of a blended learning and instructional model with a rotational schedule embedded in its plan, offers students and teachers a more integrated learning opportunity. The blended model, much like the flipped classroom model, allows teachers to utilize time with students face to face. much more effectively, and any time spent on devices directly correlates with all other instructional and collaborative time. If planned and implemented effectively, some students would be utilizing devices to access and build knowledge or share a device with peers to complete a collaborative task. While the limited store of devices is being accessed by some students, the teacher would be working with a different set of students to facilitate discussion based on prior access to content learned online, differentiating instruction, or reteaching. Blended learning is a mode of teaching and learning that is picking up a lot of momentum in classrooms all over the world. It however has its drawbacks as well. It definitely requires a good deal of planning and dedication to consistency. It also requires that the educator be open to allowing more student autonomy. This being said, the benefits far outweigh the disadvantages when it comes to providing equitable and quality access of devices to students.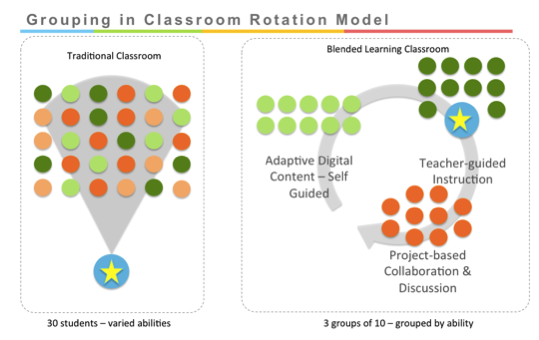 Planning a rotation of students to access the available technology can be even more effective when integrating it with a blended instruction and learning model.  The graphic demonstrates an example of a rotation.
---
The video below introduces the viewer to blended learning and highlights the benifits this instructional model offers for classes with few devices. 
Click on the image below to access the link to the video
Links to More Information
Bring your Own Device

 

Rotational Scheduling

 

Blended Instructional Learning Model

 
---
Link to Video - Click the image above
This is a video that demonstrates -not a constant 1:1 device ration but a very diverse access to technology from kindergarten to 5th grade.
Some of the experiences are amazing! Check it out.
---
Links for BYOD  Instructional Guidance  and Engagement Programs
---
References
SK