One of our first days in second grade. We're all wearing Paw Patrol masks.              We planted seeds in the raised garden boxes.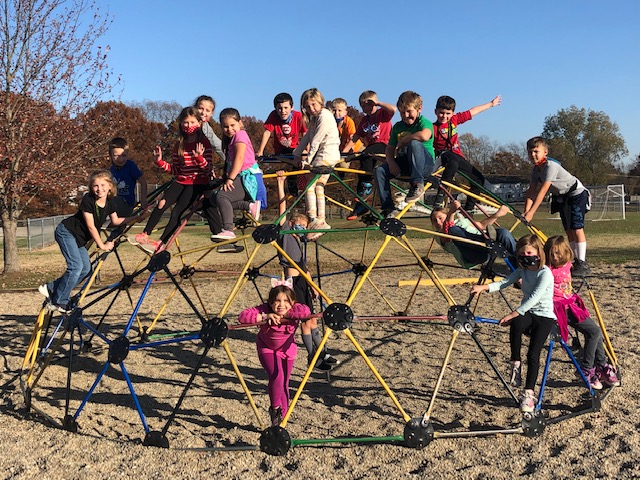 During Red Ribbon Week, we "Say Boo to Drugs!" on Friday before Halloween.            Finally, all the kids were at school, so we took a pic outside to see their smiling faces.
Christmas is a little different this year. Since we had to go remote, we were able to have Ag in the Classroom. We listened to the story about the Candy Bomber. It was fun to make parachutes with a Hershey's candy bar. We are able to see the lights up on the square, and we had Google Meet for class the last week of school.
We had a full week planned of dress up days for the St. Jude fundraiser, but we had 4 snow days. We did get one on Monday, "Kiss Cancer Goodnight." Tuesday was "Put a Cap on Cancer", Wednesday was "Fight for a Cure for Childhood Cancer" (wear yellow). Thursday was "Tackling Childhood Cancer" (wear sports shirts), and Friday was "Sending Love to St. Jude" (wear red or a Valentine's Day shirt).
Here is a video of our ducklings that were hatched last spring on March 30, 2020.
Our Newest Class Member                                      Pictures with our Baby Chicks
      The kids LOVED holding the baby chicks. We got lucky and no one got dirty! :)                                      Aren't they adorable?
EARTH DAY ACTIVITIES, April 22, 2021
We took the pop tabs to McDonald's so they could recycle them. Crystal Luebbers, McD manager, gave us all a chocolate chip cookie. We picked up trash in the p.m.
We made crafts out of recycled materials and made bird feeders with some old pine cones that we had. It was a good day to help our planet, Earth!