SCHOOL: Everglades Elementary
CLASS: 5th grade
Coach's Corner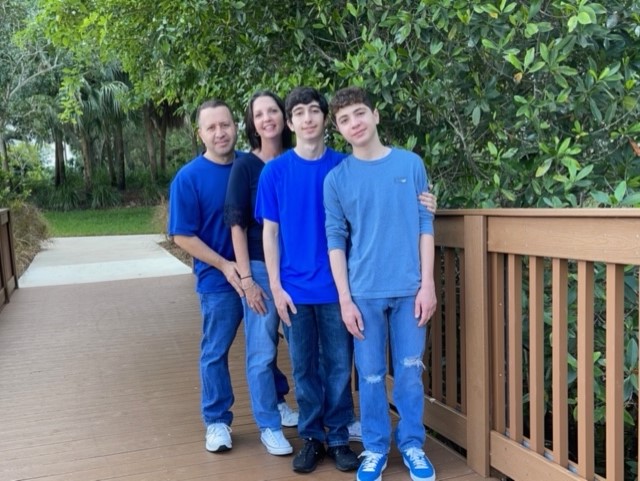 I was born in Hollywood, Florida and grew up in the North Miami area,
attending Norland Elementary and Norland Junior High. After 
graduating from Miami Norland Senior High School, I obtained my Bachelor's 
Degree in Elementary Education from the University of South Florida. I taught
preschool at A Children's Carousel for three years while attending Florida
International University for my Master's Degree in Elementary Education. Next,
I substituted and worked at after school care programs for five years. This is
my 21st year at Everglades Elementary. I have also taught fourth grade and
third grade.
My husband, Farrell, is Canadian. He spent 19 years a chef there, and now
works for Sysco Food Services. We've been married 18 years and have two
wonderful boys. Jeremy is in 11th grade at Cypress Bay and Matthew
is a 8th grader at Tequesta Trace Middle.



A few my favorite things:



people: my husband Farrell and my sons Jeremy and Matthew

country: Canada (where Farrell was born)

food: shortbread or plain sugar cookies, chocolate chip cookies, sushi, Italian

restaurants: Brio, Benihana, Cafe Vico, Casa d'Angelo, Bonefish Grill, Jersey Mikes, Blaze Pizza

shopping: Gap, Banana Republic, Ann Taylor Loft, Macy's 

flower: big gerber daisies in all assorted colors

books: Wonder, The Kid in the Red Jacket, all Harry Potter books

movie: The Princess Bride

sport: hockey

color: various shades of blue

hobbies: reading , shopping, swimming, board games, puzzles

places I frequent: Venetian Nails, Amazon.com, Teachers Pay
Teachers (website), Target

pets: 3 cats (Jack, Cheddar, & Pumpernickel)

birthday: May 31

FYI: I celebrate Hanukkah, not Christmas

Things I DON'T like: chocolate, coconut, coffee, nuts