Art Challenge One
My creative life - a book cover and 6-word novel 
Everyone has a story to tell
Aim/Overview: "Introductory activity for Visual Arts and Media Arts. This task asks you to reflect upon your own arts and creative history. Work out the key themes. Have a go at a self-portrait using a couple of different styles and then digitize it. Use what you've made to create a 'book cover' that includes a six-word novel and one of your portraits. This is about reflecting upon your own skills and experiences and then extending those through engaging with some examples from the art and design worlds. The task also asks you to explore your work manipulation by using digital technologies to create a media product" (CQU, 2021). 
Year level: Level 6 - Curriculum - Level 5-6 ACAVAM114 - "explore ideas and practices used by artists to represent different views, beliefs and opinions" (CQU, 2021). "Develop and apply techniques and processes when making their artworks, plan the display of artworks to enhance their meaning for an audience" (CQU, 2021).
---
---
1. River Reflection - everyone has a story
Reflecting and responding to this activity: I liked doing this activity. I'm not sure I completed it correctly, as I think I wrote too much detail. However, as it's my work, then I choose to do it this way. This activity was the beginning of my art journey. It is a journey of who I am and who I am as a teacher (more on this later as this pertains to responding to art in its completed form (ACARA, 2015)). As an artist, I see this as an awaking of a thought process I didn't have before. This including listing everything that I do that is considered art, but at the same time not considering myself an artist. As an audience, I see many words, someone who uses words to describe rather than pictures. To expand on this, I think of a newspaper article and cartoon describing the same event (usually political in nature). Still, one uses words and the other uses pictures with some contextual language. This activity was meant to be like a cartoon with some contextual language; instead, the artist wrote an opinion piece.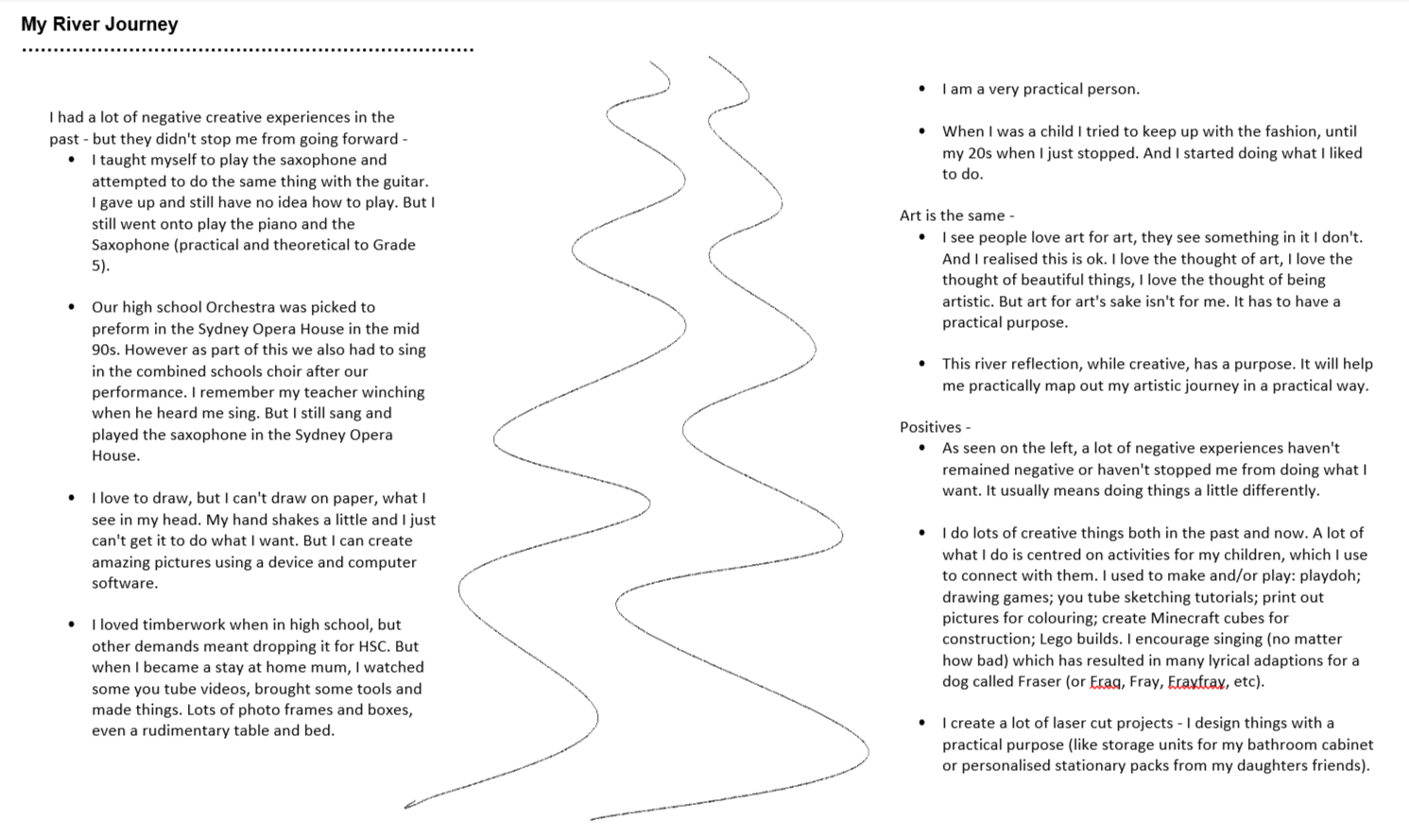 2. Self-portrait - working with paper and drawing materials
 

This section includes the making of art. "Learning about using knowledge, skills, techniques, processes, materials and technology to explore art practices" (ACARA, 2015).

Reflecting on this activity: I really struggled with this activity. I didn't want to create a self-portrait. So, I implemented a strategy that I use with my students. I get them to communicate their feelings. For example, one student showed anxiety in creating sizzling starts (writing one sizzling start sentence per minute), not having written a single sentence yet. He stated, "I don't know what to write." I told him to write "I don't know what to write" for the next sizzling sentence, which he did. He did amazingly well for the rest of this activity.   So, I did the same. I communicated my feelings in a portrait drawing.   

 

Self-portrait

Nose, mouth & chin: I hate drawing myself.

Eyes: portraits suck.

Ears & eyebrows: This is totally immature but fun. 

 
Self-portrait: 
| | |
| --- | --- |
| Having completed this worded portrait, I then felt ready to create the self-portrait. This is part of the making strand of the Curriculum in learning about and using knowledge, skills, techniques, processes, materials and technologies to explore art practices (ACARA, 2015). With a self-portrait plan, I started looking for youtube videos designed for children to help me learn how to draw a self-portrait. Opening myself up to this then encouraged me to find more youtube videos. That is, I continued to explore further based on things I found interesting. This is what I created.  |   |

Cubist Self-portrait:
   

ACAVAM115 - "Explore ideas and practices used by artists" (ACARA, 2015).

Reflection: This was interesting to complete. I find it difficult to appreciate this type of art as I don't like having things not matching. I really don't think I understood the concept very well either, as I think I should have drawn myself from many different angles, but instead, I drew myself in two dimensions. It is a little like an optical illusion, which I like, rather than observing myself from multiple points of view. 

Colour choice - Triadic colour scheme was chosen for the background of this cubism. Blue, pink/red and orange/yellow were chosen. I think the blue really stands out. While I initially chose the colours as I thought they work together well, I think the blue is really nice.

 

ACAVAM114 - "represent different views, beliefs and opinions" (ACARA, 2015).

Audience - Upon reflection, it is interesting to observe that I don't know how an audience member would view this picture. I need to understand the idea of cubism to understand what an audience may see in this picture. This would then translate to all areas of art and teaching. By understanding the content, I can then teach students to understand, create, and evaluate artwork from an artist or audience's viewpoint. 
Stylise self-portrait with App:
I used an App called PencilSketch and Photo to Cartoon. I used PencilSketch to create more defined lines from the drawings. I then used Photo to Cartoon to put a pattern and colour on the drawings. 

Reflection: I liked digitising the pictures as this is something I do with laser-cutting. Digital art is something I am interested in and am keen to teach students. As I have already identified, I will need to learn the content before teaching it in some areas. However, this is an area I am more aware of and enjoy doing. 
Extention: explore making a portrait in different styles:
   

Making - "explore possibilities across diverse art forms, solve problems experiment with techniques, materials and technologies" (ACARA, 2015).  While I was putting together this blog, I reflected on my first self-portrait made from words. I wondered if there was a genre for this type of art and came across a program that allows you to draw a picture using words. The program was a little basic, and I couldn't undo a mistake unless I cleared the entire picture. So, while the drawing isn't a self-portrait, the technology could help students understand the use of technologies in creating art.

I found this activity to be fun created the following picture. 
Consider ways to frame a portrait:
| | |
| --- | --- |
|      | I may have taken this a little too far or the wrong way, but I wanted to anyway. I made this photo frame a few years ago, and it usually holds my child's school portraits. So I took out the kids photos and put in my self-portraits, and took a photo. In this one below, I also used an App called Magic Eye. In each of the photos, I added blue eyes. While this isn't something I had to do for this section, I do like the blue eyes on the portraits.  |
3. Identify keywords and feelings:
Explore different ways to summarise a story in six words. Explore your story in six words: can't art, can art, practically purposeful.
Not An Artist: The journey of creating a six-word novel was interesting. It mirrors my journey through this art activity. I have never thought of myself as an artist because I can't draw or paint. I don't appreciate art hanging in the art gallery (although I appreciate that others can and have always wanted to do the same). Also, I wouldn't say I like modern art; many things don't seem to make sense to me; I don't understand it and therefore can't appreciate it. So I wasn't an artist. 
Or: Then I realised I was an artist. I create many things and have sold many things in the past. But I never thought of myself as an artist. Because these things I do are practical items. Everything I create, use and have in my home is practical. If they happen to be pretty, then that's a bonus. As I said in my introduction, I come from an artistic family; I didn't realise it or call it art. I have played in the Opera House but don't call myself a musician. I have created many laser cut products but have never called myself an artist. I have created photo frames, a table and even a bed, but I never called myself a woodworker. But I think I am. I am an artist. 
Practical Artist: Finally, through this experience, I have learnt that my kind of art has a name, practical art or identified as 3D in the Australian Curriculum Art. My artwork is practically purposeful, and I appreciate the work that goes into this type of artwork. 
4. Design your Book Cover:
Elements of colour: In the cubism portrait, I used the colour scheme - triadic colour scheme to provide a background. This time I decided to use a dark-light theme to convey change.
Process: I used PowerPoint and overlapped the picture three times to create defined lines between dark and light. The words for the novel evenly placed over the line between light and dark. The novel summarises the journey of not thinking of myself as an artist to thinking of myself as an artist. 
Fonts: comic sands was chosen for practical reasons. Children with Autism can read this font easier, and this is the reason for choosing this font. 
Reflection: as an artist, I can see the meaning of my novel; however, I don't think I know enough from an audience's perspective. This is again another area that I need to develop an understanding of the concepts. What is the philosophical or ideological perspective of this artwork? I honestly cannot say. I created something that had meaning to me, but I don't know the historical, social, or cultural context of the artwork. So, this is an area I need to develop