Is it More Than Just a Digital Divide?
By Kate Doust
I could feel my armpits get hot and tingly; things were not going to plan. In the middle of a year six digital technology lesson, I felt like I was holding a compass, attempting to guide students in the direction of the travel arrow, pointing to our goal. Instead, I was watching students' dispersing:
north (completing the activity),

south (could not find the program and did not ask for help),

east (working collaboratively together and at varying stages of completion) and

west (procrastination from anxiety, perfectionism, neurodiversity).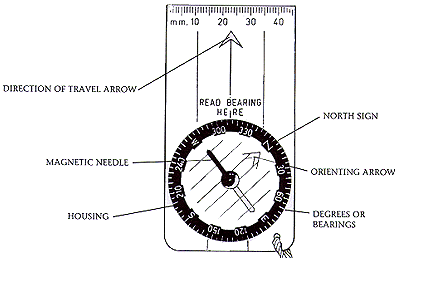 Figure 1 (Environmental Education for Kids, 2020)
Reflecting on my lesson, I struggled to understand how this lesson went so haywire.
Was this a case of the digital divide? In my opinion, the digital divide had its part to play. The school's technological equipment was pathetic. I was shocked when I found out students were using second-hand laptops purchased from the local high school. At least three laptops were broken/temperamental. Two were always flat due to inadequate chargers. Unbelievably, these laptops were shared between three classes, and students often shared one laptop due to double booking.
Alternatively, I started to think, could the digital divide be an added burden to an already disadvantaged state school in a low-income area?
Were there underlying issues already at play such as a larger proportion of students not meeting achievement standards? The lesson plan was not complex. Students should have spent the lesson building upon prior knowledge, which some students demonstrated by smashing the activity. But, other students had rocky starts, showing frustration and anxiety in attempting something new. Astonishingly, one student had never used PowerPoint before. 
Another reason for the failure of the lesson could have been a lack of planning to teach to a wide variety of students' academic levels in the classroom. Two students with ASD, one with a behaviour management plan and another with an intellectual disability and adjusted learning plan at a year two curriculum level. Four high achievers requiring extension above the year six-level into high school territory. A large proportion identified as at-risk of attaining D grades and the rest meeting learning expectations as appropriate for year six students. With no teacher aide assistance, I didn't know how to effectively teach to every child's individual needs. 
I later learned that one at-risk year six student had never opened PowerPoint before, let alone use it. This highlighted to me the seriousness of the situation. That student current academic levels were one barrier and access and opportunities to learn technology was yet another. In such a low socio-economic area, many students wouldn't have access to laptops at home, let alone software like PowerPoint, which comes at an extra cost. And within this school, their access to and opportunities to learn were hampered by the availability of adequately updated and well resourced digital technology resources. 
It could be said I did not know enough about PowerPoint and teaching technology. I agree I may not have adequately taught technology lessons. However, my previous technology lessons had been successful, and I find PowerPoint is an easy software to use and explain.
Finally, there is one last area I think impacted students' successful learning outcomes in this lesson. This is trauma and neglect and the impact this has on a child's brain development. One area of the brain it can affect is executive function. The executive function is responsible for successful learning outcomes. There are three areas of the executive function that work individually and together and are essential for many areas of learning, such as creative thinking, problem-solving, socially interacting with peers and others.
With one in four children exposed to trauma and neglect, this can represent up to seven students in a class of twenty-eight. Within this lesson, some students clearly displayed behaviours and actions linked to undeveloped executive functions. Some struggled to follow simple step-by-step instructions, others showed frustration when unable to solve problems. I often found certain students fared better when provided opportunities to learn through multiple representations, such as providing the same content in visual, auditory, and written formats. Verbally problem-solving or organising students thoughts helped with students procrastination.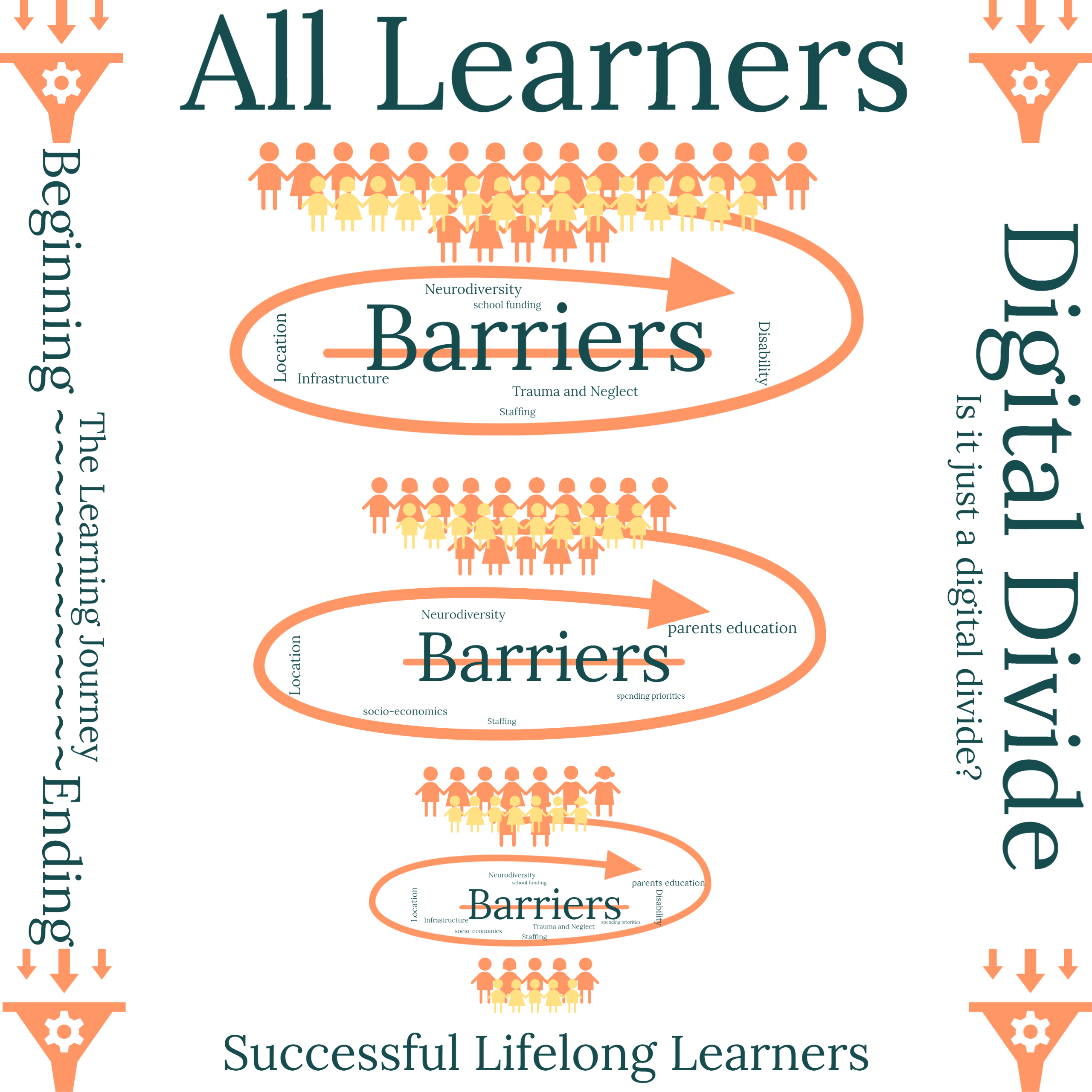 I wrote this article as part of a unit of work for teaching technologies and art as a Master student in Primary education.
When I initially started writing this article, I discussed my frustrations over the digital divide between the haves and the have nots as I observed them within my own class. But then I realised the digital divide was not the only thing hampering students successful learning outcomes. It was just another barrier that students had to navigate to become successful lifelong learners.
As part of the technology's unit, I was required to create an infographic to present the topic of discussion for this article. During the creation of this infographic, the barriers, gaps, and divides between all students and successful lifelong learners really hit home. I think it was the visual representation demonstrating such a stark journey for so many students. At the beginning of their journey, all students are lined up, eager and ready to learn. Then the numbers dwindle each they hit barrier after barrier; until only a fraction of the original students at left at the end.
Previously, I thought of the digital divide as the gap between those who have access to the internet and reliable devices and those who don't. But reflecting on personal experiences, I believe the digital divide is an extra burden. Such as it was in my local school where the income levels were some of the lowest in Australia.
This experience has focused my empathy and desire to do the best I can as a teaching practitioner. I do not know if it can or will change how I teach all the students in my care. It does not mean I have the answers or even the questions. After all, how can a problem of this magnitude be fixed?
Reference List
ACARA. (2021). General capabilities. https://www.australiancurriculum.edu.au/f-10-curriculum/languages/general-capabilities/
Close the Gap Foundation. (2021) Digital divide. https://www.closethegapfoundation.org/digital-divide
Diamond, A., & Lee, K. (2011). Interventions shown to aid executive function development in children 4 to 12 years old. PubMed doi: 10.1126/science.1204529.  https://pubmed.ncbi.nlm.nih.gov/21852486/
Ewing, S. (2016, February 25). Australia's digital divide is narrowing, but getting deeper. The Conversation https://theconversation.com/australias-digital-divide-is-narrowing-but-getting-deeper-55232
Government of South Australia. (2016, August 5). The life they deserve. https://www.childprotection.sa.gov.au/department/royal-commissions-and-reviews/child-protection-systems-royal-commission
Hansen, J., & Richland, L. (2020, December 1). Teaching and learning science through multiple representations: Institutions and executive functions. https://doi.org/10.1187/cbe.19-11-0253
Howard, S., & Vasseleu, E. (2020). Self-regulation and executive function longitudinally predict advanced learning in preschool. Frontiers in Psychology: Educational psychology.  https://www.frontiersin.org/articles/10.3389/fpsyg.2020.00049/full
Nediger, M. (2020, June 245). What is an infographic? Examples, templates and design tips. https://venngage.com/blog/what-is-an-infographic/#:~:text=An%20infographic%20is%20a%20collection,valuable%20tool%20for%20visual%20communication.
Microsoft Office. (2021). Solutions for your busy life, confirmed. https://www.microsoft.com/en-au/microsoft-365/buy/compare-all-microsoft-365-products-b?&ef_id=CjwKCAjwtJ2FBhAuEiwAIKu19oK0w7VfZ1bMtgFrSXP7vZbzi-Y0XXt_vGGZAySRJICPl6_MXiZzGxoCIzQQAvD_BwE:G:s&OCID=AID2100139_SEM_CjwKCAjwtJ2FBhAuEiwAIKu19oK0w7VfZ1bMtgFrSXP7vZbzi-Y0XXt_vGGZAySRJICPl6_MXiZzGxoCIzQQAvD_BwE:G:s&lnkd=Google_O365SMB_Brand&gclid=CjwKCAjwtJ2FBhAuEiwAIKu19oK0w7VfZ1bMtgFrSXP7vZbzi-Y0XXt_vGGZAySRJICPl6_MXiZzGxoCIzQQAvD_BwE
Noone, Y. (2017, November 28). Interactive: Find out how your neighbourhood compares to the rest of Australia. SBS News. https://www.sbs.com.au/interactive/2017/struggle-street/
Understood Team. (2021). The 3 areas of executive function. https://www.understood.org/en/learning-thinking-differences/child-learning-disabilities/executive-functioning-issues/types-of-executive-function-skills