What is Netiquette?
Just like any form of communication, the Internet is a community that has its own form of etiquette. Netiquette is the set of professional and social etiquettes practiced and advocated by people on the internet. These practices include being courteous and precise, avoiding cyber bullying, and obeying copy right policies.
Resource: What is Netiquette? A Guide to Online Ethics and Etiquette
https://www.webroot.com/ie/en/resources/tips-articles/netiquette-and-online-ethics-what-are-they
Check out this video about why netiquette is important: 
https://www.youtube.com/watch?v=gvkbDc1LiVI
With many different communication online websites, applications, discussion boards, and professional settings, one must always consider these rules of netiquette to ensure appropriate communication with others online. It is essential that teachers educate students on the importance of netiquette rules to avoid cyber bullying, increase professionalism, and respect the privacy of others on the internet.
Resource: Ten Basic Rules of Netiquette or Internet Etiquette
https://www.verywellmind.com/ten-rules-of-netiquette-22285
Check out this video about the Do's and Don'ts of online communication: 
https://www.youtube.com/watch?v=80uRE972uQ0
The Effects of Netiquette
The effects of Netiquette depend on where you are using it and with whom you are using it with. The positive effects of netiqueete in the work force ensure safe relationships between employees and privacy policy importance. This also includes how teachers communication online to one another and how administration communicates to its faculty and staff. For the social aspect, netiquette allows other users to feel comfortable and courteous. The internet has great things to offer; we just have to use it appropriately and in a positive manner! 
Resource: Why Do People Use Netiquette?
 https://www.theclassroom.com/why-do-people-use-netiquette-12078439.html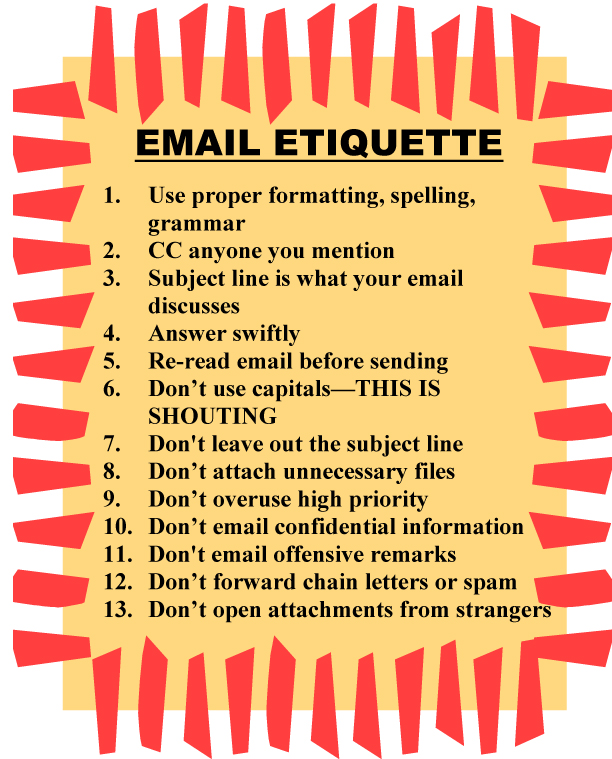 Check out this video about tips for Email & Workplace Netiquette:
https://www.youtube.com/watch?v=-0N1RE0C4vk
Picture Sources:
What Is Netiquette: https://www.pcninja.us/netiquette-tips/
Rules of Netiquette: https://www.google.com/search?biw=1355&bih=738&tbm=isch&sa=1&ei=eMBzXbTjNqrX5gKK8LS4BQ&q=rules+of+netiquette&oq=rules&gs_l=img.3.0.0i67l2j0l4j0i67l3j0.430473.430987..431827...0.0..0.89.411.5......0....1..gws-wiz-img.9LjIeo4FkOs#imgrc=INxLMnDsaj9wPM:
Social Media Netiquette: https://www.facebook.com/SMNettiquette/photos/a.269366843826179/276156723147191/?type=3&theater
Email Etiquette: https://askatechteacher.com/getting-started/free-posters/email-etiquette-poster-2/