Welcome!
The purpose of physical education is to teach the whole student, not just their body and movement. Physical education provides the oppor
Welcome to Mr. Jackson's Physical Education Class. 
Philosophy of Education:
tunity to teach students about movement, strategies, teamwork, problem solving and health related fitness. I hope to provide an opportunity for students to find enjoyment in physical activity by sharing my passion for physical activity and movement. Every student is unique, and will be given the opportunity to test their strengths and weaknesses, while continually finding success in my class. I will do everything within my ability to provide students with attainable goals, as well as challenge them in ways that will help students observe their improvement. The use of various assessments that measure the student's progress and improvement will provide tangible evidence of student growth. 
My major focus will be to make physical education class as enjoyable as possible. This goal starts by providing a safe and comfortable environment. This occurs when every student feels physically and emotionally safe, and anti-bullying is implemented. Enthusiasm and respect for the students is also integral to fostering an enjoyable environment. To further develop respect and provide a fun environment I will be open with all students and encourage them to challenge me in ways where there is the opportunity to learn from each other. By being involved in many physical activities, both in and outside of school, students will see I live what I teach and hopefully develop respect for me on a much higher level. My passion for physical activity led me to the noble profession and I hope to leave a legacy of that passion within my students. 
School Information:
Sawgrass Lake Elementary - Home of the Gators
1615 77th Ave N, Saint Petersburg, FL
17-18 school grade: B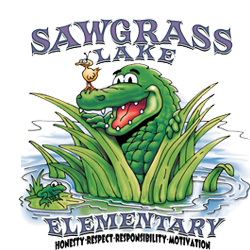 School Vision: 100% Student Success
The mission of Sawgrass Lake Elementary School is to provide a positive learning environment and quality educational experiences, thus enabling our students to reach their full potential academically, though the cooperative efforts of the family, school and community.
School Hours:  7:35am-1:35pm
Office Hours :  7:00am- 3:00pm
Contact Information:
727.570.3122
jacksonc@pcsb.org