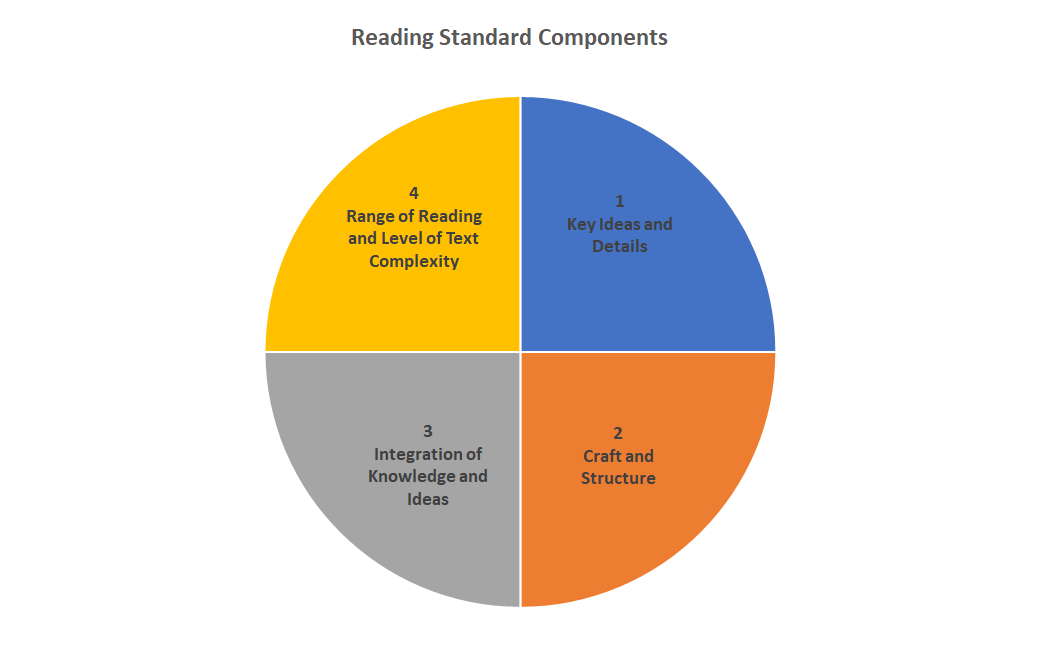 Reading Standards  for:
Literature (RL)
Key ideas and details
             Craft and Structure                              

 

 Integration of              Knowledge and Ideas                                            

                  Range of Reading and Level of                                               Text Complexity                                                  

Ask and answer questions about key details in a text.      
Identify words and phrases in stories or poems that suggest feelings or appeal to the senses. 
Use illustrations and details in a story to describe its characters, setting, or events.

With prompting and support, read and comprehend literary texts representing a variety of genres, cultures, and perspectives and exhibiting complexity appropriate for at least grade 1. (

Retell stories, including key details, and demonstrate understanding of their central message or lesson.

 
 
 

Describe characters, settings, and major events in a story, using key details.

 
 
 
 
 
 
 
Informational Text (RI)
| | | | |
| --- | --- | --- | --- |
| Key ideas and details                                                                                                                                                                               |    Craft and              Structure                                            |            Integration of               Knowledge and Ideas                                             |         Range of Reading and Level of                                               Text Complexity                                                   |
|                           |   |   |   |
|   |   |   |   |
|   |   |   |   |
|   |   |   |   |
Foundational Skills (RF)
| | | | |
| --- | --- | --- | --- |
| Key ideas and details                                                                                                                                                                               |    Craft and              Structure                                            |            Integration of               Knowledge and Ideas                                             |         Range of Reading and Level of                                               Text Complexity                                                   |
|                           |   |   |   |
|   |   |   |   |
|   |   |   |   |
|   |   |   |   |
---
Writing Standards (W)
---
Speaking and Listening Standards
---
Language Standards