Johnson Elementary: Second Grade Room 10
If November 4 or 9th does not work for you we can schedule a conference before of after school.
Hello Second Grade!
Can't wait to start school on Wednesday!  Please check out the Scholastic Book Link.  Orders are due on September 24, 2021.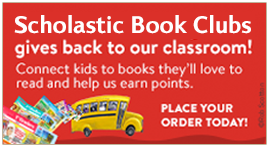 ">Scholastic Book Order
Shop Our Class Page: https://orders.scholastic.com/HDTJY
Shop Digital Flyers for Our Grade with Your Child: https://clubs.scholastic.com/grade2
Please share the Class Page link to extended family and friends. All orders also earn FREE Books for our class.
Thank you for your support!
Ms. DENNY
Class Code: HDTJY
Name Homwork is due the week of Septmber 20th.  We are excited to learn about the stroy of our names!
Second Grade Supply List
Second Grade Supply List
Dear Families,
Hope you are excited as I am for the 2021-22 school year. Hopefully you will find this site helpfull as we start our new school year! The link below provides tips for easing back into the back to school transition.
http://www.pbs.org/parents/education/going-to-school/back-to-school/transition/
Welcome to Second Grade!  Looking forward to the new school year.  The information below will help guide you when purchasing suplies for the school year. 

  Please  label these items with a name:

1-1 inch white 3 hole binders( for student Leadership Binder)
1 package of 3 ring binder tabs-plain write on type set of 5

2 composition books
2 small pencil boxes
dry erase markers with an eraser (sock can be used)
small pencil box labeled with name please fill with...
  Fiskar scissors
3 sharpened number 2 pencil
2 glue sticks
eraser
box 2
twistable crayons or regular crayons:  Please put crayons in a seperate pencil case.

--------------------
These supplies will be used late in the year , no need to write names on these items.
highlighters
black felt tip flair writing pen
pencils

pack of black or blue dry erase markers.



Wish List:  please, if possible donate two or three of the items below
paper towel
keenex
ziplock freezer bags
peppermint or spearmint gum for brain breaks when needed
hand sanitizer
We are going to have an awesome Second Grade Class and school year!!!!!!
Can't wait to meet you !!
Mrs. Denny
Nancy.denny@hvs.org
Please feel free to ask any questions.  You can contact teachers by phone at 248-684-8020 or by e-mailMrs. Denny- nancy.denny@hvs.org
New ABCD Schedule this year!
Please see Attached
Mrs. Denny's Specials Schedule
Note:  We will be following an ABCD rotating schedule. Please keep this schedule at home and keep an extra pair of gym shoes in your backpack for PE days.
Lunch Recess/Lunch  1:10-1:55
A Day

Physical Education

3:15-4:00 pm

Mr. Browne

B Day

Technology

3:15-4:00 pm

Mr. Mauller

C Day

Music

 

3:15-4:00 pm

Mr. Scarbrough

D-Day

Art

3:15-4:00 pm

Mrs. Assemany

Repeat Rotation

 

 

 
Library will NOT be rotating, it will be every week on ___________________.
Wish List
If you would like to make a donation to our classroom, these are items that would be useful, but not required:  box of tissues, highlighters, post it notes, zip-lock baggies of all sizes, paper towel, Flare Pens for writer's workshop (just ask us), Post-It-Notes,Velcro, extra disinfectant wipes or hand soap, paper plates and napkins.  We will ask for other items throughout the year like cereal boxes, ect...more then 10 minutes late, please check them in at the office.  Please be on time so your child does not miss important learning. If your child is absent on student count day a note must be turned into the office.
Johnson Elementary: Second Grade Room 10