Bob's I. G. A.  North Antioch SuperStore in North Kansas City 1977-1985
     My greatest desire in my life was to serve God. I thought that by choosing a serving profession that I might be able to do that better. Teaching was that profession, so I prepared myself to teach my favorites mathematics and science, and I took my first job in 1963 at North Central High School in Ramsey, IN were I graduated. After three years I moved to Bloomington University School for one year and then on to Howe Military School for 8 years.  I moved from north-east Indiana in 1975, when my mother died, to Barstow Country Day School in & Kansas City, then for a short time at Hope Day School in Independence.  During this time I did some substitute teaching, and taught for 10 years basic math skills at night in the Adult and Community Education at Truman High School in Independence. My last full time teaching job was Oak Grove Junior High for two years and by that time which was the end of 15 years teaching, I was simply burned out, overwhelmed by severe stress headaches, and developed stomach ulcers, the kids had gotten to me big time, they were so different than when I first began to teach, so for my health's sake I resigned at the end of 1977  ending my teaching  career.
      About this time I had learned Bob Lemons was interviewing for his new store to be opened on North Antioch in North Kansas City. I determined to interview for any kind of a job that I can get.  He was very gracious but said that he was still interviewing and had not made any decisions.  I went back the following week to check and actually went back for the next 6 weeks, each time asking if he had anything at all that I could do.  I think that he hired me as deli counter help just to keep me from coming back a 9th week!  Bob's willingness to take a chance on me changed my life for the better in ways that I could never express and that is why I am forever grateful to Bob, LuAnne, Shelley & the entire Lemons family and for my time at Bob's IGA. Working for Bob helped me to raise my family's standard of living up from near the poverty level.  I was so broken emotionally from teaching that when I came the day he hired me was literally the first happy day of a new life for me as well as a new profession which I loved so much that I followed it over the next 16 years.
Robert "Bob" Eugene Lemons 1929-2016
Bob Lemons was Kansas City's own "Hometown Grocer." His name is rarely heard without three letters behind it: Bob's IGA. He was recognized for his determination, innovation and business success by being named the IGA National Retailer of the Year in 1986 and he appeared inside of the Forbes Magazine in an article for this award and for  using his personal antique collection as his stores' décor, which made his stores a walk throught memory lane for everyone who shopped there. No wonder Bob had such a great following, each of whom loved their time at Bob's IGA!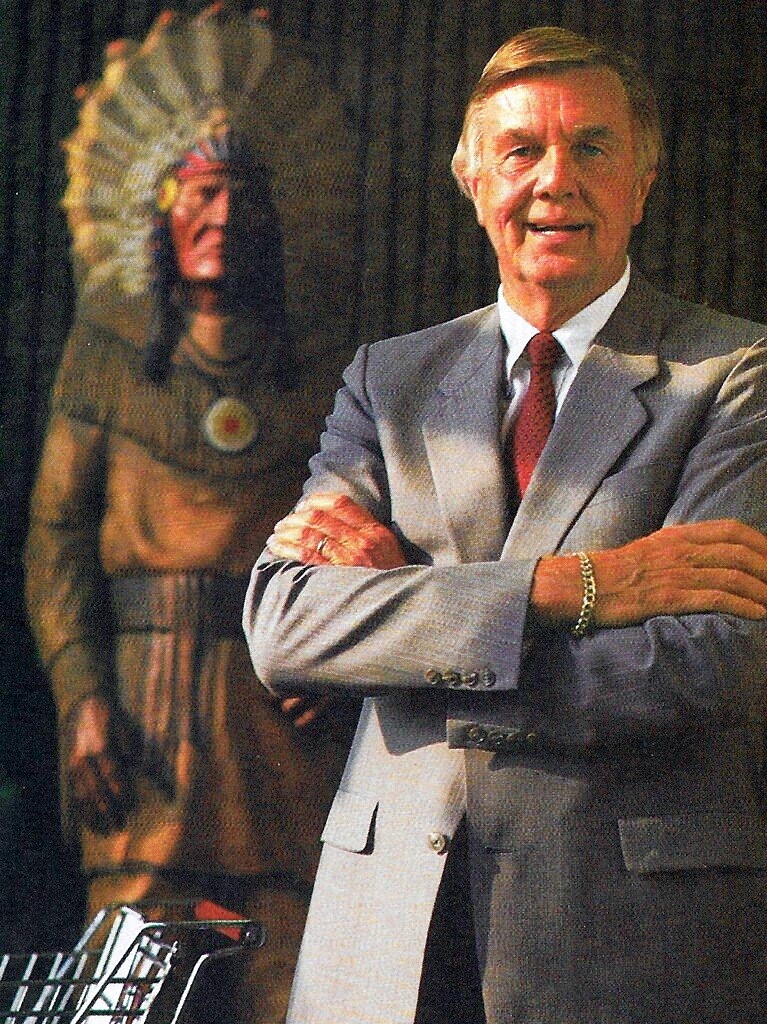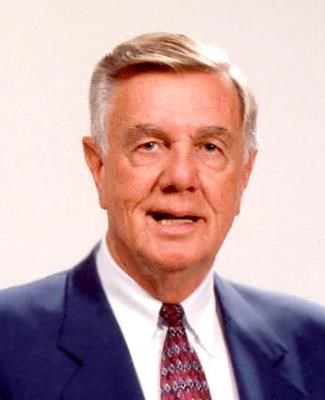 Daughters, Sarah (Tom) Reynolds, LuAnne (Brad) Wortham, Norma & Bob Lemons,                             Shelley (Landis) Lynch, and son, Robert (Linda) Lemons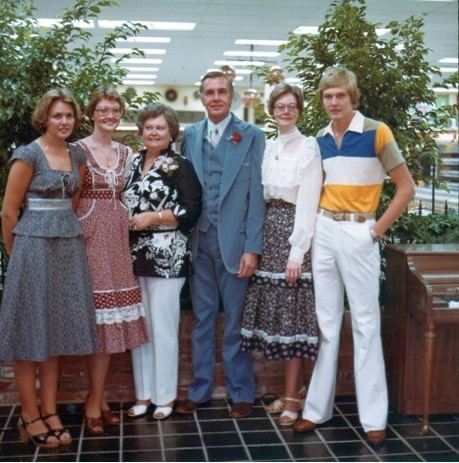 I began at Bob's IGA as Deli counter help, within 3 years, I was promoted to managing the North Antioch Deli.
LuAnne mentored me to be a good deli manager and eventually a trainer and she was a wonderful Friend to me, a friendship that has lasted over these many years! She always had an empathetic ear and would patiently listen to me. Her wise counsel was invaluable to my success as a person as well as a manager and eventually a trainer in the General Office. She often rolled up her sleeves to help me finish the hundreds of Party Trays we would do during the Holidays. I remember one 36 hour stretch where we had over 100 trays to do that she got really irritated at me when I couldn't seem to sit down and rest, as I felt such an urgency to get the trays and orders completed, in the best and quickest way possible.
LuAnne in a Meeting of Department Managers in front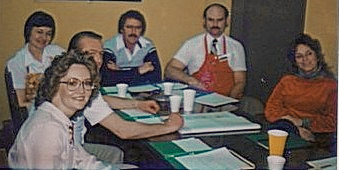 The checkout lanes were right in front of Bob's office and he would often come out, as he is pictured here and talk with customers, even sack their groceries. It was his personal attention to each customer that endeared him to all of us and helped in great measure for us to be successful as a store.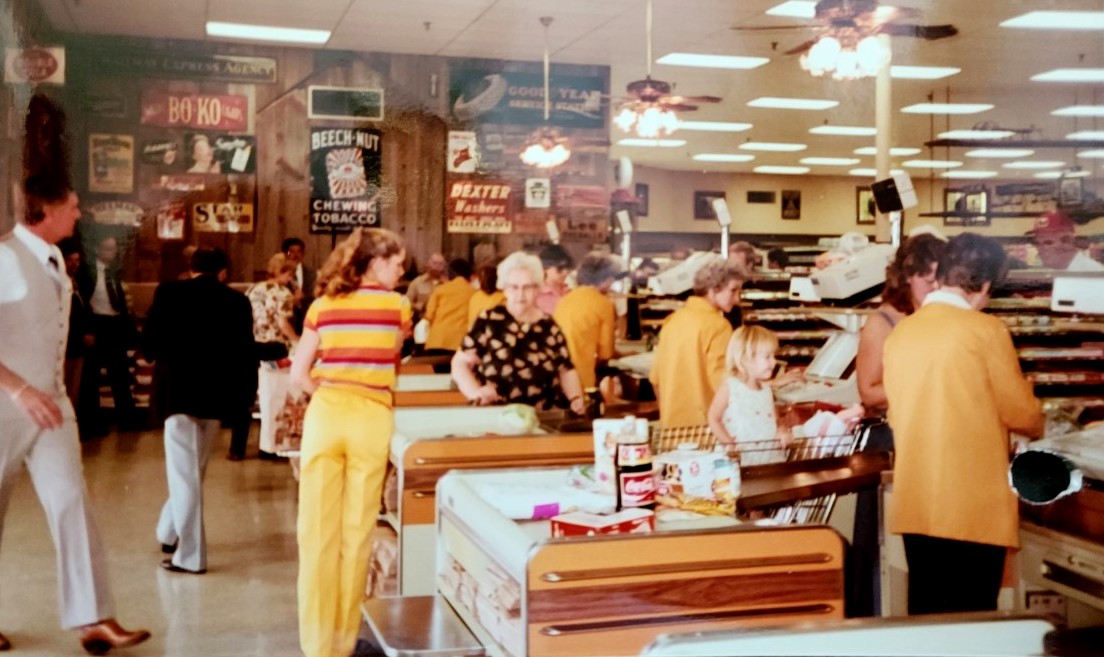 Bob's stores where decorated with antiques from his private collection!
His stores were showplaces which took us all on trips down memory lane with something for everyone.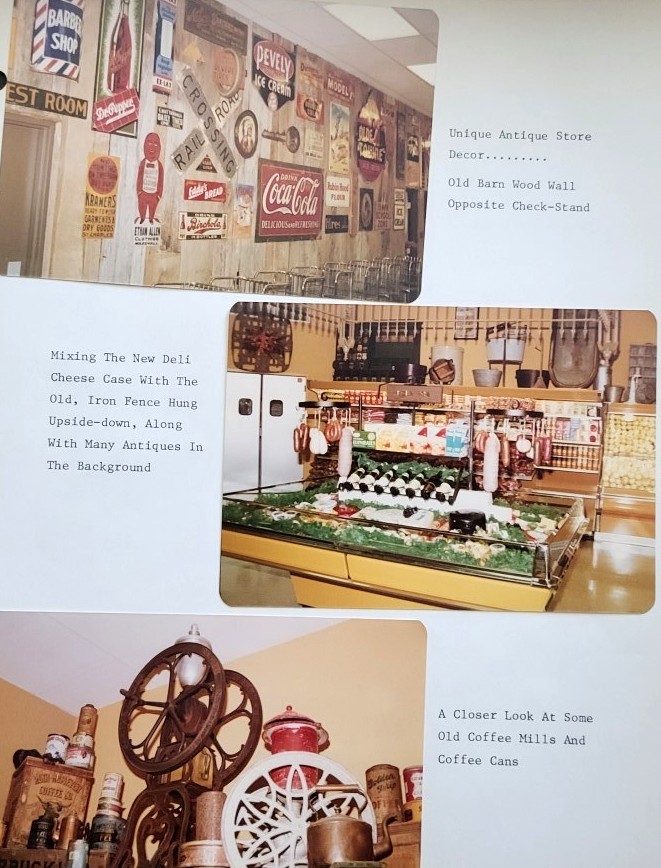 Bob's Deli was the largest and highest volume Deli in Kansas City area in 1977 with a service case which included an 8 ft case of Fresh Seafood with Lobster Tank, an 8 ft case of Specialty Cuts of Beef, Pork, Lamb and Veal, an 8 ft case of Imported Cheeses, 8 ft case of Sliced and Shaved Luncheon Meets, 8ft case of Specialty Salads, an 8 ft case of Barbecued Chicken and Pork and Fried Chicken, 8 ft case of Domestic Cheeses in the Produce Section plus a Fresh Sandwich case and other quick pick up foods plus all of tie-in products in front of & on top of the service cases. We built Bob's IGA Deli into the "Go-To-Place" for the very best in party trays, and customer service!  It was a team effort and that was a vitally important thing that Bob taught us about being a success. After one very busy holiday season, as I was checking out late in the evening, Bob personally recognized my efforts with a bonus, shook my hand, and said "John, you've done better than I ever thought you would."  It meant a lot to me that he realized that I had willingly sacrificed myself for my department, and the good of the store, by going to any lengths that were necessary for me to get the job done and to do it well!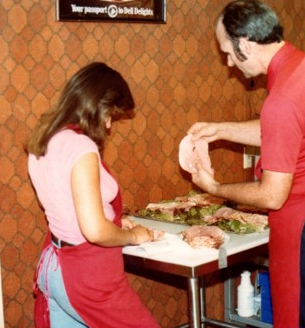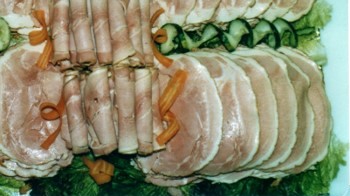 We also did Seafood Trays and Specialty Meat Trays as well as selling delicious ready to eat things out of our Seafood Case. Herring in Sour Cream, Blind Robbins - smoked salted herring fillets, cooked peeled and deveined shrimp, and our original receipe Crab-Lite Salad, Seafood Supreme and Seafood Pasta Salad were among the favorites. We sold a lot of these items as well as live Lobsters and fresh Chesapeake Bay oysters.   We carried something fresh and frozen to satisfy the most particular customers!
A Crown Pork Rib Roast with Stuffing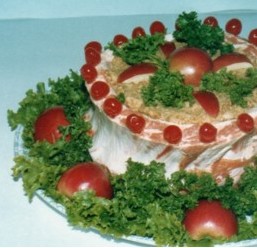 After a few years in the Deli, general manager Pete Hall came to me early one morning and said "we, meaning store management, do not expect you to do what you are doing, so we are moving you into the meat department. You will take your  breaks and go to lunch everyday as the others do." It was a kind and very compassionate thing for Bob's IGA to do for me. I had been clocking in at 5 am and running from one task to another, never taking a break or going to lunch. I would do that all day, sometimes till 8 or 9 in the evening.Two of my friends there helped me immensely to learn meat-cutting and to do production using both of my hands, Brad Wortham and meat manager Marty White. Brad and LuAnne would eventually meet and fall in love and since they both regarded me as a good friend and knew I was a self-sustaining minister, they came asking me to perform their marriage in the Park College Chapel. I was honored to do it, for it was the biggest wedding I had ever done with 7 bridesmaids and groomsmen and 750 people in attendance. My wife Alyce played piano, and sang a music ministry which added to the experience for Brad & LuAnne. They wanted to give me something but I am self sustaining minister, accepting no compensation for my service. So, they gave me a Carl Wortham hand crafted mountain dulcimer which is in a treasured place on my apartment wall.
Carl was Brad's father, this has become a worthy addition to the 3 dulcimers that I have,
and uniquely this dulcimer was created to be played with a "Noter".

Here are some pictures which mark that happy occasion: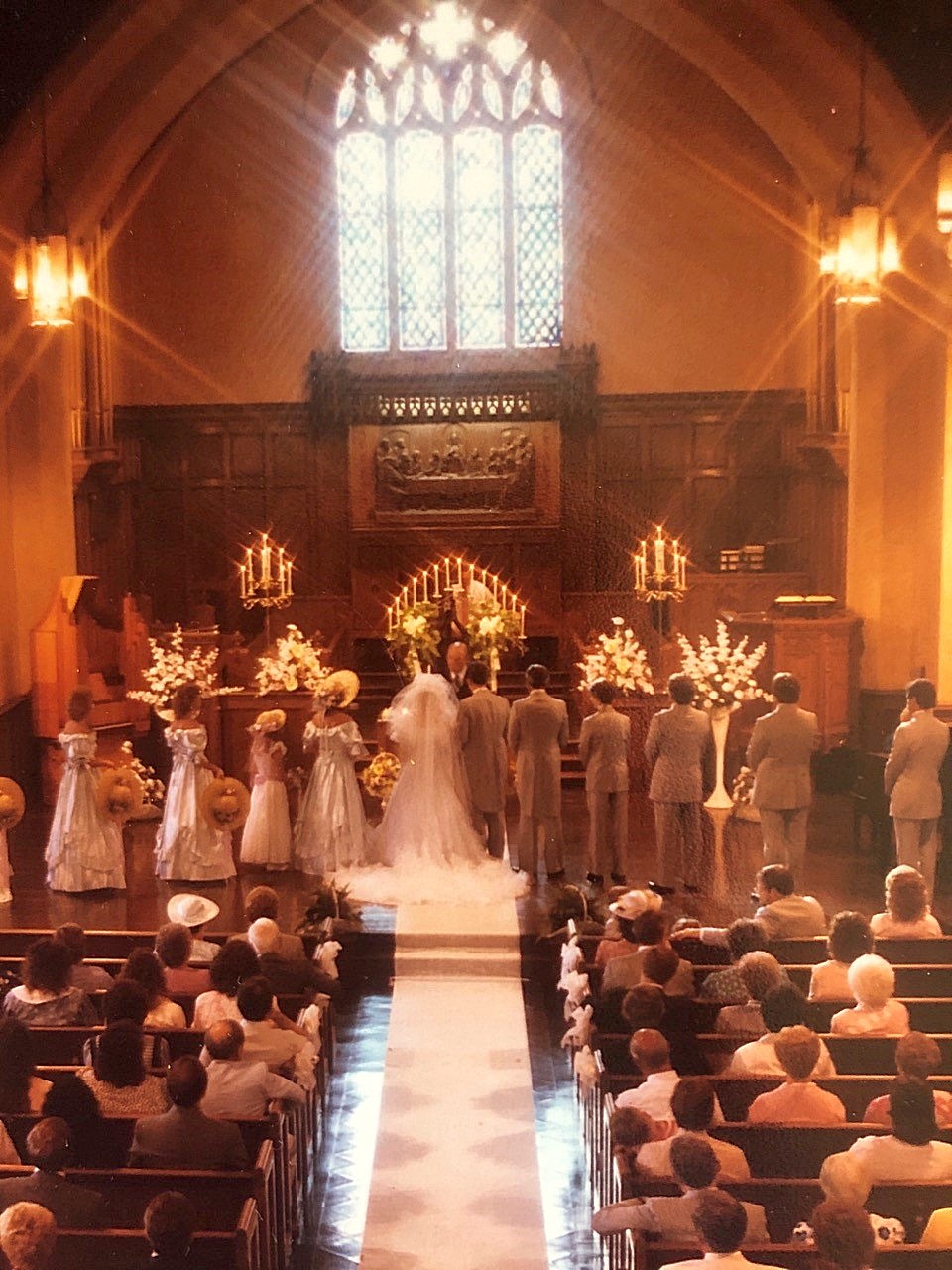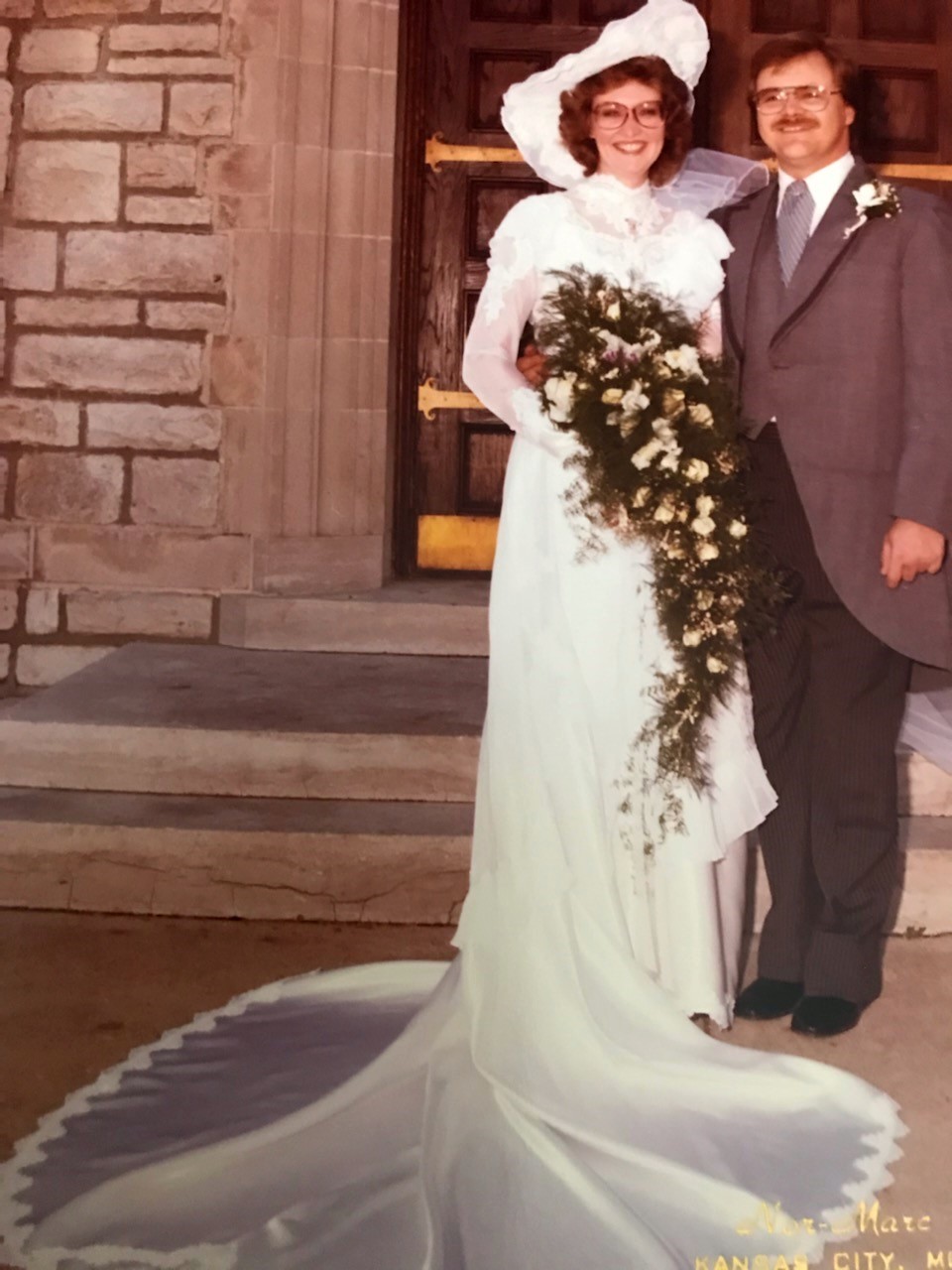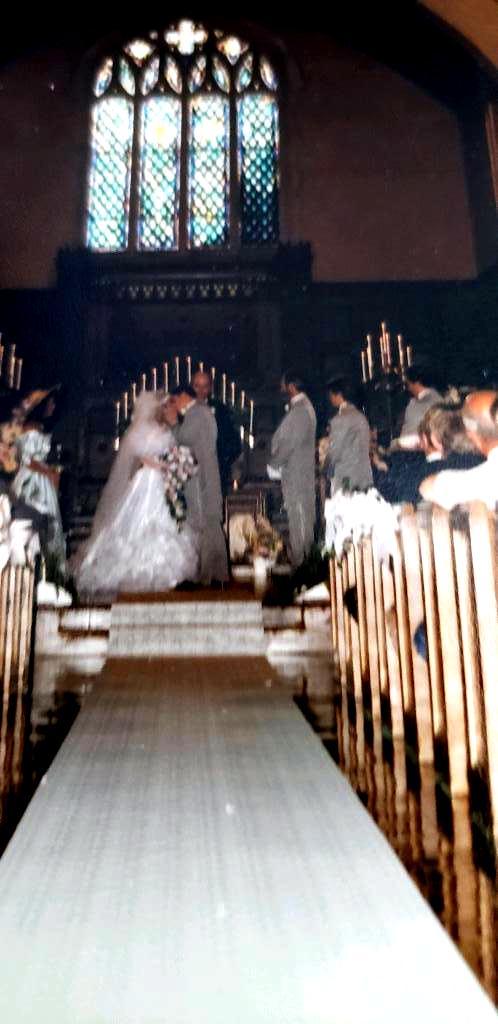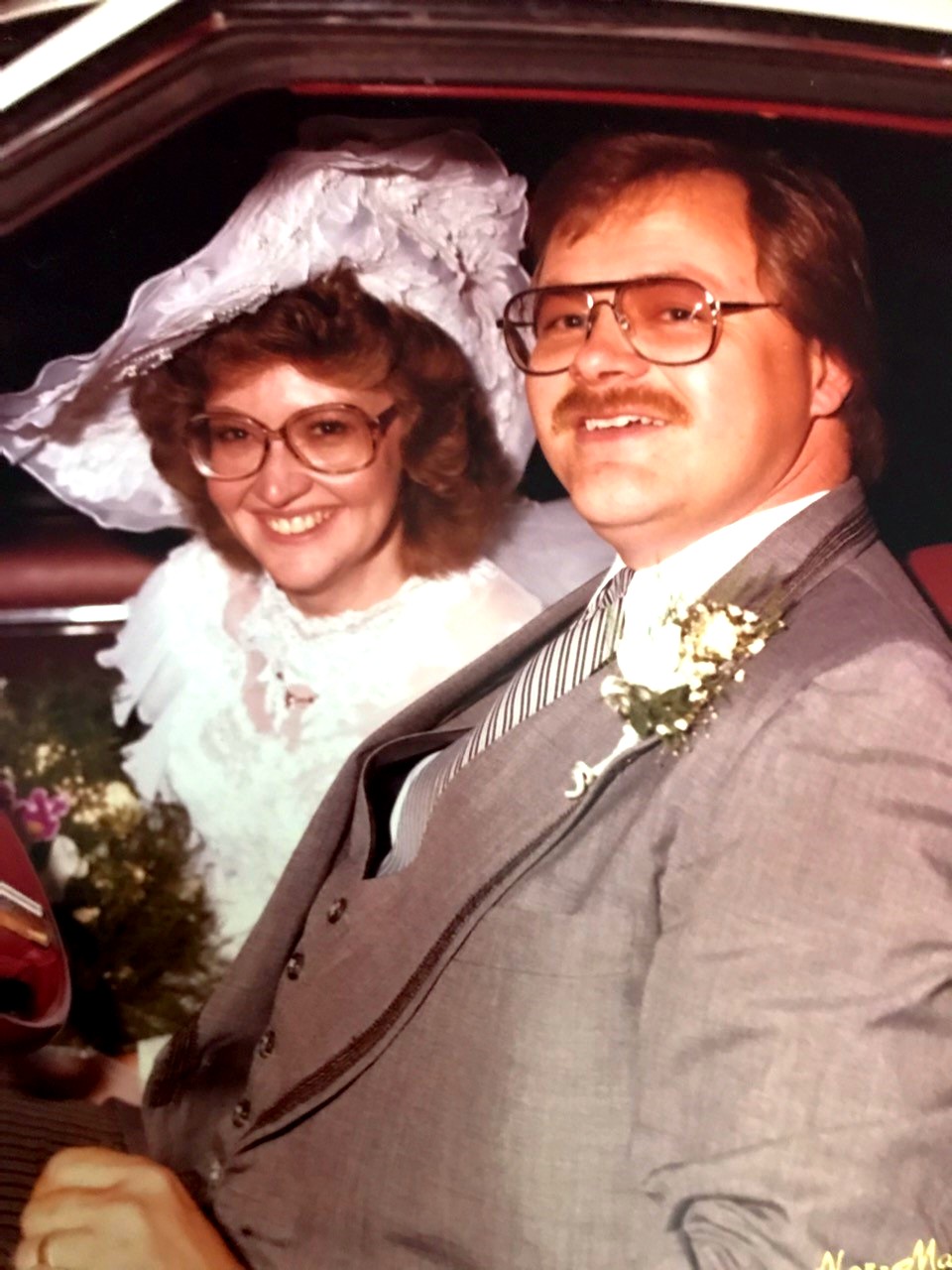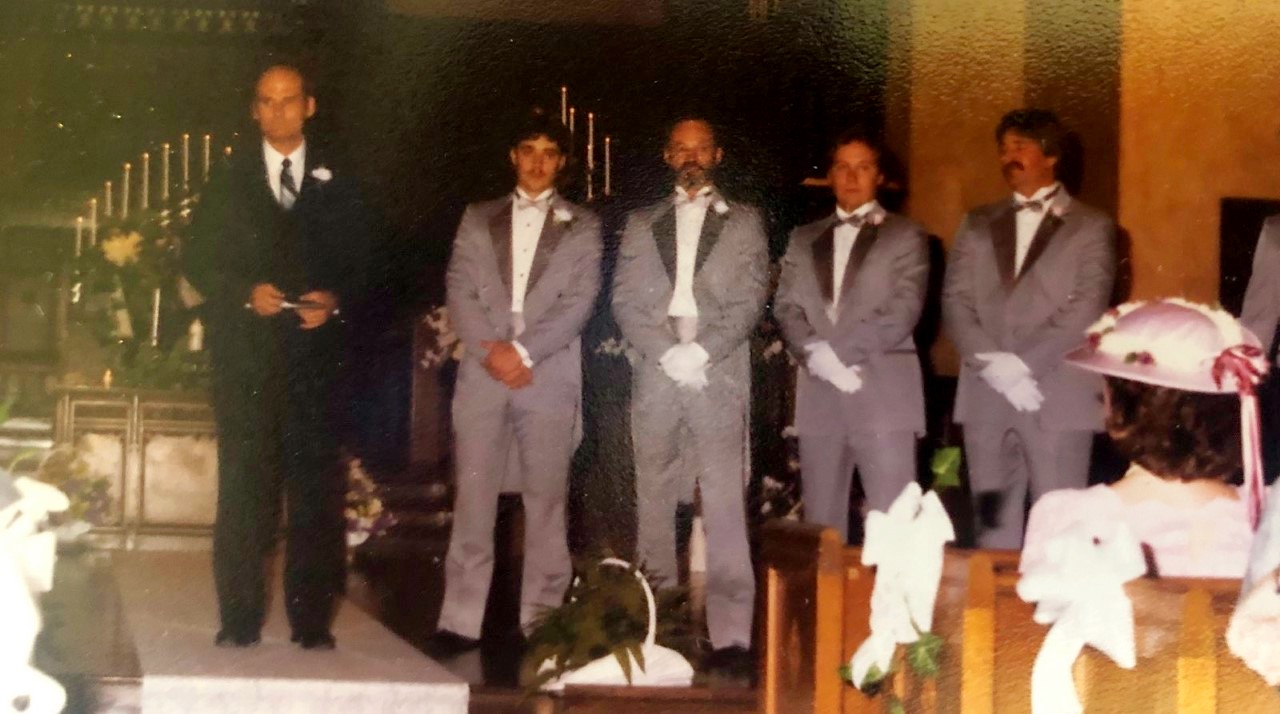 James & Joyce Coleman, Candle Lighters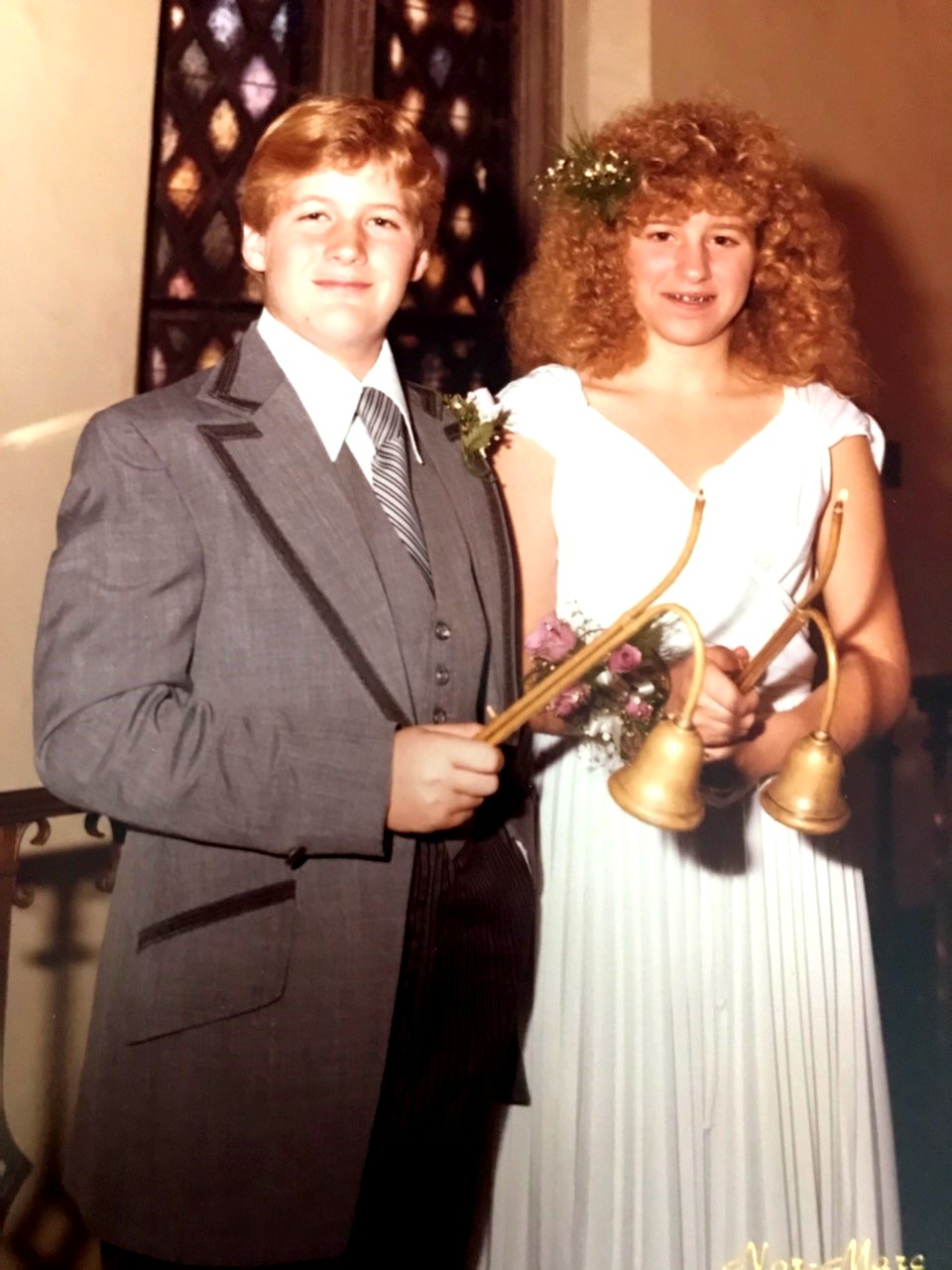 Joyce Coleman would eventually come and ask me to perform her marriage to Stephen Madonia.
The last year I was priviledged to work for Bob, LuAnne asked me to work with her in the General Office. We wrote and published training manuals for the different departments in the stores, and led training sessions in each store for department workers, my experience as a teacher really helped me.