New Salisbury, Indiana * Elementary and Junior High, I was there 1947 - closing in 1955

Dr. G.D. Baker on the left from Crandall came to Byrneville and delivered me into this world.  On the right is Mr. W. S. "Bill" Fellmy, who was my principal at New Salisbury grades 1-8.  Mrs. Fellmy was my 2nd grade teacher, Miss Georgia Clunie was 1st grade teacher.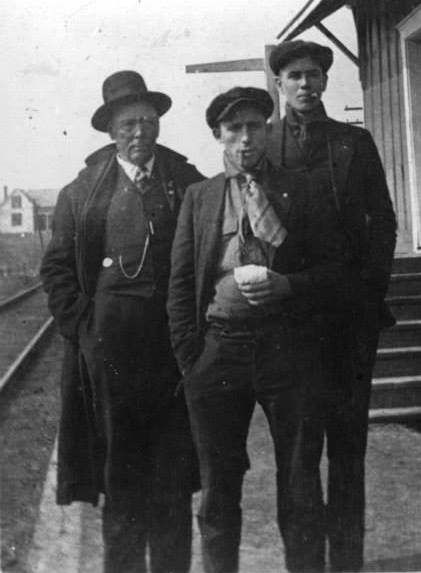 My New Salisbury Class in the Elementary Years
I am in the very center on the 3rd row from the front.
This was back when I had hair and acne 😊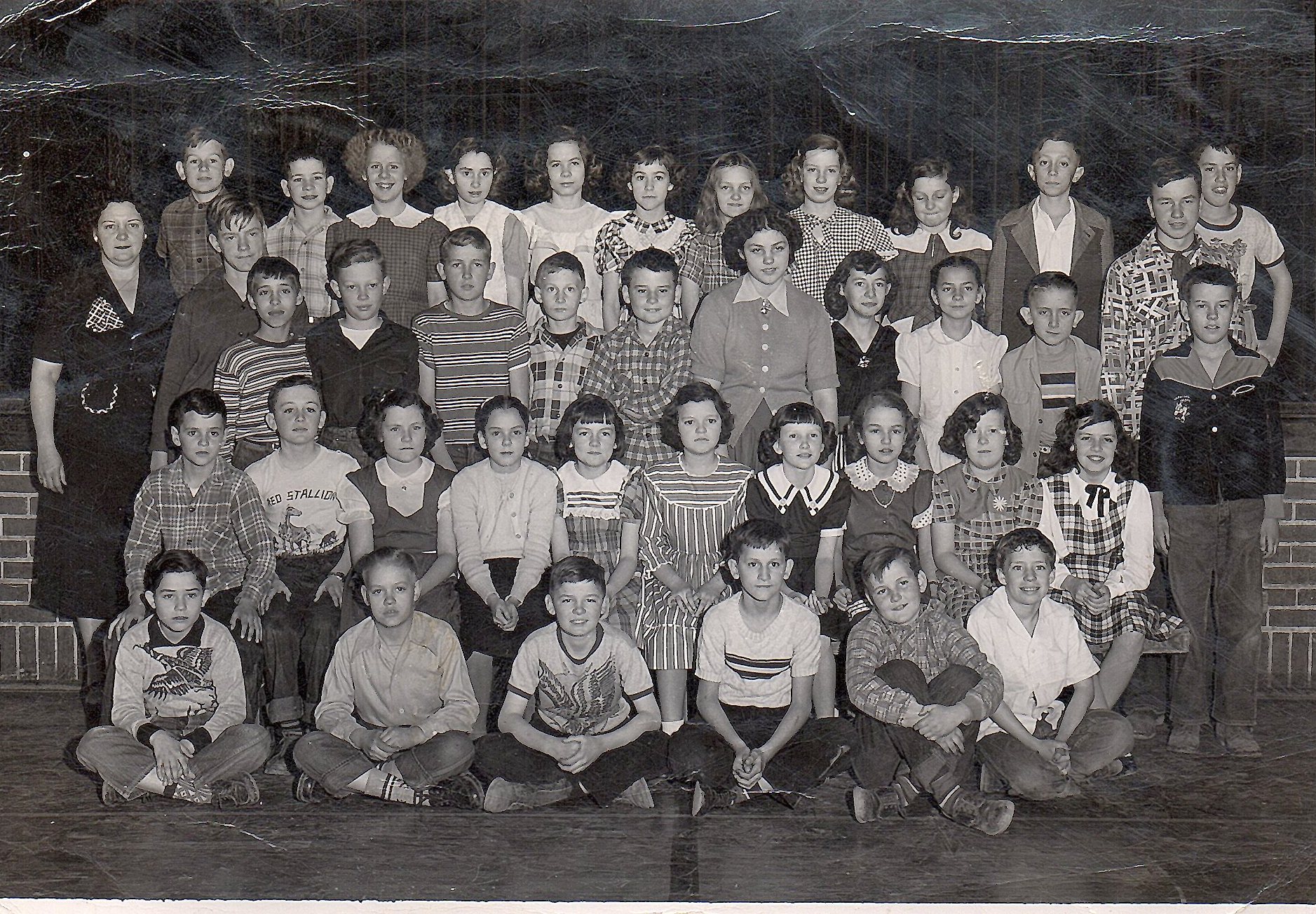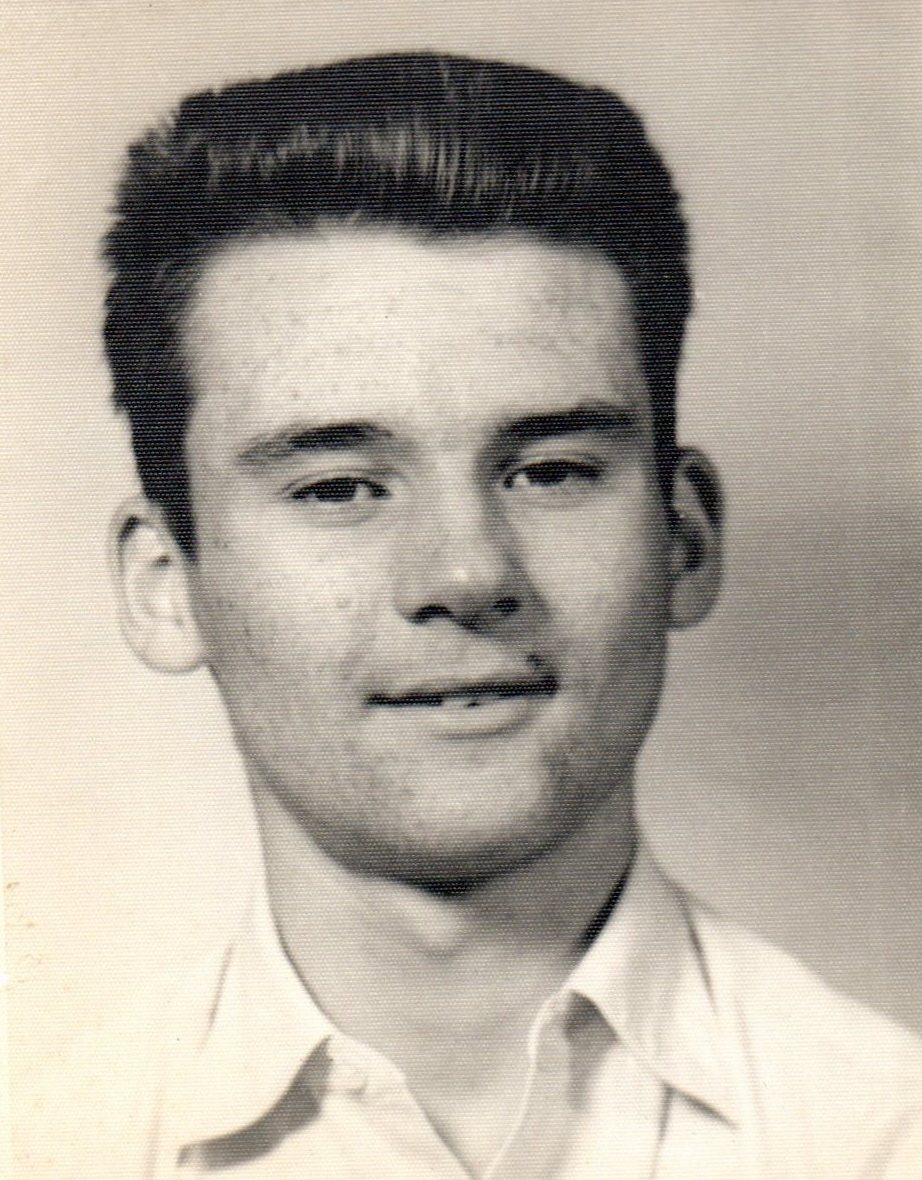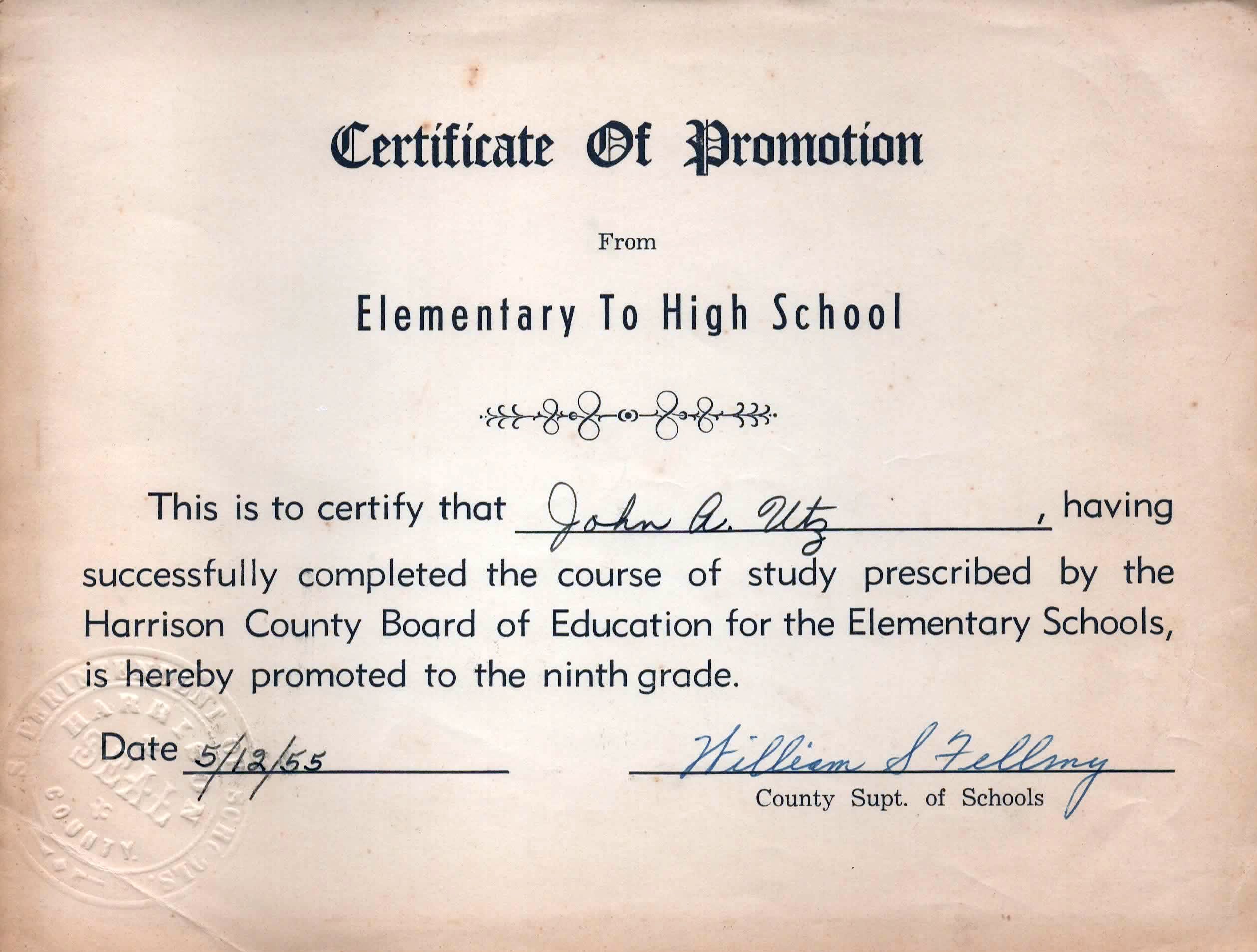 North Central Consolidated High School * Ramsey, Indiana 1955 - 1959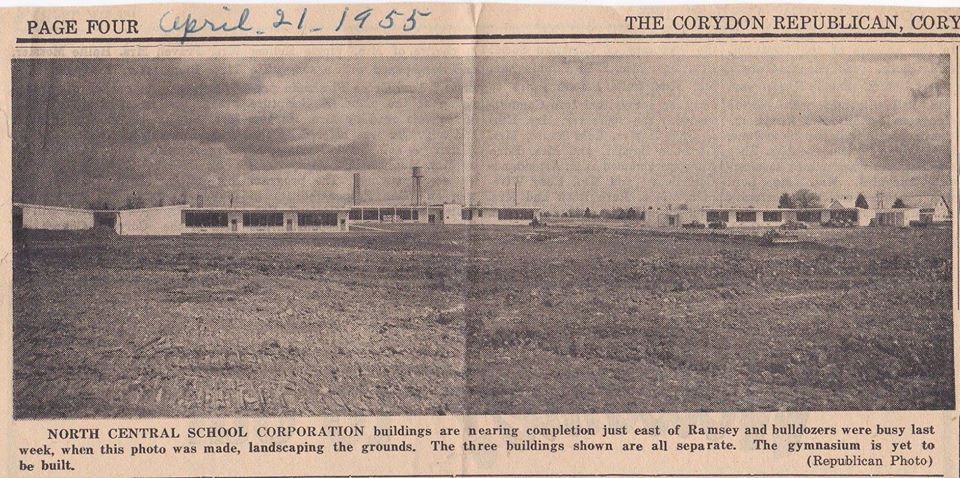 North Central High School Graduating Class 1959
I am in the very center on the back row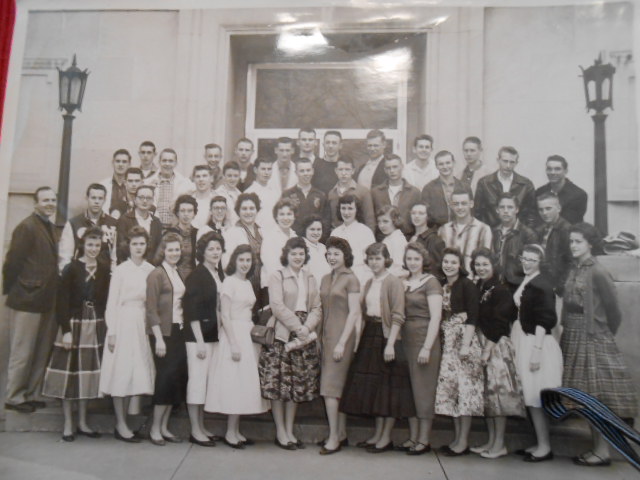 50 Year Honor Class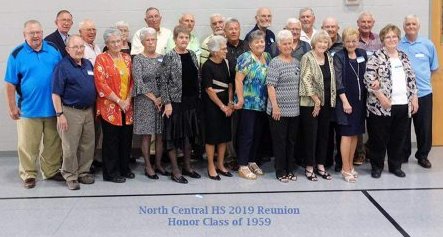 61st Year Class Reunion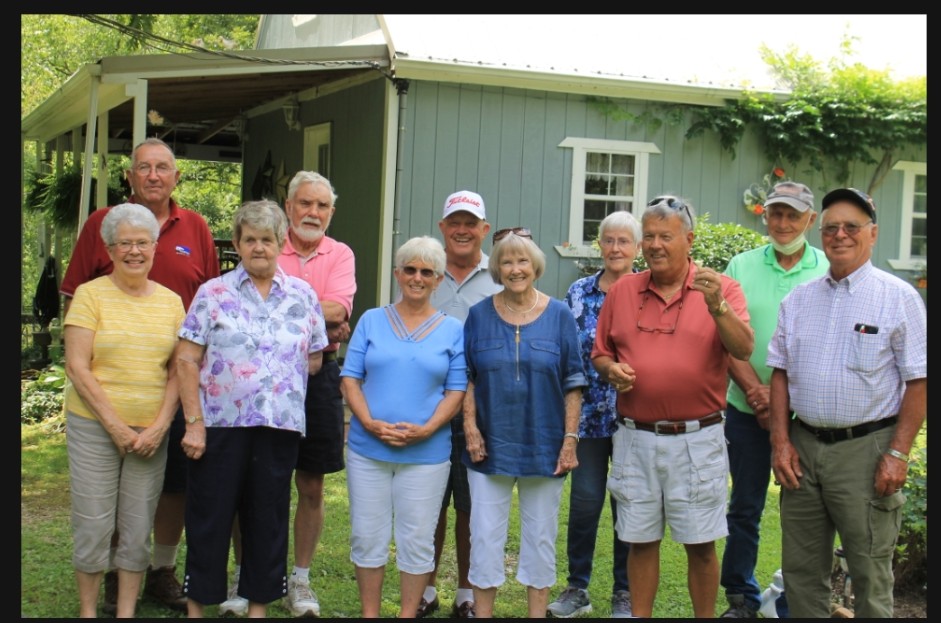 John in 1959   Best Friends Ray Helfrich, Ann Totten - My locker Mate all 4 highchool years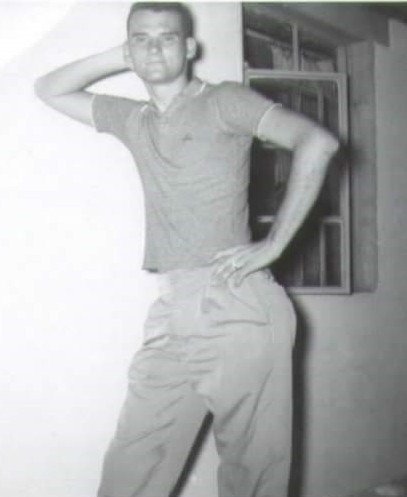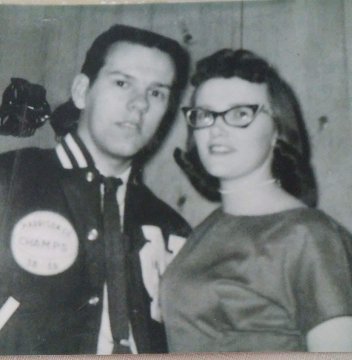 Ann & Ray Helfrich, L.C. Nash 2019 Class Reunion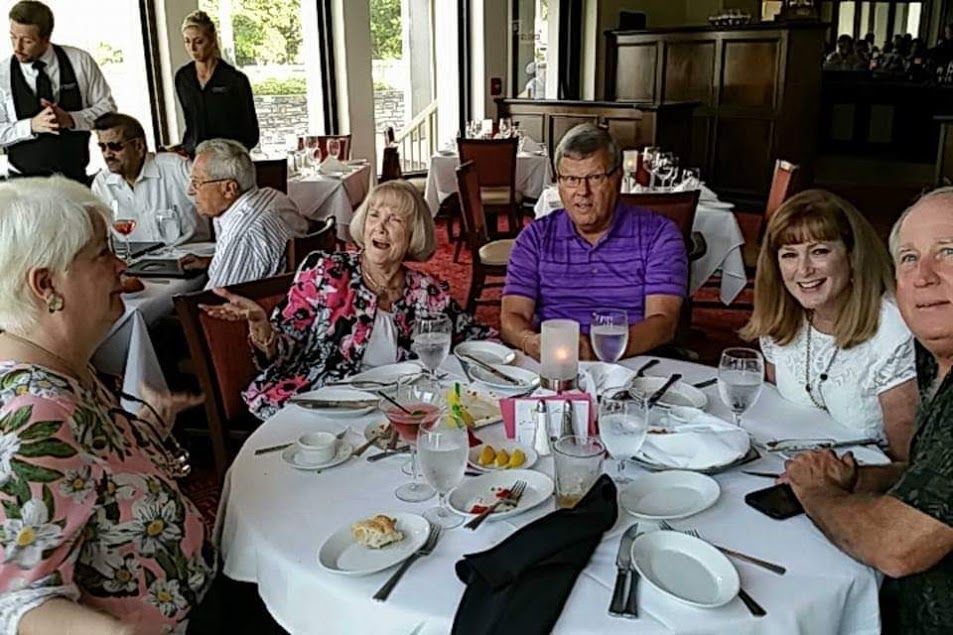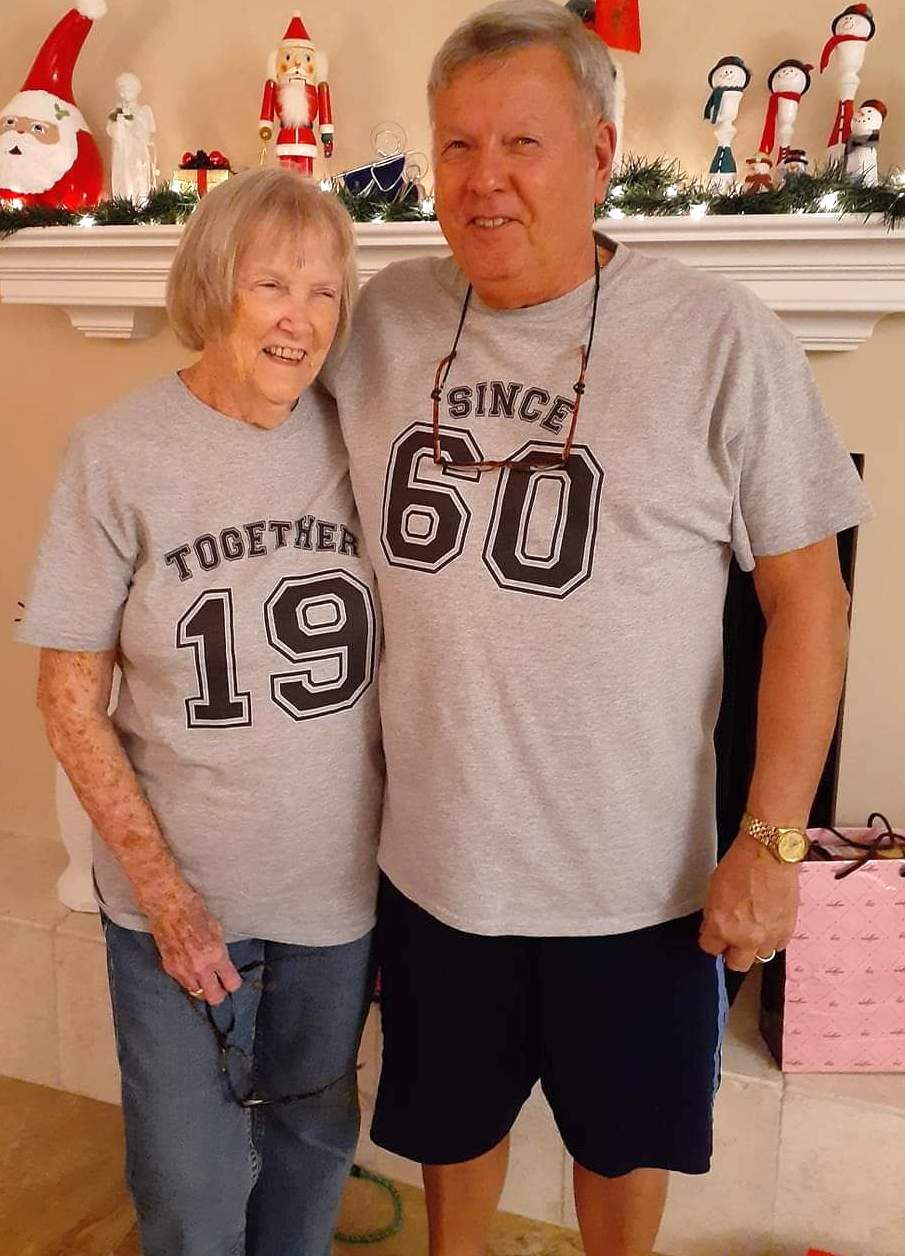 My Music Awards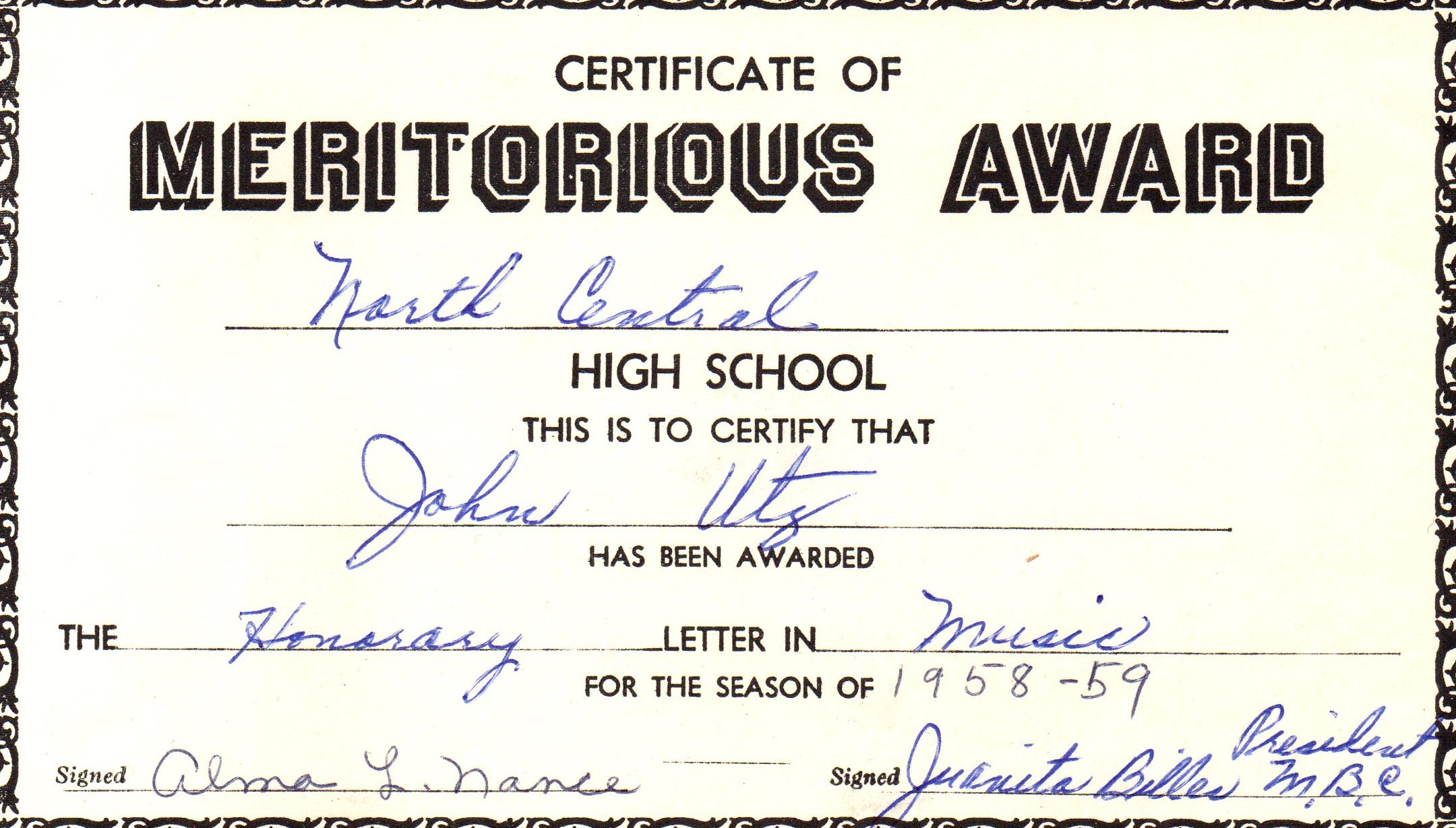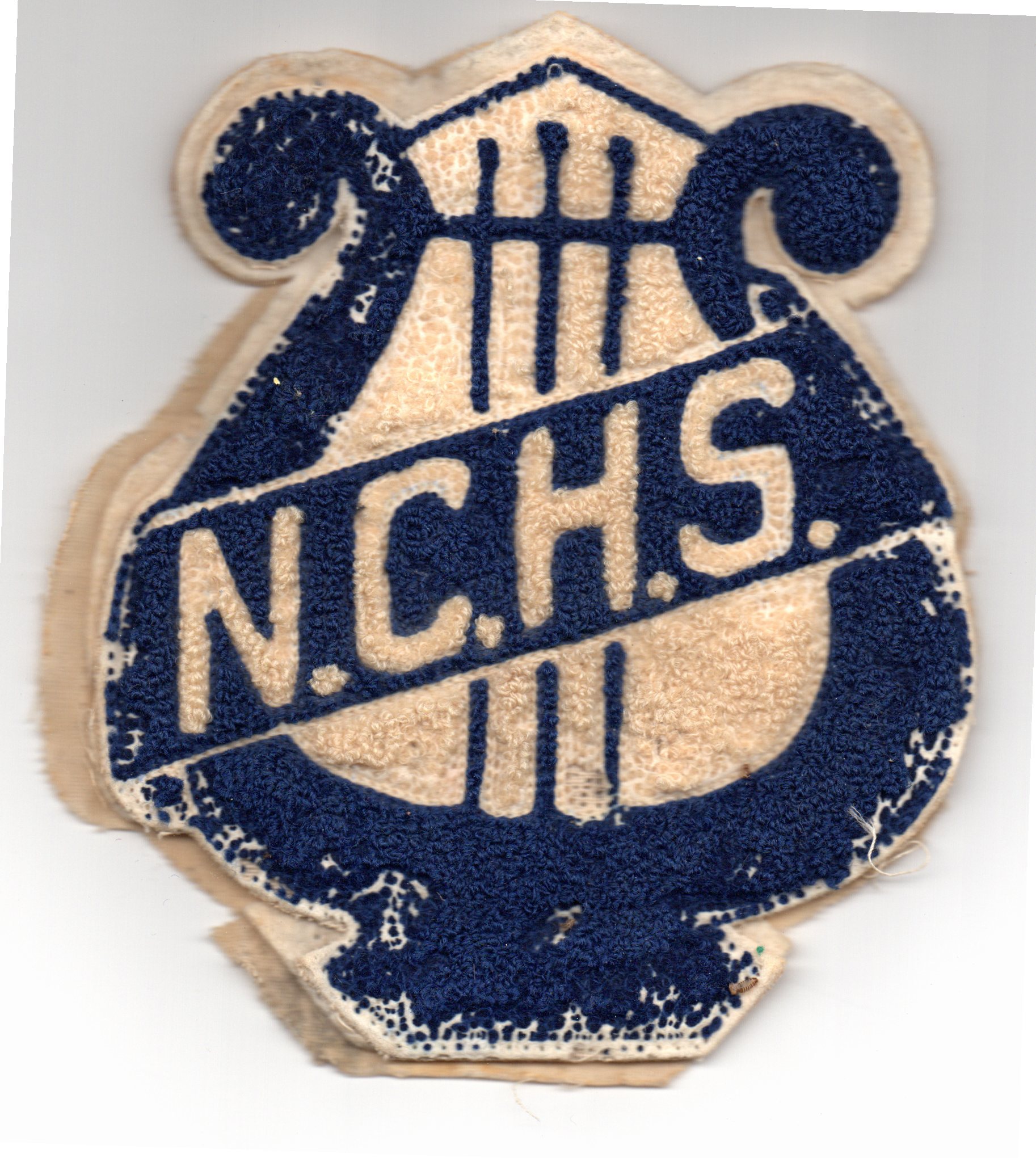 I also participated in Music Contests at Hanover College, Vocal and Instrumental
My Future Farmers of America Awards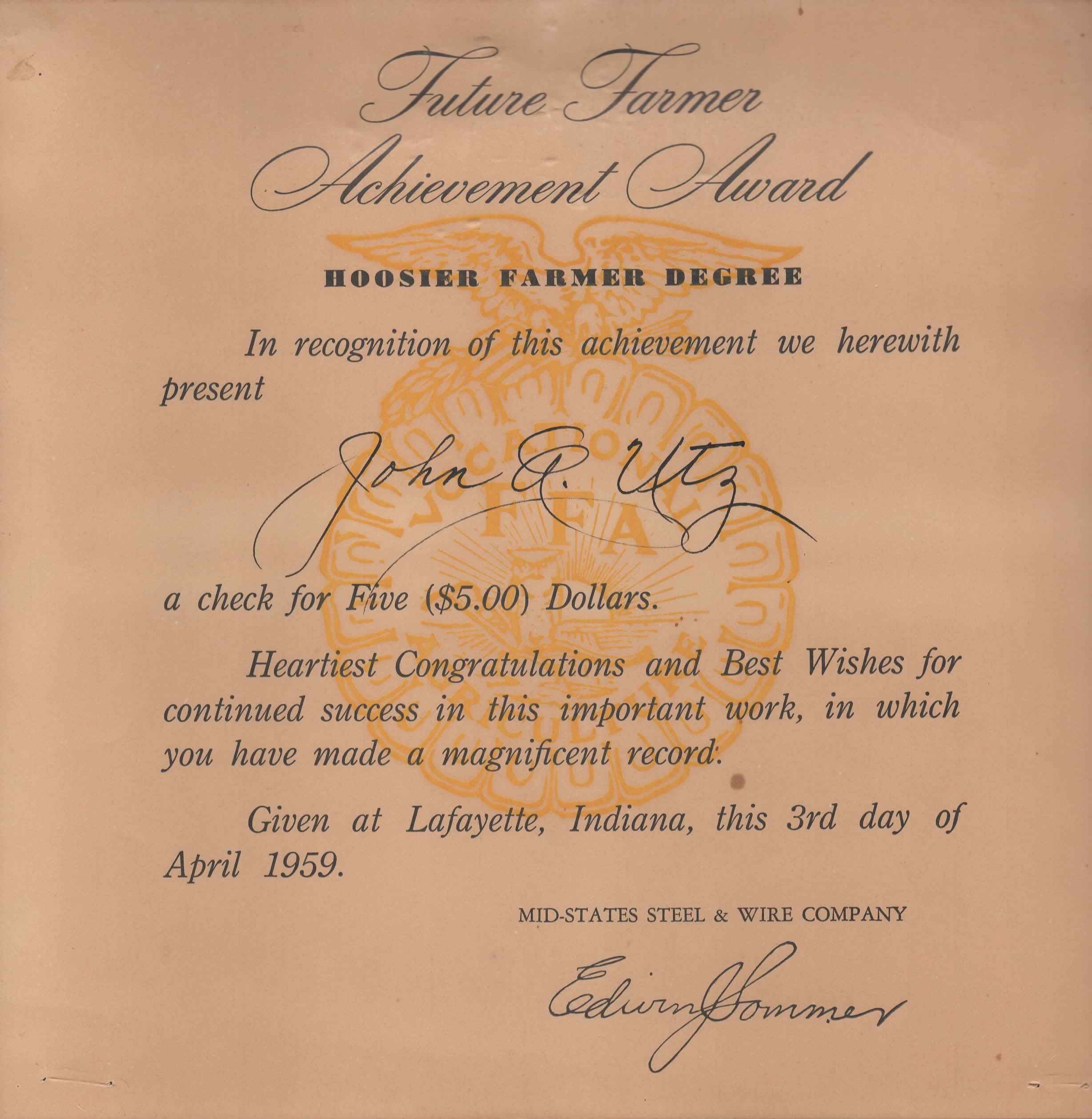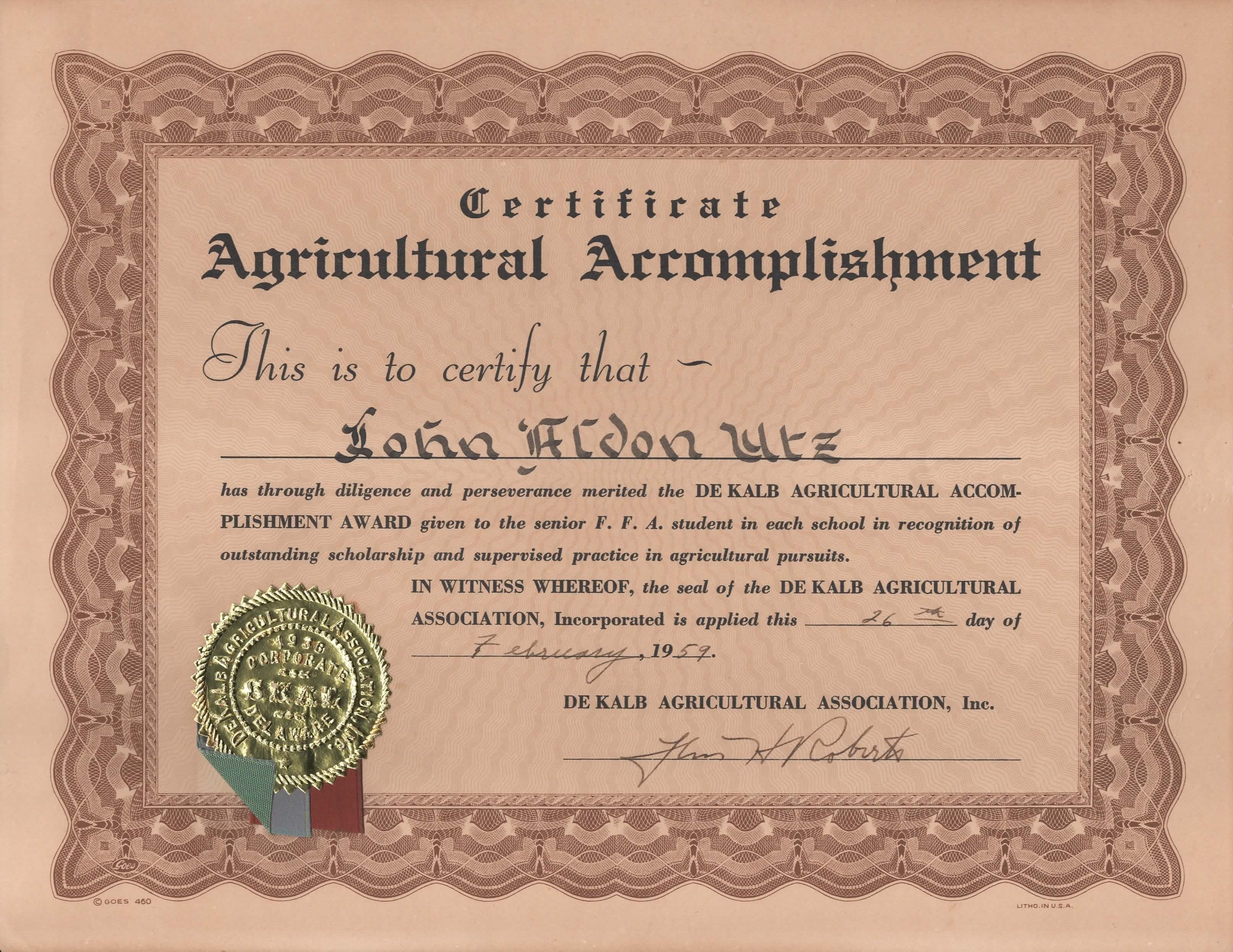 My Vocational Agriculture Teacher, and FFA Sponsor, James Norman 1953 - 1959. He led the Ramsey Chapter FFA to win the Indiana State FFA Land Judging and also the Parliamentary Procedure Chapter Meeting Competitions.  Our Team also place 13th in the National Land Judging Competition which took place in Oklahoma. We would have done better, but we were not prepared to judge the light Oklahoma loam soil, it seemed to us that there was little or no top soil, which in fact was not the case.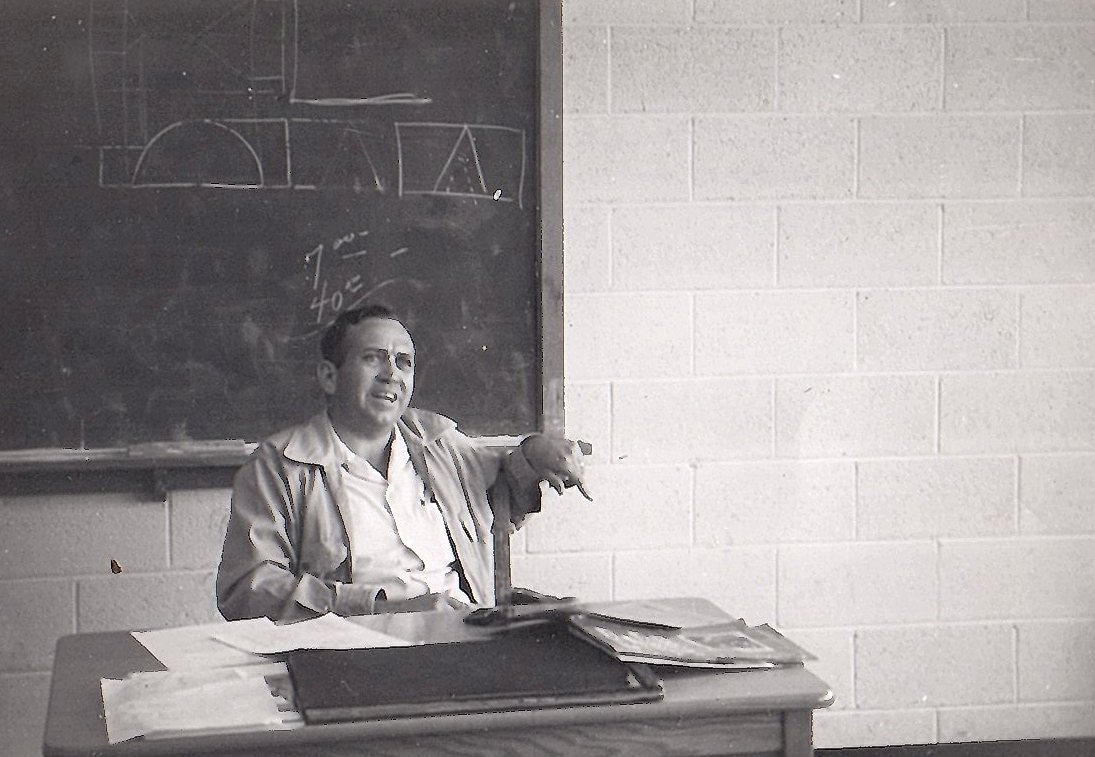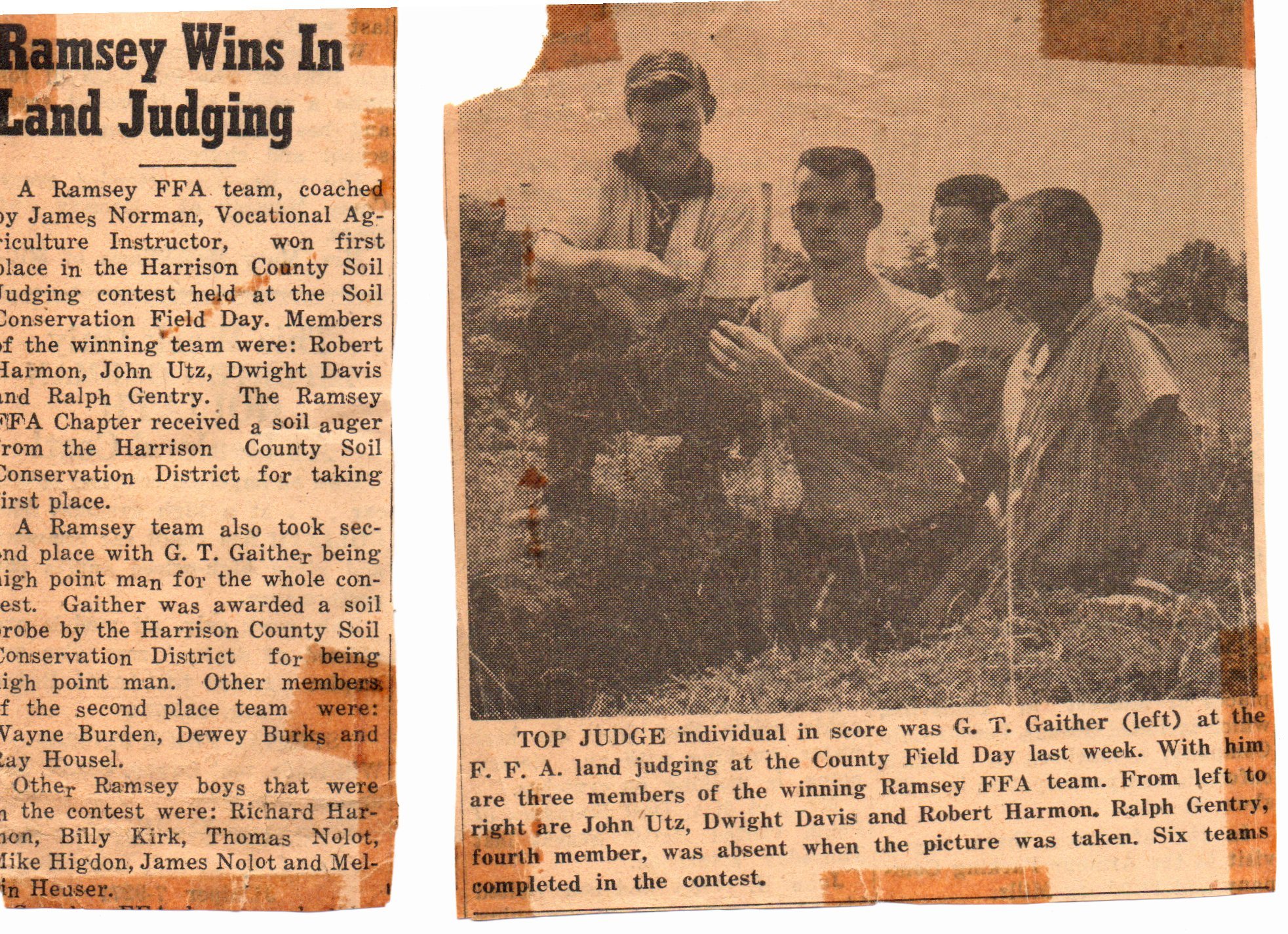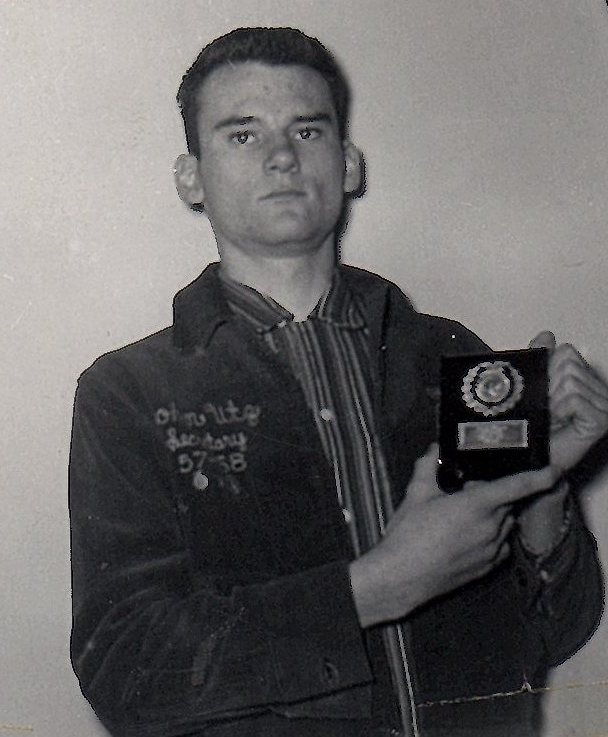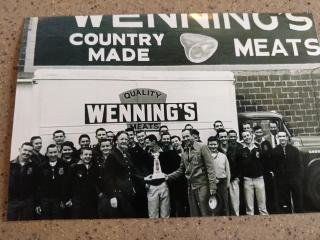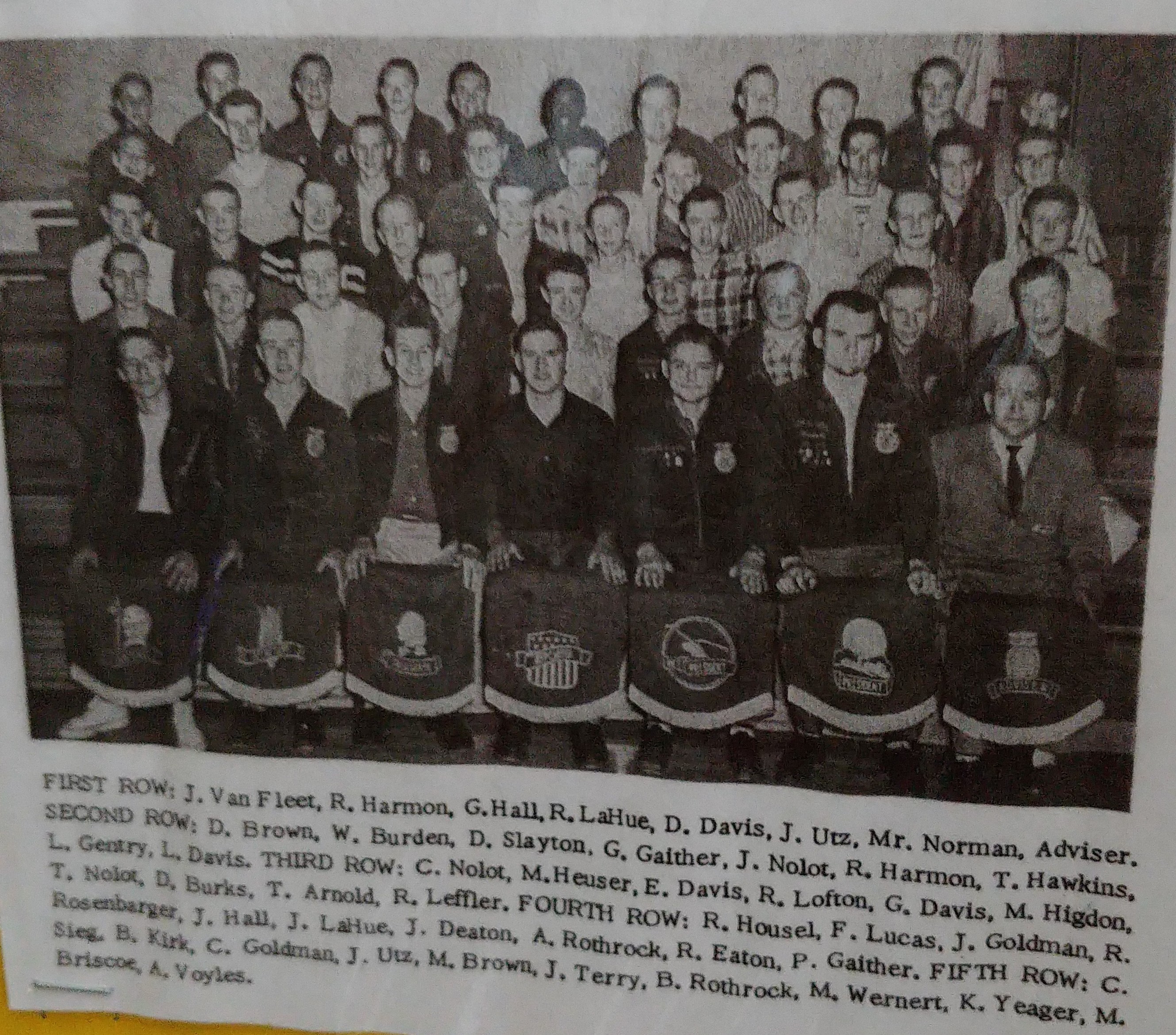 I also graduated as Valedictorian of my Class; My younger sisters Linda, Beverly and Judy were all Valedictorians of their classes following the example set by our Mother Alma Louise Byrn Utz. The Louisville Courier Journal wrote a nice article with picture of our accomplishments.
🏀     🏀     🏀     🏀     🏀     🏀     🏀
I played Basketball on the varsity, but sadly Coach Howard Key only played his top 6 players, even though I was 6'3", the tallest on the team. I had a total of 5 minutes playing time, scoring a total of 6 points in 4 years but I became a really good benchrider. It was a very hard way to earn my Letter Jacket!  I lettered in Baseball also playing 1st base and switch hitting over 400.  My teammates could never throw the ball right at me, without me having to jump for it or dig it out of the dirt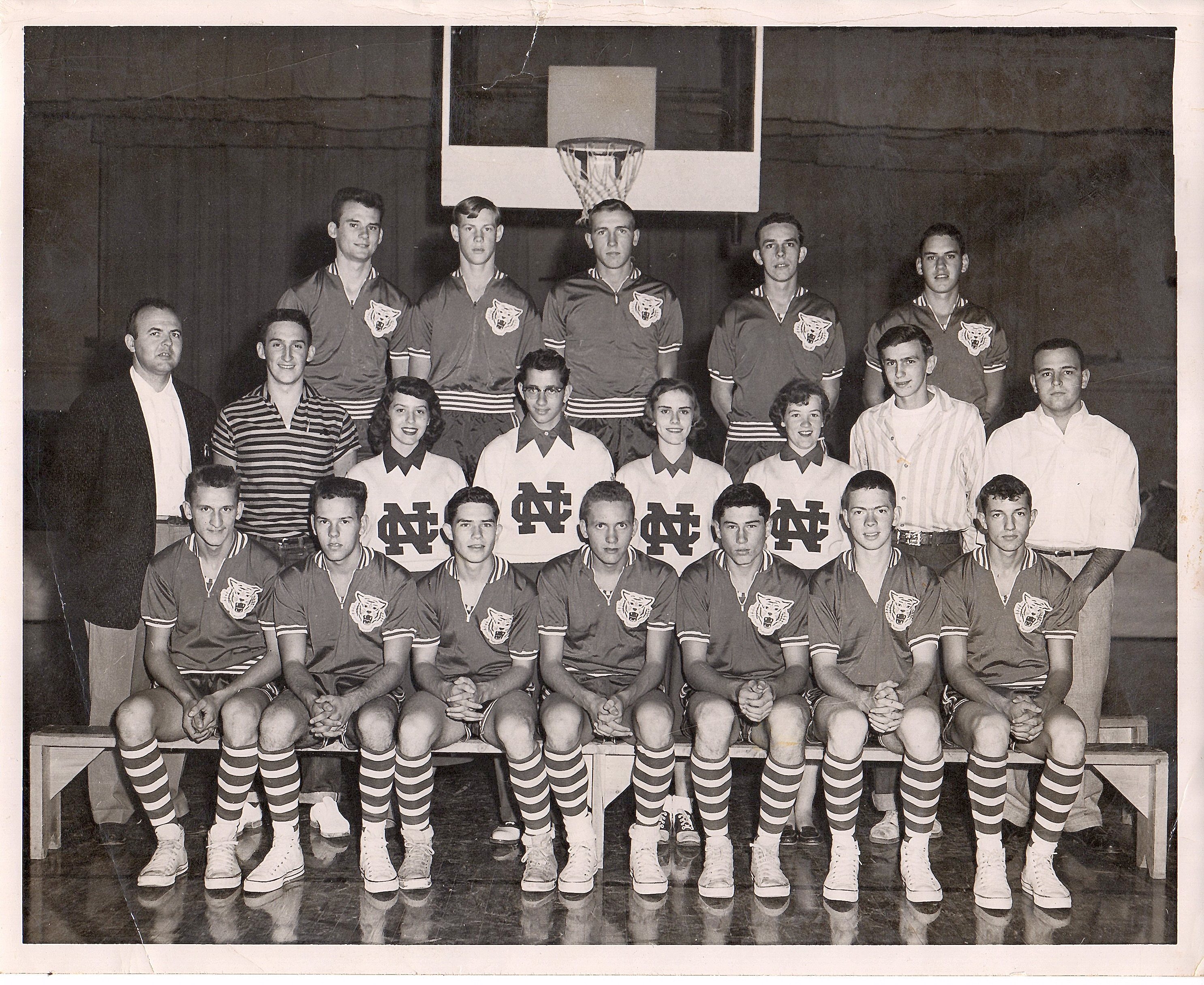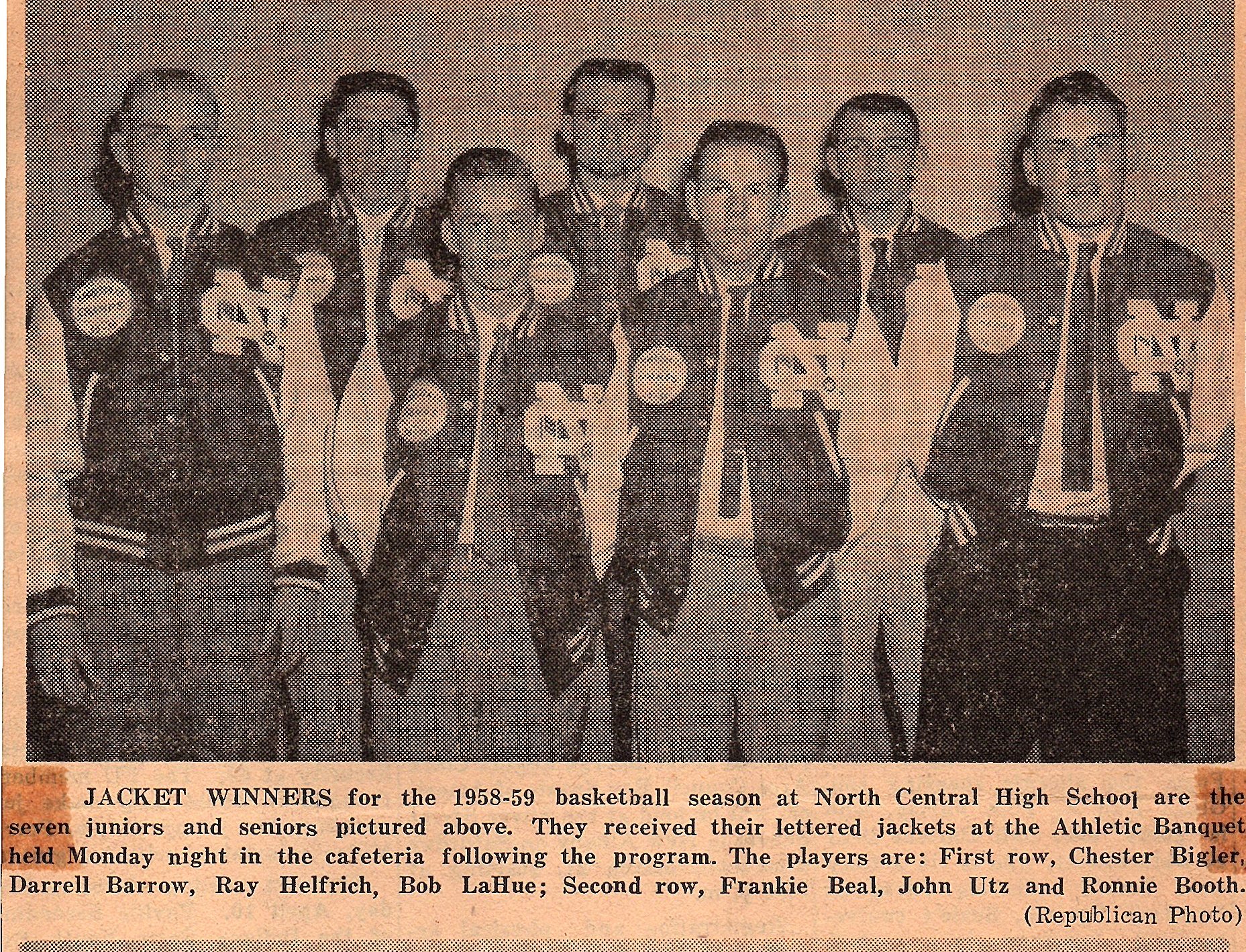 County Tourney and Sign We made for our Junior-Senior Reception Colonial Gardens
We were not allowed to dance or have proms in the 1950's, not until the early 1960's.
In 1959 with my favorite dog was Star, a pure bred Samoyed, that I had raised from a pup.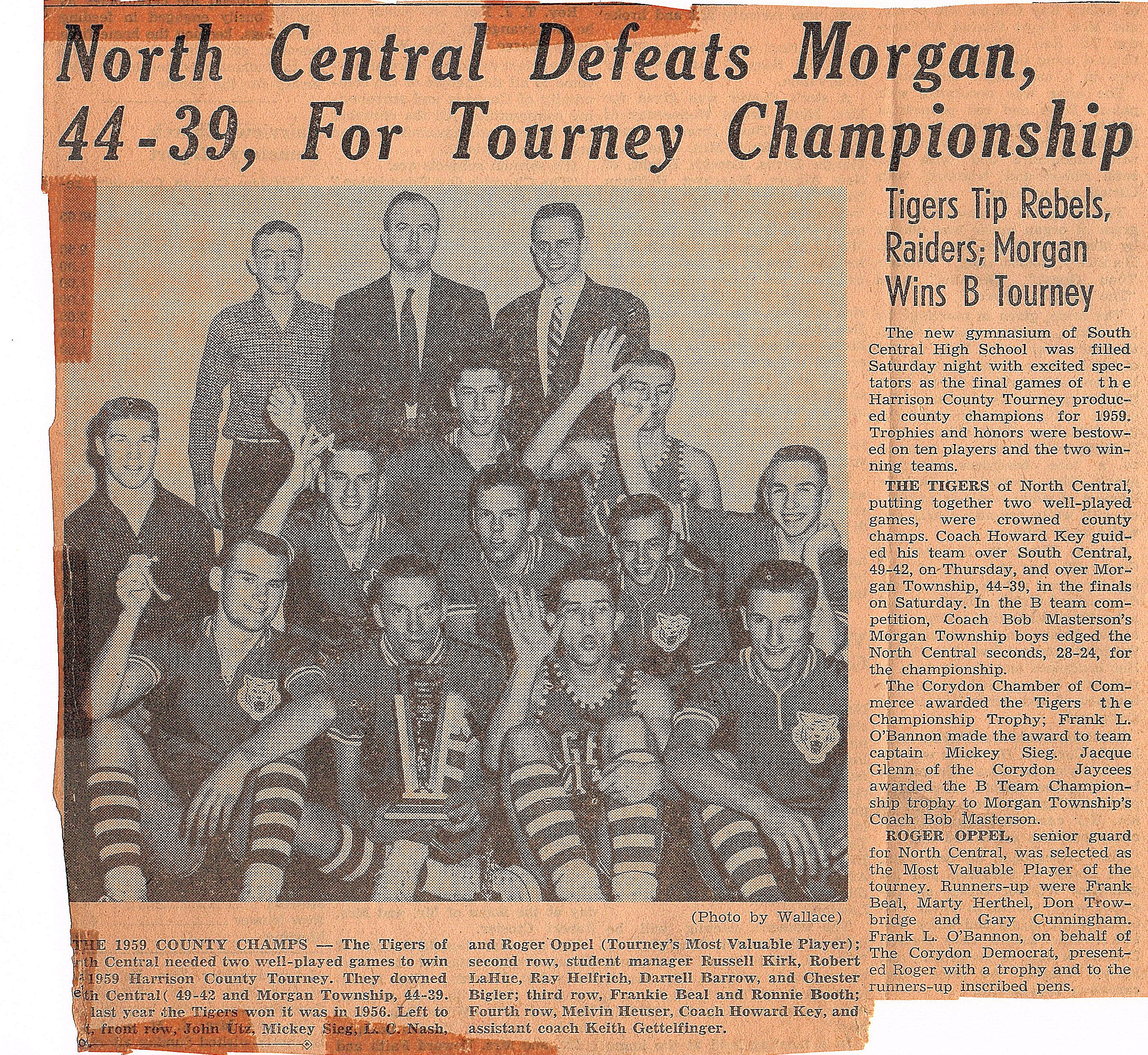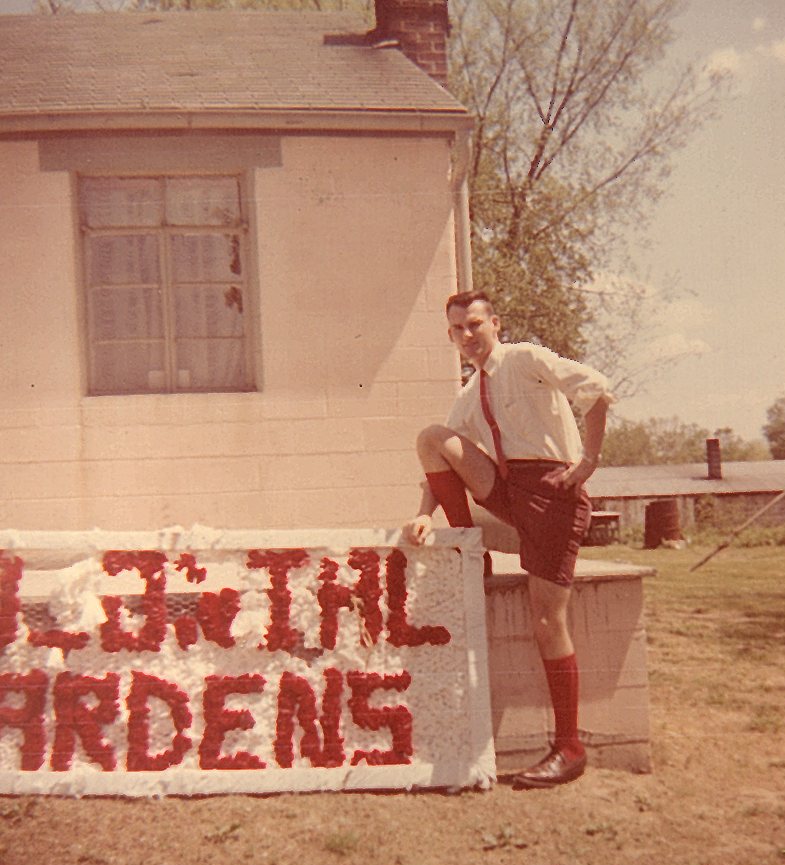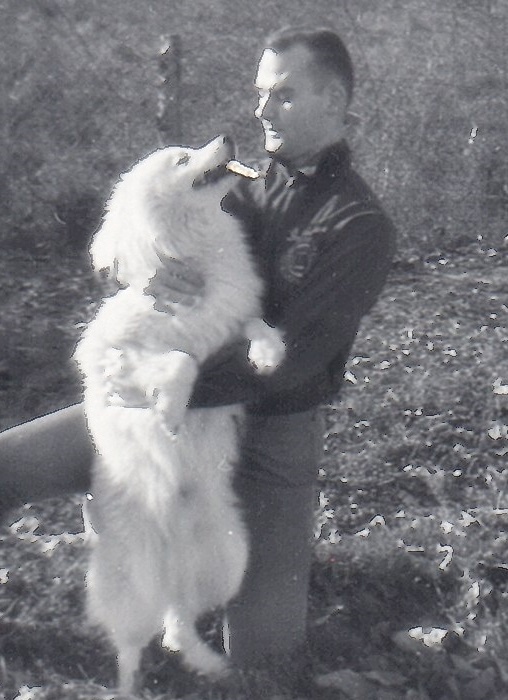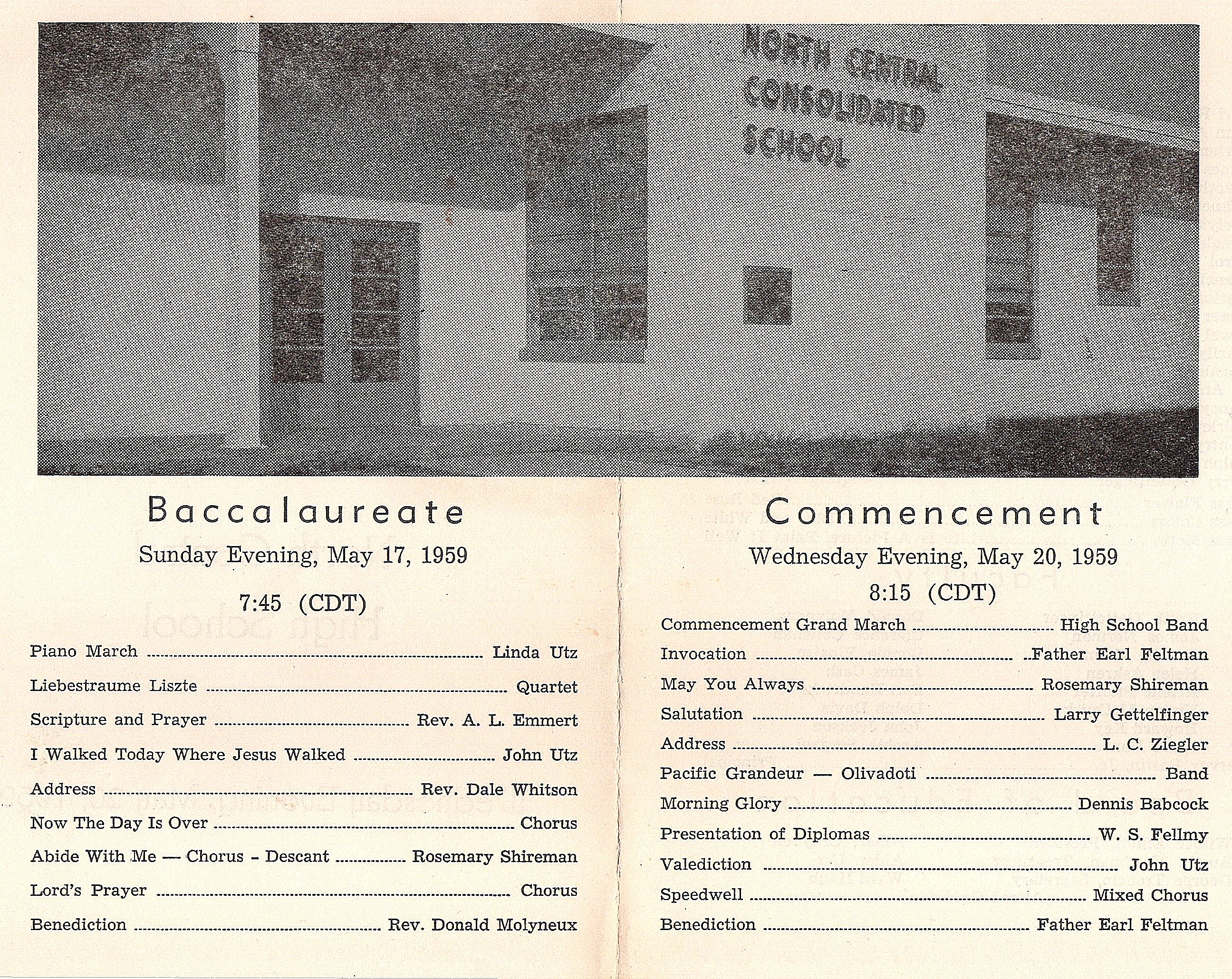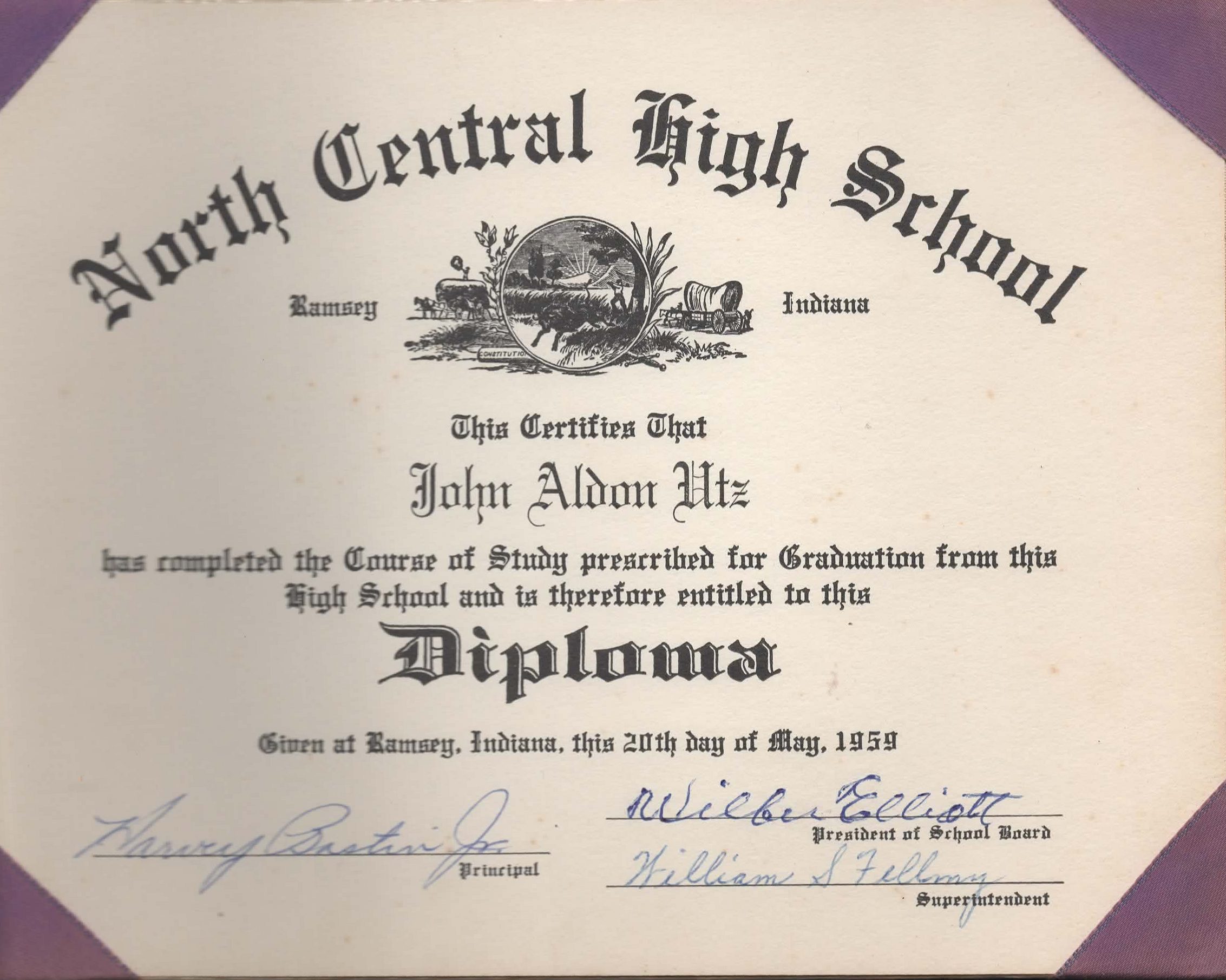 High School days were also a time for alot of church activies,
our youth group in Byrneville called Zion's League. We went to camps and Reunions.
At Rivervale Reunion Grounds there was a talent show and I participated with my friends Mike Weathers (trombone), Mickey Stetler (trumpet) I am playing my tenor saxophone, When the Saints Come Marching In, decked out in my music letter jacket, favorite red check bermuda shorts and white knee socks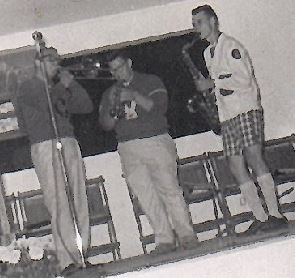 Junior high and high school did bring a lot of happy times. Those times were mostly family related, church activities, family reunions, Dad taking us on afternoon drives, as well as outings to our favorite amusement park in Louisville, KY, Fountaine Ferry Park. It was a real treat for us to go there, so I am including some pictures that are memories in my mind and a bit of history of Fountaine Ferry Park.
Fontaine Ferry Park was an amusement park in Louisville, Kentucky from 1905 to 1969. Located on 64 acres in western Louisville at the Ohio River, it offered over 50 rides and attractions, as well as a swimming pool, skating rink and theatre. The most popular attraction were its wooden roller coasters, of which 4 were built over the years.  For nearly 60 years the park was off-limits to the city's African Americans. When the West End became integrated in the 1960s, the park remained as a constant reminder of Jim Crow to African Americans. The park became racially integrated in 1964, and was vandalized heavily during racial unrest on May 4, 1969. The nearby Shawnee neighborhood had also been integrated, and white flight was occurring heavily there, especially after the 1968 riots in the West End. The park was sold in 1969.   ~https://en.wikipedia.org/wiki/Fontaine_Ferry_Park
https://www.pinterest.com/bubbabetha/it-was-fontaine-ferry-park/
http://newsplusnotes.blogspot.com/2009/05/scott-and-carol-present-fontaine-ferry.html
https://www.facebook.com/fontaineferrypark/
Fontaine Ferry Revisited
https://www.youtube.com/watch?v=6FBJgehBI6k
A look back at the history of Fontaine Ferry   
https://www.youtube.com/watch?v=6jmGkqyXTGo
Dentzel Deluxe Menagerie Carousel
( My favorite ride)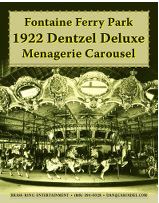 https://www.youtube.com/watch?v=6jmGkqyXTGo
Fontaine Ferry during 1937 Ohio River Flood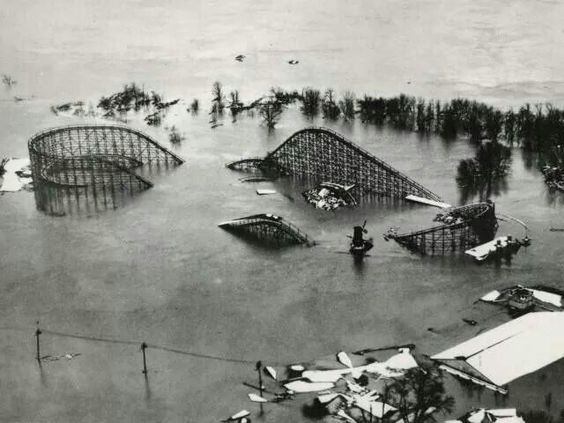 Great Ohio River Flood of 1937
✨   ✨   ✨   ✨   ✨   ✨  ✨   ✨   ✨   ✨   ✨   ✨
Graceland College Lamoni, Iowa 1959-1961 Associate in Arts Degree in Science
The TOWER on the Administration Building "This is my home, the hilltop where my heart is ..."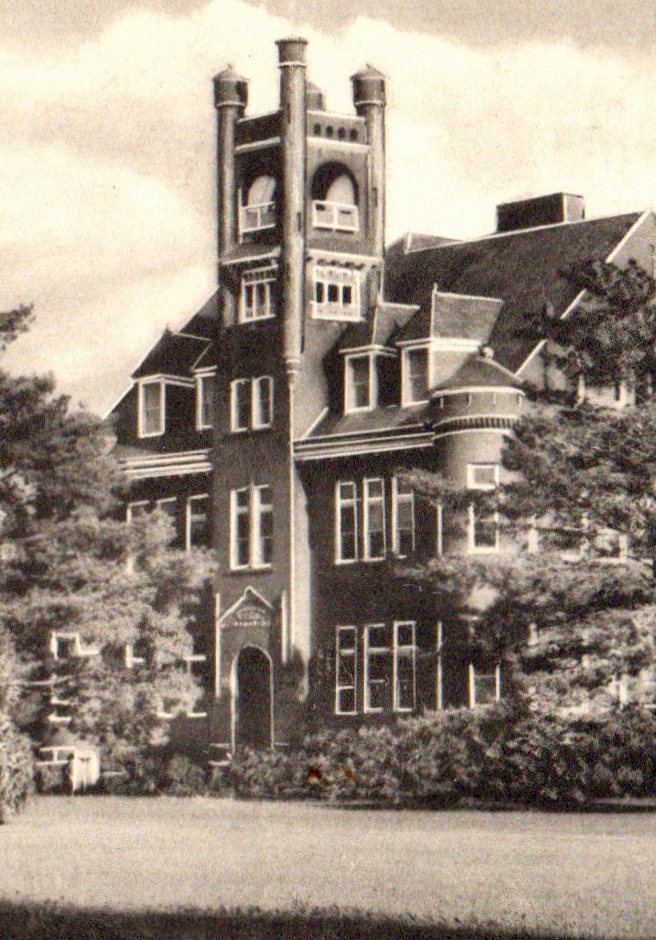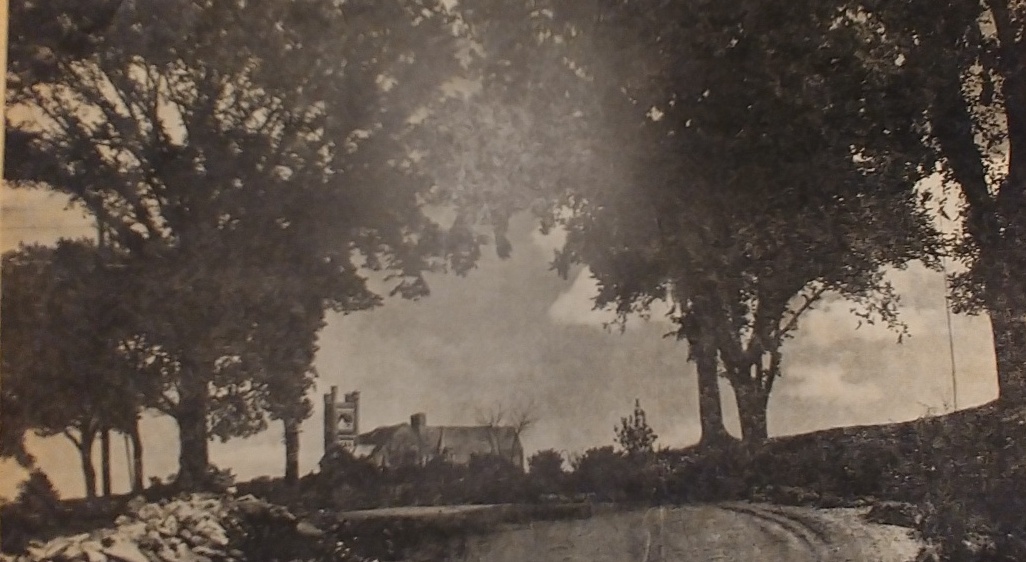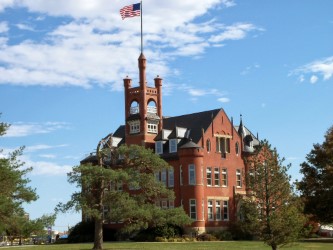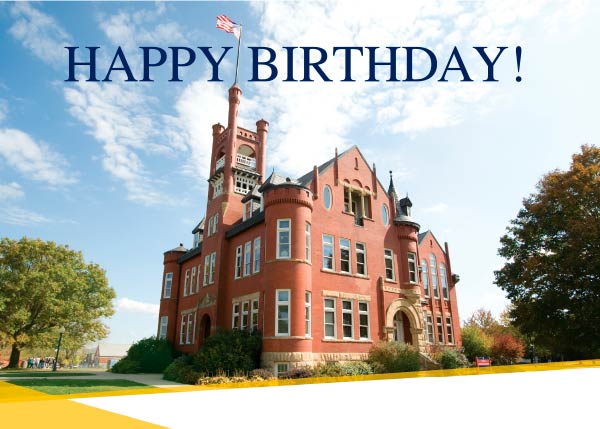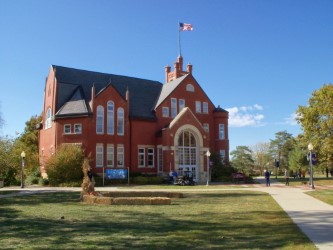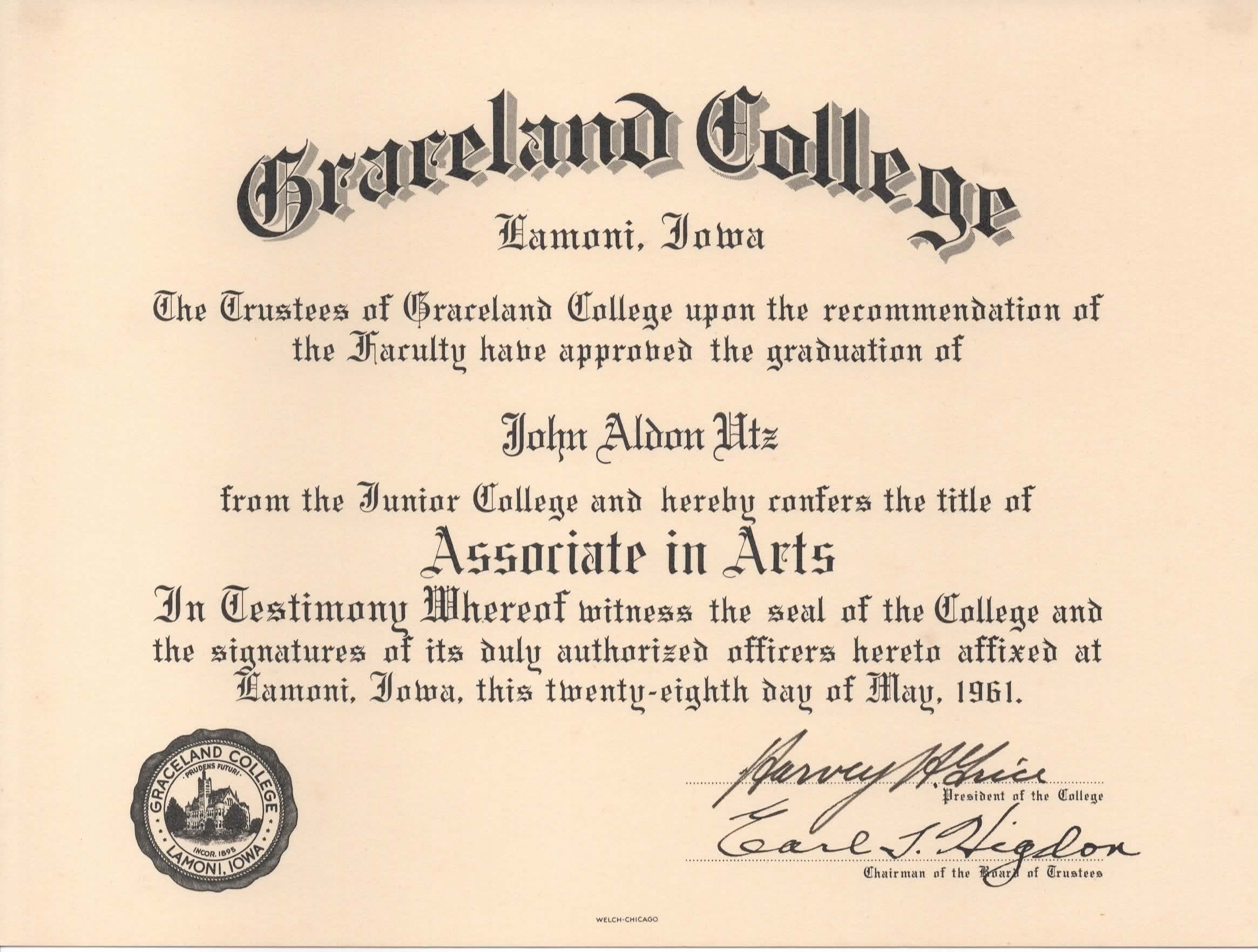 My Graceland Love Sheri Allen was my 1st Love, but she regarded me only as her best friend.  She even had a pet name for me which was "Bunky"!   In costume, we are portraying Joseph and Emma Smith at a campfire.  Sheri and I were swimming buddies for swimming in Lake Huron. She and I are forever friends.   I introduced her to my mother at the Amboy Centennial World Conference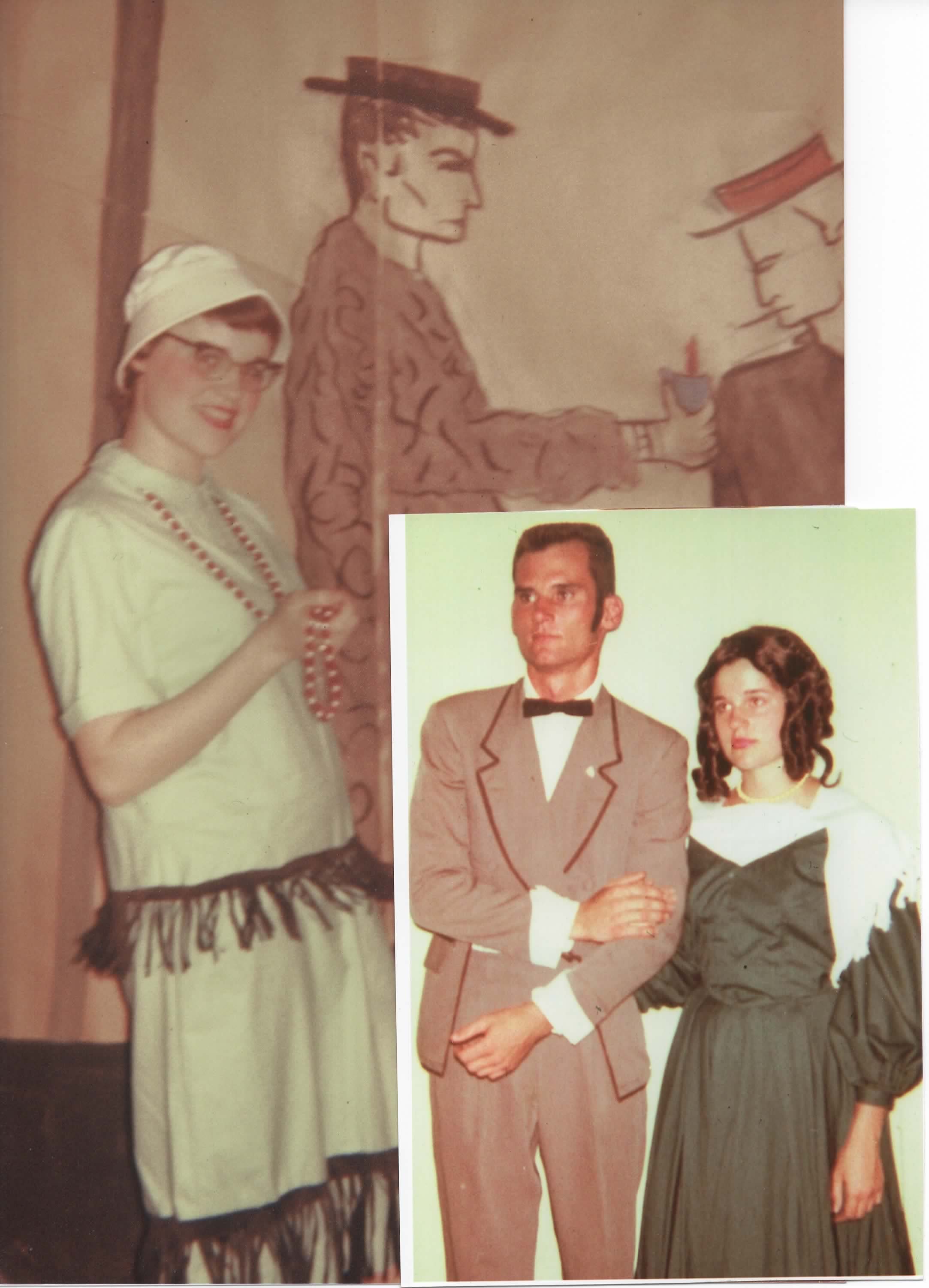 My other Love at Graceland was service to God. One of the ways I served was by joining Zeta Zeta Chapter of Alpha Phi Omega, National Service Fraternity. I eventually became a Life Member and transferred my membership to Mu Chapter Indiana University and moved onward into my life of service.    
https://apo.org/about-us/our-story/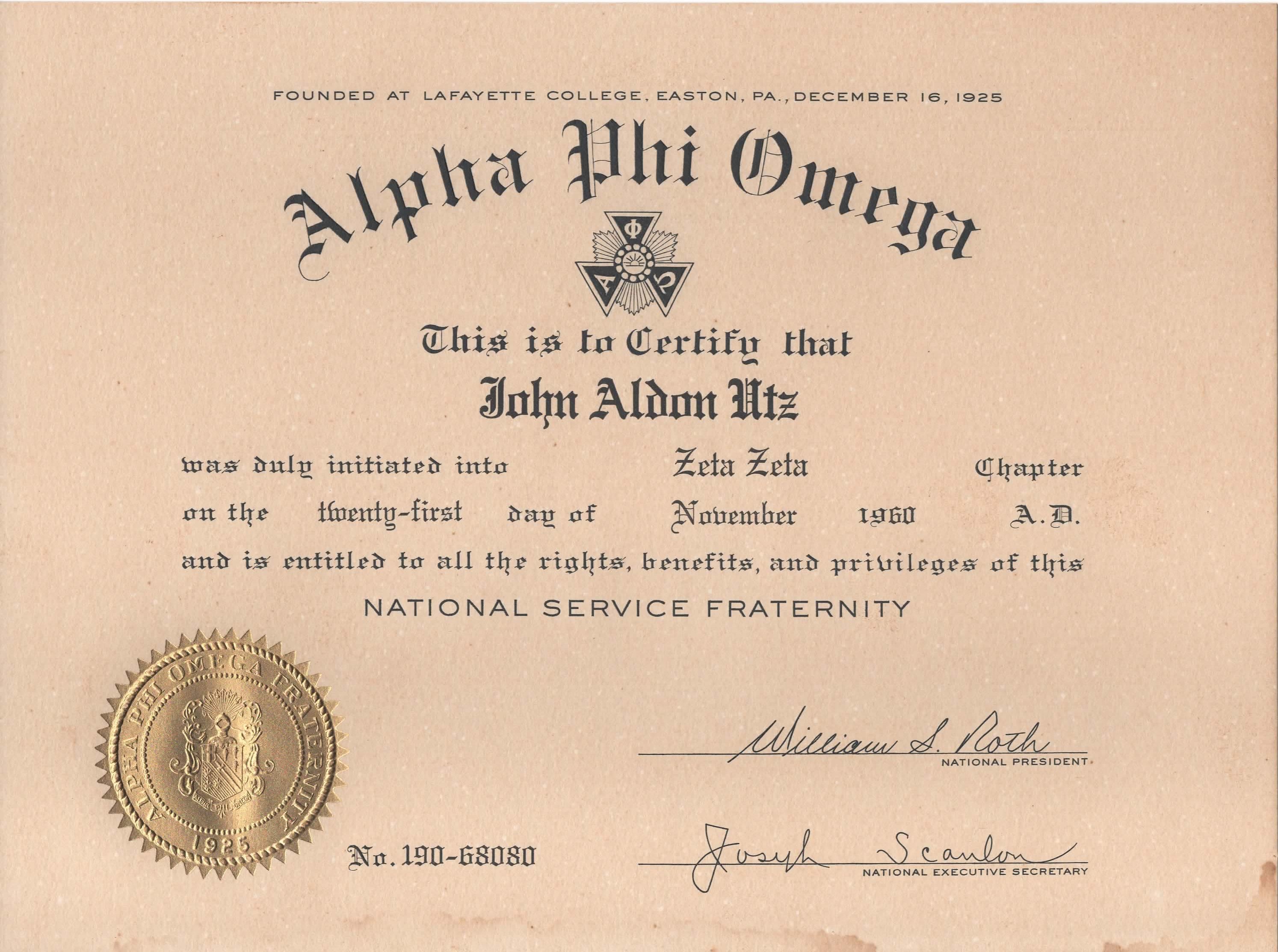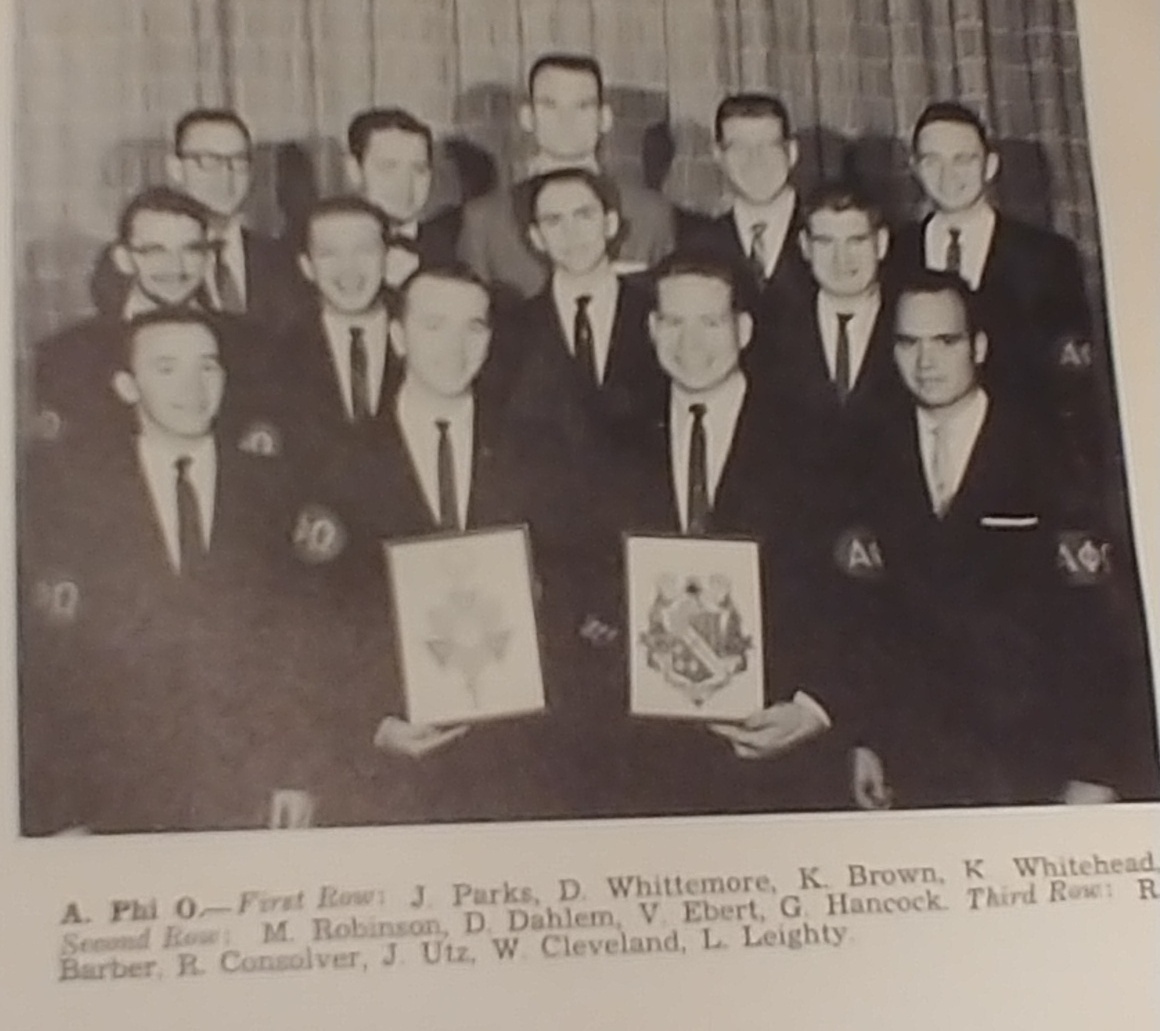 I was voted Best Active Brother of all 11 of Indiana's Chapters of Alph Phi Omega 
and shared this "Dan Den Uyl Award" with Brother Roger Nelson from De Pauw University.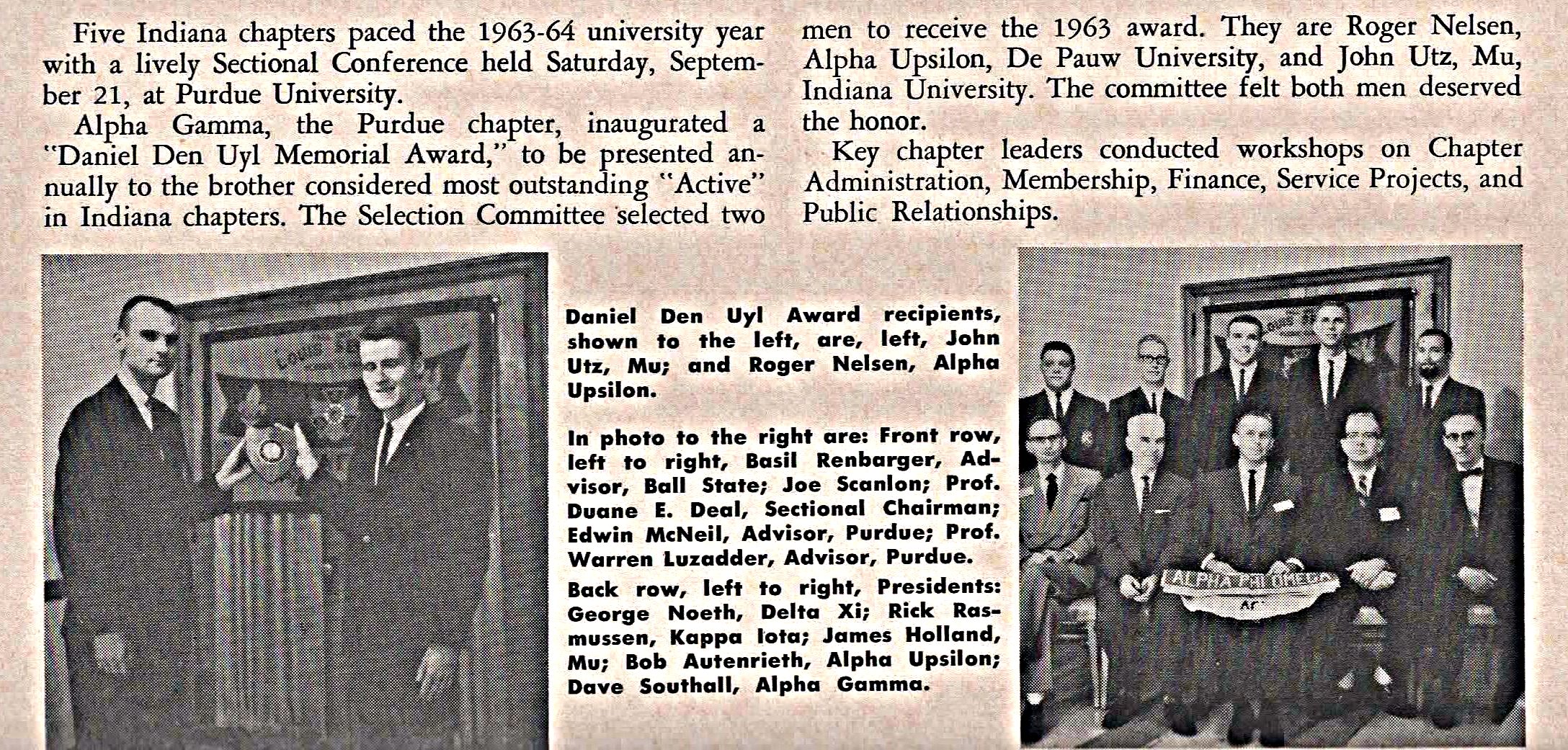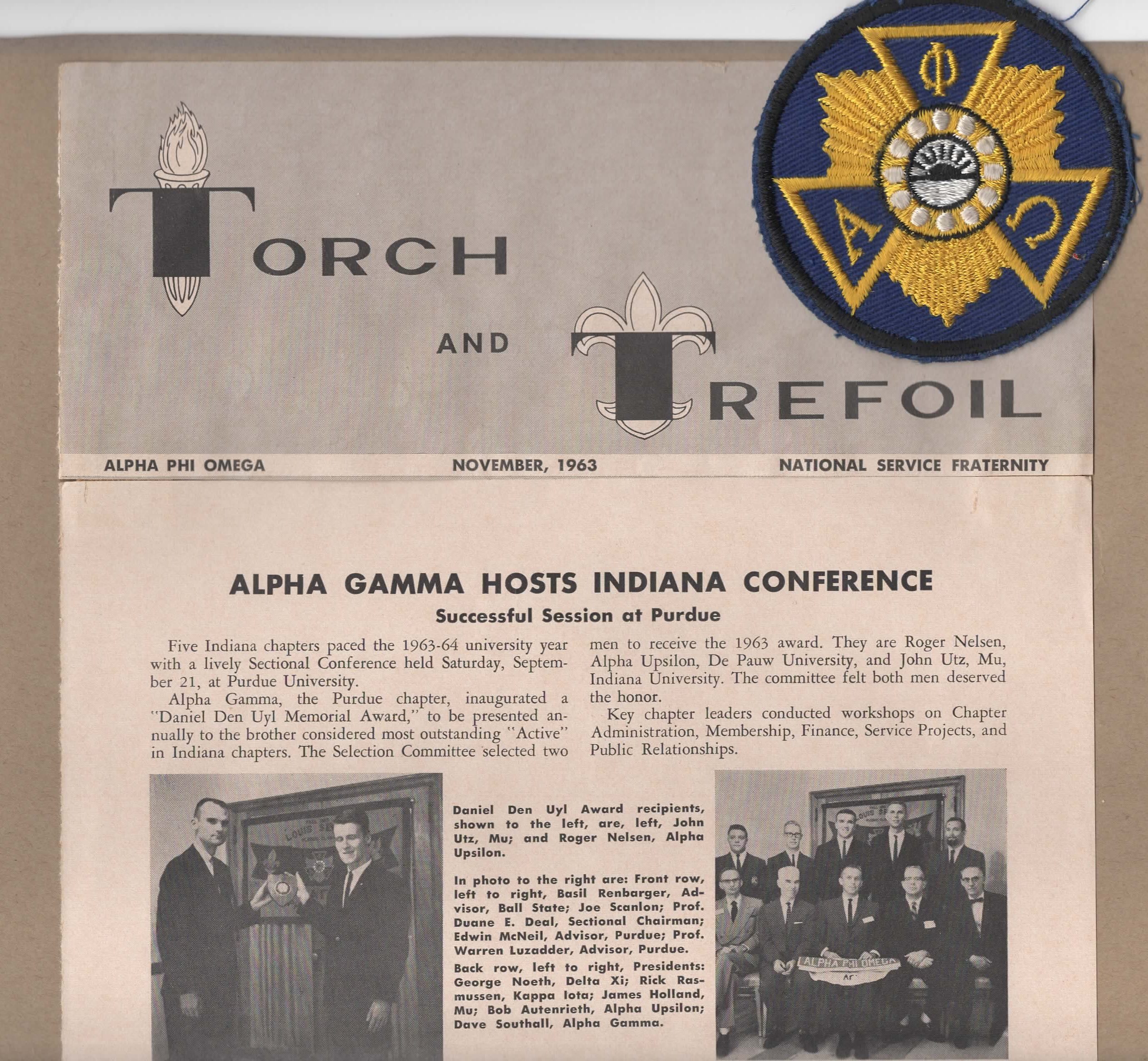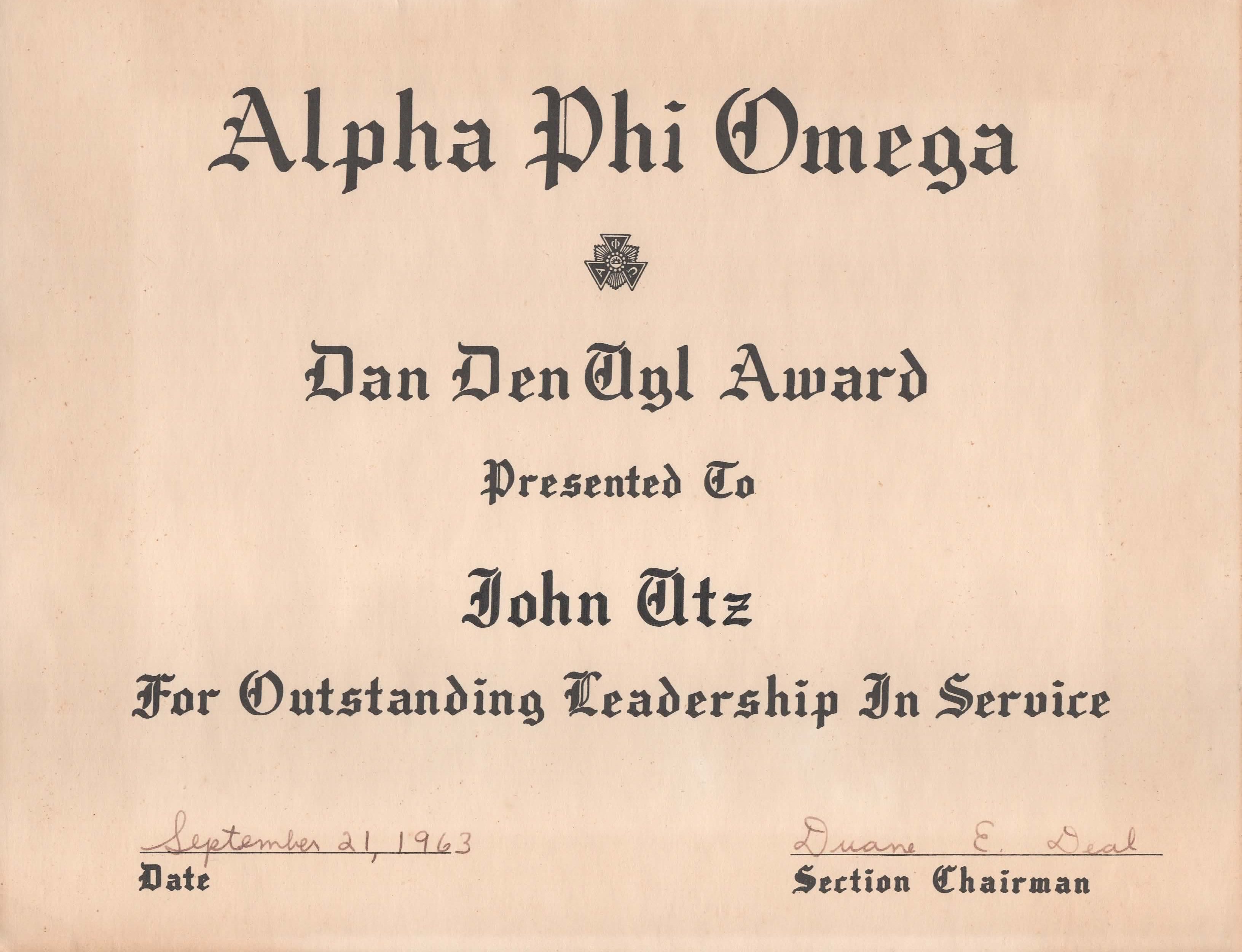 My service was expressed in often unusual ways, entertaining  my friends.  I played tenor sax in the Graceland Band and toured with the Orchestra, playing clarinet and bass clarinet. I am not pictured in this orchestra picture. I was also in the Graceland Players production of Finian's Rainbow as "The Sheriff".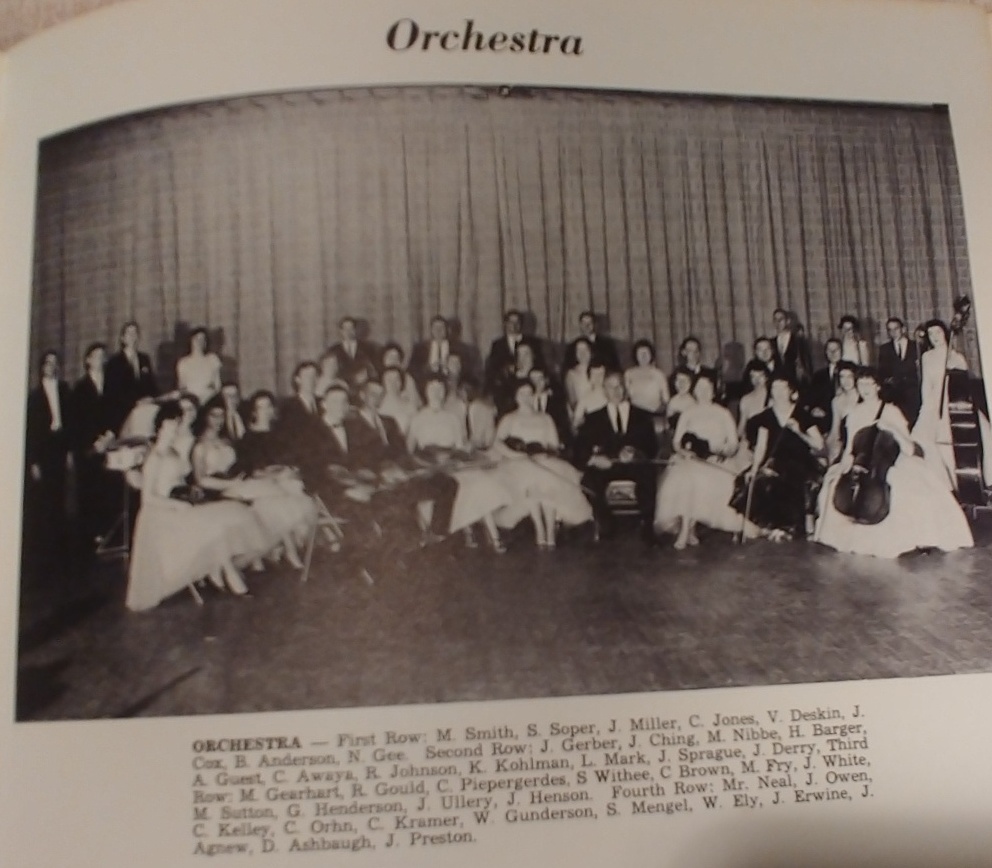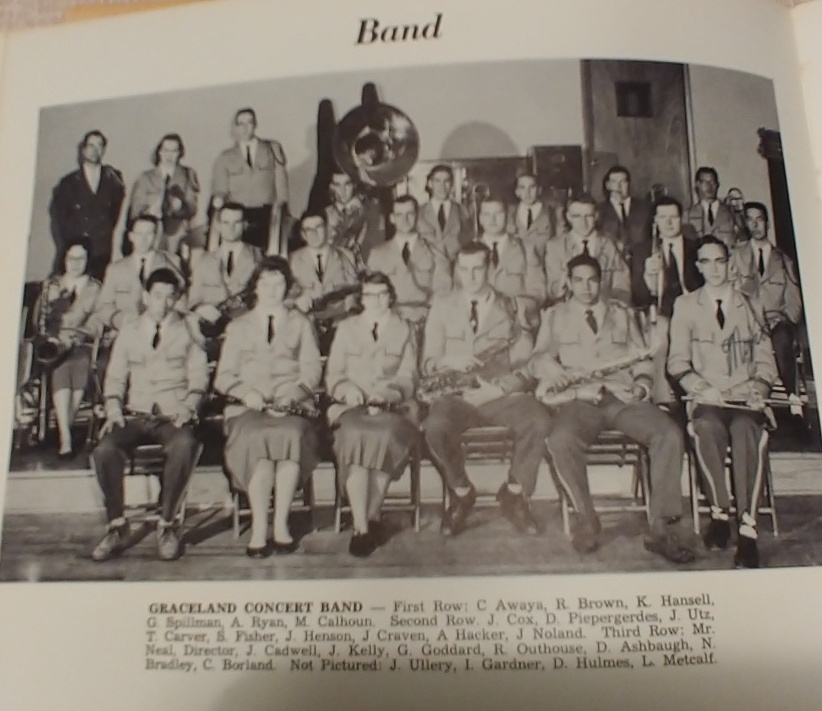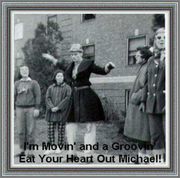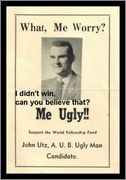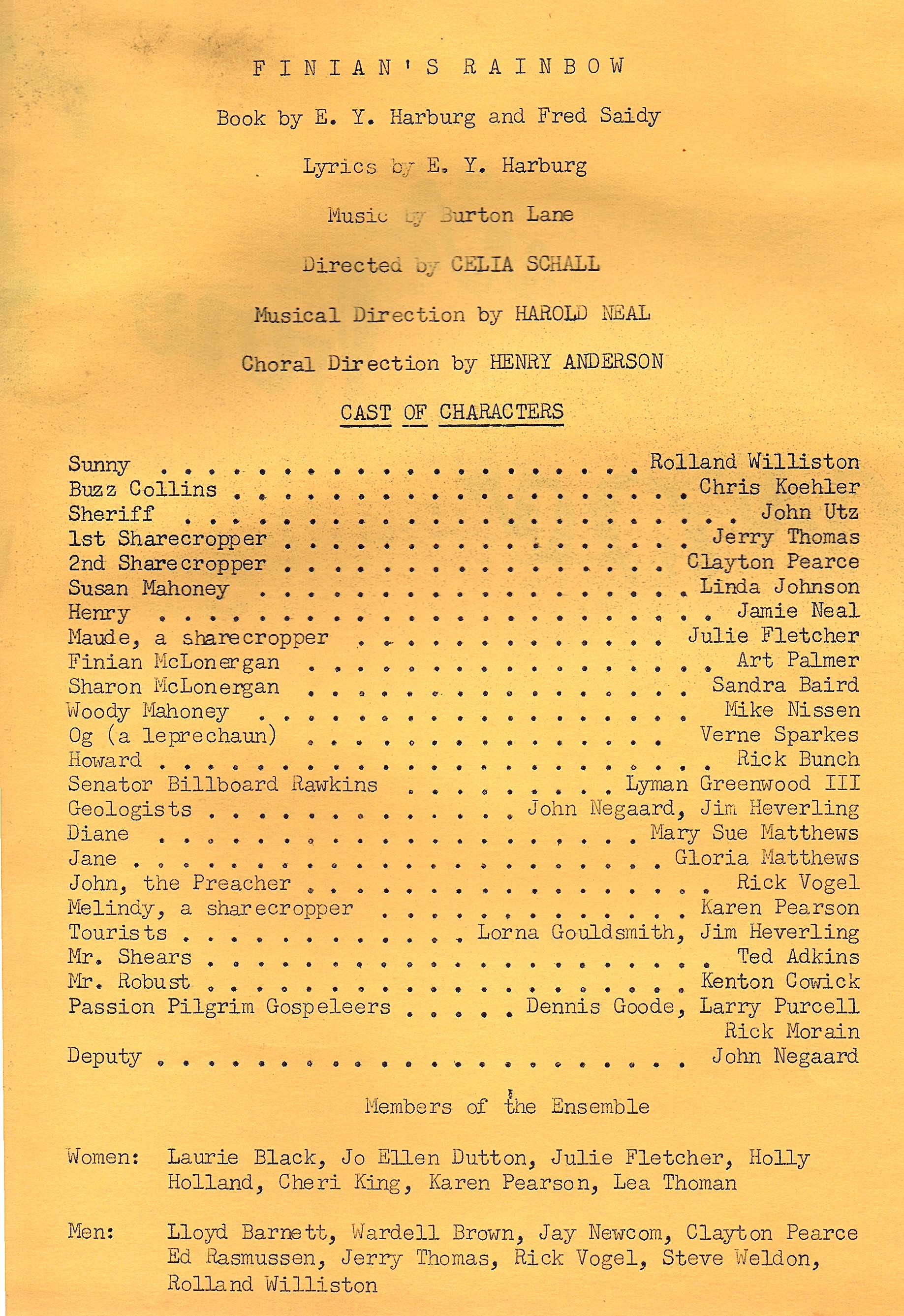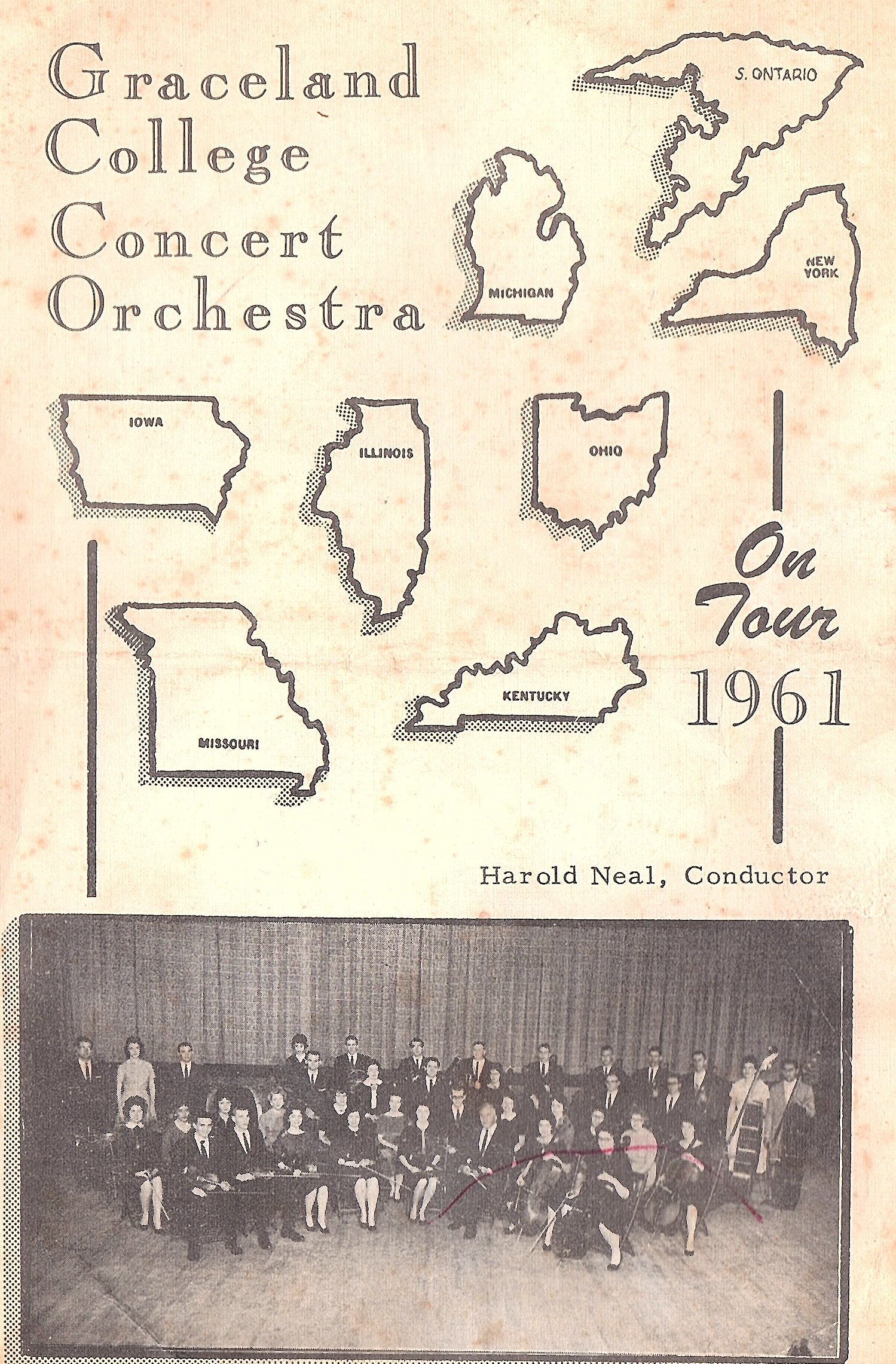 Orchestra Conductor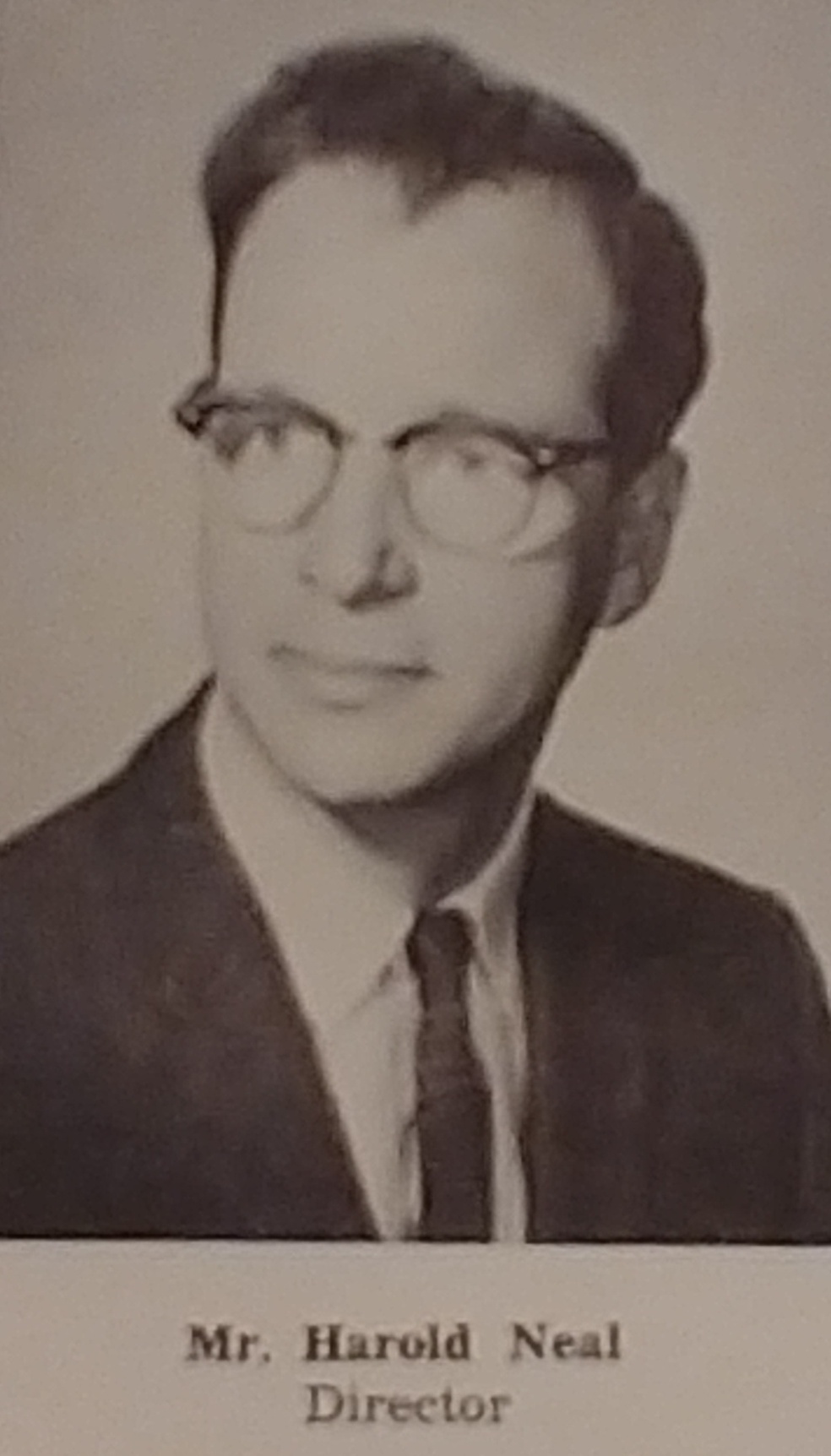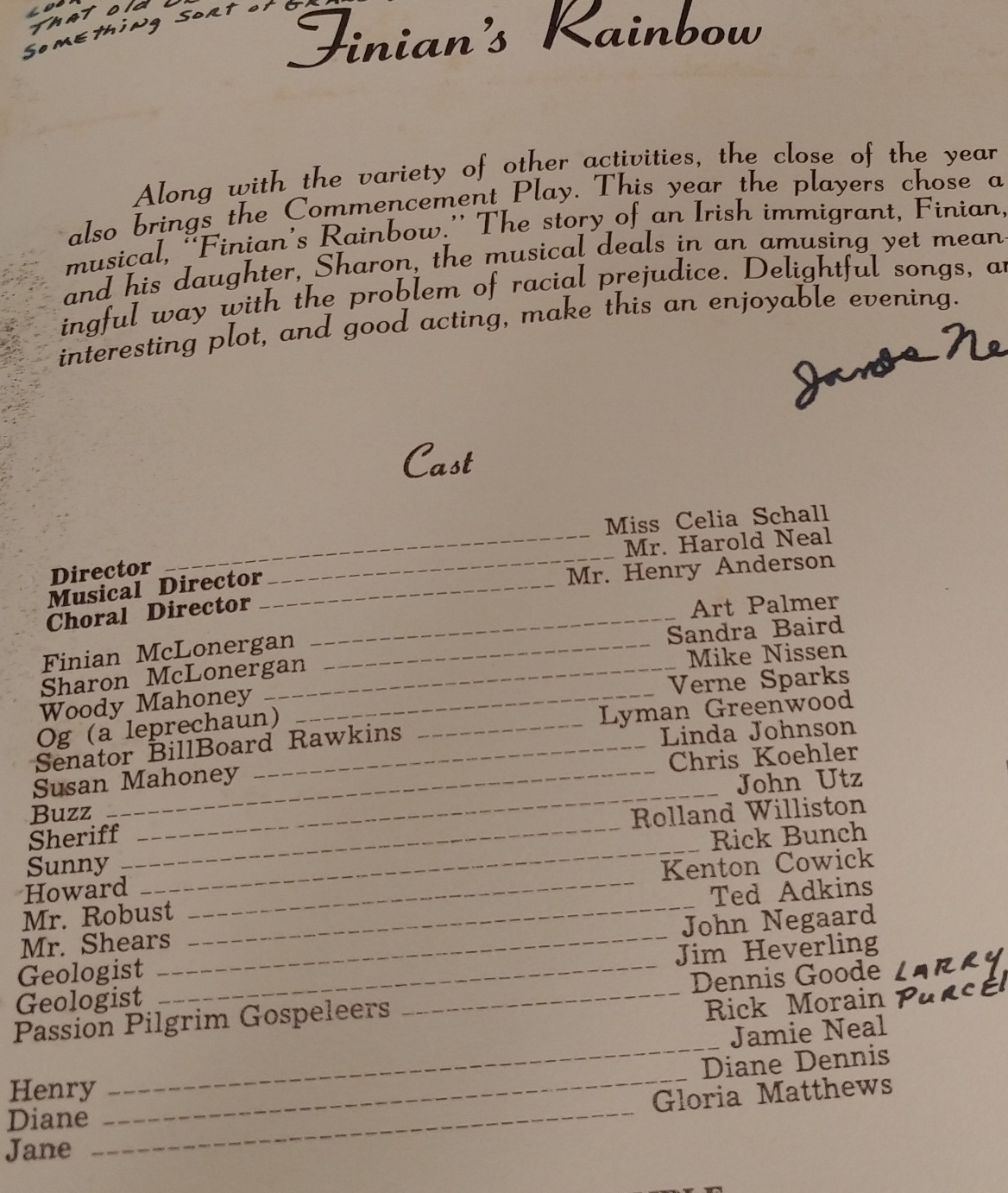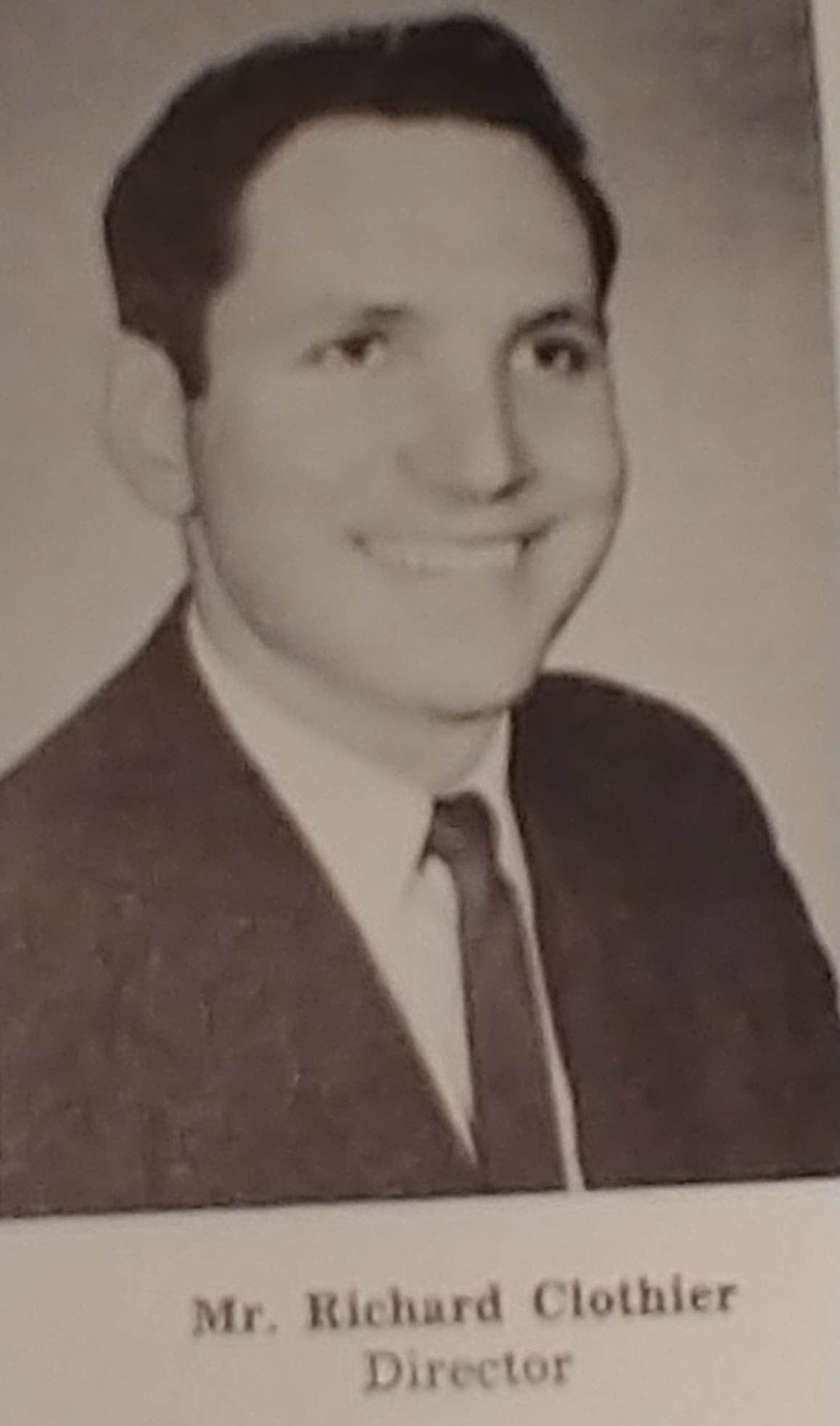 Band Conductor
I was a member of the AUB Social Club and one semester served as its Chaplain.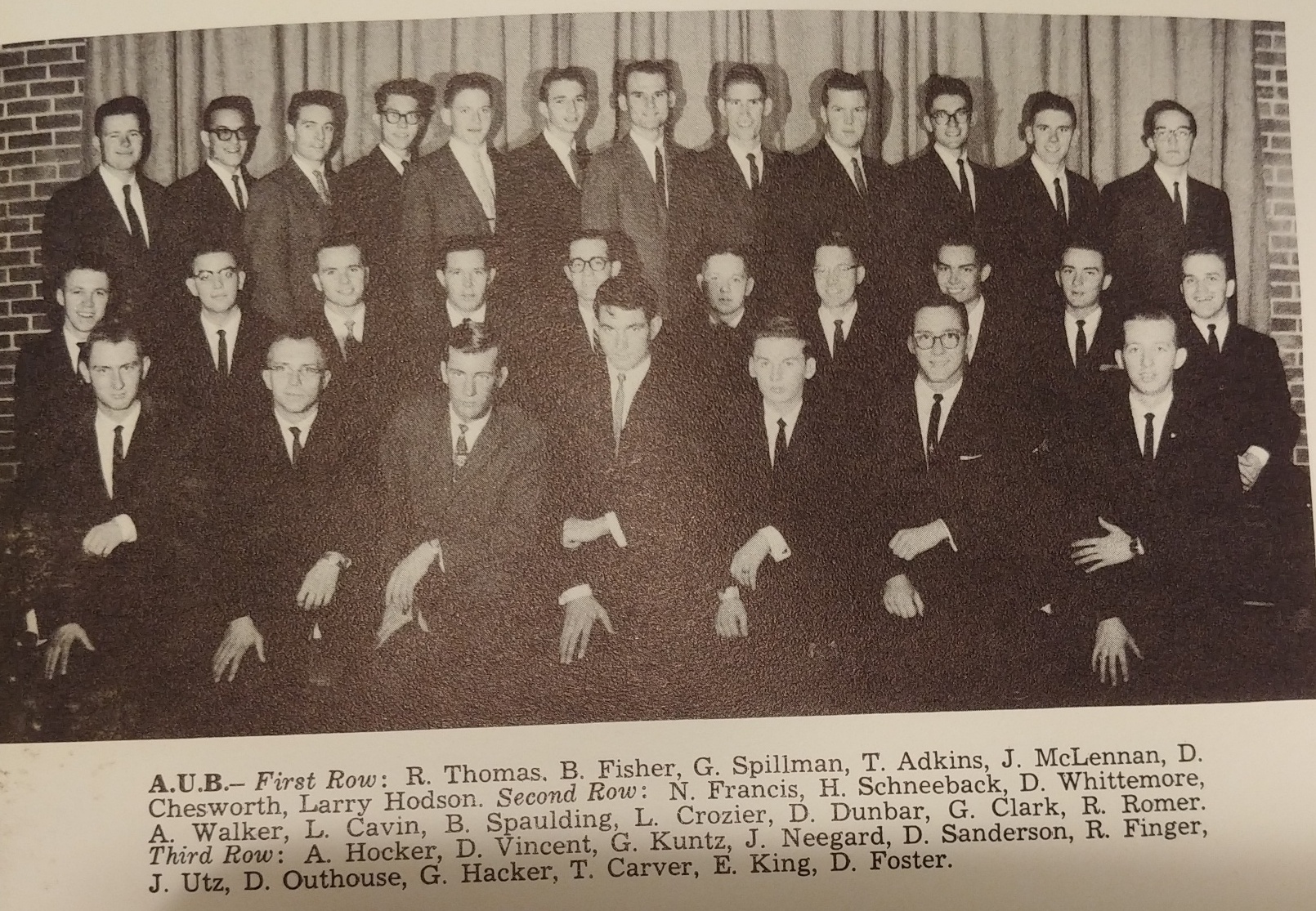 Back late 50's to pledge a social club like the AUB's you had to go through a weekend of Hazing. That included taking 3 swats from a leather paddle by an active brother. When an active brother would confront you, he would say "take the point" and you would have to bend down, grab your ankles and take the swats. My pledgemaster was Walt Gunderson who was captain of the football team and I was scared to death by his potential swats. Fortunately for me he never did. The hazing ended up on Sunday  afternoon, with the indignity of rolling a marshmellow across a cow lot with your nose and then eating it. They also covered you with dirt and debris and smashed eggs over your head. I wish I still had the picture of what I looked like when I came back to the dormitory.  I was a dreadful sight. This picture was typical: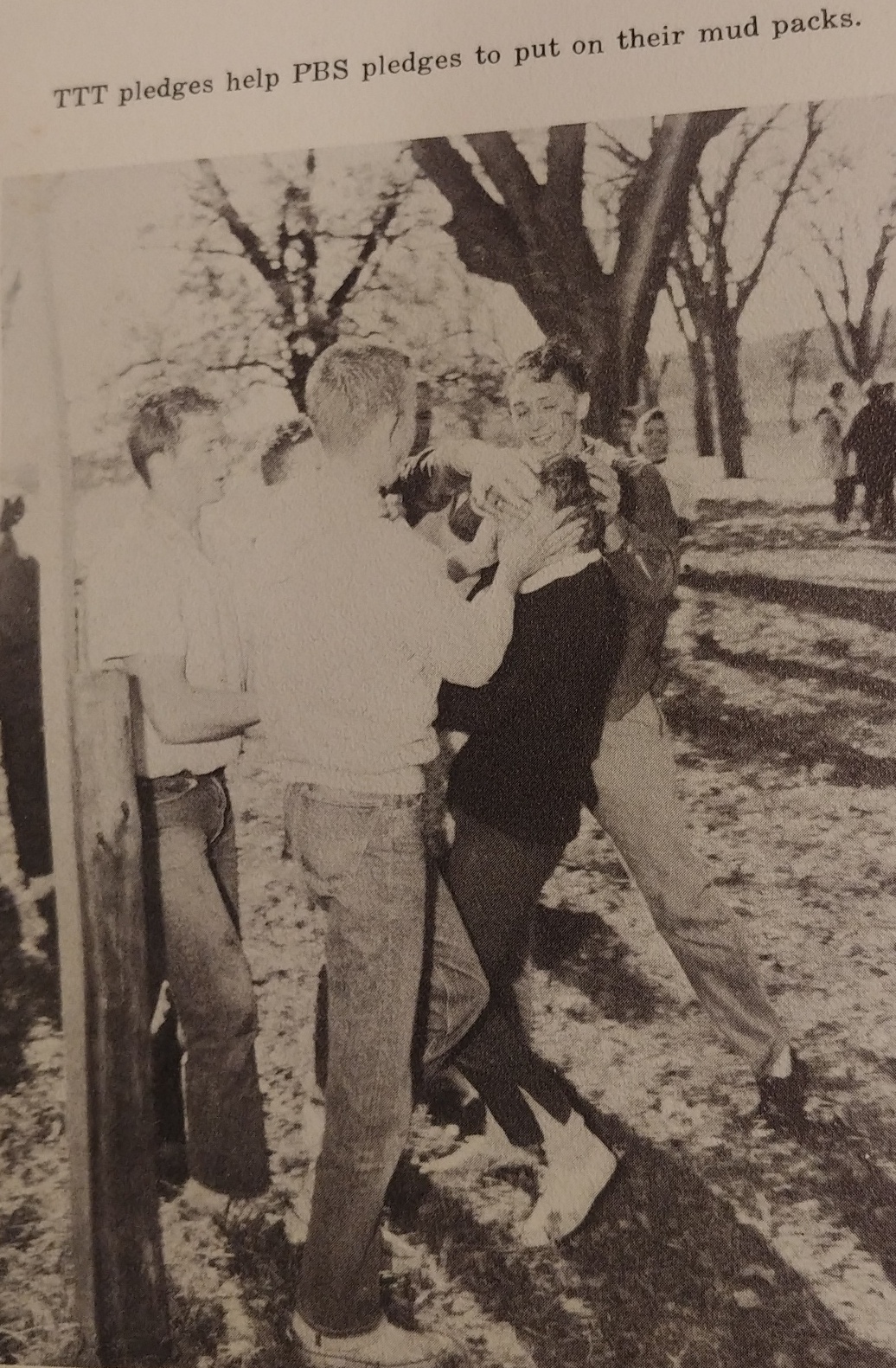 ✨   ✨   ✨   ✨   ✨   ✨  ✨   ✨   ✨   ✨   ✨   ✨
Indiana University Bloomington, Indiana  Graduated 1963 B.S. in Education
Major in Physics and Mathematics, Minor in General Science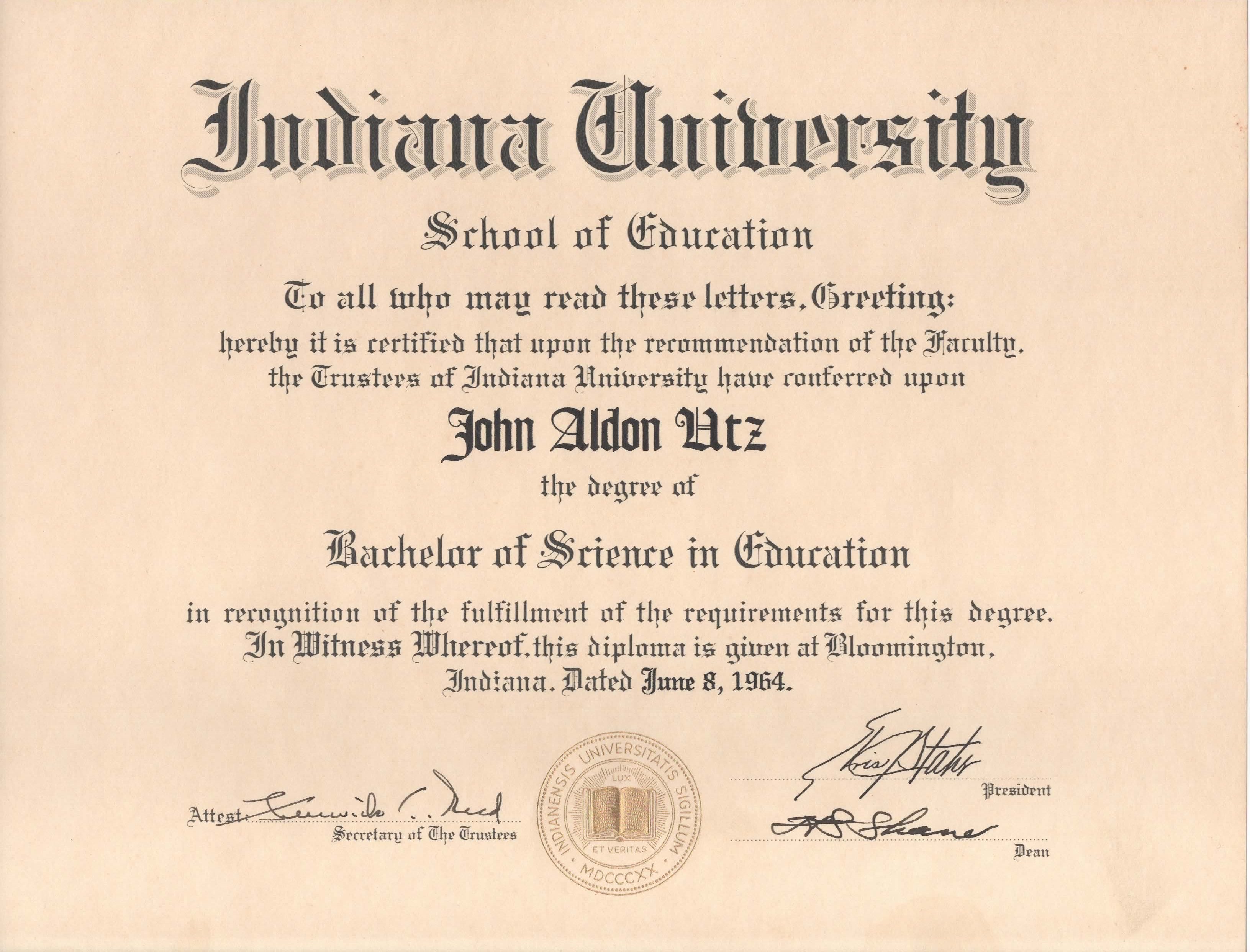 My College Transcript
(I was, at my best, an average student in college)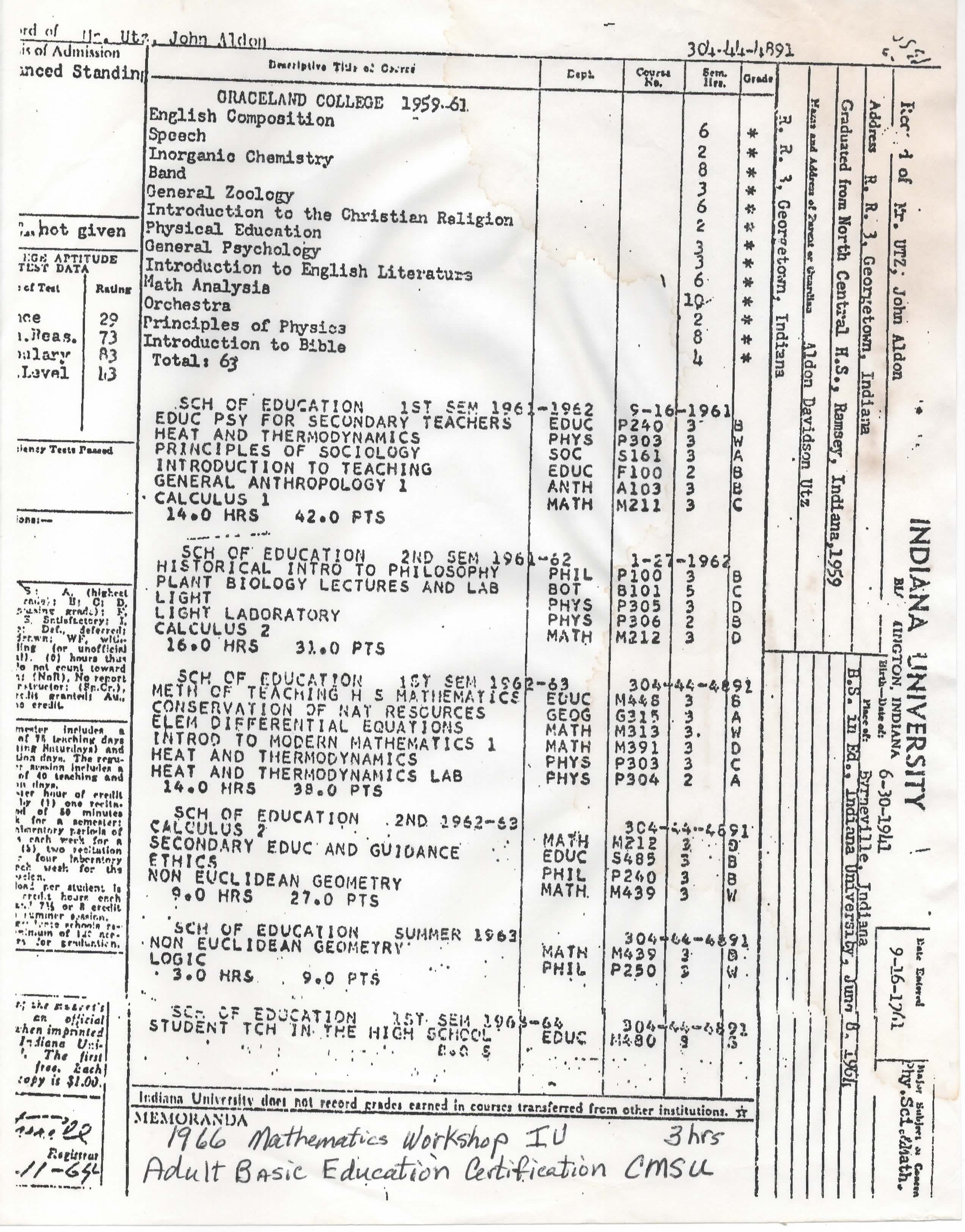 I have a Missouri Lifetime Teaching License in Science & Mathematics.
✨   ✨   ✨   ✨   ✨   ✨  ✨   ✨   ✨   ✨   ✨   ✨
I was called and ordained as a priest in 1963 in the Byrneville RLDS Church
and preached my first Missionary Series there in 1964.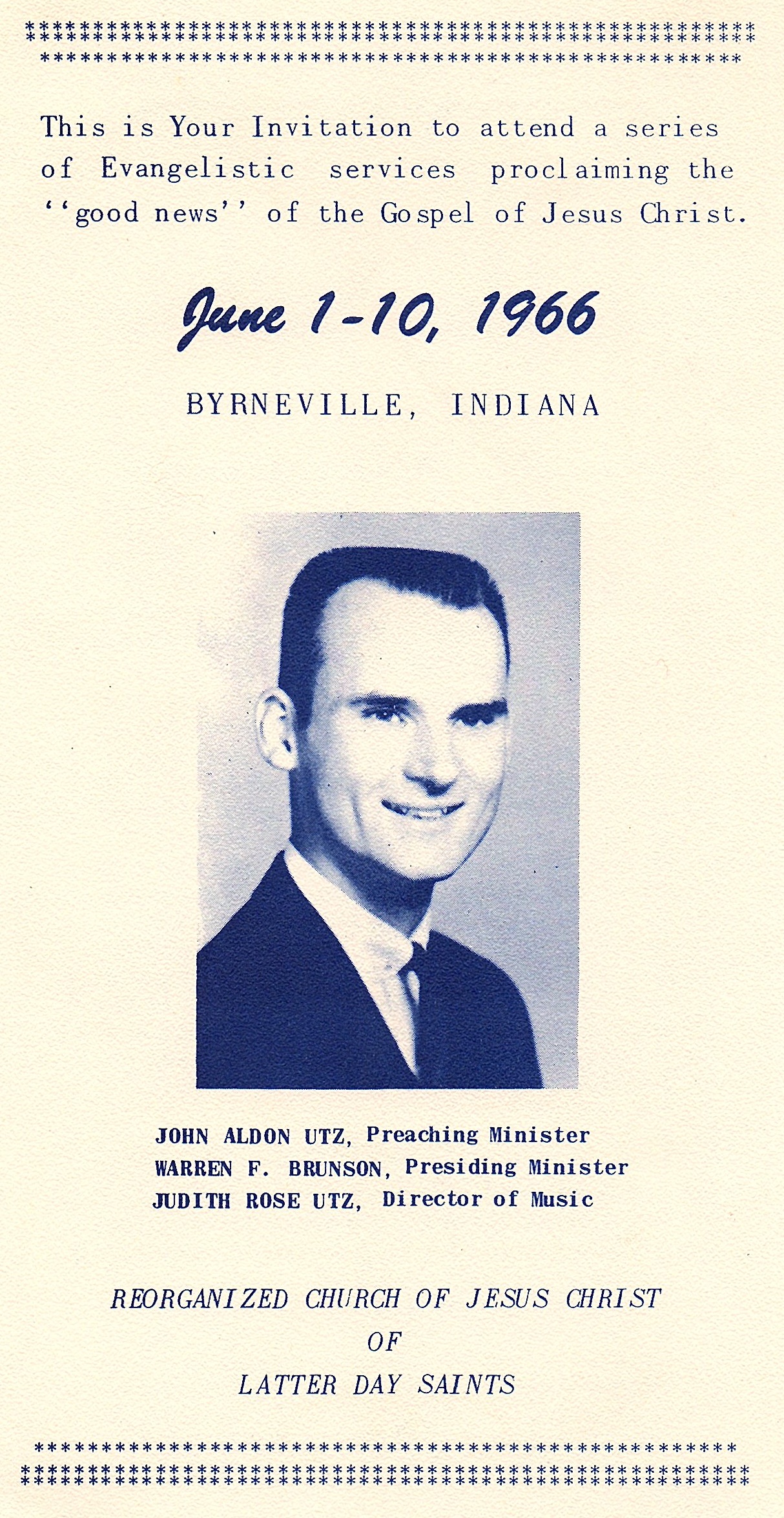 ✨   ✨   ✨   ✨   ✨   ✨  ✨   ✨   ✨   ✨   ✨   ✨
 
Physics & Mathematics Teacher
North Central Consolidated School 1963-1965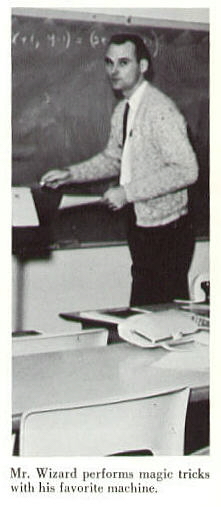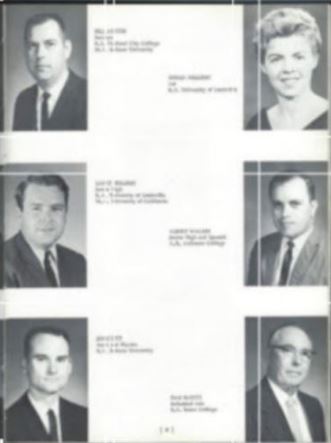 ✨   ✨   ✨   ✨   ✨   ✨  ✨   ✨   ✨   ✨   ✨   ✨
 
Mathematics Instructor 
Indiana "University Laboratory School"  1965-1966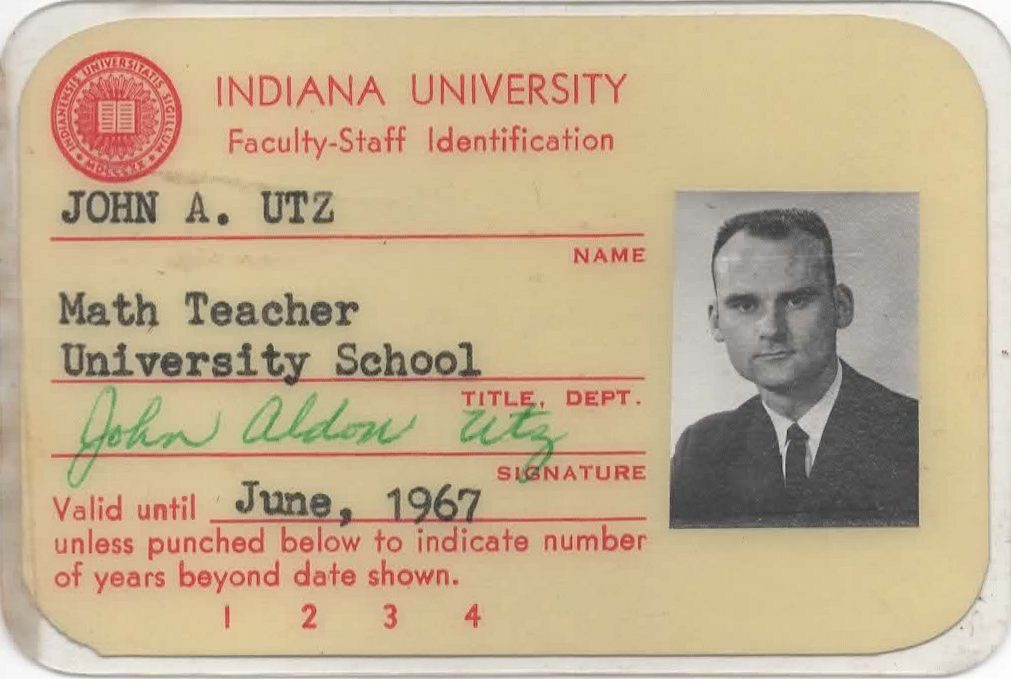 In my trigonometry classes, I taught elementary principles of topology.
As an experiment I took off my vest without taking off my coat, my Topological Twist!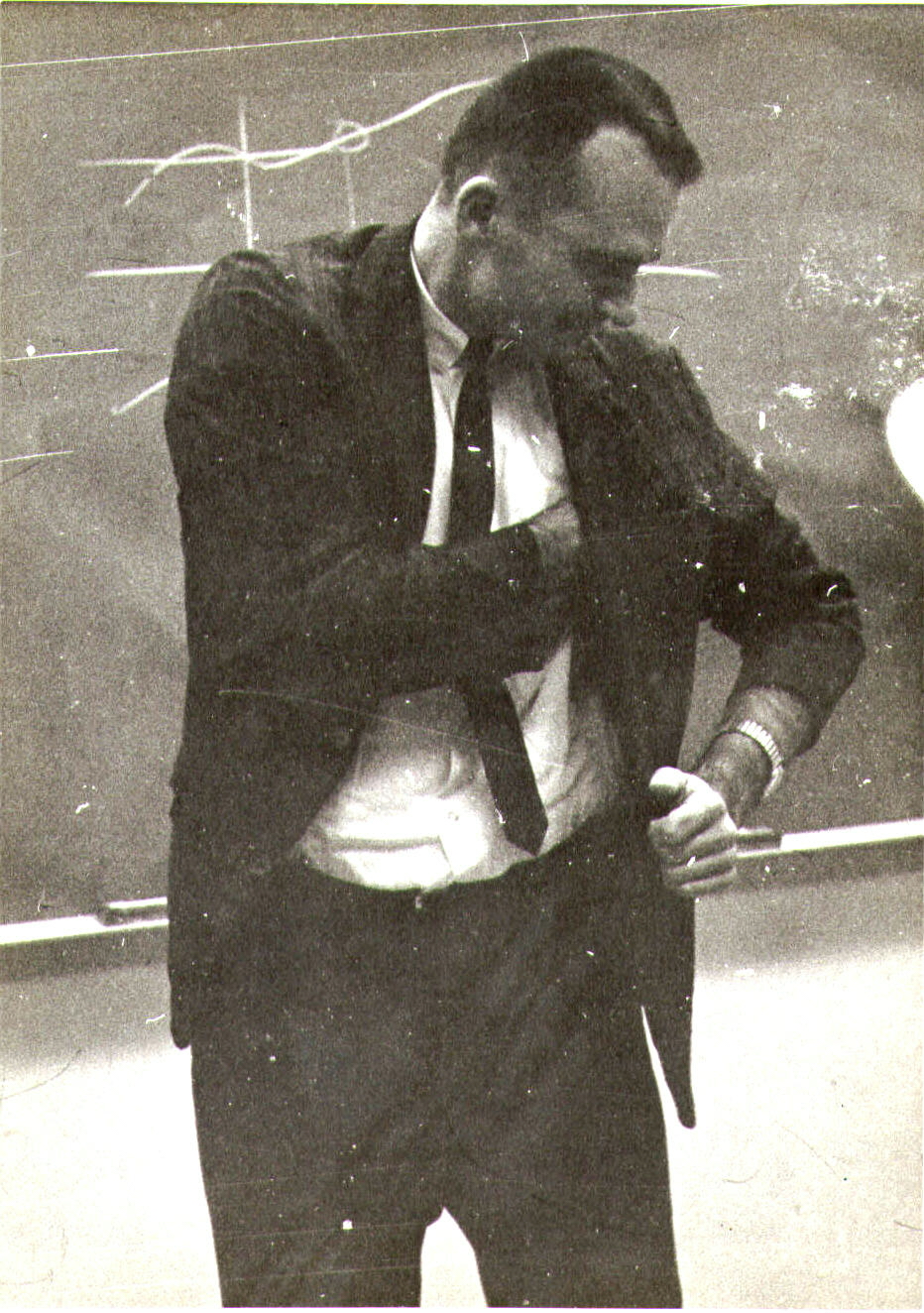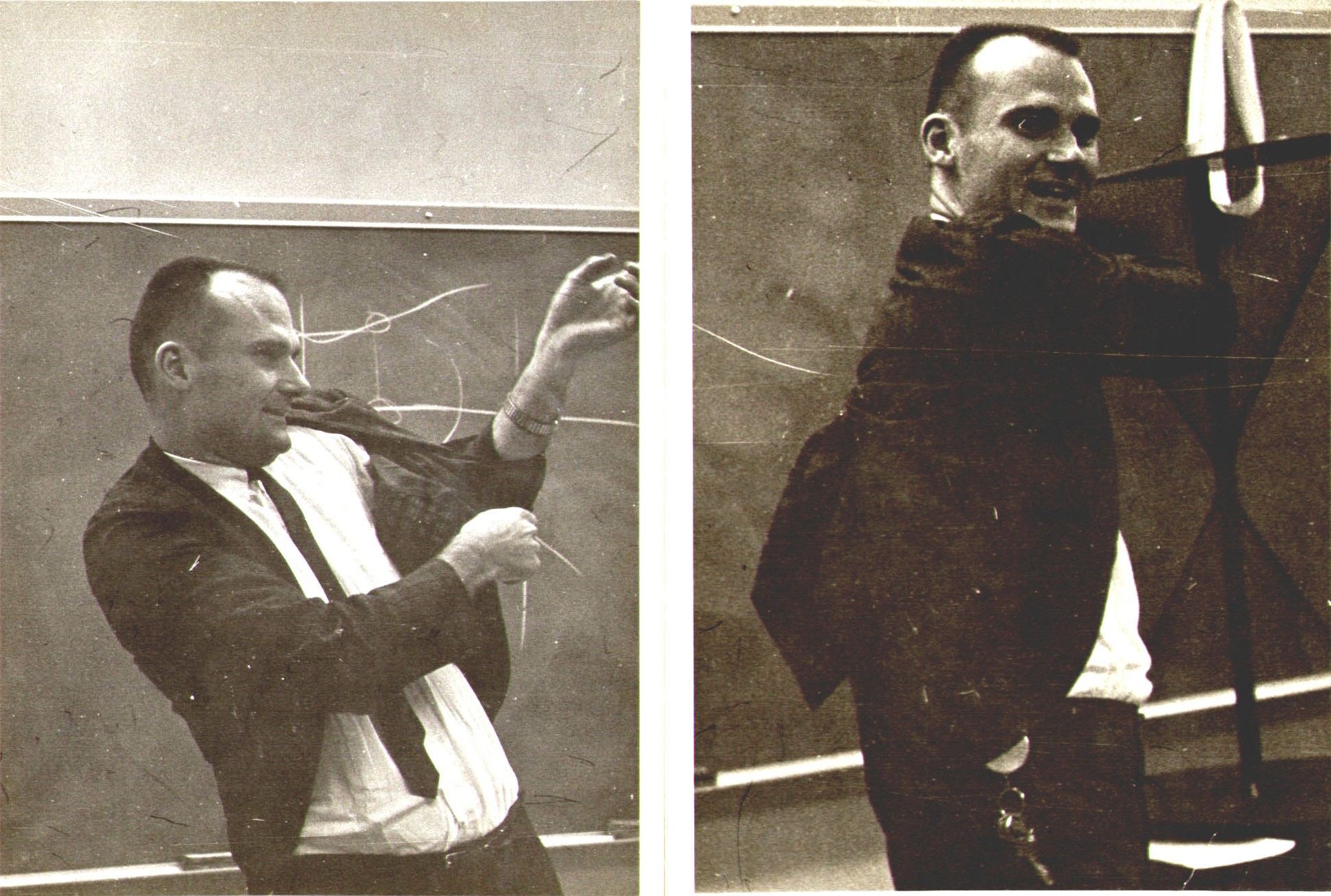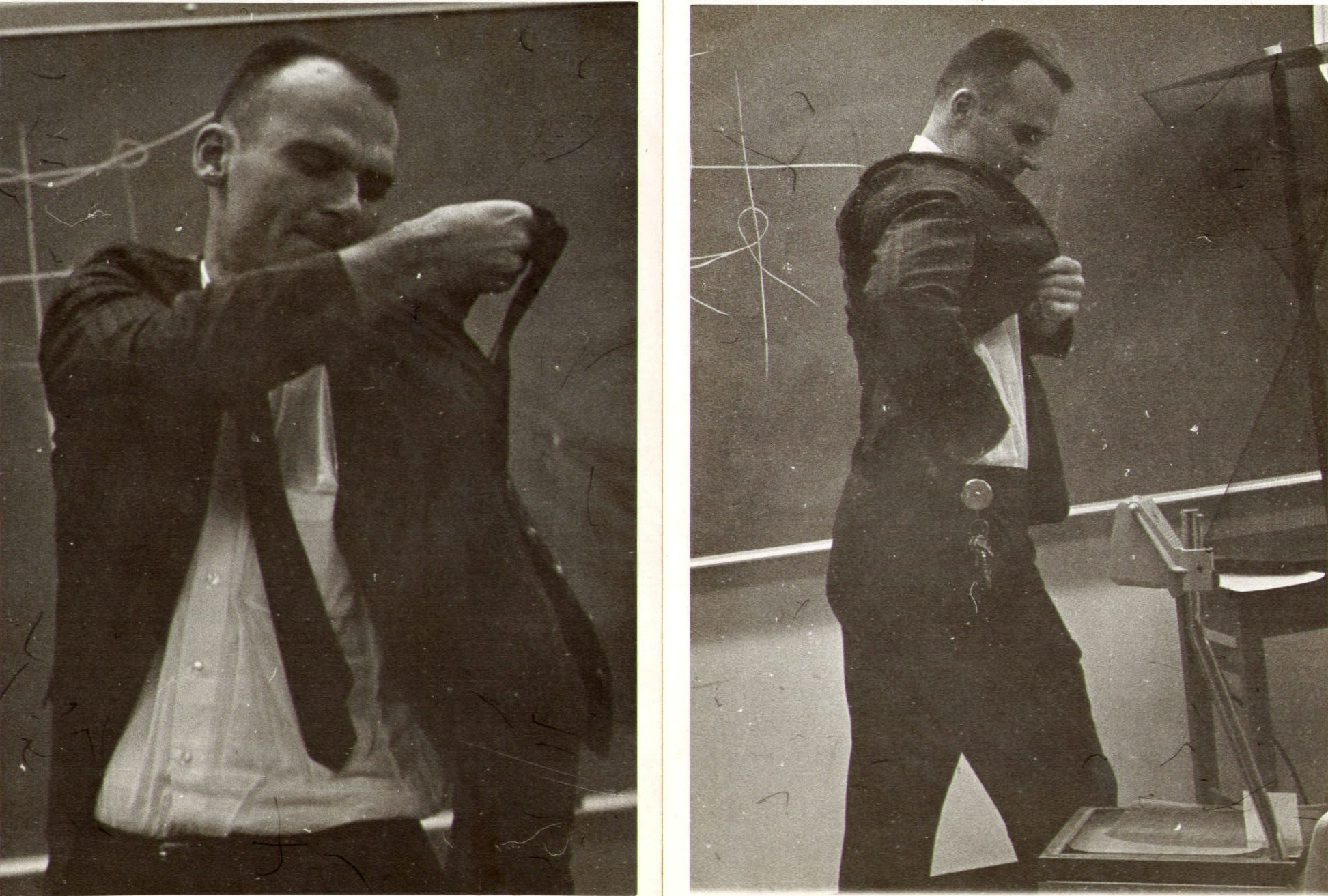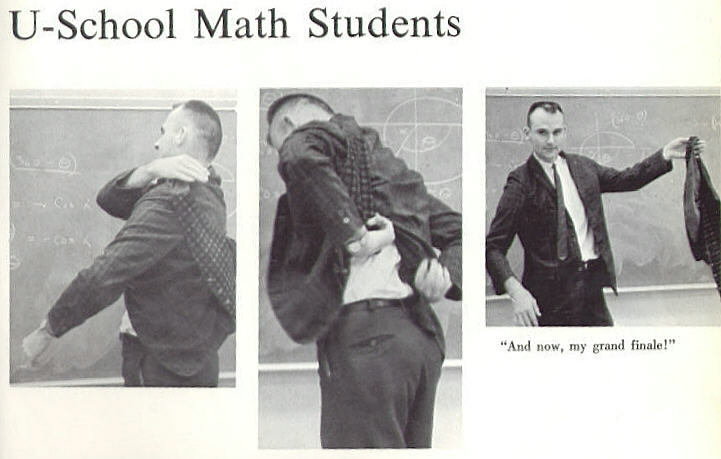 ✨   ✨   ✨   ✨   ✨   ✨  ✨   ✨   ✨   ✨   ✨   ✨
 
Master & Instructor Mathematics and Science
Howe Military Lower School Howe, Indiana 1967-1975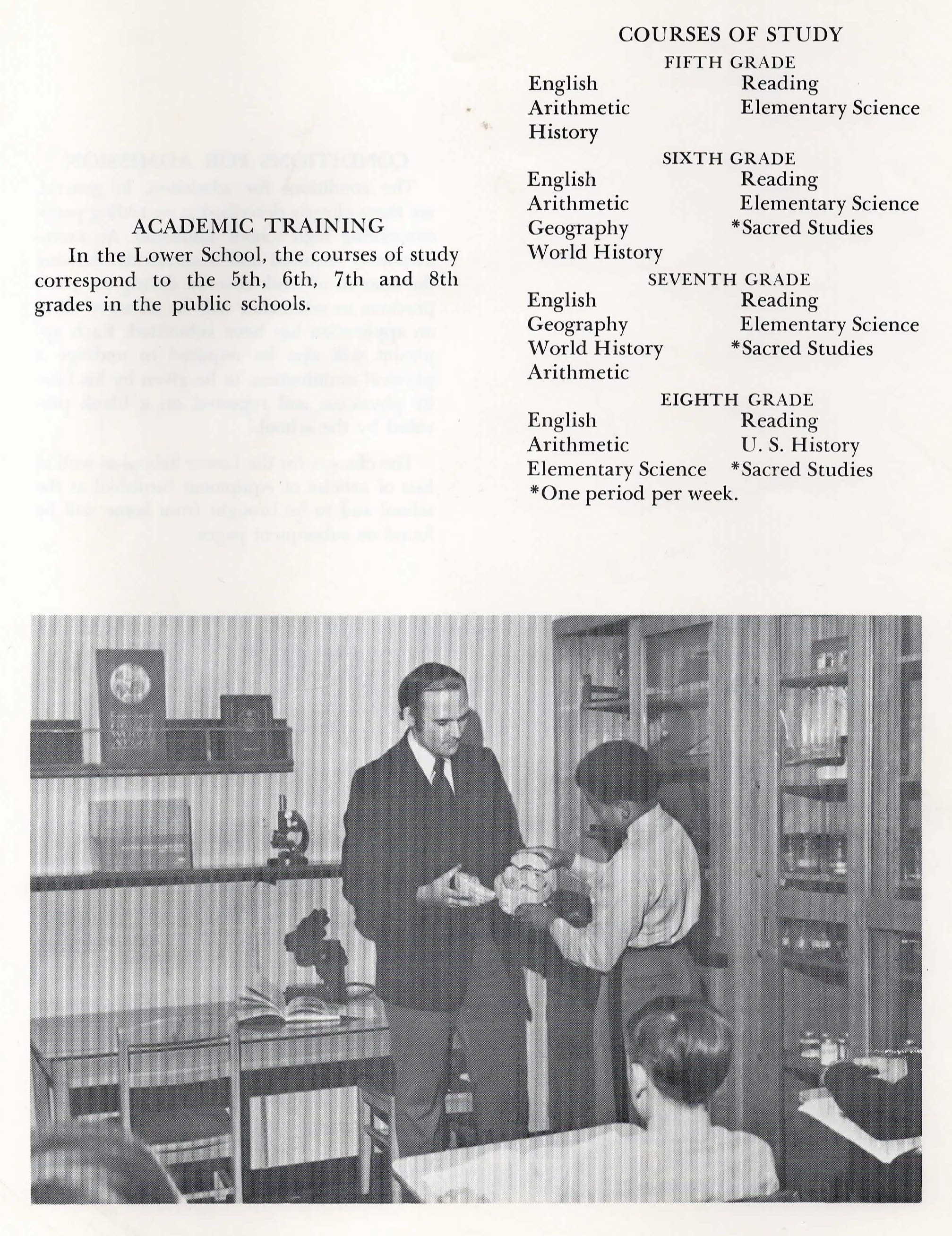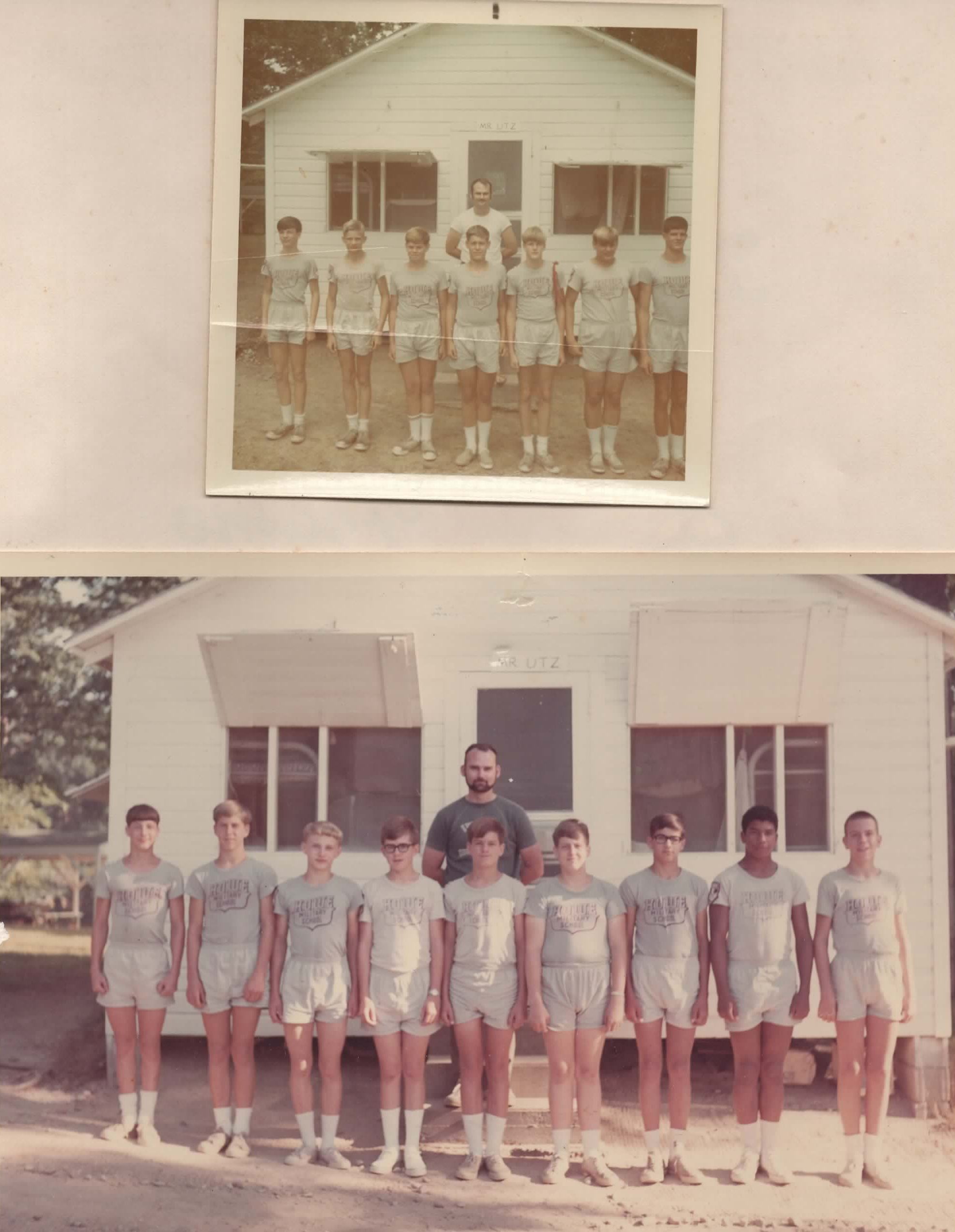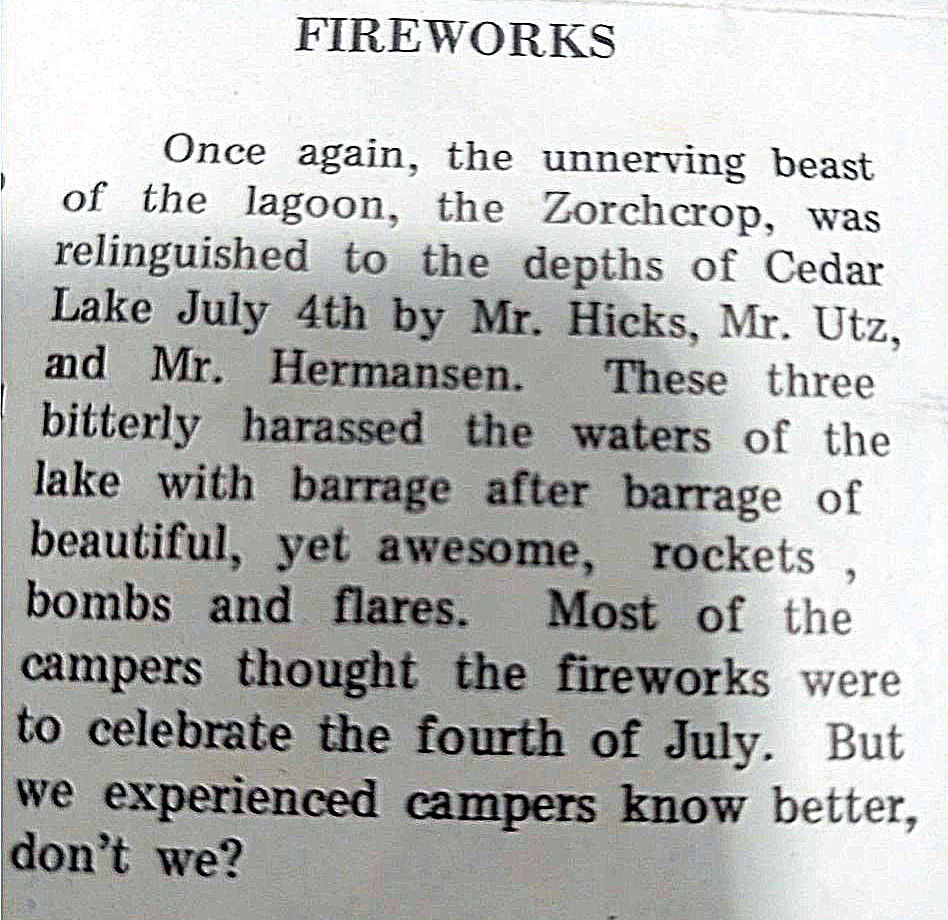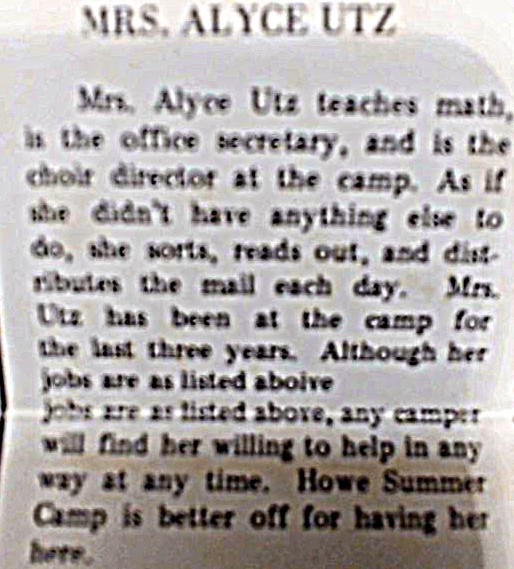 Teaching Science  &  Counselor Cabin 15  Howe Military School Summer Camp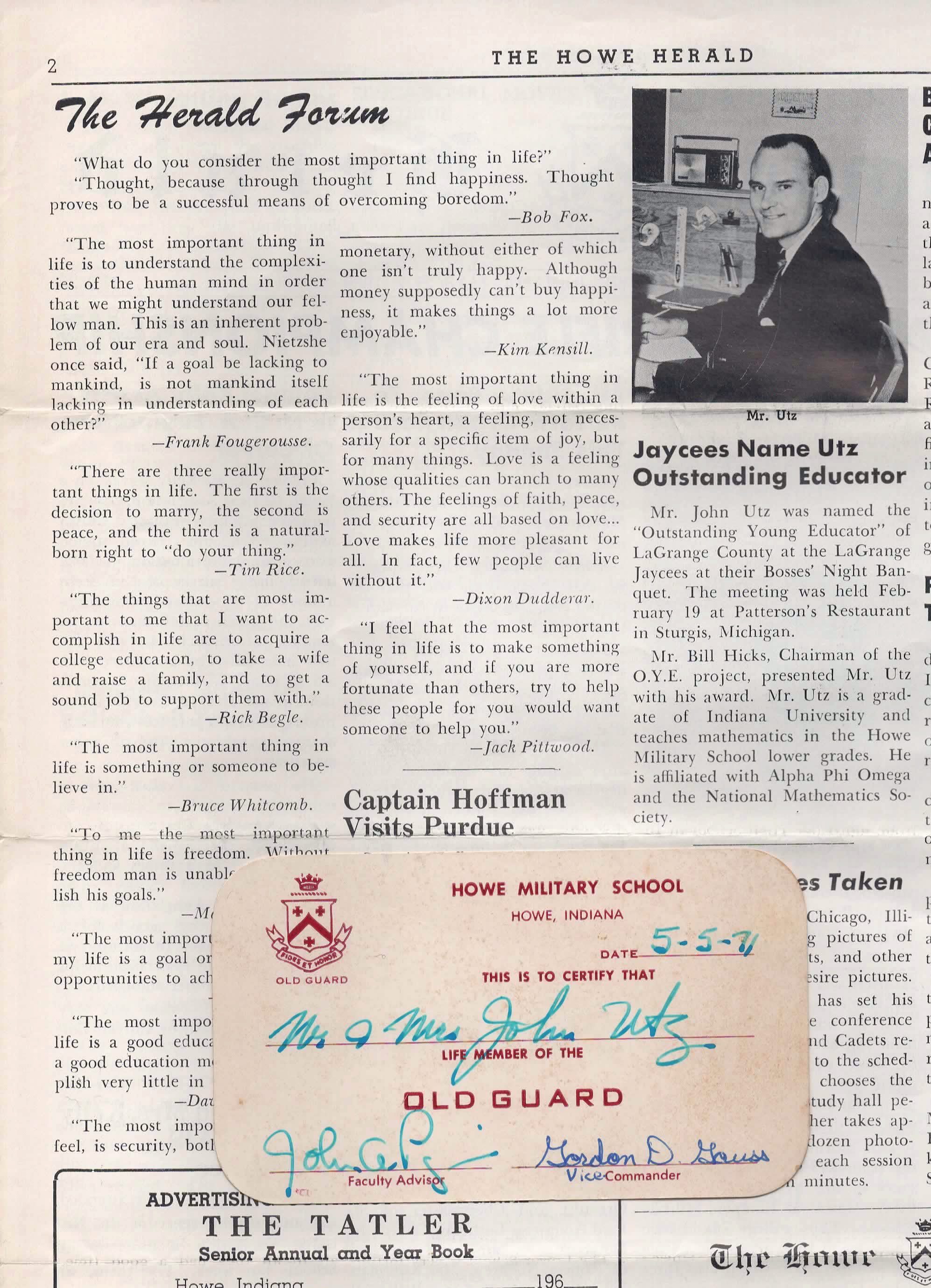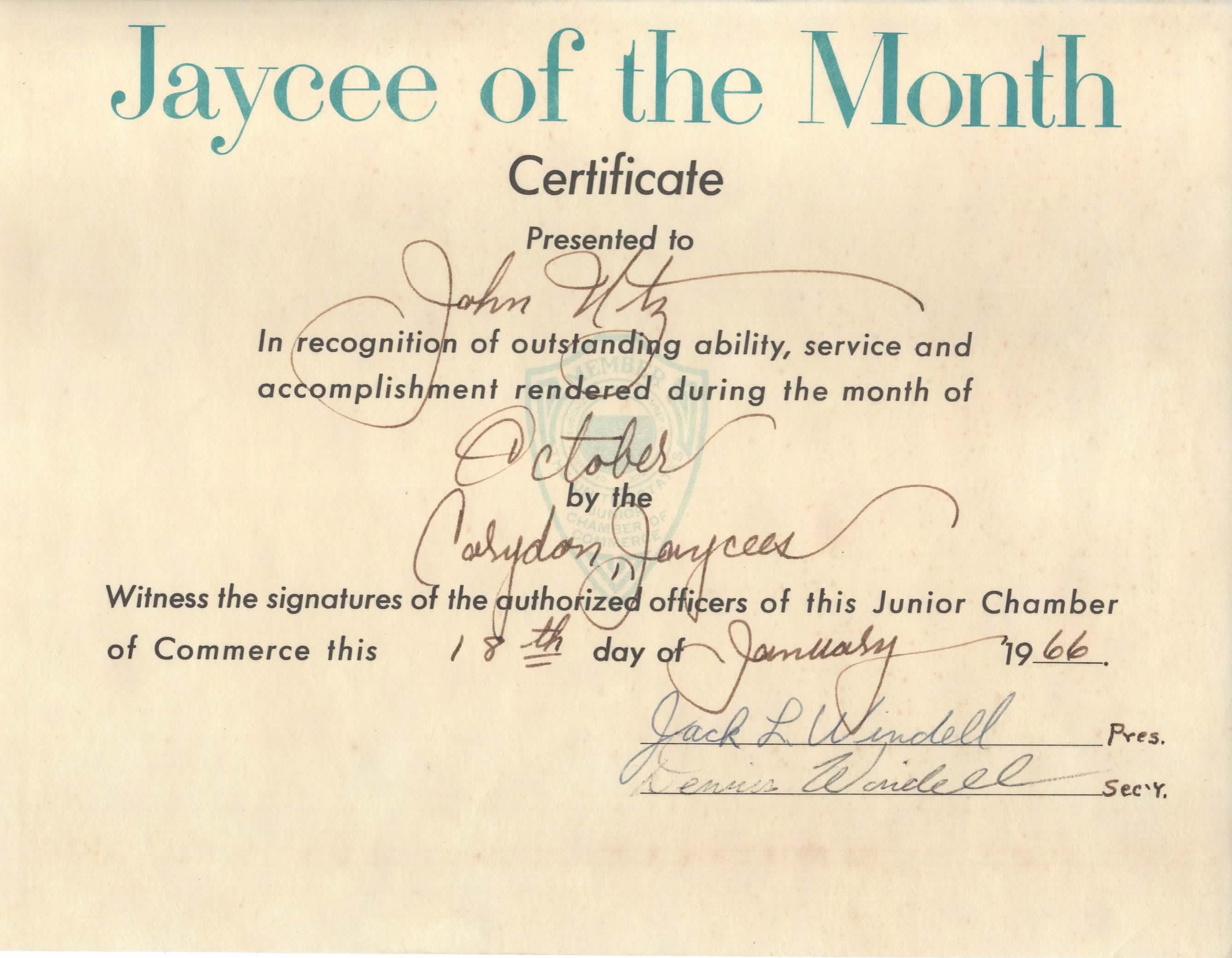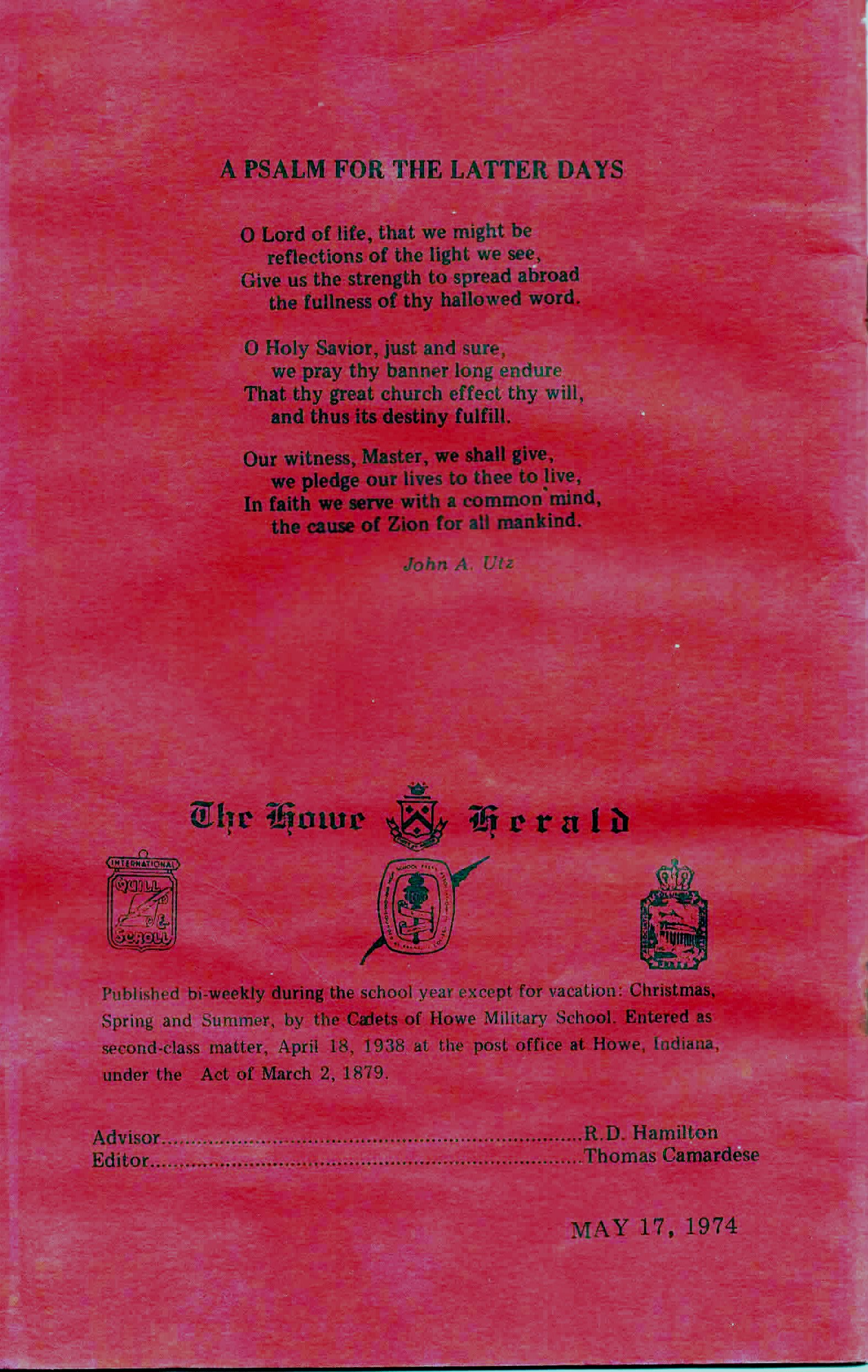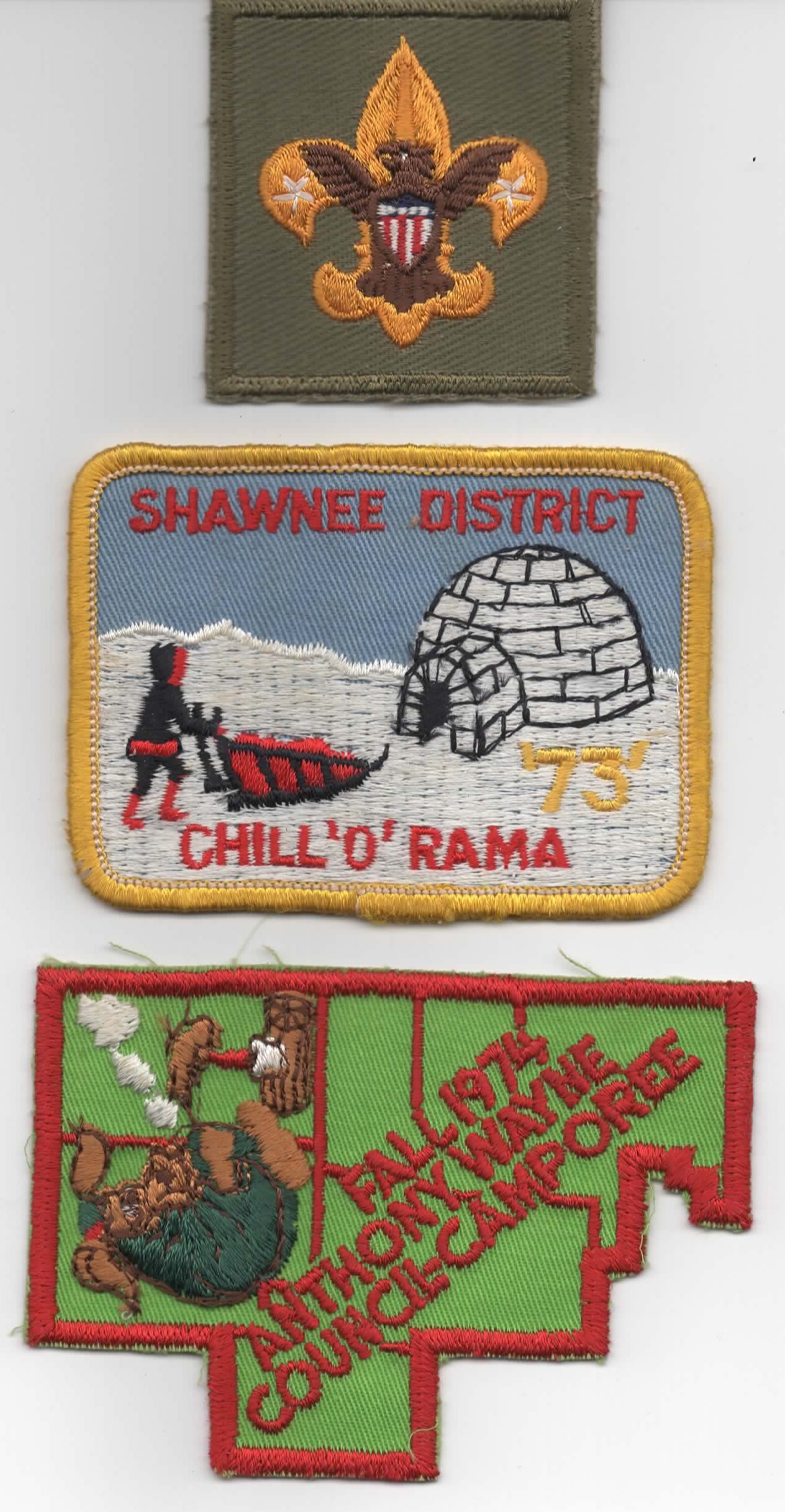 Published some of my poetry in the Howe Herald;
My friend Dick Wright and I coached basketball together and organized BSA Troop 113. I asked Dick to be my best man in my wedding in 1970.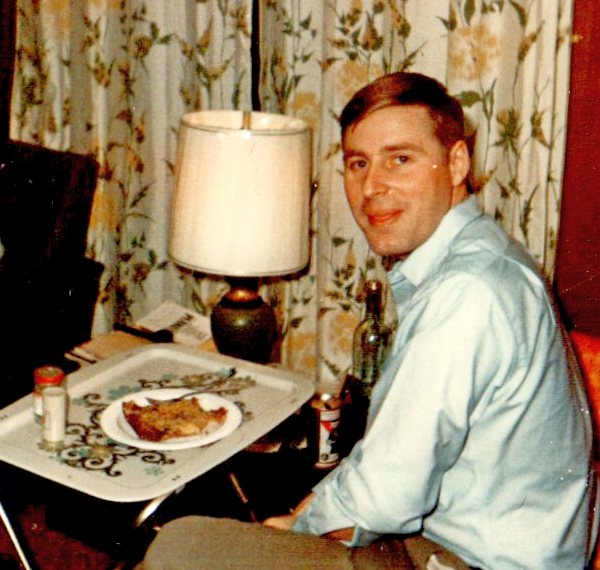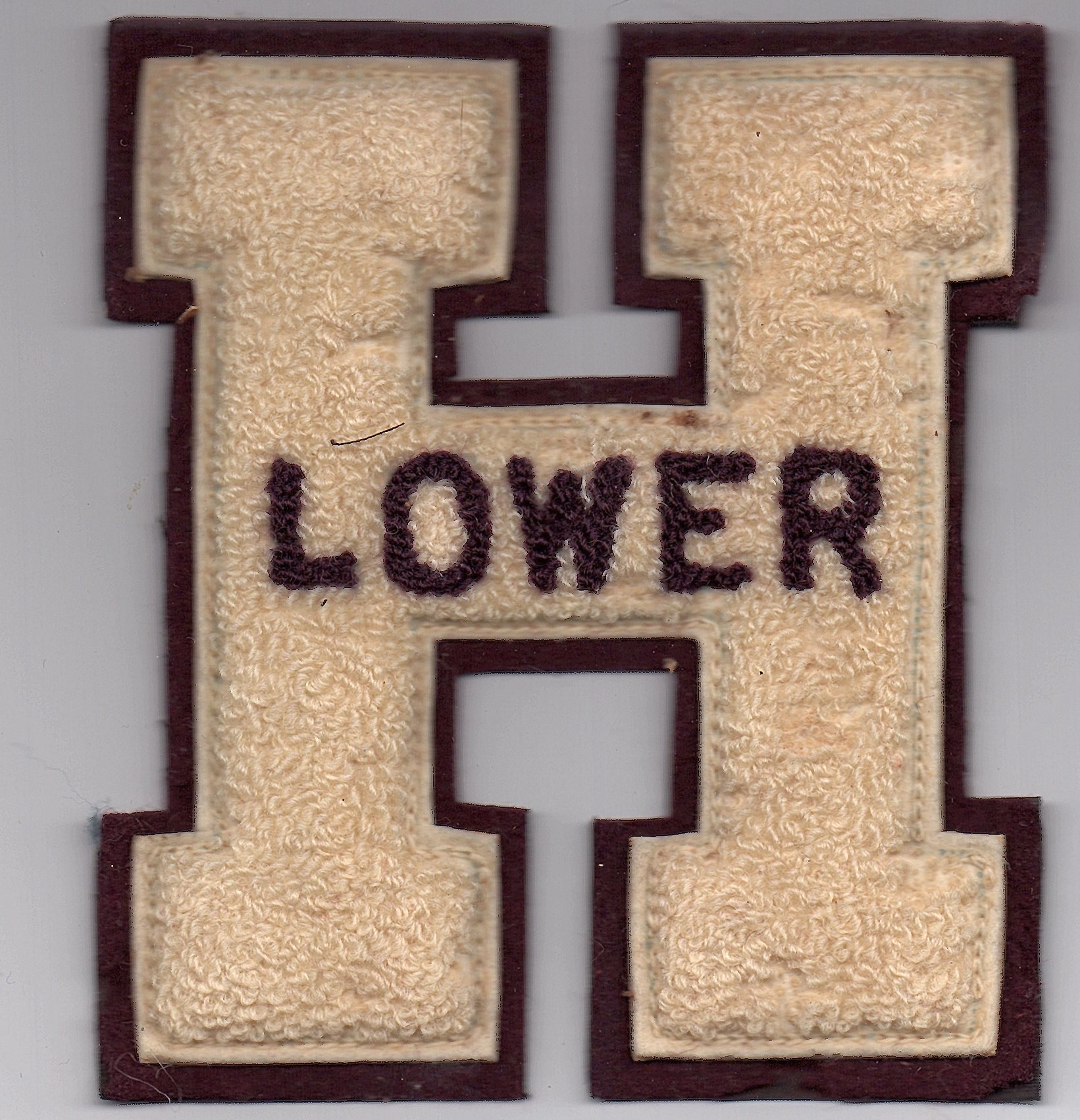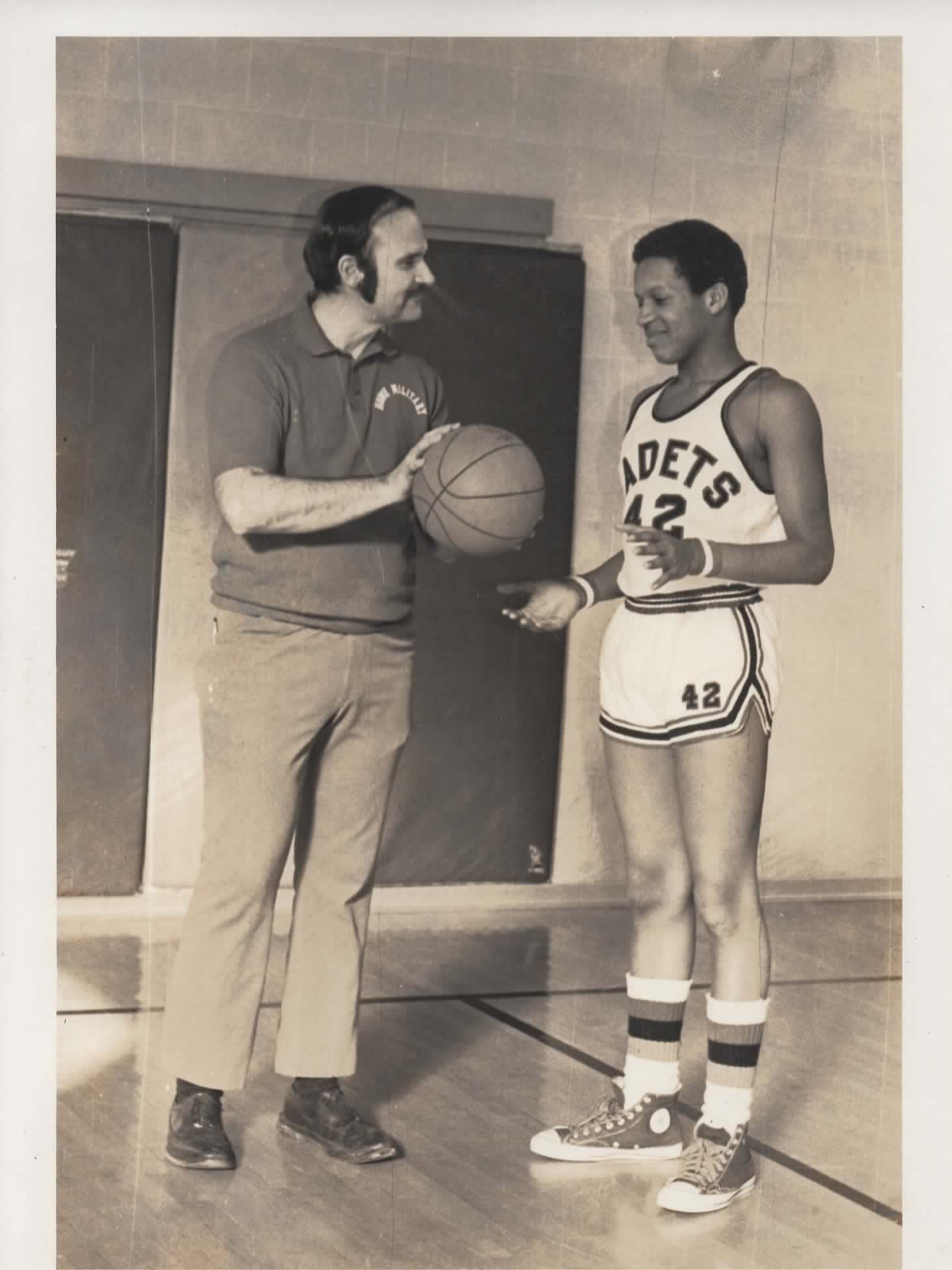 Giving some pointers to my all star 7th grade center, Mike Lewis;
His skills were just awesome, he reminded me of a young Oscar Robertson.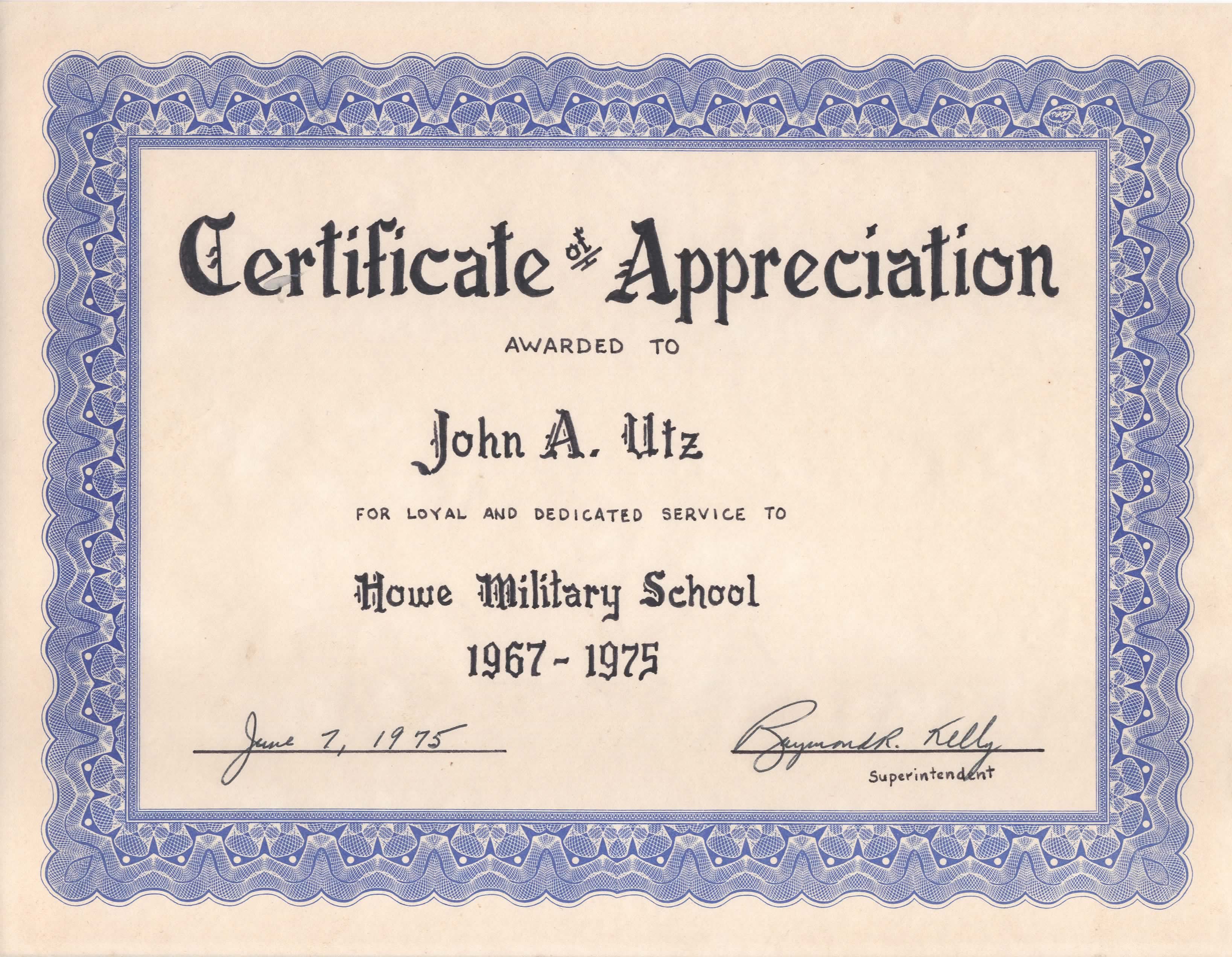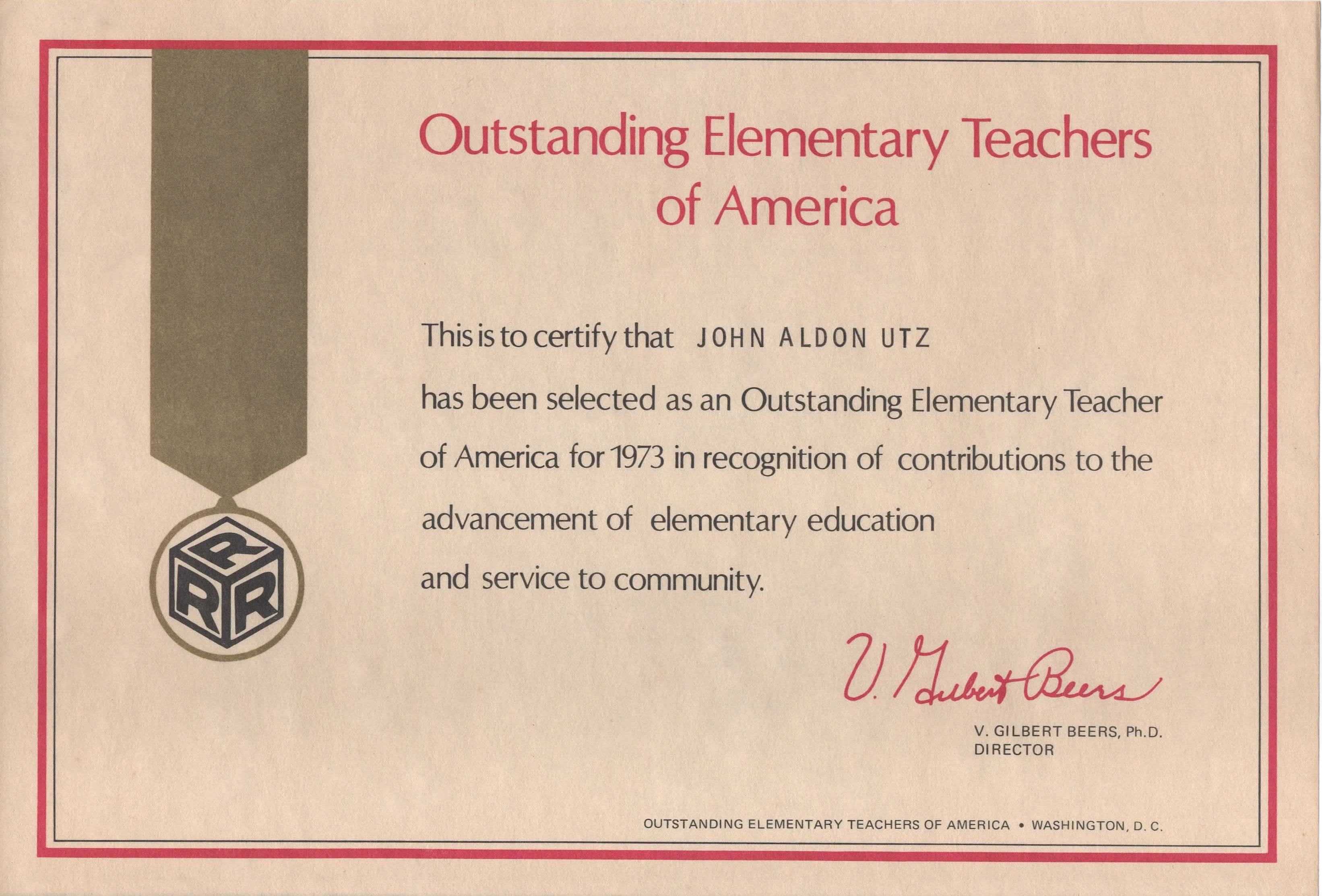 Beginning in 1967 I met and became friends with Michael "Mike" Casey.
We continued best friends until his death. I visited Mike when He lived in Casper, Wyoming and went down-hilling and cross-country skiing on Casper Mountain.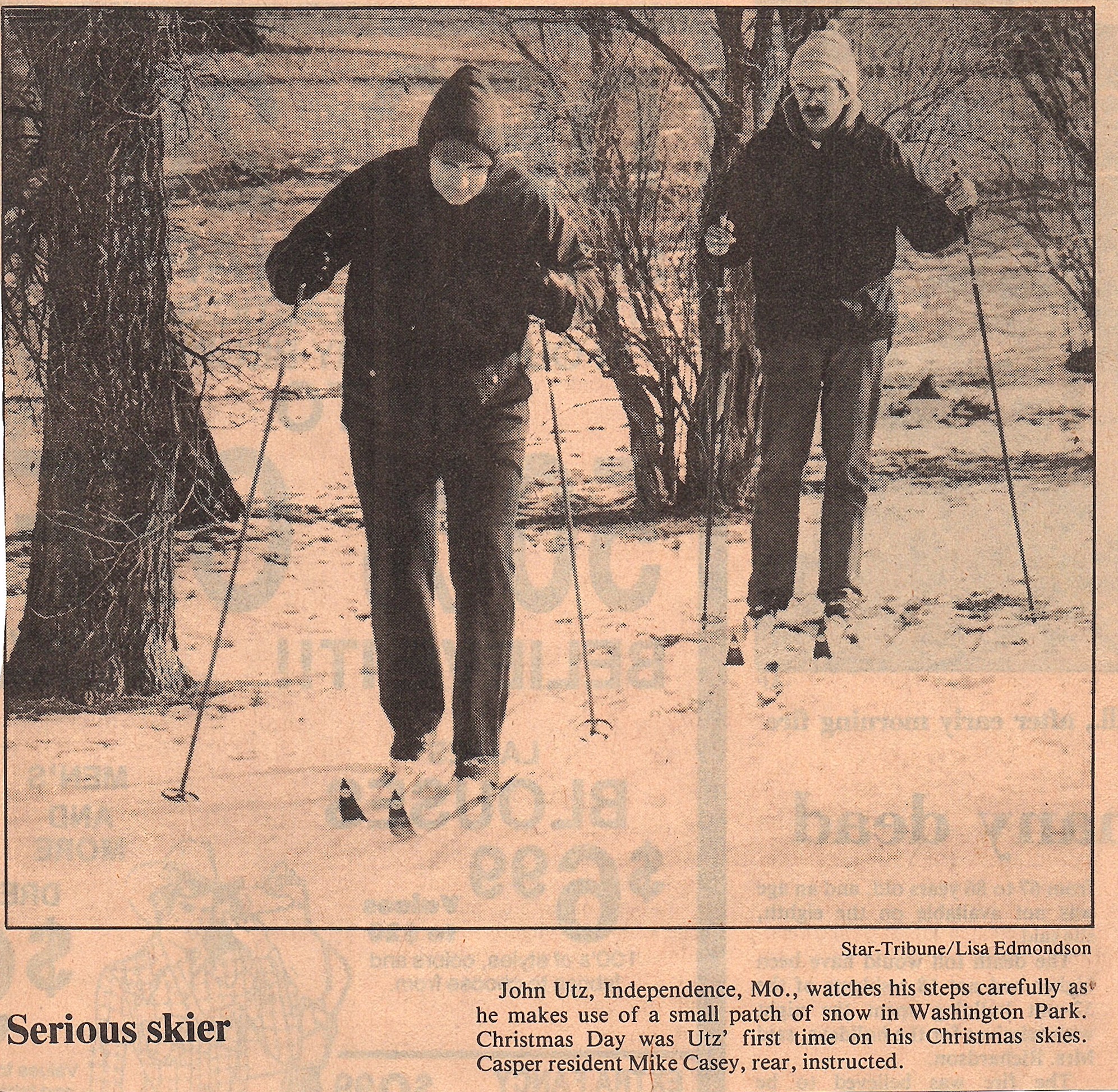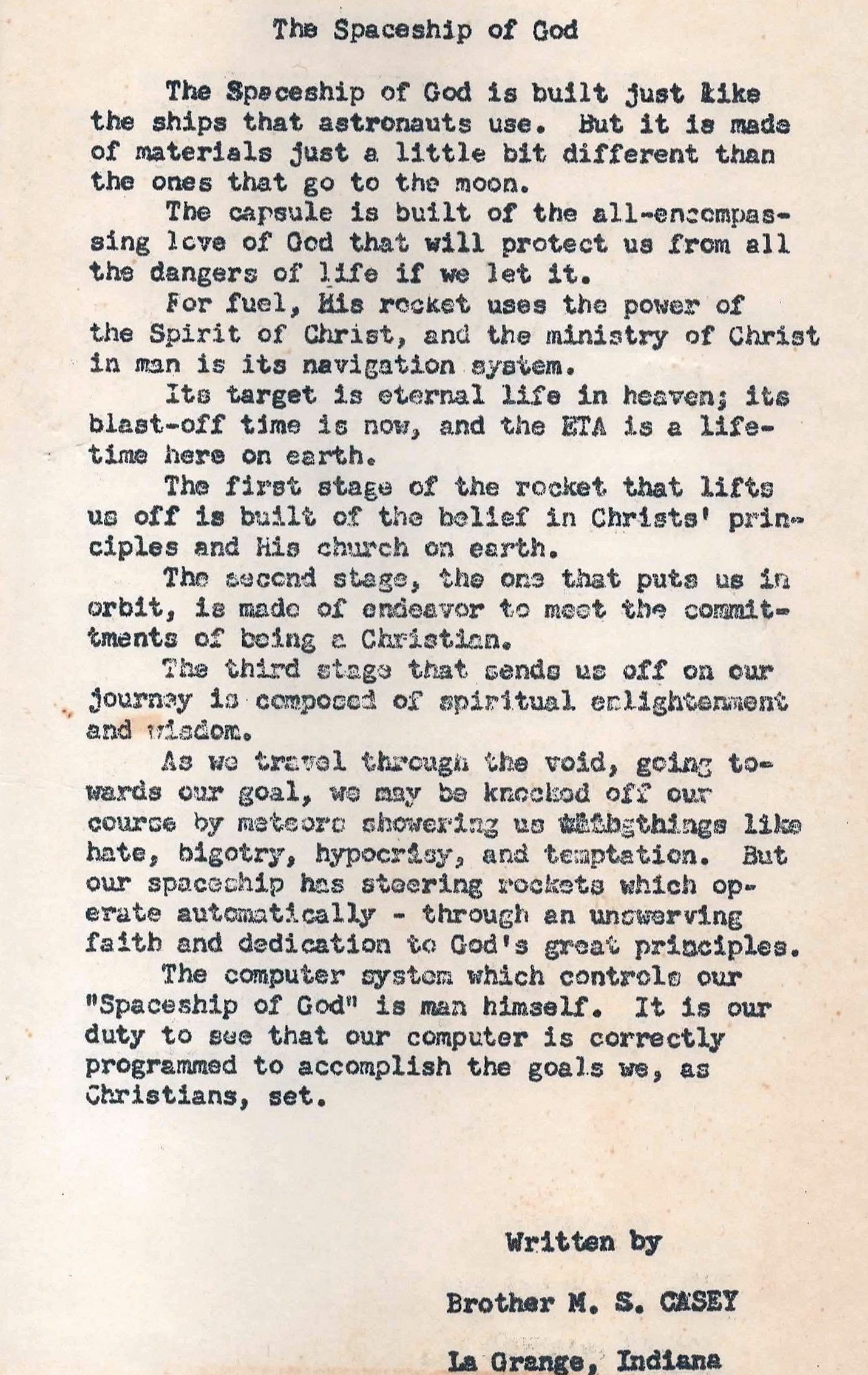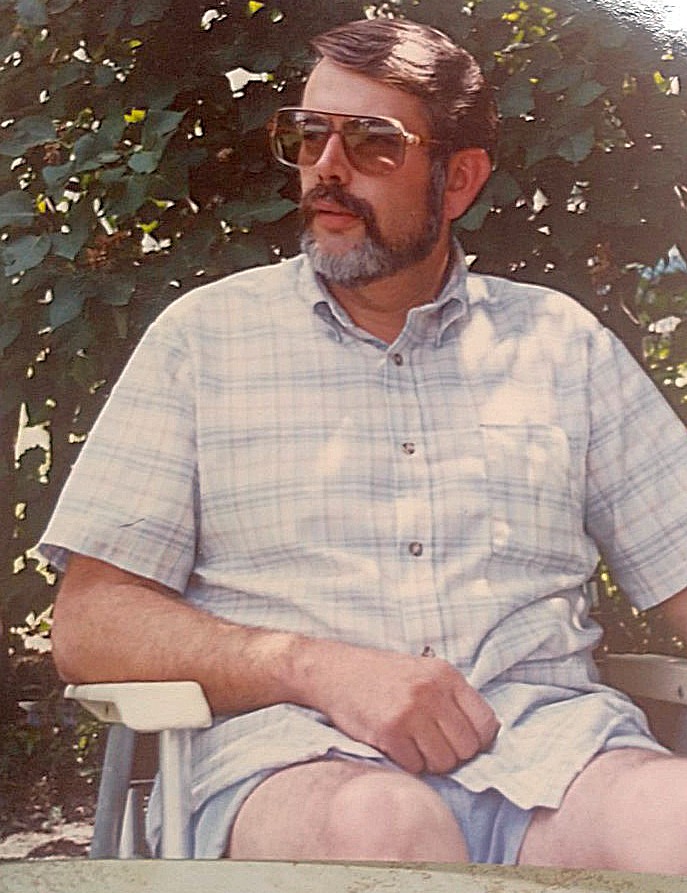 ✨   ✨   ✨   ✨   ✨   ✨  ✨   ✨   ✨   ✨   ✨   ✨
 
Middle School Mathematics Teacher and Freshman Basketball Coach
Barstow Country Day School  Kansas City, Missouri 1975-1976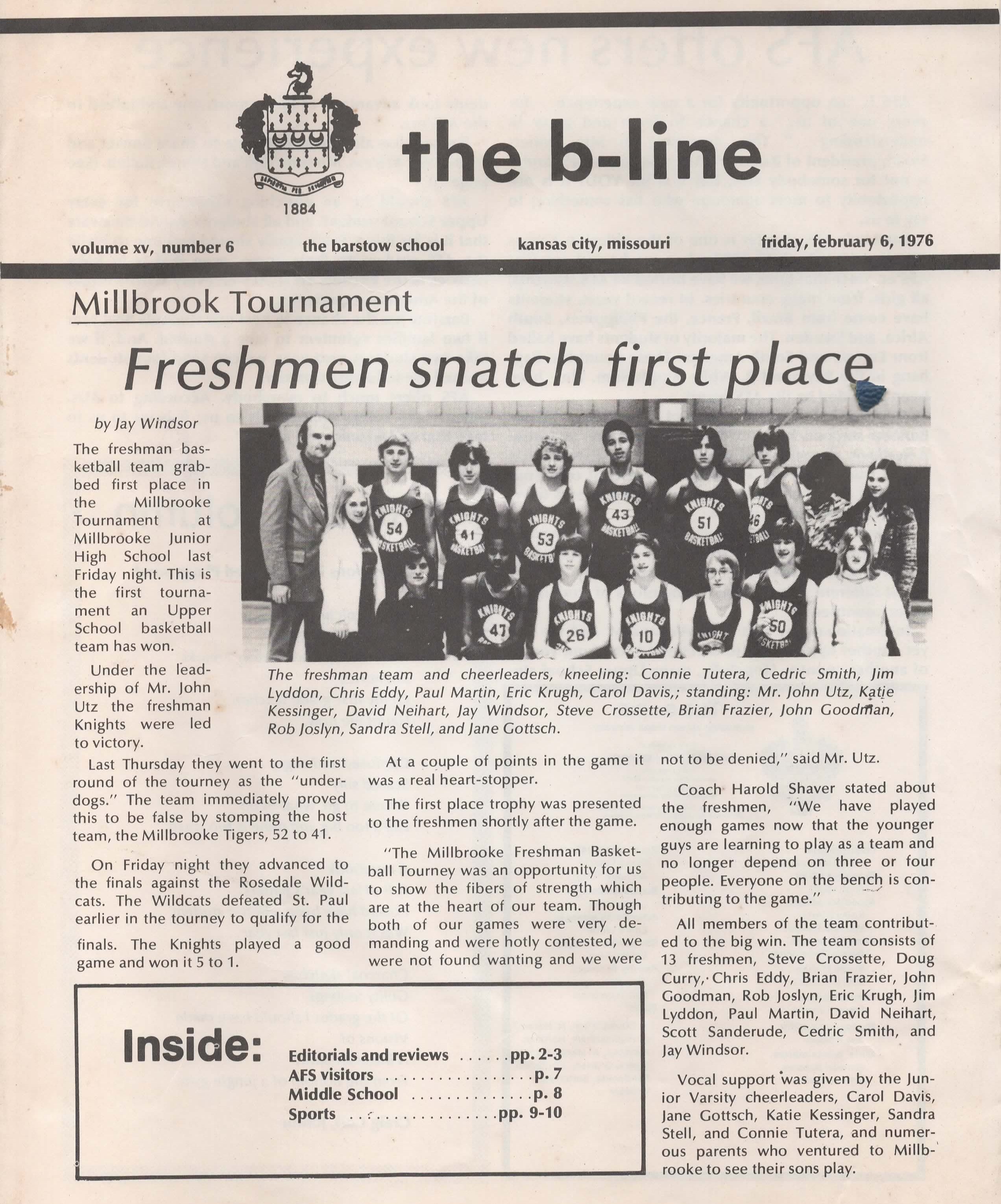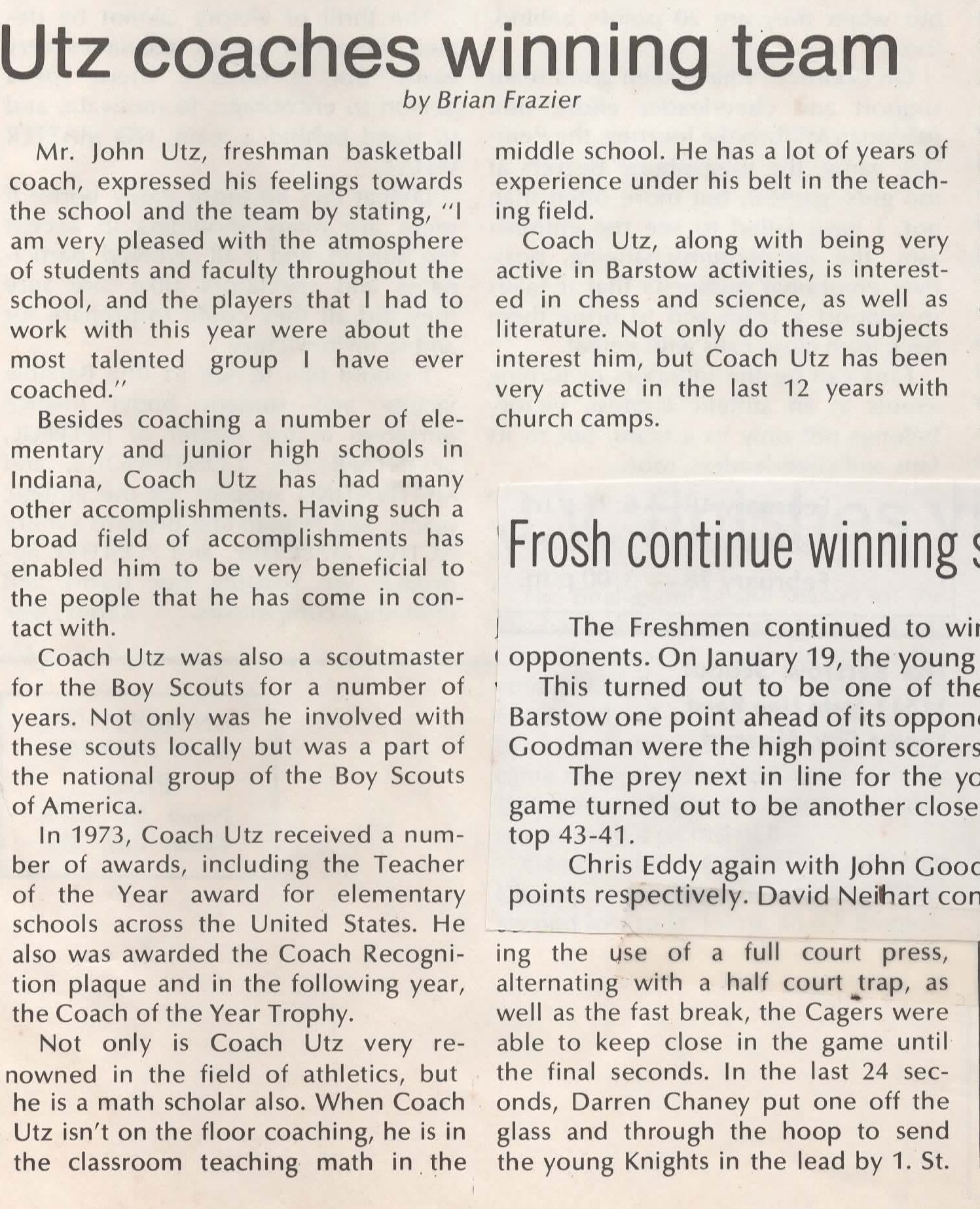 My Barstow Freshman Basketball Team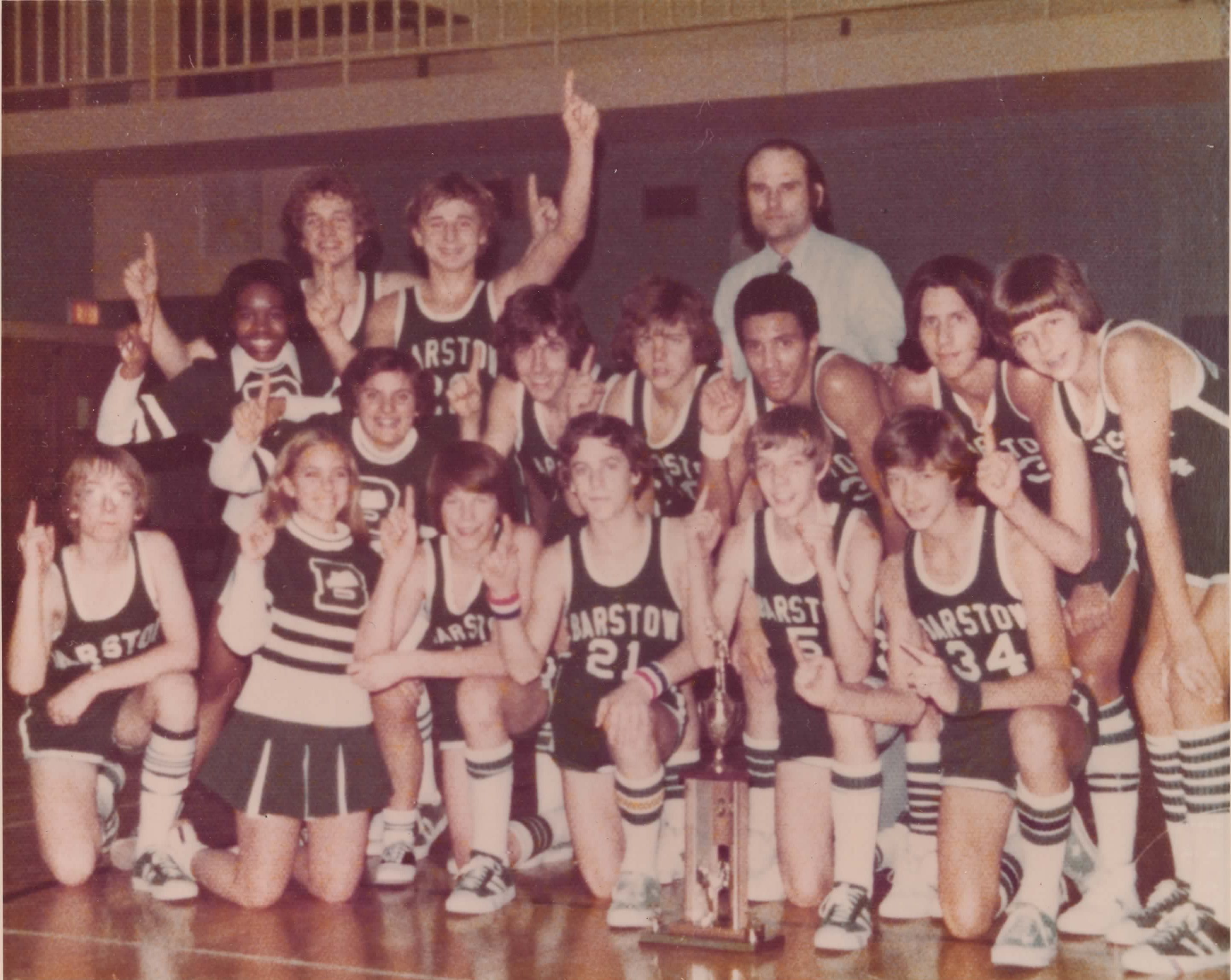 ✨   ✨   ✨   ✨   ✨   ✨  ✨   ✨   ✨   ✨   ✨   ✨
Middle School Mathematics & Science Teacher
Oak Grove Jr. High School  Oak Grove, Missouri  1976-1977
https://ogms.lamarcountyschools.org
✨   ✨   ✨   ✨   ✨   ✨  ✨   ✨   ✨   ✨   ✨   ✨
Bob's I. G. A.  North Antioch SuperStore in North Kansas City 1977-1985 see next page
✨   ✨   ✨   ✨   ✨   ✨  ✨   ✨   ✨   ✨   ✨   ✨
McKeever's Price Chopper Noland Road and 291 & 23rd  1987-1995
Serving as a Seafood Manager.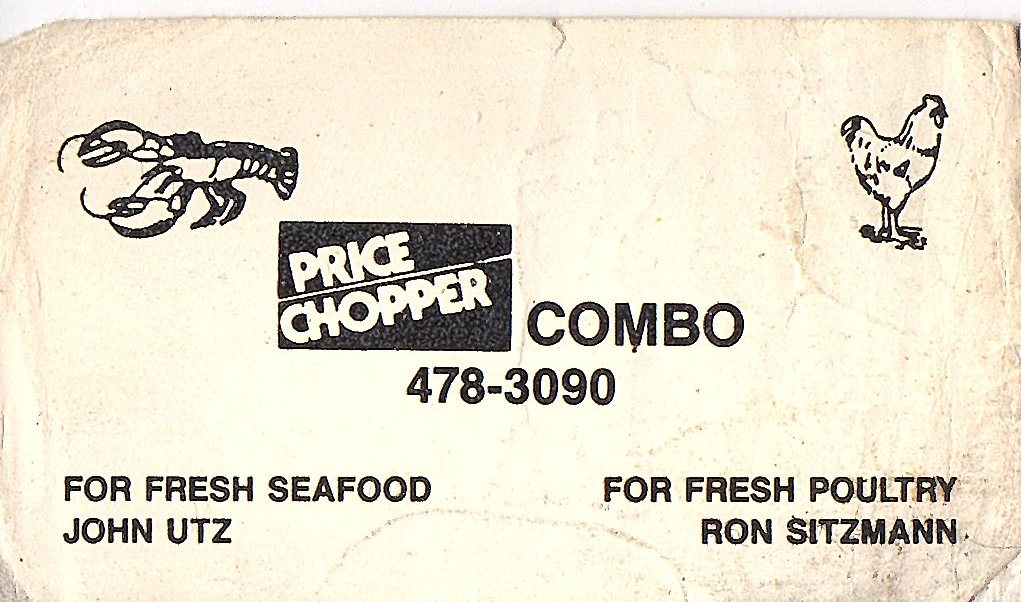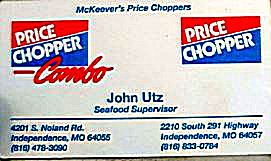 ✨   ✨   ✨   ✨   ✨   ✨  ✨   ✨   ✨   ✨   ✨   ✨
Independence Adult & Community Education Truman High School 1986-1996
Taught a class in Basic Skilles Mathematics on Thursday nights.
Taught a Review of Trigonometry for MODOT workers on Saturdays for 3 months;
My class gave me this certificate and plaque for teaching them.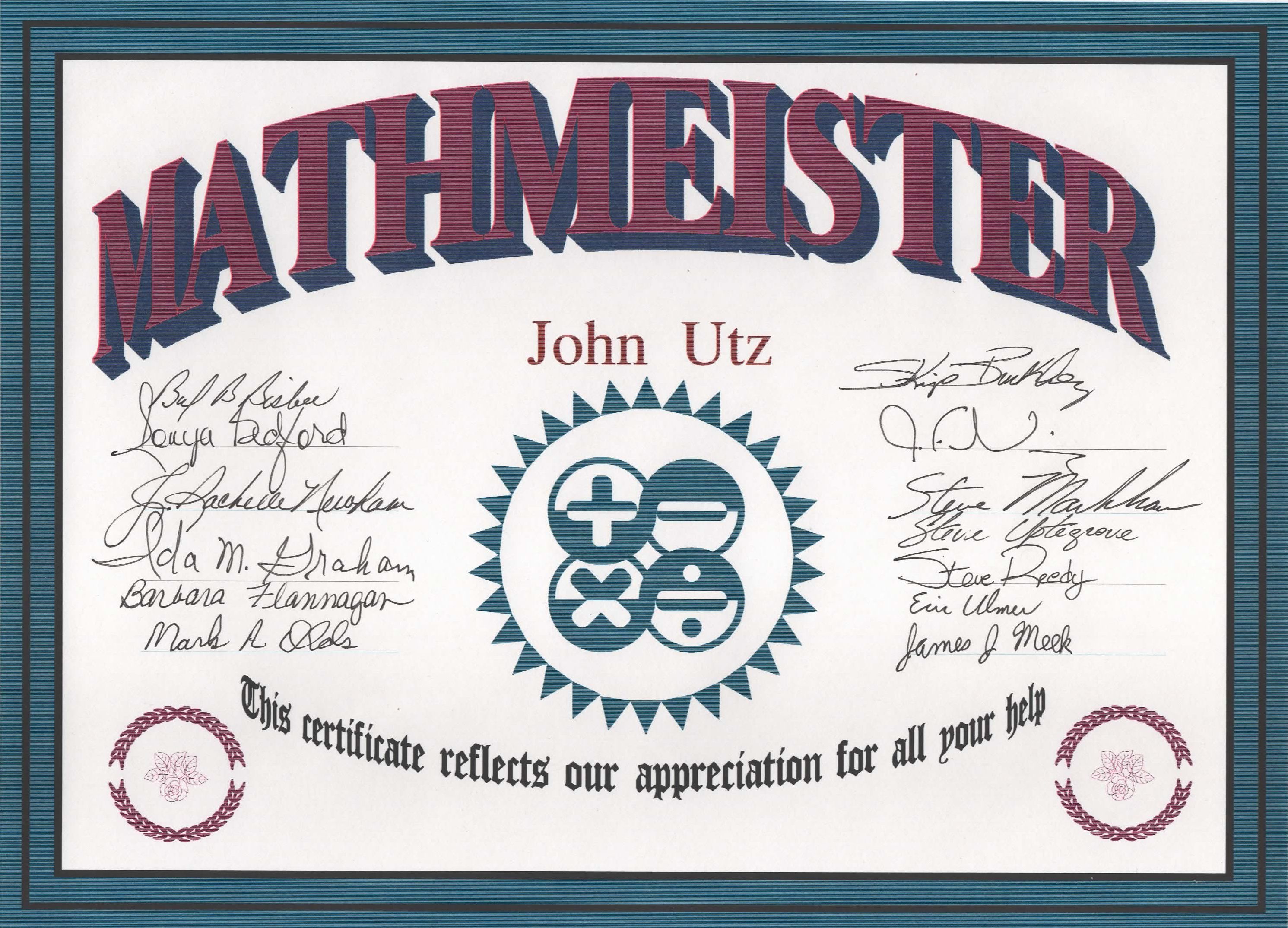 ✨   ✨   ✨   ✨   ✨   ✨  ✨   ✨   ✨   ✨   ✨   ✨
Member of the Independence Community Chorus
"The Declarations of Independence"
My wife Alyce was pianist for the Chorus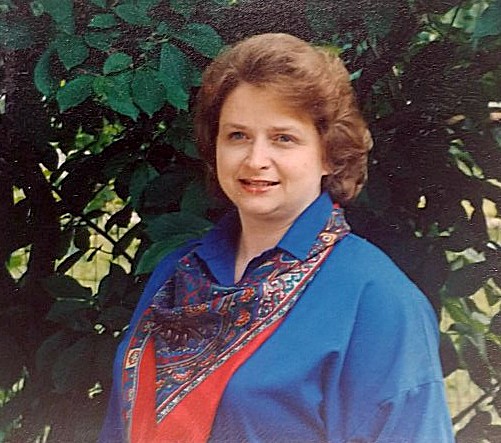 I once performed a pre-concert show as a female clown, Declara!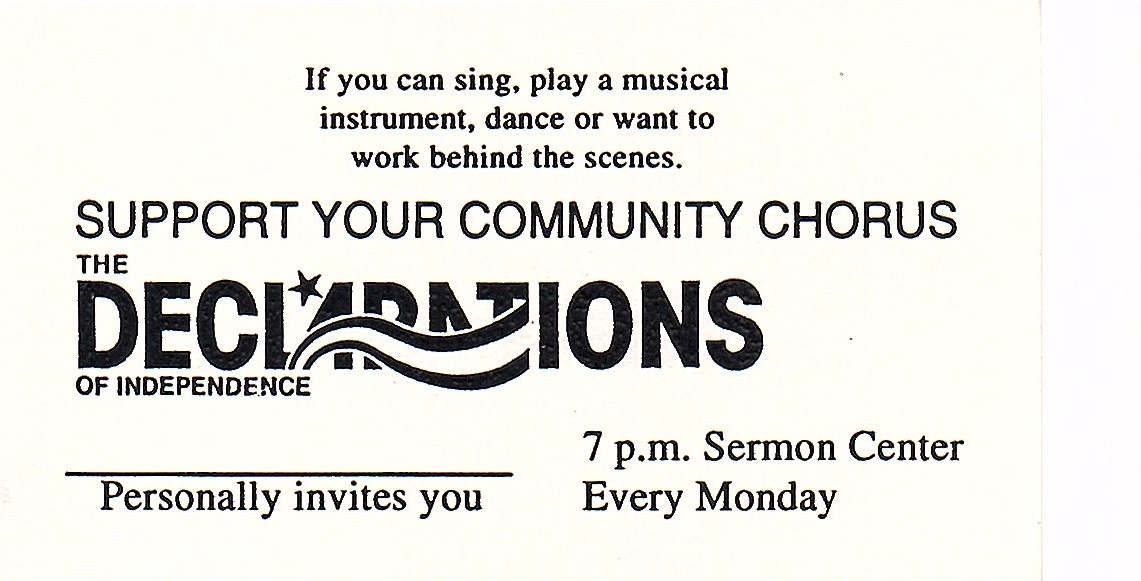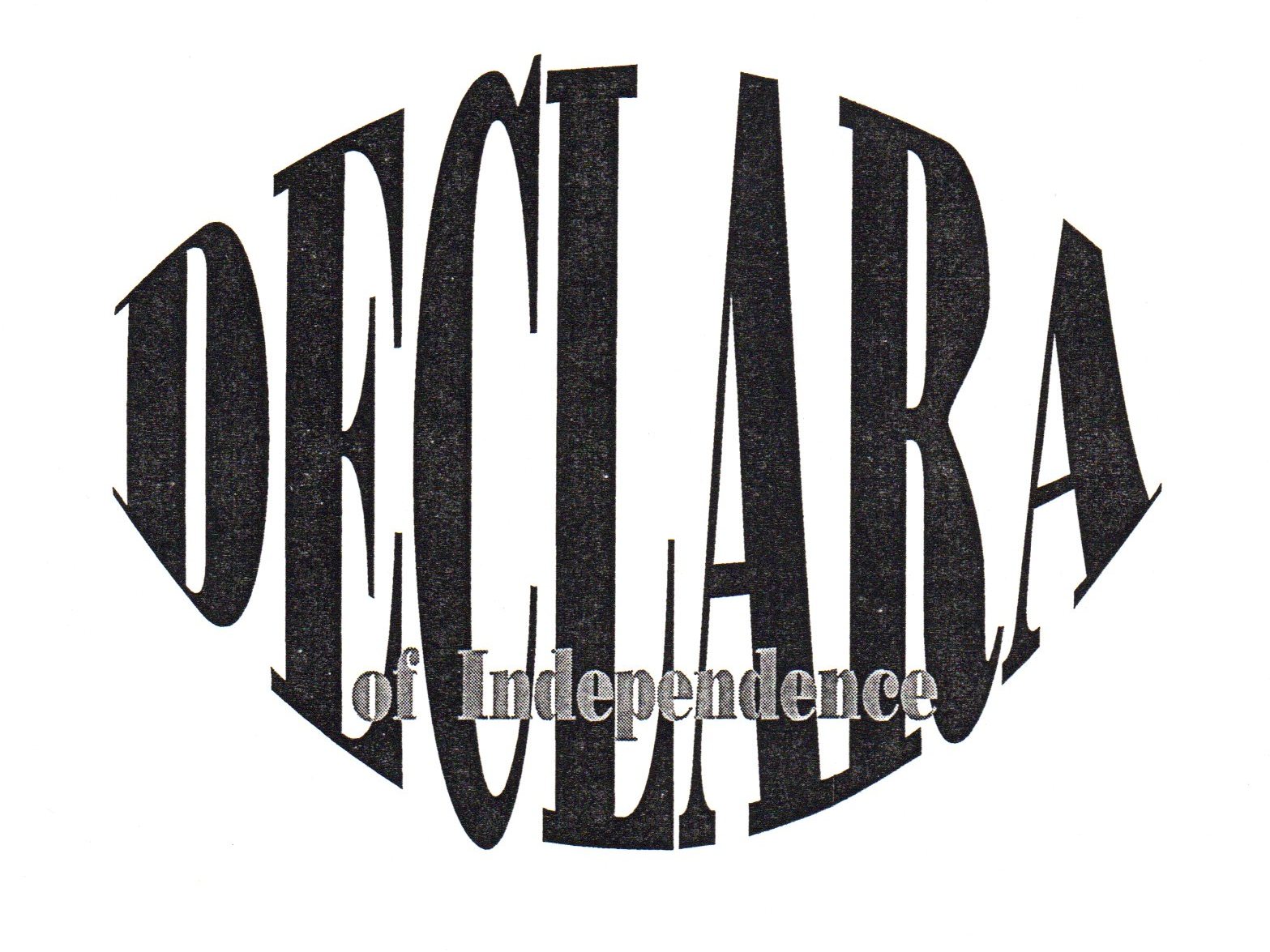 One the things that Declara did was look hard at the crowd and try to find a fella, which she dubbed Declara's "Hot Dog" and gave them one of these: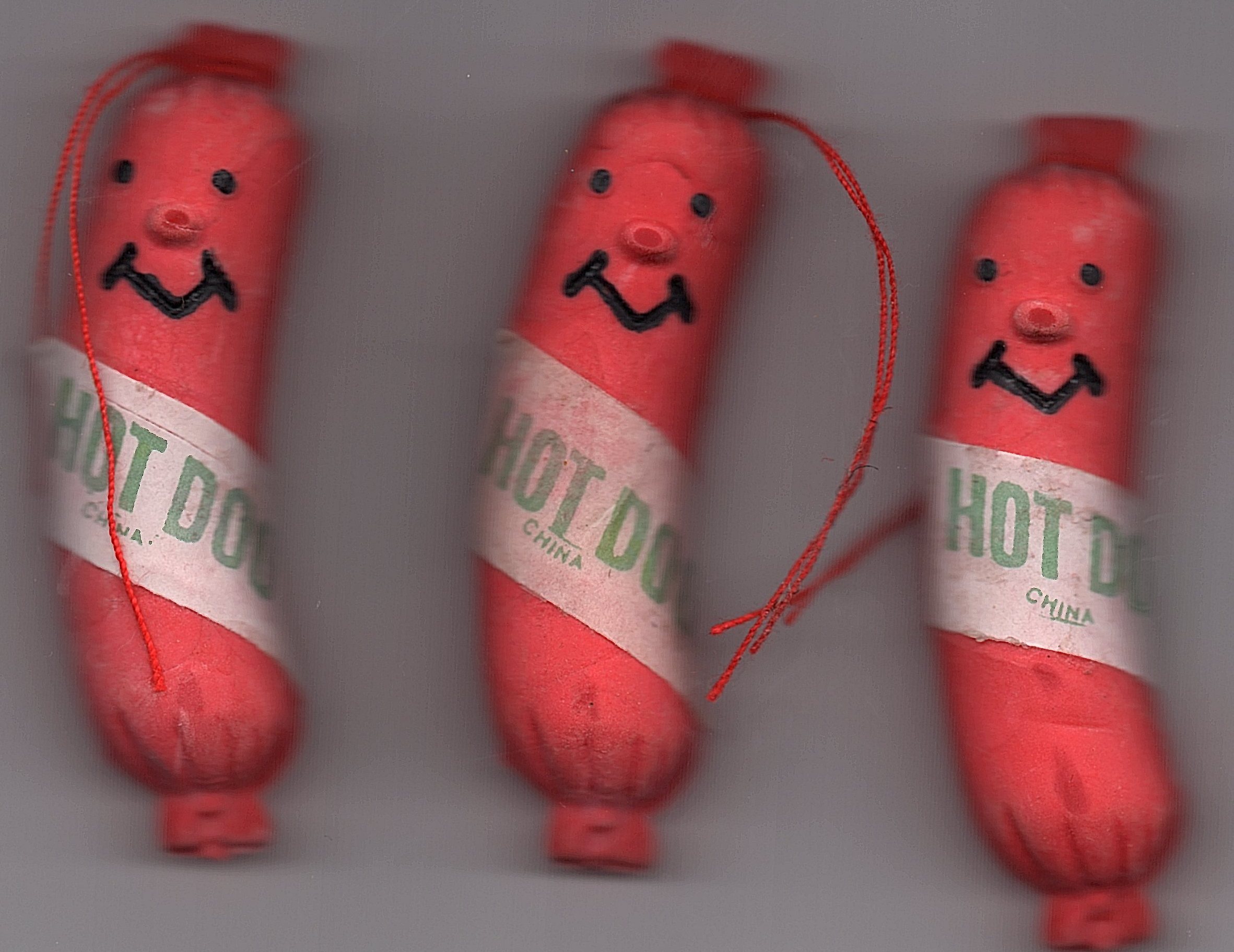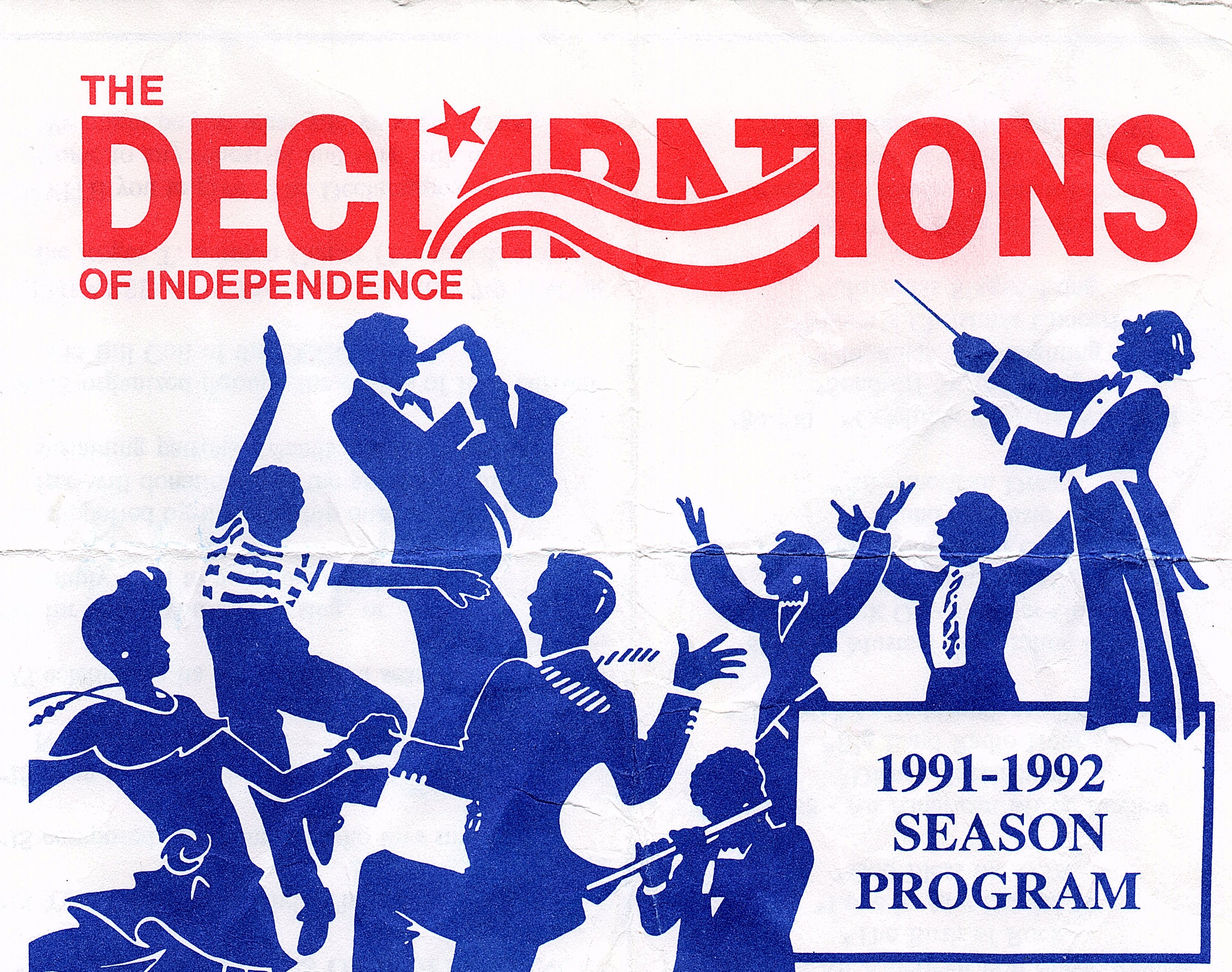 ✨   ✨   ✨   ✨   ✨   ✨  ✨   ✨   ✨   ✨   ✨   ✨

Pizza Hut Delivery in Independence  1995-1999
In 1995 Christmas time I slipped on black ice fell, knocking myself unconscious, rolling down a flight of concrete stairs, breaking my left arm in two places.  I delivered pizza with a full arm cast bent at a right angle at the elbow, balancing the pizza bags on my forearm.
Fibromyalgia and chronic depression forced my retirement after that in 1999.