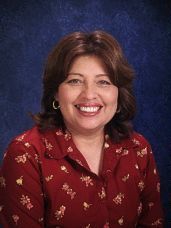 Let me introduce myself. My name is Frances Losoya, and I am a San Antonio native who graduated from Sidney Lanier High School. After having worked for the private sector and for the City of San Antonio for several years, I decided to pursue my dreams of becoming a teacher. I attended Palo Alto College where I received an Associates of Arts Degree. Then, I continued my educational aspirations at the University of Texas at San Antonio where I obtained a Bachelor of Arts Degree in Interdisciplinary Studies and have certifications in Early Childhood, Gifted and Talented,  and Bilingual Studies. I also have a Masters Degree in Integrating Technology into the  Curriculum from Walden University.
As a SPURS fan and a great admirer of David Robinson, Tim Duncan, Tony Parker and Manu Ginobili, I frequently speak about these great players to my students, and how they exemplify wonderful individual character and mutual respect for each other. They served as excellent role models for my students to emulate.

After teaching for over twenty years, I retired on May 2017 but continue enriching the lifes of children in the San Antonio community by working as a substitute teacher. I've taught every grade level in an elementary school and enjoy interacting with students of all ages.

Teaching is not only my profession- it's also my passion.