Hi there! My name is Philip M. Gillett and I grew up in Orono, Maine just outside the down east city of Bangor. One of four children, I have two older brothers (Bill and Paul) and a younger one named Thomas. My parents continue to live and reside in the state of Maine, and I visit with them and the rest of my family whenever I can.
In high school I was fortunate to have great teachers, who inspired me to pursue a career in education and become a passionate, life-long learner. Thanks largely to their outstanding example and unwavering encouragement, I gained the confidence needed to attempt difficult tasks often free from the fear of failing. New York has a well-deserved reputation for excellence in teaching, so I decided to leave my hometown and attend Elmira College; the best kept secret of New York's Southern Tier.
As an adolescent education major at Elmira College, I had the privilege to work with many local schools, teaching classes as early as my freshmen year. In addition to the six weeks I spent working as a teaching assistant at Ernie Davis Middle School, I also spent six weeks teaching Social Studies 7 at Broadway Middle School and twelve weeks teaching tenth grade World History/A.P.U.S. at Elmira Free Academy.  I focused my instruction at both locations around strong teaching methodologies and contemporary pedagogy, providing students with a solid foundation of the social studies content.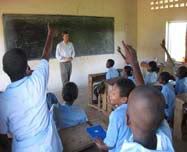 I graduated from Elmira College four years later with a degree in Adolescent Education, Social Studies, and a minor in Biology. Understanding the importance of providing my future students with real world knowledge that a traditional classroom setting sometimes cannot provide, I joined the United States Peace Corps and spent a year in Miandrivazo, Madagascar. During my time there I taught English as a foreign language to approximately 200 students, and initiated a weekly ESL class for community members as a way to educate myself on the global issue that impact the content I teach. My time in Madagascar allowed me to gain firsthand knowledge of how global factors can affect the history and politics of a specific region, and furthered my belief that education is an agent of change across peoples, places, and cultures.
I continued to serve the local school of Miandrivazo until March of 2009, when I was evacuated due to political unrest and instability. Living and working overseas offered me a new perspective on the world, and I know it is an experience I will treasure always.
Today I teach at East Syracuse-Minoa Central High School, and continue my education full time and nearby Le Moyne College. Few schools can match the quality faculty, administrators and staff in this district, all of whom work hard to ensure children receive an outstanding educational experience. I am proud to count myself among them, and grateful for the opportunity each year to help young people cultivate academic excellence and achieve great success inside and outside the classroom. Your feedback, questions and comments are of course welcome, and my contact information for the high school is listed below.
Philip M. Gillett
East Syracuse-Minoa Central High School
407 Fremont Road
East Syracuse, NY 13057
(315) 434-3300
"Education is not filling a bucket, bur lighting a fire" - William Butler Yeats