(Shotbox Link no longer available)
Friday, November 21st: Thanksgiving Square
We have a WIKI: http://wehewiki.pbwiki.com/
Friday, October 31st, 2008: Halloween!
Wow! What spooky fun we all had!

Image HostingImage HostingImage HostingImage HostingImage HostingImage HostingImage HostingImage Hosting
Wednesday, October 15th, 2008
The field trip to the Texas State Fair was a great time had by all! From butter sculptures, to playing in the rain, eating crazy food, games, rides, and large crazy birds flying over our heads; we had an amazing time! Here are some pictures taken by our class...
Friday, October 10th, 2008
We played many games today! All of the class divided into four groups (Listening/Speaking, Reading, Grammar, and Writing) and created games that we played in class today. We played sharades, taboo, hangman, and my personal favorite; a Reading gameshow called "Whose The Smart?". That group wrote a beautiful and fun song for our class that I would be happy naming our Official theme song if everyone agrees. I love that song and can't get it out of my head! Many thanks, team, we rock! 100s for everyone!!!
Listen: "Beautiful Teachers"~Eduard Matheus and the Smart
By the way, if you would like to listen to the song, go back to the eCampus "Seminar" page and click to listen.
Friday October 3rd, 2008
Today was such a blast! We celebrated most US Holidays in one morning! We had candy for Valentines Day, watched classmates plant a tree for arbor day, laughed on Father's Day and cried on Mother's Day. Then, for Independence Day, we decorated classroom furniture for a 4th of July parade, dressed up, and had fun! We even had "fireworks" Ha, it was a blast!
To see more pictures ...
http://www2.snapfish.com/share/p=90961223304080488/l=430250108/g=83549252/otsc=SYE/otsi=SALB
Monday, September 15th, 2008
Monday was such a fun and educational day! Richland College had the opportunity to see members from the Natural Encounters birdshow come to our college, with a few of their feathered friends of course, and teach us about conserving nature and the value of positive reinforcement. We are very thankful!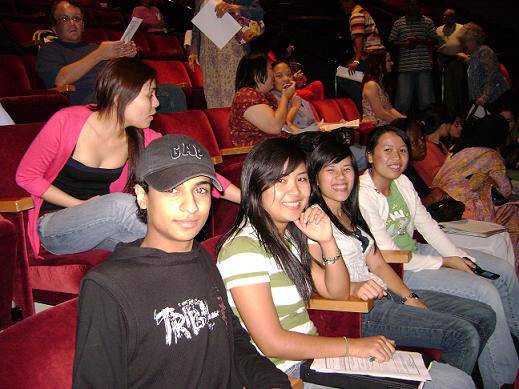 Our Songs
Each of the songs you are listening to is from one of your classmates in our learning community class together. These songs are so beautiful! As you look at the pictures and read through this blog, think of your friends and thank you so much for sharing!
Click here OUR ShoutBox to talk with anyone from our class who is viewing this page right now.