What is copyright, plagiarism, and fair use?
Copyright
Copyright is defined as the exclusive to make, license, and otherwise exploit a literary, musical, or artistic work, whether printed, audio, video, etc.: works granted such by law on or after January 1, 1978, are protected for the lifetime of the author or creator and for a period of 70 years after his or her death.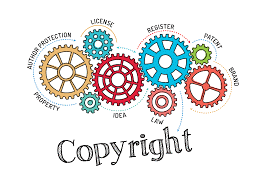 Example of work protected by copyright:
Musical, literacy works

Motion pictures

Movie Sequels
Plagiarism
Plagiarism is defined as an act or instance of using or closely imitating the language and thoughts of another author without authorization and the representation of the author's work as one's own, as by not crediting the original author.
https://www.youtube.com/watch?v=Pmab92ghG0M
Four types of Plagiarism:
Direct Plagiarism

Self-Plagiarism

Mosaic Plagiarism

Accidental Plagiarism
Resources for "how to" cite sources
https://owl.purdue.edu/owl/purdue_owl.html
http://www.citationmachine.net/
Fair Use
Fair use is defined as reasonable and limited use of copyrighted material so as not to infringe upon copyright.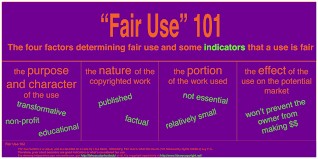 https://www.youtube.com/watch?v=suMza6Q8J08
Examples of Fair Use:
Information on student projects

Video clips for teaching lessons

Video or sound clips for films

Quotes in books
Additional resources for students and parents
Brain Pop-Plagiarism-  https://www.brainpop.com/english/writing/plagiarism/
Parents' Guide to Copyright and Fair Use-   http://parentingdigital.com/parents-guide-copyright-fair-use/
The Right Stuff: Teaching Kids About copyright-   https://www.commonsense.org/education/articles/the-right-stuff-teaching-kids-about-copyright
References
Center, C.C. (2010, September 24). Copyright Basics. Retrieved from https://www.youtube.com/watch?v=Uiq42O6rhW4
Citation Machine: Format & Generate Citations – APA, MLA, & Chicago. Retrieved from http://www.citationmachine.net/
Education, C. S. (2014, September 05). Copyright and Fair Use Animation. Retrieved from https://www.youtube.com/watch?v=suMza6Q8J08
Library, B.U. (2014, September 02). What is plagiarism and how to avoid it. Retrieved from https://www.youtube.com/watch?v=Pmab92ghG0M
Parents' guide to copyright and fair use. (2016, March 13). Retrieved from http://parentingdigital.com/parents-guide-copyright-fair-use/
Plagiarism. Retrieved from https://www.brainpop.com/english/writing/plagiarism/
Purdue Writing Lab. Purdue OWL // Purdue Writing Lab. Retrieved from https://owl.purdue.edu/owl/purdue_owl.html
The Right Stuff: Teaching Kids About Copyright. (2018, April 04). Retrieved from https://www.commonsense.org/education/articles/the-right-stuff-teaching-kids-about-copyright