What is Netiquette?
Netiquette is a set of guidelines that help ensure polite online converstations.  The term was derived from internet and etiquette.  Traditional etiquette teaches society how to behave in social situations, and netiquette is the way someone should act in all online settings such as email conversations, social media sites, online gaming and many more.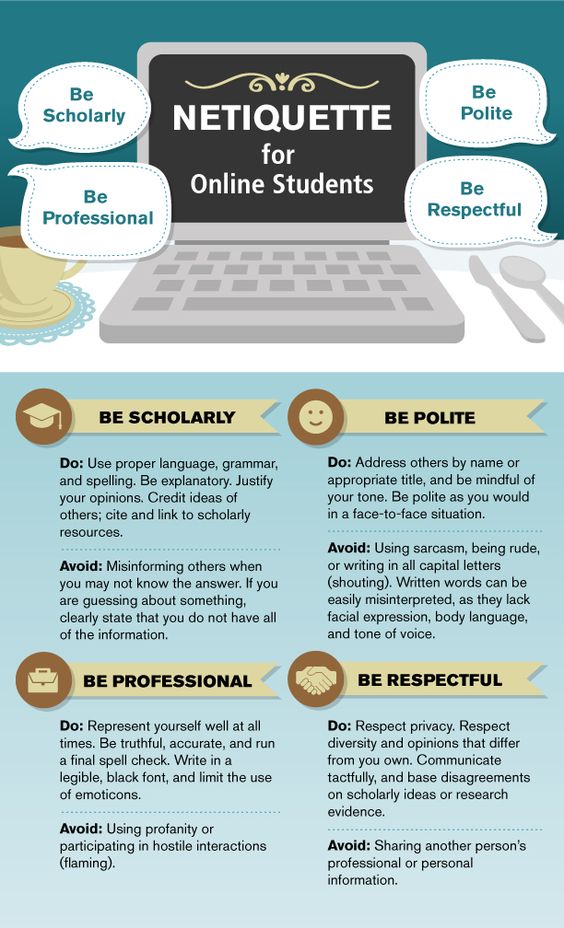 Netiquette Video Link: https://www.youtube.com/watch?v=gjHtgioa-1E&t=5s
Acceptable Use Policy video link:   https://tech.ed.gov/stories/student-centered-acceptable-use-policy/
 Link to printable Acceptable Use policy for all grade levels:   https://www.teacherspayteachers.com/Product/Acceptable-Use-Policies-to-Teach-Digital-Citizenship-For-iPads-Other-Devices-3371792
Social Networking
A social network is an online community that brings people together.  On these social network sites, adults and teens keep in touch, make new friends, and collaborate. Social media is a very common way for today's teenagers to communicate (Hope).
Parent Social Network Resource
STOP and THINK before you post on social media. Once it is on there it can NEVER be deleted!!
Tips for parents on social networking
https://www.commonsensemedia.org/social-media
https://www.internetmatters.org/advice/social-media/
https://www.amazon.com/Modern-Parents-Facebook-Social-Networks/dp/1387156306
Video Link  https://www.youtube.com/watch?v=w9vF_b4F2wI

Cyberbullying

The use of technology to tease, harass, threaten another person.  Cyberbully generally happens among school aged children (Hirsch).
Video Link:  https://www.youtube.com/watch?v=jKA1KzwyhtU
Parent resoucses for cyberbullying
https://www.stopbullying.gov/cyberbullying/cyberbullying-tactics/index.html
https://cyberbullying.org/resources/parents
https://www.stompoutbullying.org/get-help/parents-page
References
Chen, S. S. (n.d.). Netiquette Social Behavior.  Retrieved from https://www.britannica.com/topic/netiquette
Hirsch, L. (June 2014). Cyberbullying.  Retrieved fromhttps://kidshealth.org/en/parents/cyberbullying.html
Social network. (04/02/2019).  retrieved from https://www.computerhope.com/jargon/s/socinetw.htm