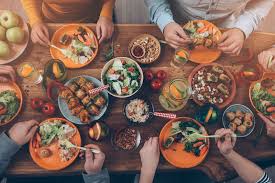 "You have to taste a culture to understand it."  Deborah Cater
Current Unit
Useful Websites and Resources
Course Description
In this year long course, students will be able to identify food contributions of various European, Asian, Central and South American countries, as well as different regions within North America.  They will learn how geography, climate, natural resources, and population movement influences food habits, and how food traditions are associated with different religions and holidays.  Lastly, students will be able to apply appropriate cooking techniques in the preparation of typical foods for each country or topic studied.  Hands-on laboratory experiences are a required part of this class.  Some topics covered may be:
Food Safety and Preparation

Global Awareness

Food and Culture

Food in North America  (U.S. - New England, Mid-Atlantic, South, Southwest and West, Midwest, Pacific Coast; Native American; Regions of Canada)

Food in Other Parts of the World (Asia, Mediterranean, India, Latin America,  Africa, Russia, Europe, Scandinavia, Middle East…)

Food and Religion (Judaism, Christianity, Islam, Hindu, Buddhism, …)
Grading
                                      Assignments                                                                         20%
                                Projects / Labs                                                                     40%
                                Tests / Quizzes                                                                     40%
Late assignments will have 10 points deducted from assignment grade.
Supplies
Students should have a binder and a supply of loose-leaf paper, as well as a blue or black pen.