Curious Quique – By Millie Lawhon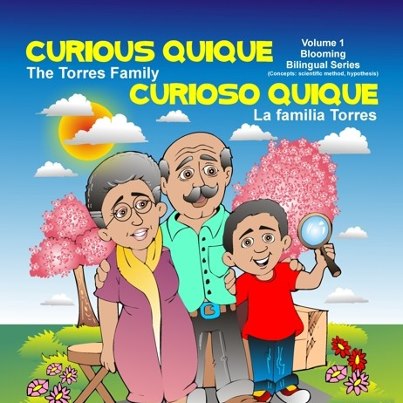 Sold at: Directly from the author @ www.bloomingbilingual.vpweb.com, Amazon, Barnes & Noble's on-line.
Curious Quique/Curioso Quique
In the Torres Family series of books, the family learns and explores scientific
principles through everyday experiences and adventures. From the curiosity
of the young boy Quique to the wisdom of Grandfather Felix,
life's mysteries are explained as the bilingual series stresses family
values and focuses on a different scientific
principle in each story. All text is in Spanish and English and
each book features comprehension questions and
a vocabulary section to help children learn and expand their second language.
In Book 1 of the series, Curious Quique, young Quique learns about the process
called the Scientific Method.
The colorful illustrations stimulate the curiosity and imagination of children
as they follow the adventures of the Torres Family.
https://www.facebook.com/photo.php?fbid=458480500918029&l=8d67510680