(contributed by Mr. Duckworth)

Welcome to 6th Grade Math at Moultrie Middle School! 2018-2019

Check out my Classroom Wish List on Amazon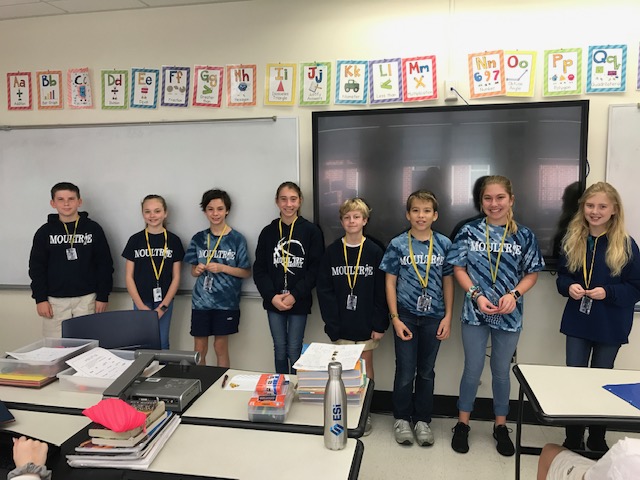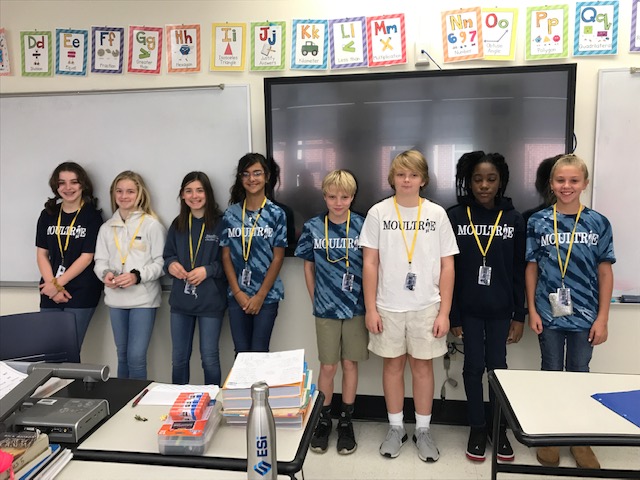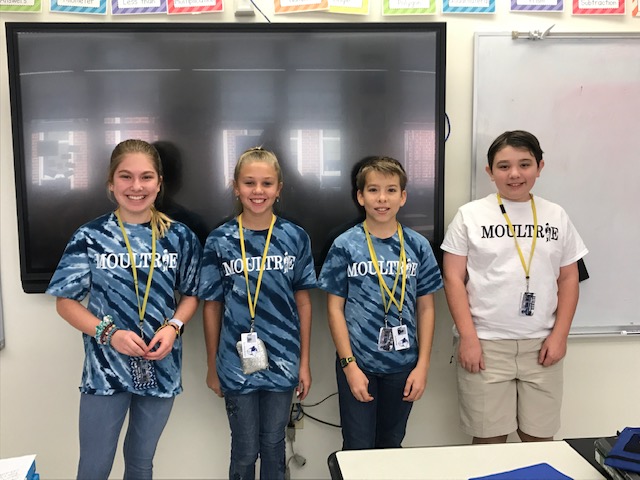 Congratulations to the students in my homeroom who recieved awards today for Principals Honor Roll, A/B Honor Roll and Citizenship for the first semester! Keep up the great work. :)

Principals Honor Roll: Hank A., Charoltte C., Michael C., Charlotte N., Jackson M., Ian R., Natalie T. and Mary Claire C.

A/B Honor Roll: Cameron S., Reagan P., Willa M., Sofia G., Lucas T., John C., Aaliyah S., Mia W-N., Kyle L (not pictured). 

Citizenship/Great Helper/Wonderful Attitude Awards: Natalie T., Mia W-N., Ian R., and Matthew C.

Highest Averages in Math classes: Eliza Jewell O., John T., Kyle L., and Charlotte C.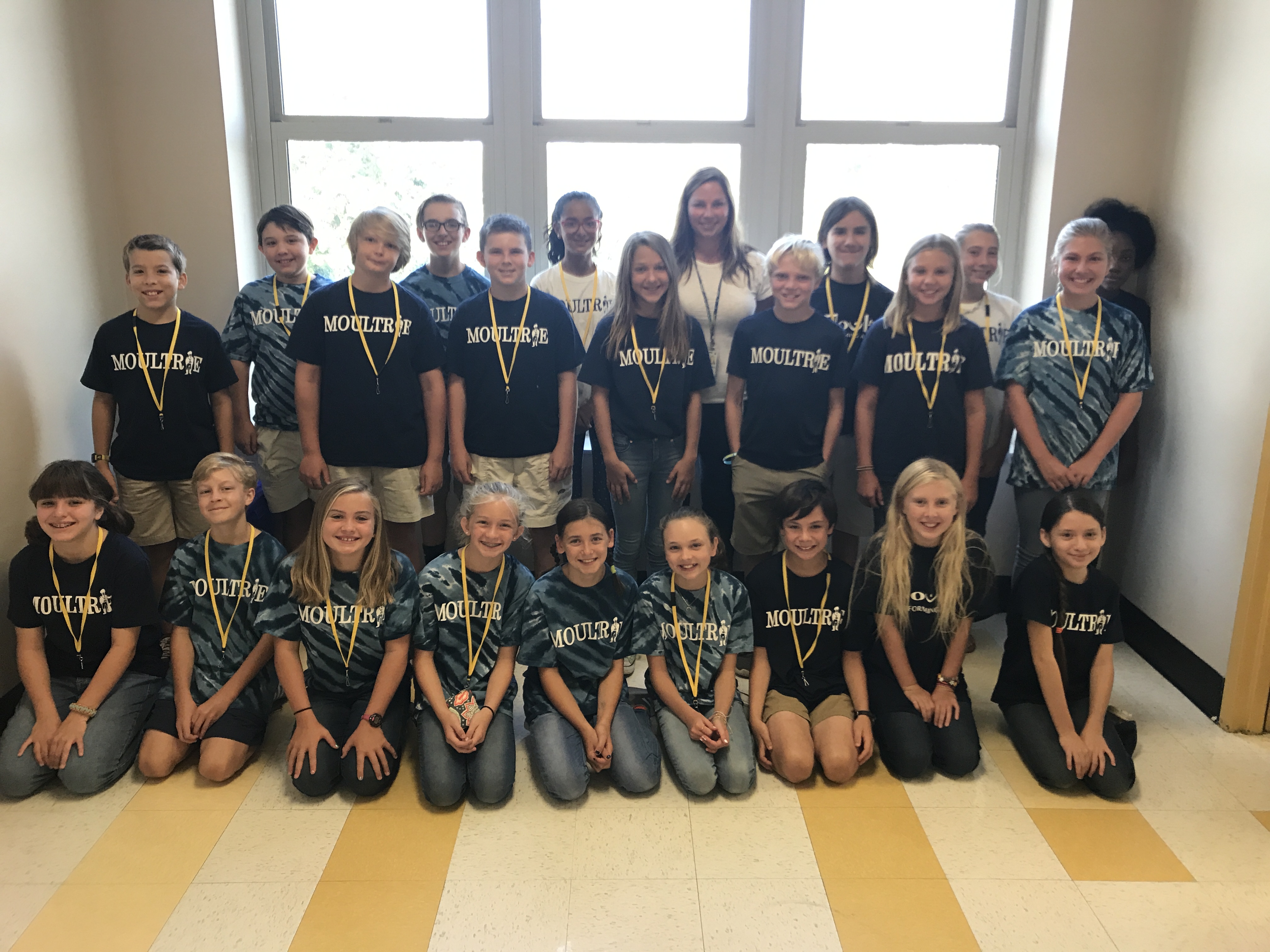 ---

Chapter 2 Practice Games

Fraction Decimal Percent Jeopardy!

 

Chapter 5 Practice Games

 Compare Rational Numbers Jeopardy
Chapter 4 Practice Games
---

 

 

TESTS AND QUIZZES

Reminder to parents: All tests /quizzes and other graded work are always sent home with your child!  Please ask your children to see their graded work! 

 

Chapter 11 and 12 Test for both CP and Honors will be Thursday 5/30!!

 
USE UNIT OUTLINES (at bottom of page), CLASSWORK, AND HOMEWORK TO STUDY!

(Everything behind the math tab in your binder)  :)
HOMEWORK - please check your child's agenda
 

Homework will be assigned nearly every night, Monday through Thursday, depending on what is covered in class that day.  Please note that all four of my classes could potentially have a different homework assignment. 

Homework assignments will be written visibly on the board.  Students will be reminded at the end of each class period to record the assignment in their agenda.  Please help me make this their responsibility by asking your child to see their agenda.  

**If students are not assigned "written homework" they should be using their chapter outline/study guide to review for upcoming tests or quizzes **. 

Homework will be checked the day following its assignment.  Complete and accurate assignments will receive a grade of 100%.  Incomplete homework or missing homework will receive a grade of 0%.  If a student receives a grade of 0% they are required to make up the assignment for a grade of 50%. 

 

 

 

 Access the online student edition of the textbook through the Clever app!! 

STUDENTS: FOLLOW THESE STEPS:

1. Go to myportal.charleston.k12.sc.us

2. login with your regular login credentials

3. Click on student tools on the left hand side of the screen

4. Click on the Clever app (icon)

5. Once in Clever - scroll down to the bottom of the page and click on the RED McGraw Hill Education app (icon)

6. Click on your textbook! 

The online textbook has many different tools that are great for you to use:

 - ebook (incase you forget your book at school)

 - practice tests and quizzes

 - video tutorials

 - "e-help" step-by-step solutions guide

---

Need to Practice your Math Skills?  

Kahn Academy -- great lessons on any number of topics -- www.khanacademy.org

Math Playground -- Math games online -- check out the games on ratios, multiplication and equivalent fractions! -- www.mathplayground.com 

Hooda Math -- Chose games based upon what skills you want to practice (scroll to the bottom of the home page to select) -- www.hoodamath.com  

---

6th Grade Math Curriculum Standards

 

click on the link below and choose grade 6

 

http://www.ed.sc.gov/agency/ccr/Standards-Learning/documents/SCCCRMiddleSchoolPhase1Overview.pdf

---

Mrs. Lanfersiek's Grade Weights

 

 Tests 40% -Tests are given at the end of each unit.  Study guides/chapter outlines for each unit are provided on this website. Test corrections for increased test grades are NOT allowed.

Quizzes 30% - Quizzes will be assigned periodically throughout each unit.  

Classwork 20% - Classwork will be assigned and graded randomly and will include warm-ups/journals.

Homework 10% - assigned any days Monday through Friday. Students are responsible for writng assighments in their agenda. 

 

---

Parent Portal

Instructions for accessing the parent Portal can be found on the Moultrie Middle School website. 

http://moultrie.ccsdschools.com/for_parents/parent_portal__check_grades_and_attendance_

---

 

Chapter Outlines:

Chapter 10 Outline/Study Guide

Chapters 11 & 12 Outline/Study Guide

 

---

Welcome to 6th Grade Math!! 

 I am so excited to be your child's 6th grade math teacher.  This year will be my 16th year teaching 6th grade math and I am proud to have been a part of the Moultrie family for the last 13 years! I have been married for 10 years to my husband, Drew and have two daughters, Blake who is 7 and  Paige who is 5.  I am looking forward to a productive and enjoyable year.  Please contact me by email if you have any questions or concerns. Parents, teachers, and students must work together to ensure that our year together is both a positive and rewarding experience.

Sincerely,

Lauren Degueldre Lanfersiek

 

 

 

---