Due to extenuating circumstances, the 2019-2020 Science Fair was done a little differently this year.  Three students volunteered to do the extra work necessary to participate at the Network fair on January 24, 2020.  Good luck to David Chen, Kayla Thach and Zion Jibri!
---
Please disregard outdated information below.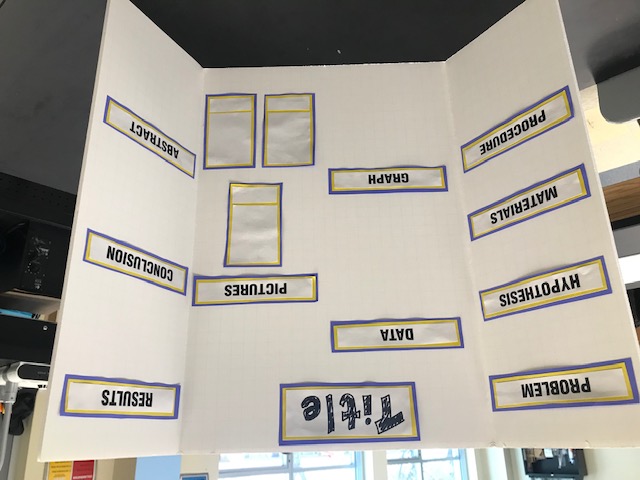 (I'll figure out how to rotate this one of these days.)
11/14/18 UPDATE: 
Here is the correct link to the *UPDATED* rubric for your science fair experiment, display board and oral report, and the paper.  You will get two lab grades, one for the project and presentation and another for your paper.   
Only my 7th & 8th grade Laboratory Biological and Physical Science classes are required to do a project. 

 

Here is the CPS Science Fair Handbook:
http://cpsscifair.org/
Please download all current forms from the handbook. You will need to click on the "documents" link on the left and page down.  Some might even be fillable pdfs.
***Page down for current weekly information.***
PLEASE NOTE:  
The ONLY due dates (3) for Science Fair are:
Wednesday, October 10, 2018--Your project proposal. 
Friday, November 9, 2018 Tuesday, 11/13/18 --Your lab write-up (on loose graph paper) for your project.
Monday, November 26, 2018-- Your science fair board and paper.
Your Science Fair Paper is due Monday, 11/26/18
The Science Fair Board is due Monday, 12/3/18
Presentations will begin Monday, 12/3/18.
Friday, December 7, 2018--MSMSA Science Fair 

Week 1: (10/9/18)
All students need to think about and narrow down their ideas for this year's science fair project. 

All LBS and LPS students are required to do an Independent Controlled Scientific Inquiry Project.  That means: at home, with no partner, only one variable can be changed, hypothesis must be testable and the data must be measured quantitatively (with numbers/measurements) AND your measurements must be in 

METRICS

!!!!

Seventh graders' topics MUST relate to Life Science and eighth grader's topics MUST relate to Physical Science topics.  Start with your textbook and look for inspiration and at least narrow down the big idea you are interested in.  Maybe you can tweak a lab that is in the book to make it your own.   There are many good websites where you can sift through ideas.  There are a couple in my "Links" link.  Also note that you also earn points for originality.  A cookie cutter experiment you found online is not original.  It is not hard to tell when and experiment came from genuine inspiration and one that has not.  

Once your project is approved, you should begin researching and gathering materials you will need. 

Remember that just because a website says it is an experiment does not make it so.  You must be able to identify ALL of your variables and collect number data with many trials for it to be approved. 

General Rules: 

You may experiment on living things 

only 

if they don't have a backbone.  That includes humans, we have a spine.  However ethical treatment of all nature's organisms is expected.  You should never intentionally harm or kill something.  

You may do botany projects (plants) but focus on germination of seeds.  Growing and measuring plants and/or using already grown plants rarely works out well.  Trust me, I have seen thousands of projects.  

Make sure you think about how long it will take you to collect your data.  You only have 2-3 weeks to get it done.  Some data collection can be done in a weekend, some take longer.  Be realistic about how much time you have when you pick your project. 

Before you do anything you need to do quite a bit of research.  Pick a topic you generally are interested in and want to know about.  You will be living with it for many weeks and nothing is worse than thinking your topic is boring or way over your head.  

No growing of wild cultures such as molds, mushrooms, "germs", etc.  It is unsafe.  

More to be added as they come up......... 

Note for Parents:
Encourage your child to choose a topic that interests him/her.  Science projects are assigned so that students can answer their own questions using the scientific method.  You child should be excited to share his/her findings with others.  

Be there to help, but not to direct the project.  

Start early.  Science projects that are started at the last minute will be frustrating for both you and your child.   

Have fun!  Make this project a special time for you and your child.  
Week 2
You may begin assembling your materials and conducting your experiment.  Really think about how much time you will need to collect data.  You have the entire rest of October and first part of November to collect data.  Error on the side of being done early which will allow you some wiggle room in case you run into a problem.  You will also have a little flexibility in getting the research paper done too.  
 
Week 3
This week you are to be conducting your experiment and collecting data if you haven't started already.  If you want me to look at your data table and give you feedback let me know.  You should also be making progress on gathering research that has to do with the scientific idea behind your project.  For example, if you project is investigating which colored light seeds germinate the best in, your scientific area of study is botany and you should be looking for information about how seeds grow, germination, phototropism, photosynthesis, how different colored lights are actually different in terms of energy, etc..
 Week 4
Your data collection should either be done or well under way.  You should have made progress getting needed information for your Review of Literature (the research paper).  Don't forget that your textbook is one of the most helpful references available to you!!  I will not be looking at your papers until you turn in the whole thing but that doesn't mean to wait until the very last minute to get it done.  If you would like me to review and give you feedback on a draft I would be happy to do so. Please email me the file.  Your lab report for your experiment is due on 11/9!!    
Week 5
You should also be putting the finishing touches on your research paper.   Make sure that all your measurements are in metrics.  You will lose points if they are not.  Remember ONLY graph averages, not your trial data!!!!
Week 6
This is how the display board must be laid out DisplayBoardLayout.doc.

Your task this week is to type everything up and assemble your Independent Science Fair Reserach Project Paper.  The directions are the same as least year, and we have gone over and looked at an example of a completed paper in class.  

Remember your science fair paper is more than just the review of literature (research paper).  Here is the City's checklist for the Physical Arrangement of the paper.  It describes what each section should consist of.  ChkArrangePpr8.pdf  You can also go here, http://cpsscifair.org/, and find everything you need that is listed below as well.  Click on the Document link.

The following is to be assembled in this order with a staple ONLY.  NO report covers!!!

Abstract 

(There is an example abstract in the whole paper template below.) 


Safety Sheet  

(Remember you must have at least 2 and it must be signed!)


Title Page
Table of Contents 

(Make sure your numbers match the actual pages and the pages are numbered! Page 1 should be the Problem and Hypothesis.)


Acknowledgements
Problem and Hyopthesis
Review of Literature
Materials and Procedure
Data Table(s) and Graph(s)
Results
Conclusion
Reference List  

--Here's one of many APA style fill-in-the-blank auto citation generator websites: http://bruteforcestudyguide.com/essaywriting/apastyle.html
--On your title page use the school's address, not your own.  Here is a link to a description of the different CATEGORIES so you can identify which one applies to your experiment.