Sr. Jason M. Flatley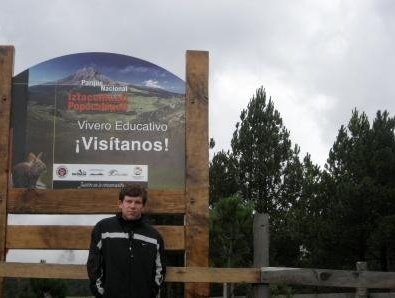 In this photo, I am visiting Mexico's Ixtaccíhuatl y Popocatépetl National Park in 2006.
It is a pleasure to be back at PCHS for the 2013-2014 season. I am looking forward to a new year! I will be helping students of Spanish I and II both in the Fall and Spring semesters. Also this year, we will be trying out ideas in Spanish club. In our first meeting, we will decide on a new t-shirt design.
I am originally from Loudoun County, Virginia. I attended George Mason University, where I completed a Bachelor in Arts in Modern and Classical Languages with a concentration in Spanish. I plan to pursue a Master's in Curriculum and Instruction during this school year.
Prior to becoming a Spanish teacher at Page County High School, I began my teaching career at Luray Middle School. Before I moved to Page County, I enjoyed my career as a teacher assistant at Broad Run High School in Ashburn, Virginia. Here, in the Shenandoah Valley, I am very happy to be in very close proximity to nature. My hobbies include fishing, cooking, learning languages, and playing guitar. I am also an owner of a dachshund named Rex.
My travels around the world include Mexico, Canada, El Salvador, Peru, Chile, and Ireland along with a current total of 41 U.S. states visited.
If you have any questions, you can reach me at jflatley@pagecounty.k12.va.us