---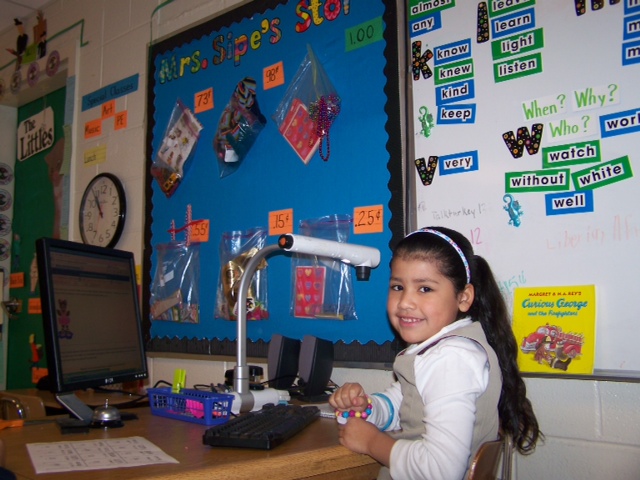 This is me, typing about our fabulous playground.

We have a fabulous playground at Old Center. It is behind our school.There is a track on one side and it is surrounded by a security fence. A row of pine trees is in the middle. Our classroom leads to our playgrond. When our teacher opens the door we run and we holler for joy! My favorite thing on the plygrond is the plastic slide. I also like the swings and the balance beam. Sometimes just running like a wild kid is my favorite thing to do.
---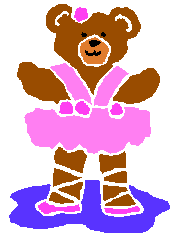 The bear walk was so so so fun! We walked and I saw my little sister and I walked with Leantra too. We had to go to our classroom and had to finish our spelling test. Then we came down stairs and bought somthing to eat. and that thats the bear walk.
---
Geometry is my favorite thing to do. I learn a lot about rectangular prisms. I learned that a ice cube can melt really fast. That was in science. With friction it took less than 5 minutes. We been learning about vertices a lot. I love the cylinder and the vertex. I love love love love love the pyramid. I love solid shapes!
---
You can not cut your hair when your with nobody. You might cut all of your hair. You can only cut your hair when you go to the beauty shop.You can cut your hair or your mom's when your mad. Even if your little you can not cut your hair and glue it back together. Do not cut your own hair!
---
Best Friends
I have the bestest friends in the whole world. Their names are Leantra and Abril and Lesley
and Nisreen and Jacqueline. Sometimes when I am sad they cheer me up.
---
Magnets are things that can attract together. You can touch magnetic feilds whenever you want too. Magnets can stick to metal that has iron in it. They will stick to your desk. There are many things that can stick to magnets.
Insects
Insects have six legs a head abdomenand a thorax.There are a lot of insects. You can also find about insects.You can also find them in diffrent places in the world.

Fractions are eqel parts.You can cut halves fourths eights sixteens.sixteens are realy hard.You know you can have 6 piecess of paper.And you can have white paper you fold and fold.intill you get 8 sides.Then you go to your desk and do halves and fouthrs eights and sixteens.