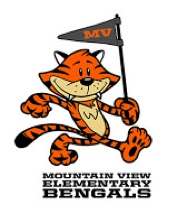 Mountain View Bengals
               Room 19 
Welcome
Welcome to Room 19 and fifth grade! I am so excited to start a fresh year with a group of awesome 5th graders! I can't wait to start our new learning adventure together! This website is a wonderful resource for students and parents. I update often.
Girls Basketball Info:
click here for all the details 
practice starts Mon., 9/17

practice is Mon-Thurs from 3:15-4:45 in the gym 

girls should bring to school; gym shorts, t-shirt, tennis shoes, and a water bottle 

3 forms are needed to join(due before the first game) 
CHOIR INFO: 
STARTS 9/4
Students can join choir at school. Mr Purdy is their amazing choir teacher.
Practice is Tuesdays before school from 8-9 and thurs. after school from 3:They also have the opportunity to joing city-wide choirs. If you are intereseted click the links below

Library E-Books
Math: Mini Video Lessons
"How can I help my students with math at home? I was not taught that way when I grew up."
 If you find yourself asking these questions, please see this 
LearnZillion 
Letter & Quick Codes
information sheet to view some short videos about current/upcoming math concepts we are learning.



PTO INFORMATION: 




Our PTO is so supportive of our school! If you are able to, please attend one of the meetings! It is a great way to get involved and meet other parents. 
Meetings are the second Monday of the month @ 6pm in the school library 
 Box Tops for Education: Help support our school. Send in those Box Tops! 
Next Meeting: @ 6  in the library
DATES:   
10/8
Mountain View Handbook
An electronic version of the schools handbook is now available online. Please let me know if you would like a paper copy. Thank you.
Mountain View's Home Page click here 
Band & Orchestra News for 2018-2019
Please direct any band and orchestra questions to the band and orchestra teachers. Thank you. 
Band Teacher
: Chris Purdy 
Orchestra Teacher: Sandy Shoen 

 Dates to remember in the future:  
Fri., Sept. 21st- Conservation field trip @ Boise Urban Garden School 9:15-1:30(sack lunch needed)

Tues., Sept. 25th- Arts and crafts basket donations due 
Tues. Sept. 25th- Pop bottle report due 
Weds. Sept. 26th- Farmstead food plates DUE (optional) 

Fri.,Sept. 28th- Fall Carnival 5:30-7:30

Mon., Oct 1st- P/T/Student conference sign up times DUE

Weds., Oct. 3rd- Bengal Way Luncheon 11:55  

Fri., Oct. 5th- Otis Spunkmeyer fundraiser begins

Mon., Oct. 08th- PTO meeting 6-7, library 

Tues., Oct. 9th- picture day

Fri., Oct. 12th- ALL missing and redone work DUE 

Tues., Oct. 16th- Operation School Bell

Weds., Oct. 17th- Otis Spunkmeyer sales due 

Fri., Oct. 19th- End of Quarter No School 

Weds., Oct. 24th- Evening conferences Parent/Teacher/Student

Thurs., Oct. 25th-Parent/Teacher/Student conferences ~No School 

Fri., Oct. 26th- No School 

Tues. Oct. 30th- Student flu shots (optional) 

Fri., Nov. 02nd- Quarter 1 Award's Assembly 10:15

Mon., Nov. 19th- Fri., Nov. 23rd- Thanksgiving break~ No school 

Sat., Dec. 8th- Breakfast with Santa (Time TBD) 

Weds. Dec. 12th- Band, orchesta concert (Time TBD)

Fri., Dec. 14th- All missing or redone work for semester

Thurs., Dec 20th- Class winter party 2:30

Fri., Dec. 21st- End of semester~ early release 1:15

Mon., Dec. 24th- Jan. 6th- Winter Break~ No school 

Mon., Jan. 7th- School Resumes  

Weds. Jan. 16th- Snow School All day (sack lunch and snow gear needed) 

Mon., Jan. 21st- Dr. Martin Luther King Jr. Day~ No School 

Weds., Feb. 6th-Fri. Feb. 8th- Candy Grams for sale

Thurs., Feb. 14th- Valentine's Day class party ( time TBD) 

Mon., Feb. 18th- President's Day~ No school

Fri., Mar. 8th- All missing and redone work due 

Weds., Mar.13th- 5/6 grade musical 10 or 2 Gym 

Fri., Mar. 15th- End of qtr early release 1:15 

Mar. 18th-22nd- Spring Break~ No school 

Weds., Apr. 3rd- Class pictures 

Fri., Apr. 5th- Quarter 3 Award's assembly 2:15

Fri., Apr. 12th- Spring Fling Dance (time TBD) 

Thurs., Apr. 25th- band, orchesta, choir concert 10:20

Fri., May 10th- All missing and redone work due 

Fri., May 17th- Early release 1:15

Thurs. May 23rd- second semester award's assembly 10:15

Fri., May 24th- Last day of school~ early release 1:15 
Switcharoo!
Students will be going to Mrs. Newell for social studies this year while I teach both groups science. Please direct questions about social studies to Mrs. Newell.   (tia.newell@boiseschools. org)
Use the tabs on top of this page to learn more about our classroom. Please email me at ANY time if you have questions or concerns.
jennifer.jarvis@boiseschools.org
 208-854-5700