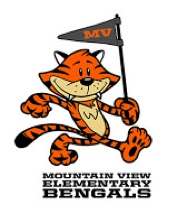 Mountain View Bengals
               Room 19 
Welcome
Welcome to Room 19 and fifth grade! I am so excited to start a fresh year with a group of awesome 5th graders! I can't wait to start our new learning adventure together! This website is a wonderful resource for students and parents. I update often.
Student Council: 
Congratulations to our student council members!
Secretaries: Hillary and Aysha
5th Grade Represenatives: Ava, Carsyn, Isaac, and Lizzy! 
Student Council Meetings: 3:20-4:15  in the library, please bring a pencil and your student council notebook.
Dates: 05/02
Library E-Books
Math: Mini Video Lessons
"How can I help my students with math at home? I was not taught that way when I grew up."
 If you find yourself asking these questions, please see this 
LearnZillion 
Letter & Quick Codes
information sheet to view some short videos about current/upcoming math concepts we are learning.



PTO INFORMATION: 




Our PTO is so supportive of our school! If you are able to, please attend one of the meetings! It is a great way to get involved and meet other parents. 
 Box Tops for Education: Help support our school. Send in those Box Tops! 
Next Meeting: @ 6  in the library
DATES:
May 
 
Mountain View Handbook
An electronic version of the schools handbook is now available online. Please let me know if you would like a paper copy. Thank you.
Mountain View's Home Page click here 
Band & Orchestra News for 2017-2018
Please direct any band and orchestra questions to the band and orchestra teachers. Thank you. 
Band Teacher
: Chris Purdy 
Orchestra Teacher: Sandy Shoen 

 Other dates to remember in the near future:   
Tues., May 29th- Bengal Bowling!! 9:30-11:30@ Westy's

Weds.,May 30th- All walkathon funds are due

Thurs., May 31st- Class Auction 
Thurs., May 31st-Walkathon 1:45
Fri., Jun. 1st- Year book Signing 8:45 am (bring a pen)

Fri., Jun. 1st- Last Day of School Early release 1:15

Mon. Aug., 17th- Meet and Greet @ 2

Weds., Aug., 20th- 1st Day of School early release 1:15 

Thurs., Aug 30th- Back to School Night 5-6:30pm 
Switcharoo!
Students will be going to Mrs. Newell for social studies this year while I teach both groups science. Please direct questions about social studies to Mrs. Newell.   (tia.newell@boiseschools. org)
Use the tabs on top of this page to learn more about our classroom. Please email me at ANY time if you have questions or concerns.
jennifer.jarvis@boiseschools.org
 208-854-5700