EXPLORING EMERGING TECHNOLOGIES
(FROM ONE EDUCATOR TO ANOTHER)
This site is designed with the educator in mind who is in search of user-friendly technology tools to use in the classroom.
Educators have to realize this is much more than jumping on a bandwagon. We have an obligation to our parents and students to communicate with the latest emerging technologies.
USE THIS SITE AS A RESOURCE TO HELP YOU WITH TECHNOLOGY INTEGRATION.
For QUICK Access to Links (scroll down for more details on each):
Website Builders
http://www.educatorpages.com Free & user friendly web page creator tool!
http://www.weebly.com Free with mobile access!
http://www.moodle.org Creat an online community for your course!
In the Classroom
http://www.edmodo.com A safe social networking alternative to boost classroom management and student collaboration.
Click here to read my article on Edmodo http://msmelindajohnson.educatorpages.com/129092
http://www.voki.com Create and customize your Avatar for presentations!
http://www.fodey.com Turn papers into newspaper clippings.
http://www.googlescholar.com Teach your students to research!
General
http://www.weareteachers.com Online community for teachers - great resource for every teacher!
WEBPAGE BUILDER RESOURCES
Free Tool #1
EducatorPages.com is a free service which allows you to build your own free teacher website without the hassle of complicated programs and with little or no technical knowledge, right on the web!
Free Tool #2
What can I do with Weebly?
Easily create a classroom website & blog

Manage your students' accounts

Accept homework assignments online

Keep your parents up to date
Free Tool #3
Moodle is a Course Management System (CMS), also known as a Learning Management System (LMS) or a Virtual Learning Environment (VLE). It is a Free web application that educators can use to create effective online learning sites.
---
TECHNOLOGY INTEGRATION IN THE CLASSROOM
---
Free Resources to Support Classroom Instruction
Voki for Education
Great tool to use for student presentations or an alternative "teacher" to teach students.
---
General Resources
Allow your students to transform writing into a Newspaper clipping.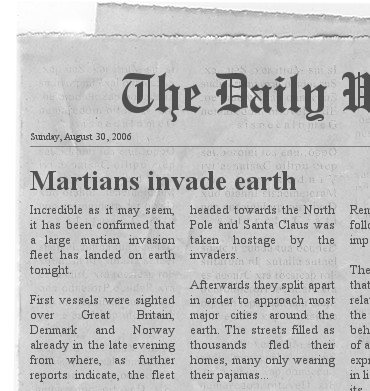 ---
Teach your students to conduct proper research!
What is Google Scholar?
Google Scholar provides a simple way to broadly search for scholarly literature. From one place, you can search across many disciplines and sources: articles, theses, books, abstracts and court opinions, from academic publishers, professional societies, online repositories, universities and other web sites. Google Scholar helps you find relevant work across the world of scholarly research.
Features of Google Scholar
Search diverse sources from one convenient place
Find articles, theses, books, abstracts or court opinions
Locate the complete document through your library or on the web
Learn about key scholarly literature in any area of research
"WE ARE TEACHERS"
WeAreTeachers provides a powerful online community for teachers, combining the expertise of our member community, the resources and knowledge base of our partners and the momentum of social media to recognize and reward innovative teaching ideas. With thousands of teaching ideas submitted for cash and prizes, WeAreTeachers offers a unique forum for innovation and collaboration.
---