Third Grade Strings
Mrs. Fortmeyer's Class 2011

Mrs. Budzinskiy's Class 2011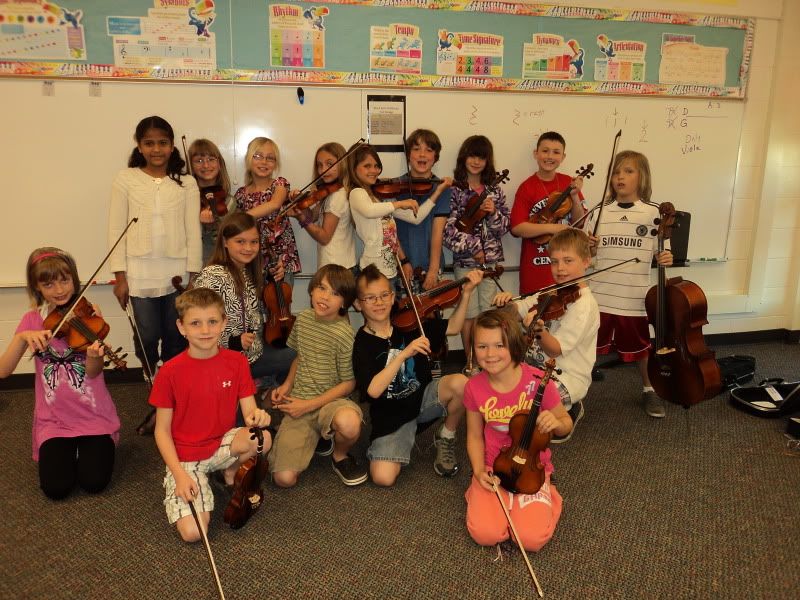 Mrs. Cutler's Class 2011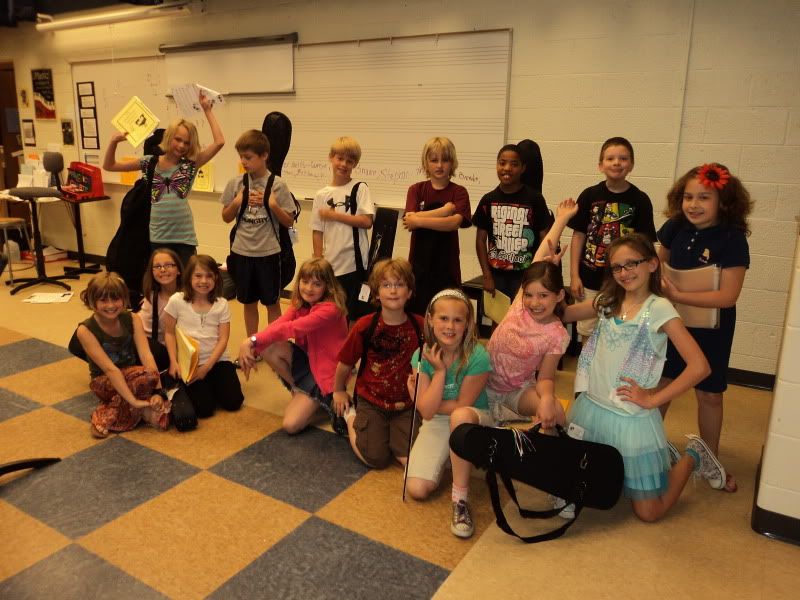 Third Grade Strings
Third grade string students may choose to play violin, viola, or cello and are asked to rent their own instrument. Choice of instrument should be made based on student timbre preference (the sound they like: low=cello, medium=viola, high=violin). A rental night will be scheduled each fall to assist parents in choosing an instrument vendor. (September 15, 2011)
A good rental package should include an instrument & bow, case, rosin, shoulder rest or rock stop, music stand, and method book (Essential Elements Book 1 for Strings 2000 + CD), and insurance.
Shar Music (231) 557-0708 1-866-742-7261 Meyer Music (231) 865-7000 1-800-692-3210
In third grade, rote learning transitions to music reading. Musical literacy involves so much more than simple de-coding of symbols. Third graders begin to use the literacy skills they have already aquired to understand music through audiation as well as through visual symbols.
Learning to play a musical instrument requires dilligent practice over time. Practicing at home is essential to growth. Simply playing through familiar songs over and over again is NOT practice. Parents can help students set specific goals that are both challenging and attainable goals for each practice session. Good 'practicers' know how to choose small 'chunks' of music that need work. They try to improve one thing at a time (pitch, rhythm, bowing, dynamics, tempo). Consistent practice over time (short sessions almost every day) works much better than one marathon practice session every week.
Another important part of 3rd Grade Strings is the "Karate Belt" challenge. Students earn colored "belts" (ribbons for their instrument case) by successfully performing each song in their "Black Belt" packet. The "Karate Belt" challenge (below) is intended to be a fun, motivational tool to encourage individual practice, rather than competition and comparisons.
| | |
| --- | --- |
| White Belt | Twinkle, Twinkle, Little Star |
| Yellow Belt | French Folk Song |
| Orange Belt | Lightly Row |
| Green Belt | Song of the Wind |
| Purple Belt | Go Tell Aunt Rhody |
| Blue Belt | Allegro |
| Red Belt | May Song |
| Brown Belt | Long Long Ago |
| Black Belt | Perpetual Motion |