Welcome to Advanced Composition 12, English 10 Honors, and English 9 Honors!
English Department Mission Statement
The Tipton High School English Department recognizes the need for students to be prepared to meet the challenges of the future. It is no longer enough to say that our students will be taught to read and write. The English Department affirms its dedication to developing effective speaking, precise writing, comprehensive reading, and critical thinking. Materials and activities are designed to enhance an understanding of the complex world, to promote empathy for the plight of others, to develop sensitivity toward situations, and to increase problem-solving abilities.
Course Descriptions:
Advanced Composition--(12) 2 Quarters: 2 credits The Advanced Composition is taught in two successive quarters to give ample time for students to more completely develop and refine quality writing skills which have been previously introduced in integrated courses. Compositions over various genres of literature is the major area of focus.  Advanced Composition integrates the use of technology to support assigned writings. The one-to-one laptops will insure that all students have computer access. Advanced Composition provides the student with opportunities to write for different audiences and purposes, using a process that includes: preprinting, drafting, peer sharing, revising, and editing. Techniques of persuasive writing and formal argument are a main focus. Increased emphasis is placed on language and style.  Students will be given examples of quality writings to read and evaluate in an effort to improve their own writing.  Short stories, novels, and films will be addressed in this class. 
English 10 (H)--(10) 2 Quarters: 2 credits This is a course designed to teach advanced English students in a project oriented, novel based classroom. Much of the course is designed around the literary theme, Conflict and Resolution. Although quite a bit of time will be spent on the reading of novels, as well as in-depth discussions of them, a student will be expected to spend a great deal of time writing essays, developing projects, and reading. The object here is to provide an opportunity for the student to develop, or refine, his ability to present, and then support, his opinions regarding a variety of themes. This honors English class covers the concepts that are covered in the English 10 class, but in a more independent and in-depth manner. Expectations of outcomes of projects and assignments are stricter than in the regular class. (Teacher recommendation required.) 
English 9 Honors:2 Quarters: 2 credits This course is offered to freshmen having outstanding language arts skills. The literature presented will primarily deal with individual growth and development with the majority of the tests being essay. Compositions are integral parts of this course. This honors course focuses on the same aspects of language arts that are covered in the English 9 class. Literature and composition expectations are appropriate for the ability level of the students who are enrolled in this class. 
 Course Materials
  SSR novel (for 1st block)
  Laptop (everyday)
  Various novels
  Writing utensils
  Paper
  Headphones (recommended, not required)
Computer/Internet Requirements:  
All of my English courses will be centered around this website. This requires a computer with Internet access.  If your student computer is not working properly, you are responsible to get a loaner to bring to class.  The computers are used EVERYDAY in class.  It is at utmost importance that you come to class with a computer.   The computer will need a recent-version web browser (such as Firefox or Safari) with the Adobe Flash plugin in order to access the many PDF files that will be used in the course.  All of these mentioned above are included on the student computers from the school, but if something would happen and you have to use your own, these are programs you will need to have on that computer as well.  Students are expected to be familiar with standard computer operations such as web surfing, downloading documents, signing up for & logging in to services via the web, sending email attachments, and using Microsoft Word.
As mentioned, assignments will be computer/Internet based.  This means that you will need to make arrangements for outside of class Internet access if you do not have it at home.  I understand that all do not have Internet; however, it is your responsibility to come early, stay before, or use class time and resource time wisely if you know that Internet connection at home is not going to be available to you.   
All course content such as lecture PowerPoints, handouts, study guides, monthly assignment calendars, worksheets, videos, and essay requirements will be available on the website.  The website is where you will complete nearly all of your assignments.  Students are responsible for checking the website on a daily basis and staying current with all course assignments.  The homework calendar is updated on a daily basis after each class has been completed.
Grades
The school-wide grading scale will be used for this course.  Your final exams will be weighted 20% for your final grade in the course.
Assignments will be graded in a timely manner.  Late assignments WILL NOT BE accepted. 
Note:  The best way to keep track of current grades is through Harmony.  Grades are updated on a daily basis.  All assignments are posted daily in the Homework Calendar.
Extra Help
I am available for extra help.  Please do not hesitate to make an appointment with me if you feel that you need some extra help. 
You can also find the PowerPoint lecture presentations on this website.  If you lose your notes or if you are absent on lecture days, you can always go and print the slides off again. The website also has the category "Assignments". This is where you will find the daily assignments and announcements in calendar form.
You can also find links to helpful information in regards to composition under Resources as well.
RESPECT for classmates, teachers, and the room is a MUST!
You may have food and drink in the classroom UNLESS it becomes an issue, but do not have it out in the hallway.
You need to have a pass in order to not be counted tardy when coming in late.
Please use your passing periods to use the restroom and get drinks if needed.
It is very important to be here everyday and to keep up with your assignments.  You should put forth the effort to have good attendance and to use class time to its fullest potential.
If you are absent, check my website to see what was done on that day.  You will also need to visit my website to get a copy of any PowerPoint presentations that were lectured over the day you were absent.  You have as many days to make up your assignments as you were out.
Any expectations and guidelines stated in your student handbook will be followed in this classroom.  
Plagiarism WILL NOT BE TOLERATED.  It will result in a 0 for that assignment.  You will not be able to redo the assignment.  You will also have a discipline referral for cheating.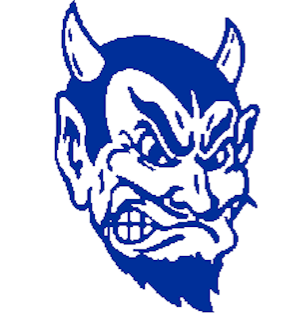 Tipton High School
Home of the Blue Devils