CHINA INSPECTION FORUM-Third Party Inspection
On 12, July, 2018, Mr Rex Gao, who is the CEO of J-PECO inspection, attended the China Inspection Forum in DNV GL Shanghai office, The Host Party is DNV GL and the forum topic is Costing Saving Through Next Generation Inspection (NGI). The meet lasted from 08:30 to 12:30.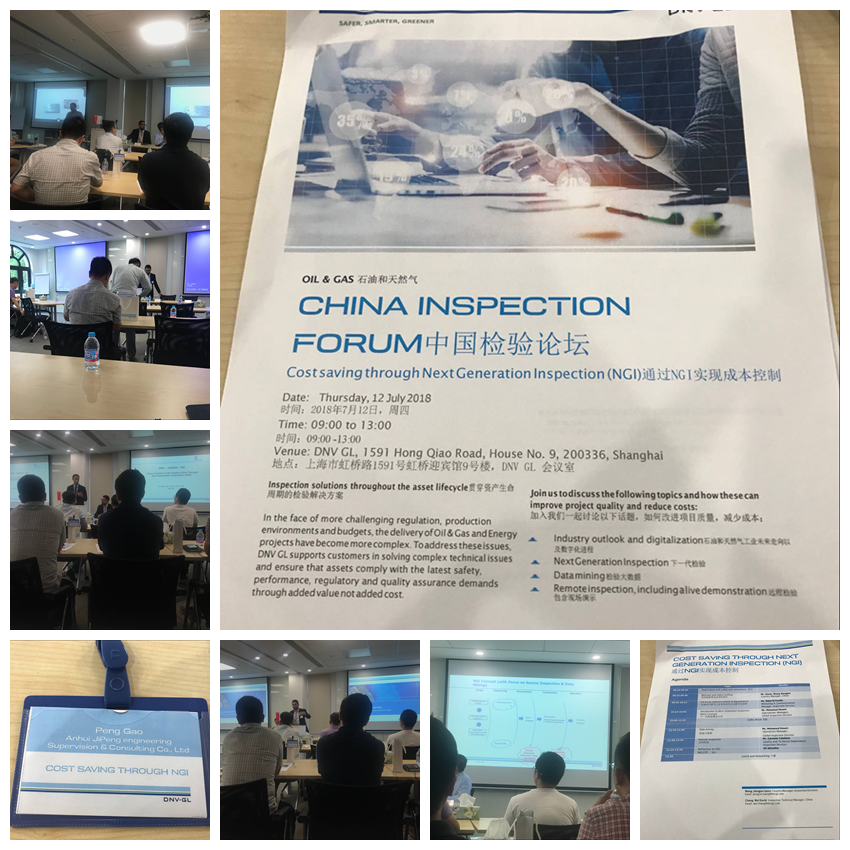 Process Supervision
•  Casting & Forging
  To be certain that casting/forging process follow proven procedures
•  Heat Treatment
  To be sure that heat treatment is done properly for all parts, that no portion of the product is overlooked
•  Chemical Analysis & Mechanical Property Tests (and Non Destruction Test).To be certain that:
    a)    The tests are really carried out
    b)    Material certificates use actual test data
• Assembling
    a)    Check internal cleanliness prior to assembling
    b)    Check whether quantity, material and type of internal parts meet specification requirements
    c)    Check whether construction details of the assembled products comply with specific requirements of the customers, based on Customer's Technical  Specification, and /or Customer Approved Drawing
• Pressure Test 
    a)    Evaluate whether vendor's pressure test procedure documents meet the standards or client's requirements
    b)    Ensure that the medium components of pressure test meet standard requirements
    c)    Ensure that the pressure test equipment was calibrated
    d)    Ensure that the process of pressure test was in accordance with the procedure and standard
     e)    Check for leakage or calculate the leakage rate
     f)     Ensure that the duration of pressure test and pressure holding meets the standard requirements
•  Paint Application
    a)    Inspect pre-processing and surface condition prior to each paint layer application
    b)    Measure thickness of each layer applied paint
    c)    Adhesive test
    d)    Check protection on un-paint area
•  Dispatch
    a)    Check name-plates and, tags
    b)    Check whether protections on each product are according to order
    c)    Check whether sort and construction of packing box/case are in accordance to order
    d)    Check marking on wooden case
    e)    Check whether documents in wooden case are according to order
    f)     Final quantity check
Anhui JiPeng Engineering Supervision and Consulting Co.,Ltd is a third-party inspection company focusing on oil and gas products inspection including valves,fittings,steel pipes,pressure vessels,flow meters, metering skids, pumps and so on.The customers will get the finished reports with in 24 hours after the inspection.
https://www.facebook.com/qczoom/
Phone:+86 551-64665822
Add:16F, Fusi Center, FeiCui Road and XiuNing Road Intersection, ShuShan District, HeFei City, AnHui Province, PRC.