Thank you very much for volunteering to do lunch duty in our classroom!
I greatly appreciate it!
What a great way to spend time with your child and volunteer at the school at the same time!  If you can volunteer at lunch time, please sign up to be a lunch parent by filling out the form found in your child's Friday Folder and sending it back to your child's teacher!  I have listed the days open for volunteers below! 

If you don't want to commit to a whole track but would be able to fill-in, please write your name at the bottom of the form. Please include a phone number or email where I can reach you to confirm days/dates. Thank you bunches and bunches!!!!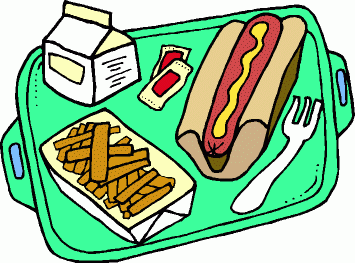 2010-2011 Lunch Menu:
Monday:  $3.50/each:  Gandolfo's
Turkey or Ham Sub with chips and cookie
            OR
Monday: $3.00:  Visit the HOT DIGGITY DOG Hotdog cart
Hotdog, chips, and a drink
Tuesday:  $3.00/each:  Ziggy's
Macaroni and cheese with roll
Turkey and cheese pannini with chips
Spaghetti with meatball with roll
Cheese quesadilla with cookie
Wednesday:  $3.00/ each:  Quizno's
Meatball sub with cookie
Alpine chicken sammie with chips and cookie
Hot dog with chips and cookie
Thursday: $1.00/slice:  Papa John's
Friday:  $3.00/each:  Chick-fil-A
Chicken sandwich with chips
8 piece nuggets with chips
Important Lunch Rules and Info:
Lunch begins at 12:12 and ends at 12:41.  Students MUST be in homeroom for lunch at the first bell.
Students that forget to purchase lunch may go to the office the first five minutes of lunch.
Students are allowed to sit in any seat they wish.
Students that need to go to the snack cart or get milk must do so before 12:20. No students should be out of the room after 12:20.
At 12:35, assigned student cleaners need to begin their tasks (wiping down each desk with GREEN cleaning wipes, sweeping the floor, cleaning the counter and microwave, and returning the lunch basket to the office). The list of students assigned to each task is located to the right side of the board. This list is updated weekly. Please encourage these students to perform their duties in a timely manner. No passes will be written for students that take too long of a time.
All students need to clean up after themselves.
At 12:35 students may pack up and go to their locker, restroom, or get water only AFTER asking for your permission. Please monitor the hallways at this time to ensure all students are in the appropriate locations.
Sign up:
Track:
Monday: STILL AVAILABLE
Tuesday: STILL AVAILABLE
Wednesday: STILL AVAILABLE
Thursday: Students in Mezzanine with Miss Lindsey
Friday: STILL AVAILABLE