¡Hola! Yo Soy Señora Cassidy! 
Hello! I am Señora Cassidy!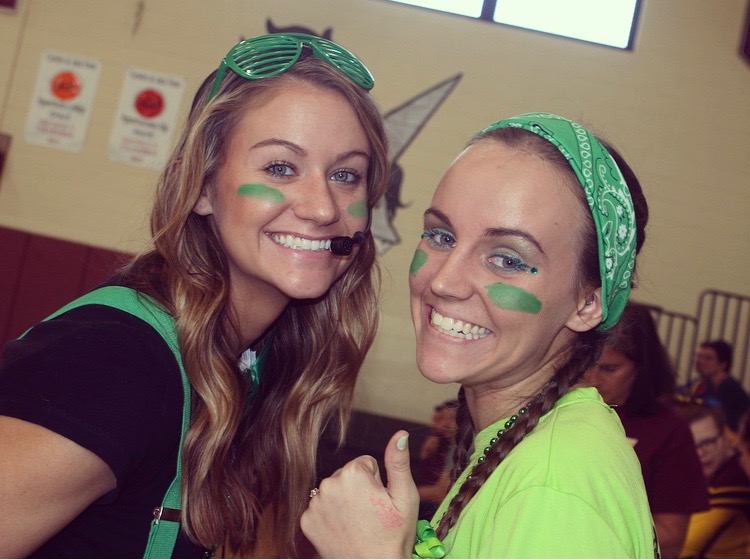 A few fun facts about the teacher...
Spanish teacher at Elba Central School for 3 years

8th-10th grade, Spanish 1, 2 & 3

One of two Student Council Advisors (pictured right)

Studied abroad in Madrid, Spain for a total of 5 months

Undergraduate in Intercultural Youth Ministry

Clarks Summit University in Clarks Summit, Pennsylvania (2016)

Pending M.Ed. in Spanish Adolescent & Special Education

Roberts Wesleyan College (2021)

24 years young and learning something new everyday!

Love to travel! (I have been to Spain, Mexico, Dominican Republic, Peru, France, Switzerland, Bahamas, Canary Islands, and Canada)                         

(Señora Cassidy on the right with co-advisor of Student Council)

Play guitar and sing on the worship band at my church                                 

New wife (as of August 2018) to a wonderful husband 

Daughter of two wonderful and supportive parents  

Sister of two incredible siblings (one younger sister and one older brother who is in Heaven)

"Sister" to the cutest dog ever (her name is Sophie Mae, she is a maltipoo)!

Owner of two bunnies - they are the best! (their names are Kona & Mocha)

Love to paint in my free time

Coffee enthusiast (was previously a barista before becoming a teacher)
Coke Or Pepsi?
Coke or Pepsi? A: Coke (especially cherry coke)

Morning or Night? A: Night

Cats or Dogs? A: Dogs (I'm allergic to cats!)

Summer or Winter? A: Summer

Coffee or Tea? A: Coffee (unless I'm sick!)

Hockey or Football? A: Hockey (one of my favorite sports!)

Real Madrid or Barcelona? A: Real Madrid (somehow all of my students end up being Barcelona fans...)

No TV or No Music? A: No TV

Fruits or Veggies? A: Fruits

Sweet or Dill Pickles? A: Dill (I LOVE dill pickles)

Salty or Sweet? A: Neither? (I don't normally eat a lot of either, but I do love cheesecake...that's the exception!)

Dusting or Dishes? A: Dishes

Spanish or English? A: SPANISH 
Help Me Get To Know YOU!
Parent? Take this quick survey: parent survey
Student? Take this quick survey: student survey
Fellow teacher? Take this quick survey: teacher survey