Welcome to Tracey's Tech Tip Page
I am sharing some of my favorite resources that are free, multi platform, for facilitators, teachers and students.
Desktop Recording
Screenr - webbased screen recording. See video!
Quicktime could also be used for screen recording, if you have a Mac with a Leapord operating system, but it requires more steps.
---
Bookmarking Sites
There are hundreds of sites out there for bookmarking, so much that it was impossible to limit my list to just a few. But each site has different benefits and drawbacks. Here are a few of my favorites.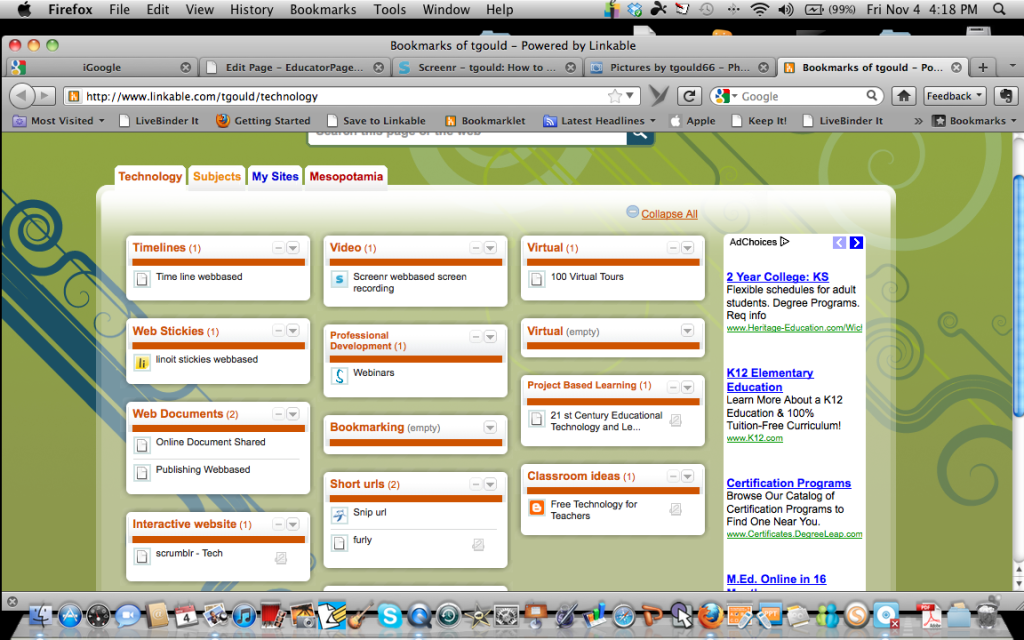 Linkable is my favorite, for this week. This is one of the few bookmarking sites that isn't blocked for students. You could have a classroom link page, and have the links seperated into categories. Linkable also provides an applet for your web browser that makes it easy to add new links to your linkable account.
Symbaloo is another one of my favorites, but for different reasons. Symbaloo is a great place to find other webmixes in any subject area or gradelevel. You can search for other webmixes by topic, and add them to your own, or you can create your own webmixes by categories. This is also great for students to use. You create the webmix with all the tools and sites you want them to see.
Livebinder also allows you to search others resources. Livebinder is a combination of the previous two bookmarking sites in that there is a binderit applet that you can add to your browser, allowing you to quickly and easily add links to the category, tab, and binder you want. You can also search other binders for useful links. Livebinder also allows you to embed pictures and websites into your binder. Check it out!
Furly is the easiest and quickest bookmarking tool. It's great to use for students. With furly you can create a short url for your students to access a list of sites. You can also create a short url for a single site. There is a new feature on furly that allows you to keep track of your furlys, so that you have them again next time. To make a furly just type fur.ly in your address bar. To visit all of the bookmarking sites I have mentioned, check out this furly http://fur.ly/192/bookmarks