Volunteer Orientation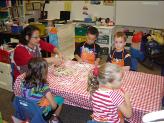 Mrs. Kannaday's Kindergarten Class
We are so happy for you to volunteer in our classroom. We would love to have you from 10:30-11:50 Monday through Thursday! Please read over some of the guidelines I have in the classroom for the volunteers. These guidelines will help the kindergarteners maintain routines and procedures throughout the year. We will begin volunteers the third week of school! We are so pleased that you can join us!
These are the following guidelines I have for the volunteers in my classroom…
1. Complete PALS on-line application in the office or media center
2. The hours are 9:30-10:30 (If you arrive and we are not ready, please look over activities located in the volunteer basket, get things ready- don't disturb our morning meeting)
3. I schedule two volunteers each day Monday- Thursday.
4. I will make a list of volunteer's names and phone numbers for you too share with each other.
5. Please make sure you call or arrange to change times with someone if you can not attend.
6. Sign in at the office and get a volunteer sticker (don't forget to log your volunteer hours).
7. Feel free to bring coffee or a soft drink if you wish!
8. Confidentiality- what you see and hear remains in the classroom.
9. If you plan to stay for lunch, please don't come to the classroom or playground, say goodbye to your child at the cafeteria! We would love for you to volunteer in the computer lab or the media center.
10. I accept the children to show you respect and treat you with authority by calling you: Mrs. ___________, Mr.____________, or Ms.__________.
11. Please indicate the day which you would volunteer: Monday Tuesday Wednesday Thursday
12. I am also looking for a SCIENCE mom or dad? Let me know if you are interested!
Volunteer Duties:
*Art center (dress for messy activities)
· Allow students to do as much of the activity themselves as possible while trying to finish in 15-20 minutes and not causing frustration.
· Please remind students to put names on any work.
· Have the students take unfinished work to their seat (you may be able to call them back to your center to finish).
· In kindergarten, especially at Art, the process is more important than the final product-kids are usually pleased with their accomplishments.
Please, please, please help clean up at the end of centers, put things away, wash paint trays, brushes, wipe table if needed (THANK YOU!!!!!)
* Writing center
· Working on fine motor skills, pencil grip, letter formation, letter sounds, creative writing, and using inventive spelling.
· Taking dictations of kindergarten student's writing
· Working on worksheets.
· Using educational games with the students.
After the first group finishes, make adjustments as needed for the next three groups!
* If your center finishes early, there will be activities they may go do OR you may choose things for your group, such as white boards, chalkboards, sand trays, working on pin numbers, letters and sounds (first week of volunteers students look at books).
Remember your help is invaluable to our little learners and they will love and depend on you!